For a twist on traditional playdough and kinetic sand – try this easy to make sand playdough recipe! This sand playdough has a fun texture to it. Add to a small world beach play scene or into a sensory table! This is a fun summer playdough to make for kids!
RELATED: How to Make Playdough
Sand Playdough Recipe
Playing with sand can get messy – so that's why I love this sand playdough. It has a similar texture to sand but without the mess of sand going everywhere. Kinetic sand can be expensive to buy too! And this sand playdough only requires a few ingredients from your kitchen cupboard (plus the sand!) which you probably already have on hand.
Now if your kids are still putting things in their mouth, they may not be ready for this recipe since it is not taste safe.  Try our traditional playdough recipe instead or Kool-Aid playdough.
What's also fun about this playdough recipe is that kids can pretend to make their own beach scene with some seashells, play fish and gems.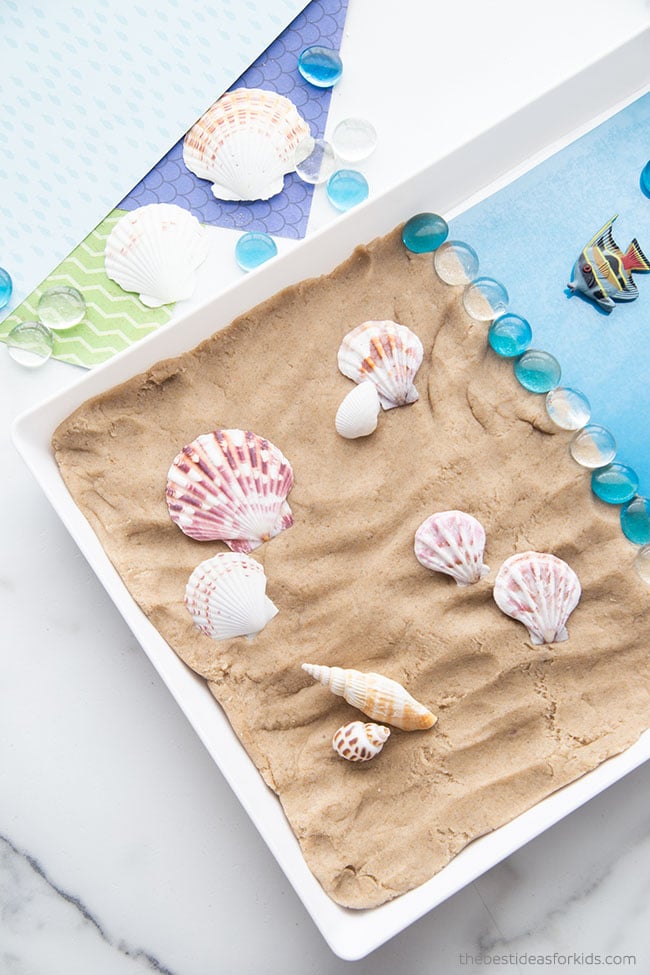 How to Make Sand Playdough
There are many ways to make playdough – using a stove-top or using a kettle with boiling water. Personally, we prefer the stove-top method. We find it's easier to mix the ingredients in the pot.
There are also no-cook playdough options but we also prefer this cooked playdough recipe. We find this recipe to last the longest and be the softest. This recipe only takes a few minutes to make and it will last for months!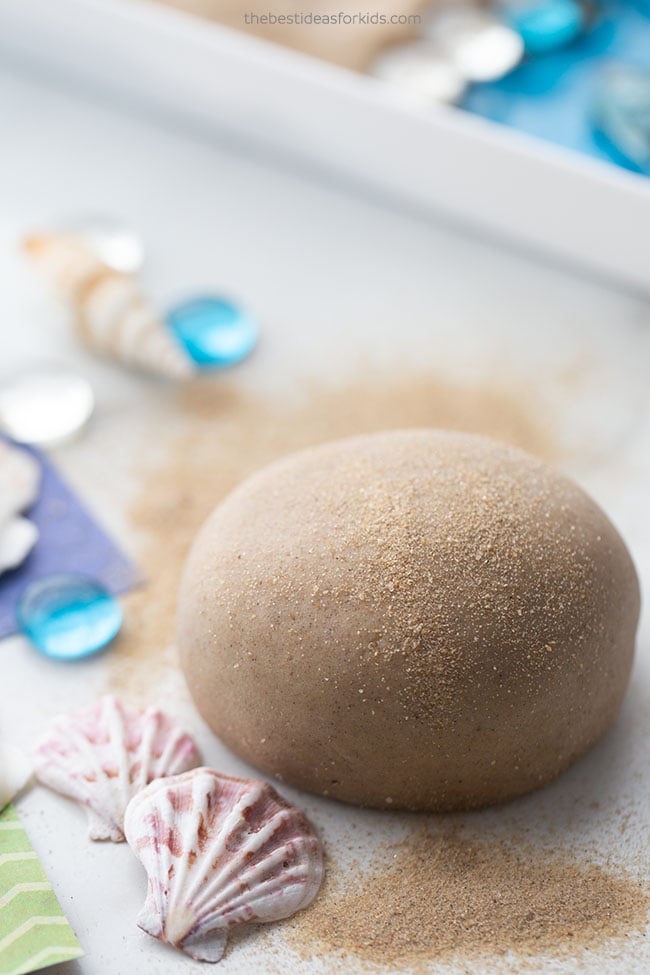 Here are the ingredients you'll need: Flour, Salt, Cream of Tartar, Water, Oil, Play Sand. Skip down to the recipe card below to see the full recipe instructions and video.
Do you need cream of tartar?  Yes, if you want a soft playdough and want it to last longer, you need to add a little bit of cream of tartar. We tested different amounts and found 2 teaspoons to be the perfect amount to make the playdough super soft. If you skip the cream of tartar your dough may turn out a bit more dry and crumbly. It also helps your playdough last longer.
Do I need food coloring? Not for this recipe! The best part about the sand is it will give the playdough a natural sand color.
How to Keep Playdough Soft
First wrap your playdough in saran wrap then store in an air-tight container. You'll notice that playdough will go hard if left out – so the less air that can get to the playdough when storing, the longer it will last!
How Do I Make Playdough Soft Again?
If your playdough dries out or turns out to be a little dry after making it, try adding in a little more oil first. You can knead the oil in with your hands. You can also knead in a little bit of water.
How to Make a Beach Play Scene
We placed our sand playdough into a white tray. We have these trays which are great for sensory play.
We also added a piece of blue laminated paper to the opposite side to make pretend water.
Do not put real water or it will make your sand really wet. As an alternative to the paper you could also make blue playdough using the same recipe but add blue food coloring to the water when cooking. You could also put some blue water beads on the other side.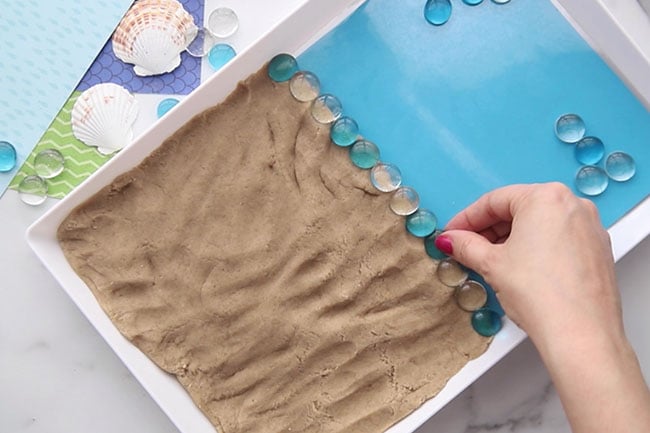 Then add some seashells, blue and white gems, and play fish to finish off your play scene!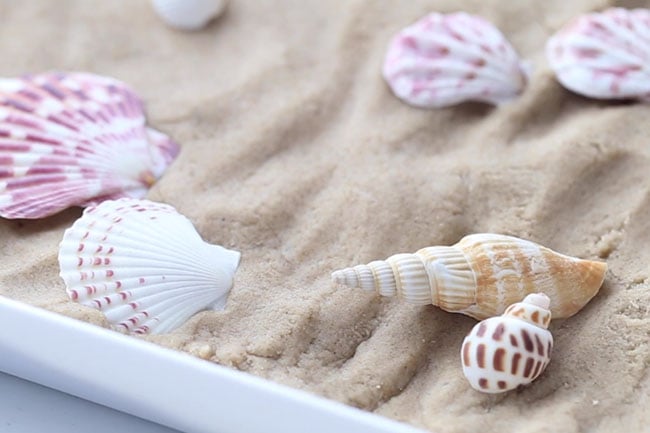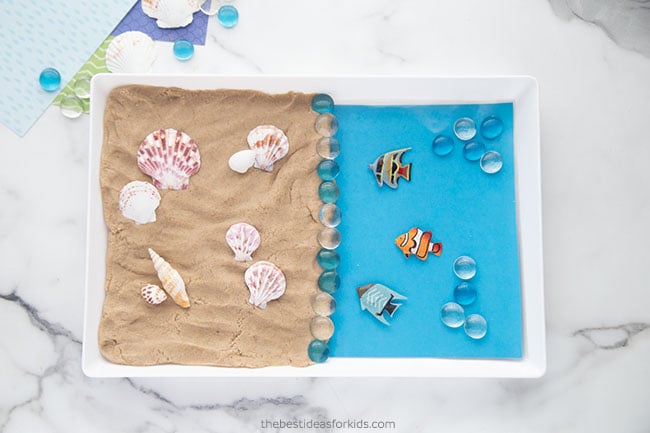 Homemade Sand Playdough Recipe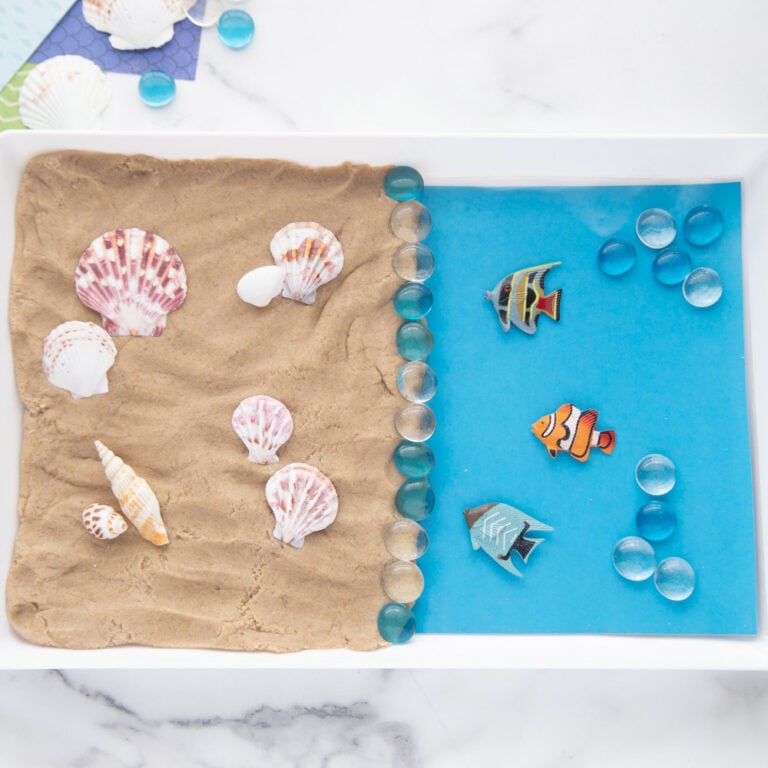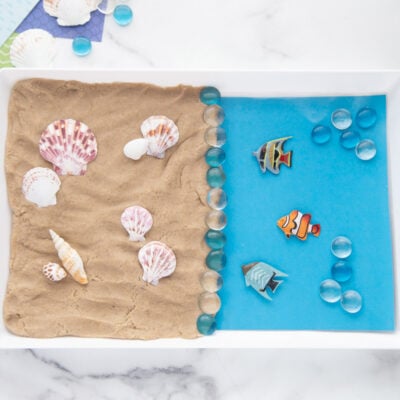 Sand Playdough
Homemade Sand Playdough Recipe
Materials
1

cup

flour

1/2

cup

salt

2

tsp

cream of tartar

1

cup

water

1

tbsp

vegetable oil

1/2

cup

play sand
Instructions
Mix the flour, salt and cream of tartar and whisk well. 

In a pan or pot, add the water, oil and mix.

Slowly add in the dry ingredients (flour, salt, cream of tartar) to the pot and mix well. Cook on low to medium heat.

Keep mixing well and spread out in the pan if possible so that the salt mixes well with the water to dissolve. 

Do not continuously stir while cooking. Let it sit for a few seconds before mixing and flipping the dough in the pot. The dough is done when it starts to form a ball and looks fully cooked. 

Take off the heat and let cool. 

Knead for 10 minutes to make the dough smooth.

Once your dough is cool and kneaded, knead in 1/2 cup of play sand. It does take some time to fully knead in all of the sand. Keep kneading and it will continue to mix in. Note: If you want it to have more of a sandy texture, slowly knead in more sand, 1 tablespoon at a time. 
Notes
Note: start with 1/2 cup of play sand. If you want it to have more of a sandy texture, slowly knead in more sand, 1 tablespoon at a time. 
More Playdough Recipes
Also try our Kool-Aid Playdough recipe – it's a fun scented playdough for summer!