This Book Christmas Tree is a fun way to do your own book advent calendar! It also makes a really unique Christmas decoration to go along with your DIY advent calendar.
RELATED: Christmas Eve Box
Book Christmas Tree – Book Advent Calendar Idea
This is a really fun way to make your own book advent calendar. Or simply make this tree to give some books as gifts for Christmas. This is also a great idea to add some decoration to your home!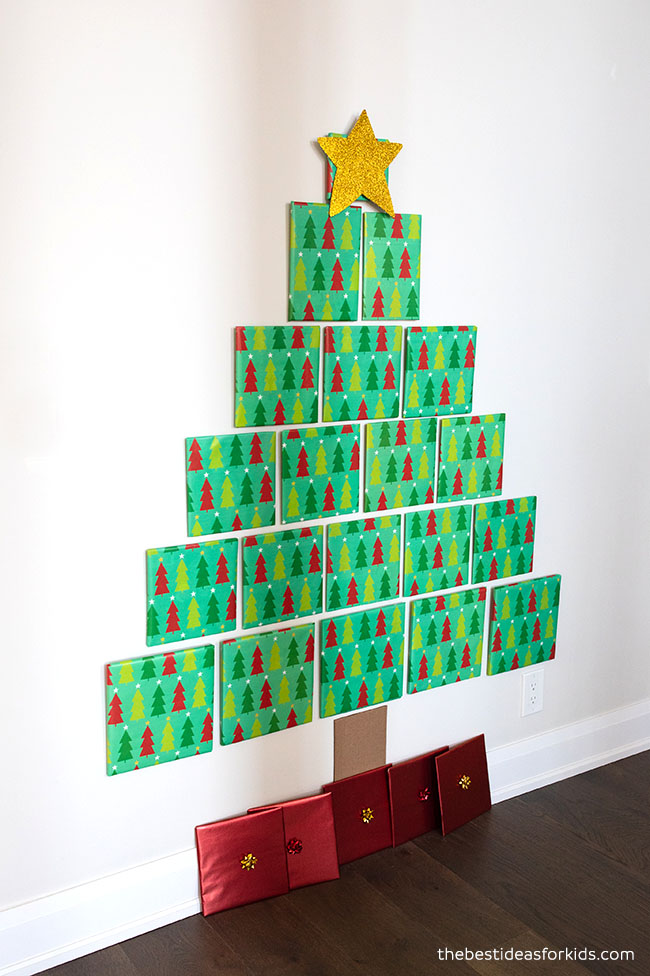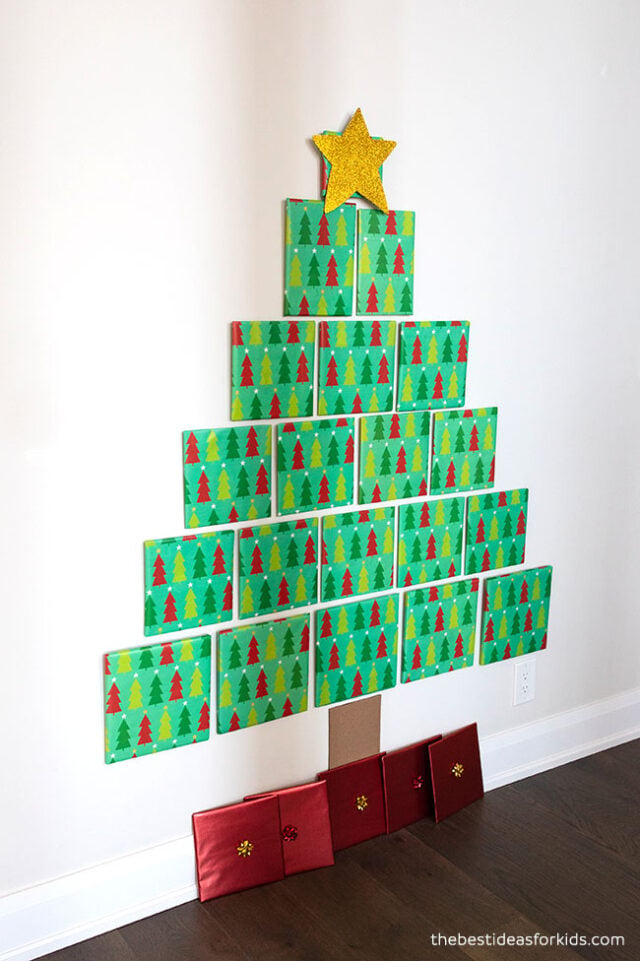 This book Christmas tree was really easy to make! You might think it will take a long time to wrap all of the books but it actually goes quite quickly because they are a simple shape to wrap.
I chose green wrapping paper for the tree and used red for the presents underneath. But you can choose any colors or wrapping paper you'd like!
Getting 25 Books to Make the Christmas Tree
25 new books is a lot to buy. Look at thrift stores, used book stores, the dollar store and sales at book stores for new books. You can also use books you have!
I bought some new and used a lot of Christmas and winter-themed books we already had. Most of these holiday books we don't read throughout the year so it will be a nice surprise to still open them up. It will also be a fun surprise each time we unwrap them to see if it's a new or old book.
We plan to do this as a book advent calendar.
Starting Dec 1, each night the kids will unwrap a book and we will read it together.
When finding books to use, see the directions below on getting similarly-sized books to make the tree. Most books come in a few different standard sizes so it's easy to match them up.
Supplies to Make a Book Christmas Tree
25 Books

Green and red wrapping paper

Command Hanging Strips – you'll need the number of strips of books you plan to hang on the wall. If you don't want to hang as many books, you can make a smaller tree and add more presents underneath the tree.

Cardboard

Painter's tape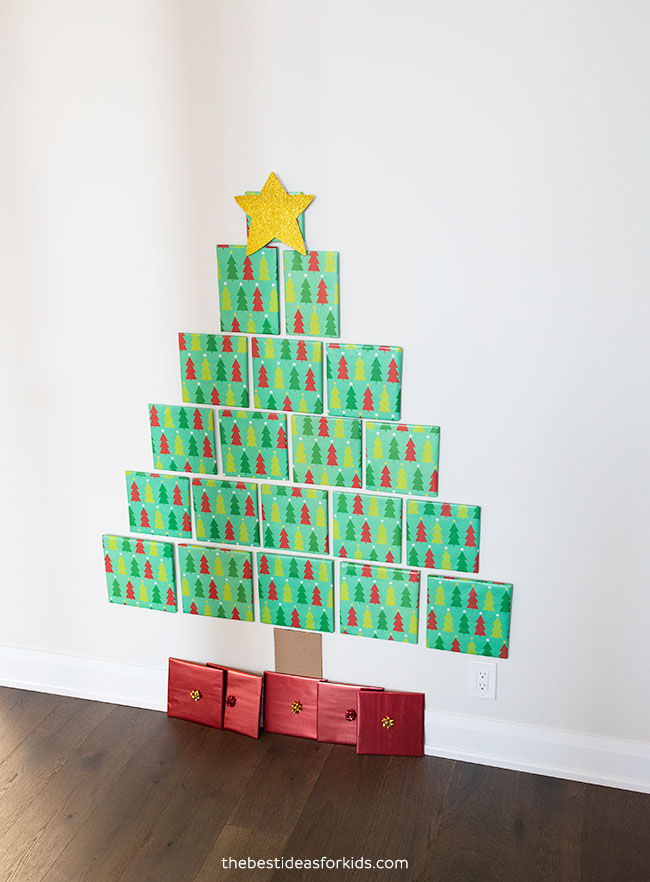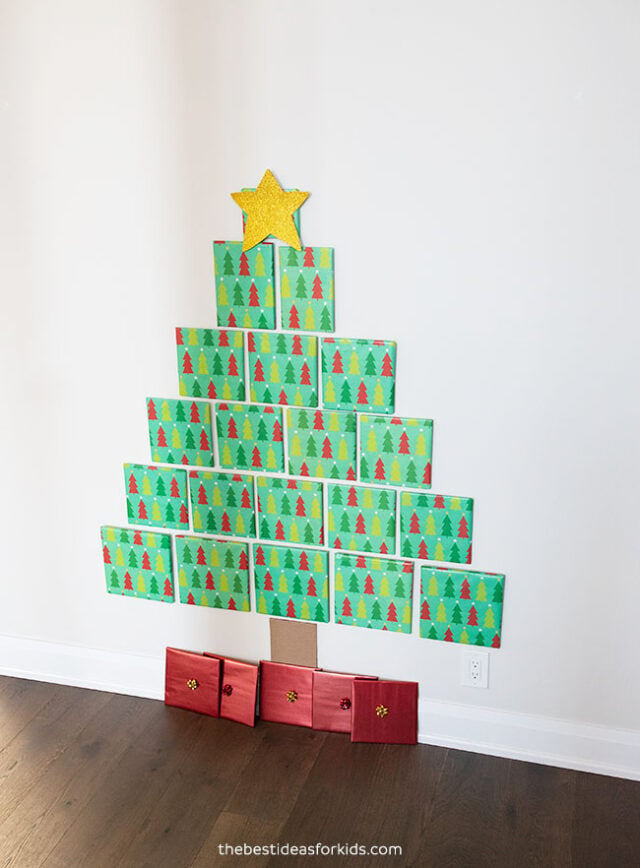 How to Make a Book Christmas Tree
1. Start by wrapping all of your books.
Wrap the tree books in green wrapping paper (or another color of your choice!).
We chose to keep 5 books to put under the tree and wrapped these in red wrapping paper. Then add a bow to each present.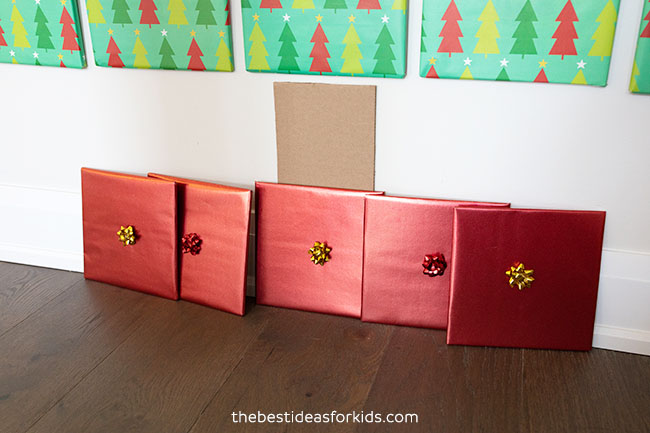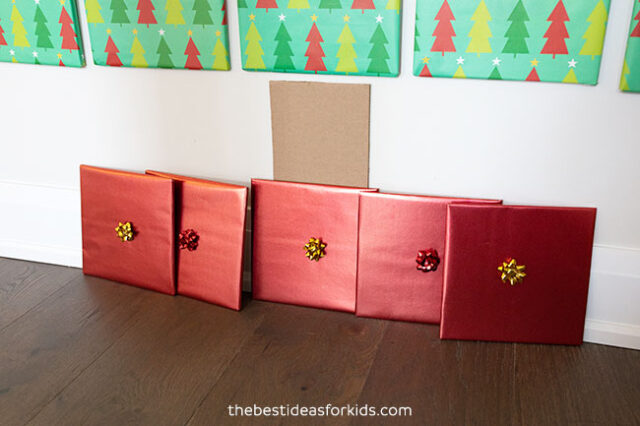 2. Layout your book design before placing on the wall.
Choose larger books for the base of the tree, and try to match books that are the same size/shape for each layer. Most books come in a few different standard sizes so it's easy to match them up.
For the bottom layer, these were the largest. I used 5 books for the bottom layer.

The next 3 layers I used square books and made a layer of 5, 4, then 3.

The layer under the star I used 2 rectangle-shaped books.

For the top layer I used a small square book.
3. Start with a piece of cardboard for the Christmas tree trunk.
Cut out a piece of shipping cardboard and add to the wall with some painter's tape. This will be the trunk of the tree and also the center point for creating the tree.
4. Use the command strips to hang the books.
Follow the directions of the Command Hanging Strips to hang the books. This step went much faster than I expected. Once you get the hang of hanging the books it's easy to add the strips to the back of each one.
5. Cut out a star for the top of the tree.
I used a piece of gold foam glitter paper to make the star. I drew the star by hand but you can also print out a star template and trace it out on the back of the paper. Tape the star to the top book.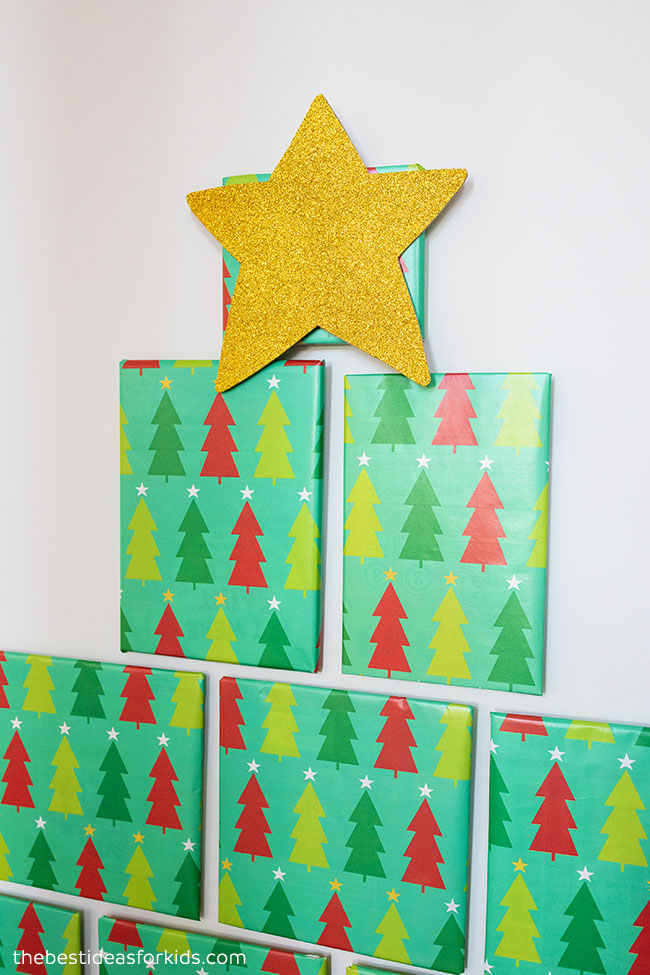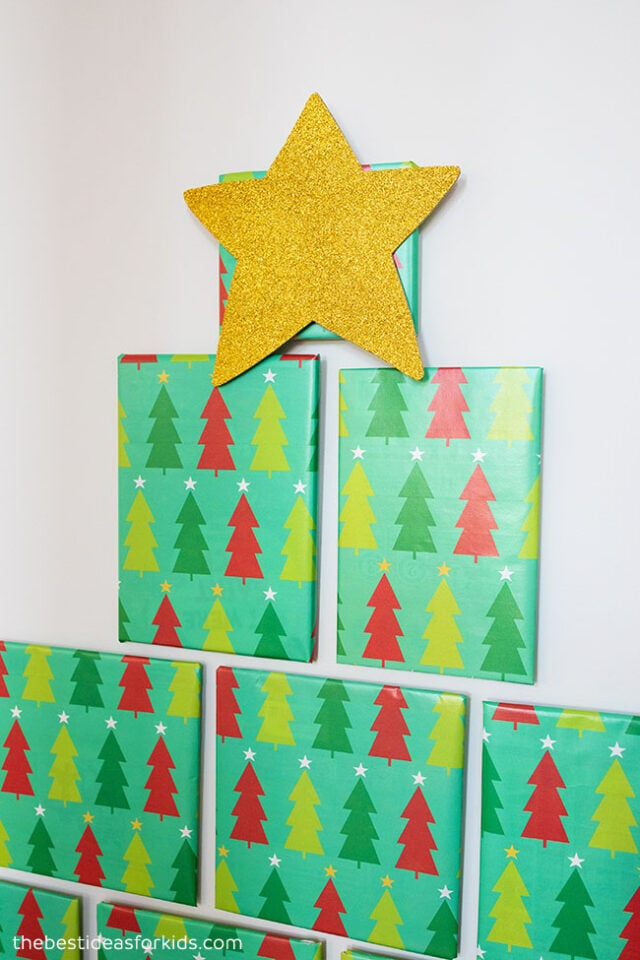 If you plan on doing the book advent calendar, I would start with the presents at the bottom of the tree. Then work your way up each day until you reach the star. Make sure you include a new or special book for the star tree as this will be opened on Christmas day.
Alternatively, you can make this for decoration and then open all of the books on Christmas day!
For another fun Christmas tradition, see how to make a Christmas Eve box!