This Valentine bee craft makes the cutest Valentine craft for kids! Make them to give to friends and family or to put up around the home. These would also look great on a bulletin board in a classroom!
RELATED: Salt Dough Valentine Hearts
Bee Valentine Craft
This adorable BEE MINE craft is fun and easy to make for Valentine's Day! You can easily make it using our free printable template. Or you can cut out all of the shapes on your own!
If you're a teacher, these are great to make as a classroom and place on a bulletin board!
Supplies Needed To Make A Paper Valentine Bee Craft
You only need a handful of supplies to make this craft. We've made it simple by providing a free printable template, but you can also cut out your own shapes by hand if you prefer.
Black marker or sharpie
Scissors
Gluestick
Photo – you want a photo where nothing is in front of the face (like hair or hands) and big enough to fit on top of the bee body. You can print on cardstock or photo paper if needed.
Free Printable Template – you can get the template at the bottom of the post on the email form that shows a preview of the template 
What kind of glue should I use? Since this is all paper, we like to use glue sticks. But white or school glue will work well too.
Watch the full tutorial video here!
Directions For How To Make A Valentine Paper Bee
1. First print off the template or draw your own shapes.
Trace around the large heart on white cardstock for the wings.
Trace around the large circle on yellow cardstock for the bee body.
Trace around black cardstock for the bee stripes and antenna. An optional stinger has been included on the template if you would like to add to the bee.
Trace around red cardstock for the small and medium hearts.
2.  Glue the large black paper strips to the yellow body. You can trim around the edges to fit the strips to size after gluing.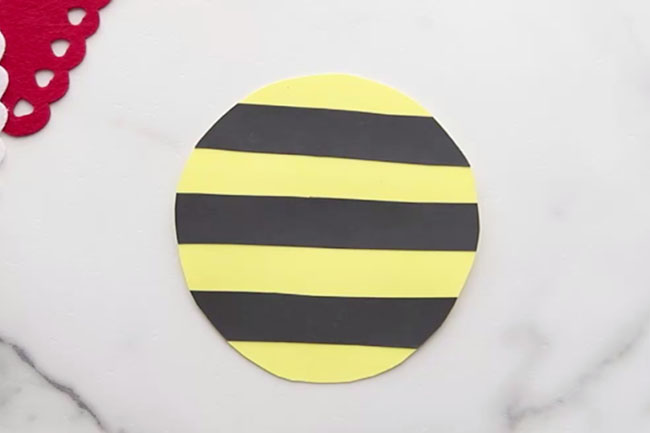 3. Glue 2 small hearts to the small antenna black paper strips.
Then glue these to the back of the photo.
Glue the photo to the top of the body.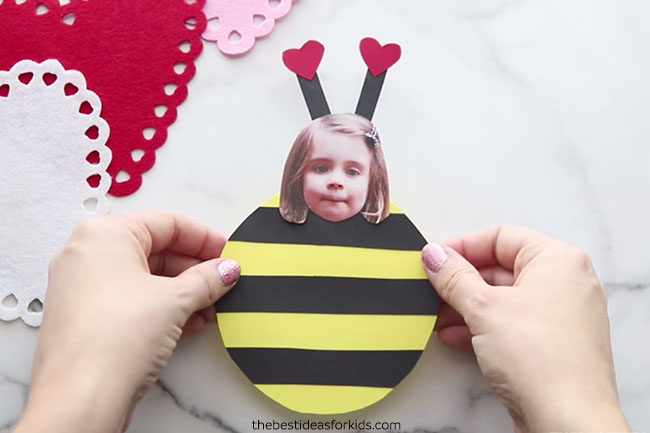 4. Glue the heart wings to the back of the bee.
Write "BEE MINE" on the large red heart and glue to the body.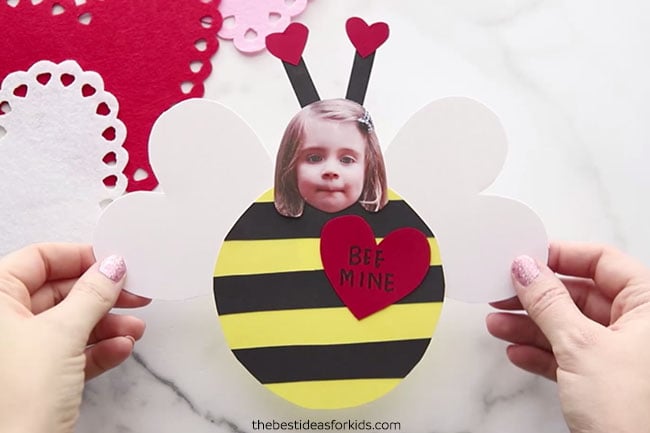 You will love making this easy Valentine bee craft with your kids! They will have so much fun seeing themselves turned into an adorable bee. Give this as a gift this Valentine's Day or hang up on the fridge for decoration!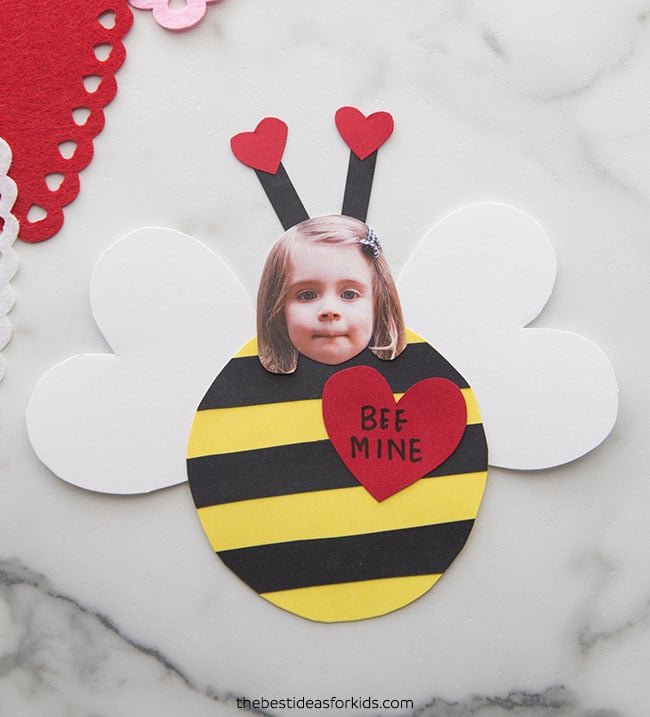 To get the template, subscribe below and it will be delivered to your inbox as a free gift. Please make sure to check ALL folders for the confirmation email. 
More Valentine Crafts for Kids
This love bug ladybug craft is another easy and fun Valentine's day craft!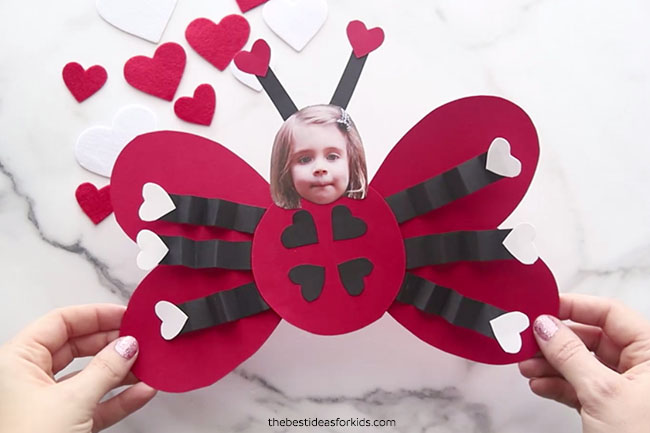 See how to make these salt dough hearts. These would make great gifts for Valentine's Day!