This adorable Valentine balloon craft is made with only a few supplies! You can even modify the balloons by drawing your own, using heart stickers or make fingerprint hearts.
RELATED: Valentine Love Bug Craft
Valentine Balloon Heart Craft
This adorable Valentine craft was inspired by one of our group members – Danielle R. She shared a version like this made with circle paper roll stamps. She also made a Valentine version that used fingerprints to make the heart and then LOVE spelt underneath using a child's picture for the O.
To join our group and see more fun ideas by members – you can join here.
If you're a teacher, these are great to make as a classroom and place on a bulletin board!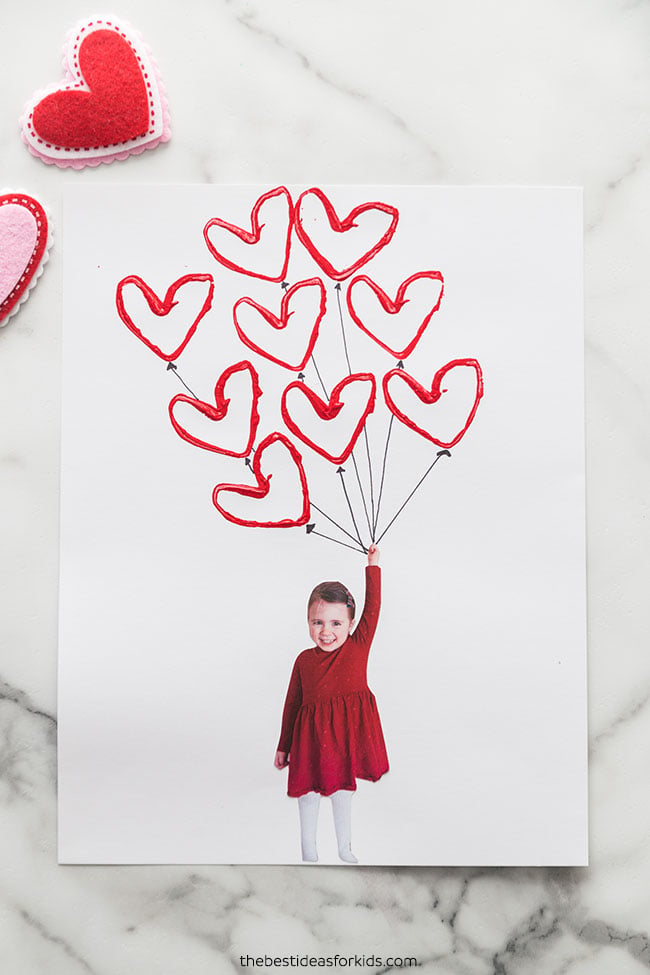 Supplies Needed To Make A Valentine Balloon Craft
You only need a handful of supplies to make this craft! We love that it uses recycled materials too. And if you love crafting with recycled materials, see our book which is filled with a whole chapter of paper roll crafts.
– Paper Roll – either a paper towel roll or toilet paper roll will work
– Paint – red or pink paint. We like to use acrylic paint.
– Photo – you'll need to take a picture of your child pretending to hold balloons. Then print off the photo. You can print from your computer using photo paper. You can also print a photo on white cardstock.
– Ultra fine point sharpie or black pen
– Glue stick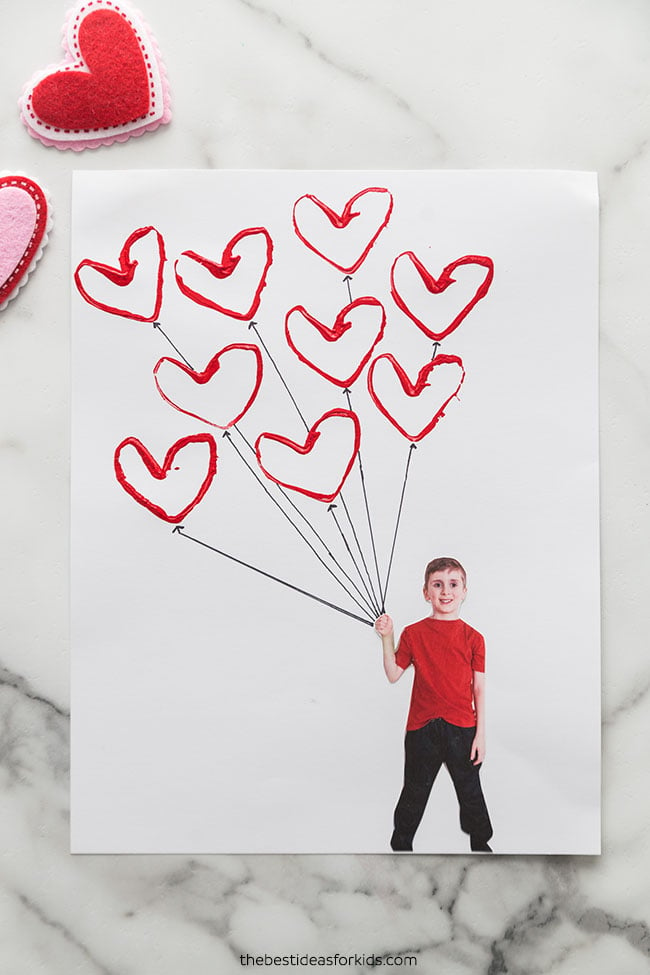 Watch the full tutorial video here!
Directions For How To Make A Paper Roll Balloon Valentine
1. First, take a picture of your child pretending to hold a balloon.
You can print the picture off from your computer using photo paper. You can also print on white cardstock.
2. Glue the picture to a piece of white cardstock.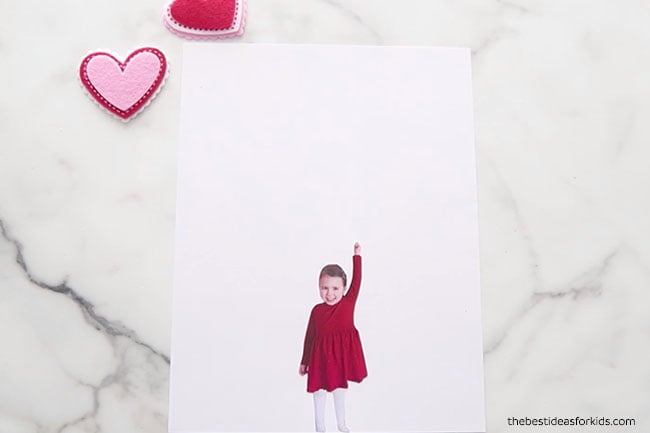 3. Take a paper roll and fold it into the shape of a heart. Once folded, it should stay in place. If you find the paper roll starting to unbend you can use an elastic to keep it in place.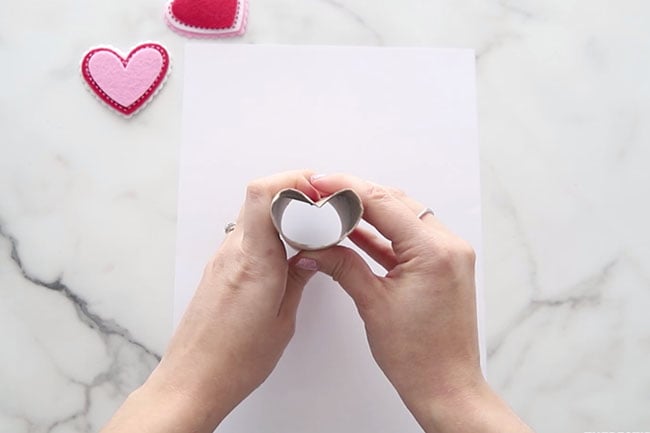 4. Stamp the paper roll into red or pink acrylic paint and then stamp onto your white cardstock to make heart shapes. You can also use fingerprints to make fingerprint hearts, heart stickers or draw your own heart balloons.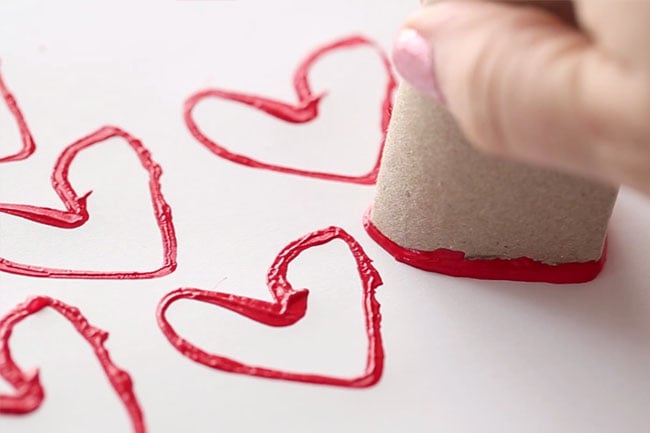 5. Add enough to make it look like a bunch of balloons.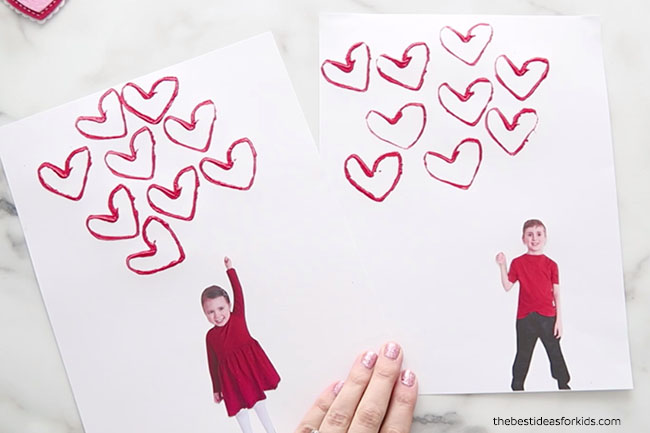 6. Using an ultra fine point sharpie or black pen, draw lines from the heart balloons to the hand.
We also added a little mark underneath the heart to make the heart look like a balloon.
You do not need to draw a line for every balloon. For some of the top ones you can just draw a little line down to the next balloon.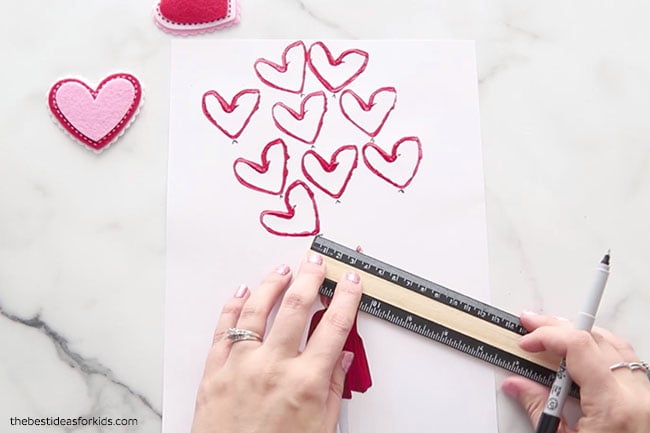 Your Valentine balloon craft is now complete! Write a special message on it or add "Happy Valentine's Day" to the page.
More Valentine Crafts for Kids
This love bug ladybug craft is another easy and fun Valentine's day craft!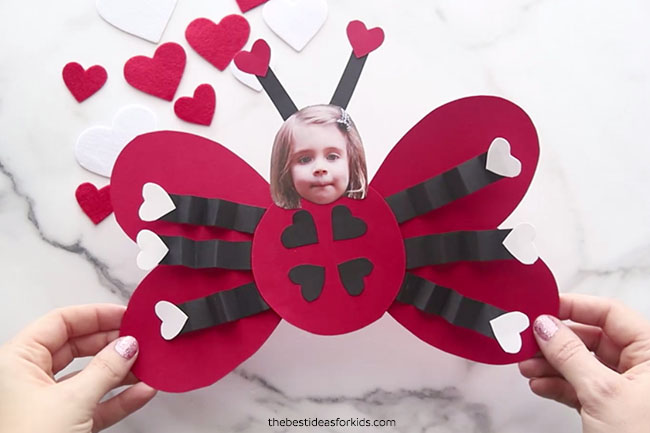 See how to make these salt dough hearts. These would make great gifts for Valentine's Day!