This adorable snowman card is really easy to make! You can grab the printable template at the bottom of our post which includes the body, scarf, nose and arms. You can even put on a hat instead of pipe cleaners and pom poms for earmuffs. Kids will love decorating their snowman to give as a Christmas card this year!
RELATED: Snowman Craft 
We love how cute these cards are! This card will surely put a smile on the face of whoever receives it. And who doesn't love to receive a homemade card? I know we'll be making plenty of these cards this year to hand out!
The card opens up at the top so you can write a message inside. Add a special Christmas message or just write "Merry Christmas!" inside.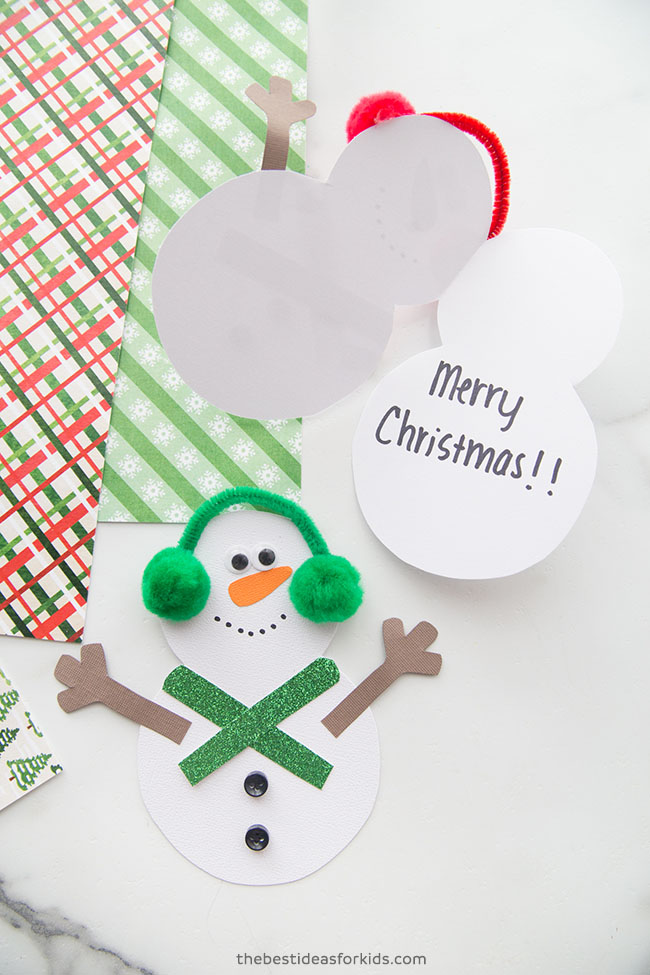 Supplies Needed to Make this Snowman Card
Only a few supplies are needed to make this card! You can even decorate your snowman with other features instead, like paper for the eyes or buttons.
Template – you can get the template at the bottom of the post on the email form that shows a preview of the template 
What kind of glue should I use?   Hot glue works best when working with pipe cleaners and pom poms. But for younger children, we like to use an extra-strong non-toxic glue like this one. Just make sure to let it thoroughly dry and press and hold for the glue to take.
Watch the full tutorial video here!
Directions To Make a Snowman Card
1. First print off the template to trace around for the card. Fold over a piece of white cardstock and trace the template so that the top part of the snowman's head is at the folded part.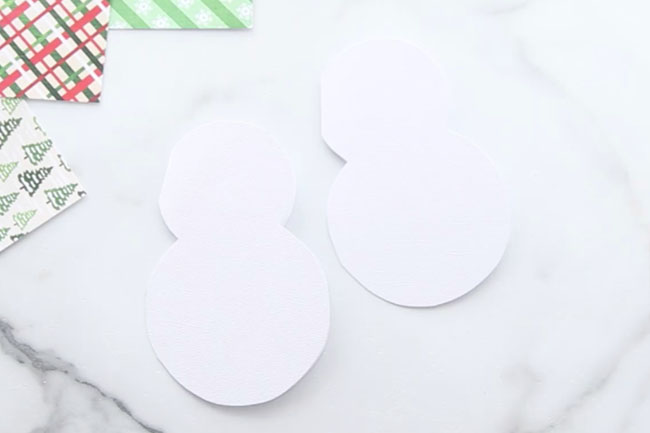 The card should open up like this: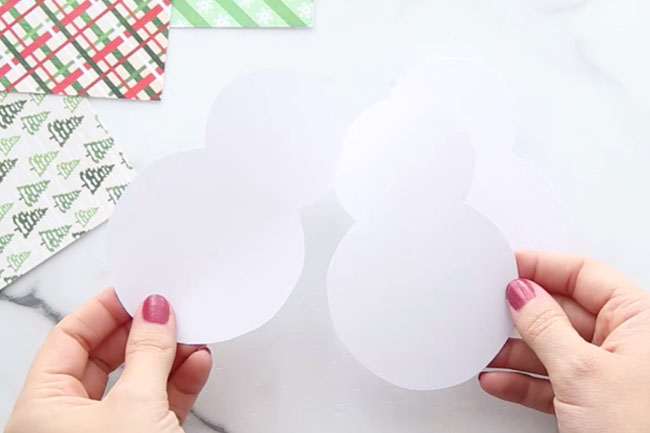 2. Glue a pipe cleaner and 2 large pom poms to the top of the snowman's head to make the earmuffs. The pom pom should be big enough to cover the folded part of the card.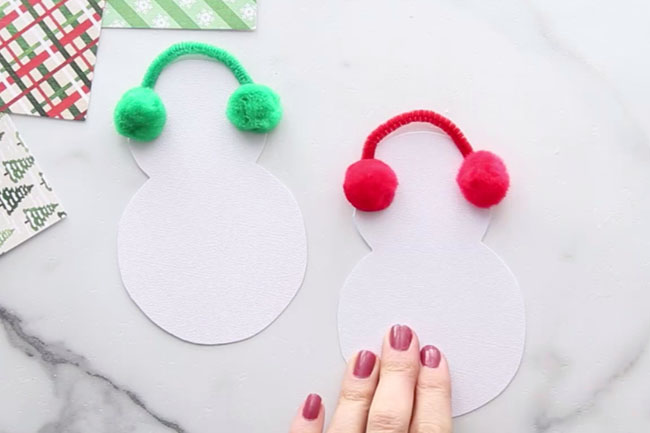 3.  Glue on two googly eyes and a carrot nose from cardstock. You can use the printable template for the nose or draw your own!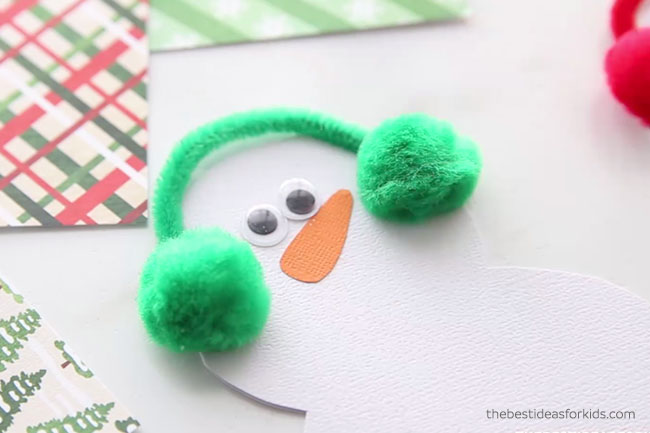 4.  Cut out and trace 2 strips from the template on glitter paper. Then glue to the snowman body. Trim around the outside body of the snowman if needed.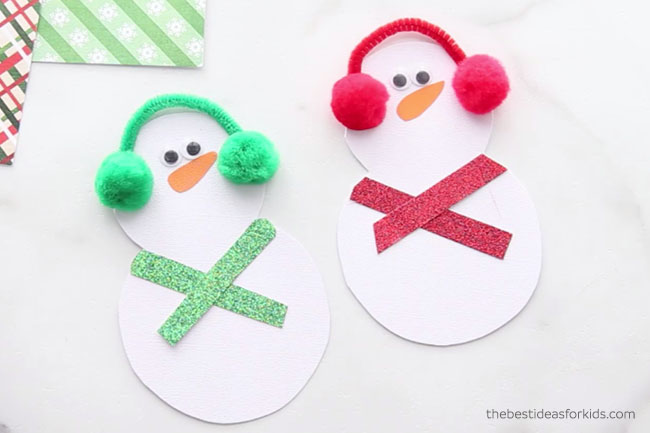 5. Glue on 2 small black buttons. Then use a black marker or sharpie to draw dots for the mouth.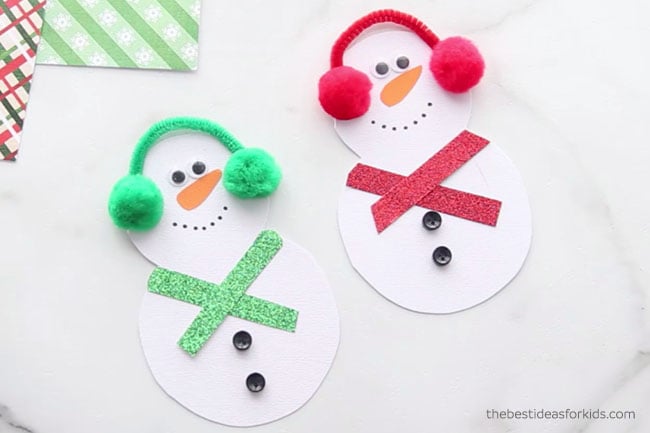 6. Trace around the template arms on brown cardstock. Glue to the sides of the snowman body.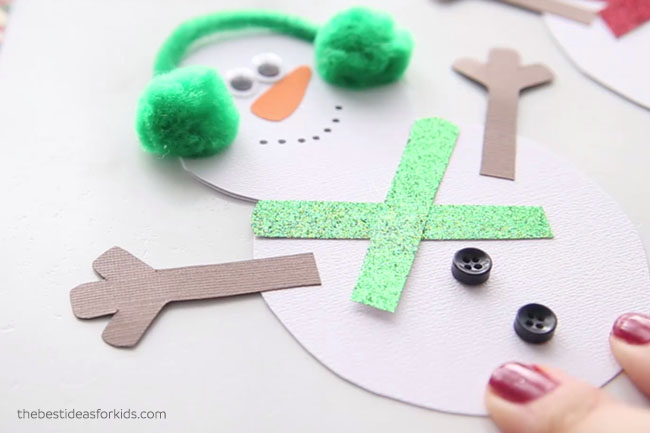 7. Now your snowman card is finished! Write a special Christmas message inside.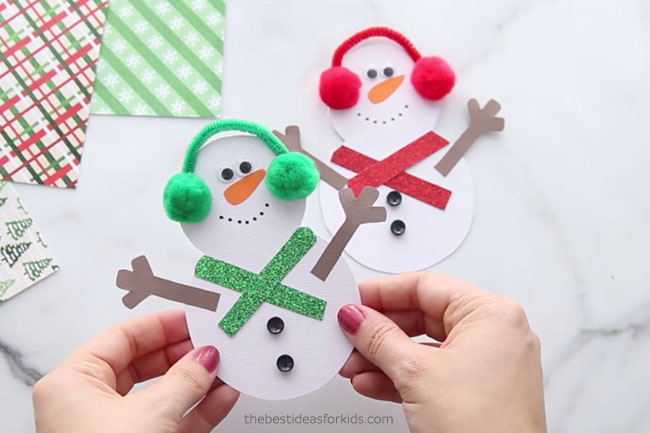 To get the template, subscribe below and it will be delivered to your inbox as a free gift. Please make sure to check ALL folders for the confirmation email. 
And don't forget to check out our NEW book which is filled with easy crafts like this one! Fun and Easy Crafting with Recycled Materials is bursting with easy crafts for kids. But not only that, it is all recycled crafts for kids too – paper rolls, egg cartons, cardboard, popsicle sticks, jars and more!
More Christmas Crafts for Kids
For more Christmas craft ideas, see 50+ Christmas Crafts for Kids.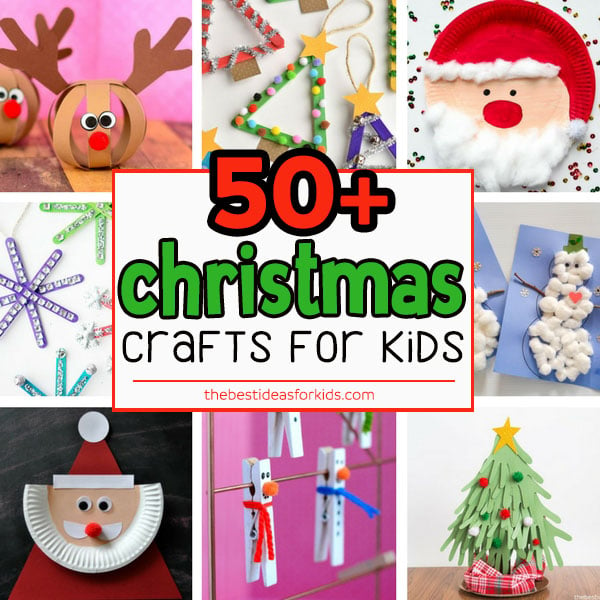 For another snowman card idea – see this snowman craft card.