If you need an easy craft for a cold winter day, then try making this egg carton snowman! These little snowmen are so much fun to make. And we love that this craft uses recycled egg cartons that you probably already have on hand!
RELATED: Christmas Crafts for Kids
Egg Carton Snowman
Not only will kids love making an egg carton snowman, but they will love playing with them too! You can create a winter play scene with some cotton balls, recycled Styrofoam and some blue paper.
Supplies needed to make an Egg Carton Snowman
Egg Carton
Scissors
Paint Brush
Hot Glue
What kind of glue should I use?   Hot glue works best when working with egg cartons and buttons. But for younger children, we like to use an extra-strong non-toxic glue like this one. Just make sure to let it thoroughly dry and press and hold for the glue to take.
And don't forget to check out our NEW book which has this craft in it! Fun and Easy Crafting with Recycled Materials is bursting with easy egg carton crafts for kids like this one. But not only that, it is all recycled crafts for kids too – paper rolls, cardboard, popsicle sticks, jars and more!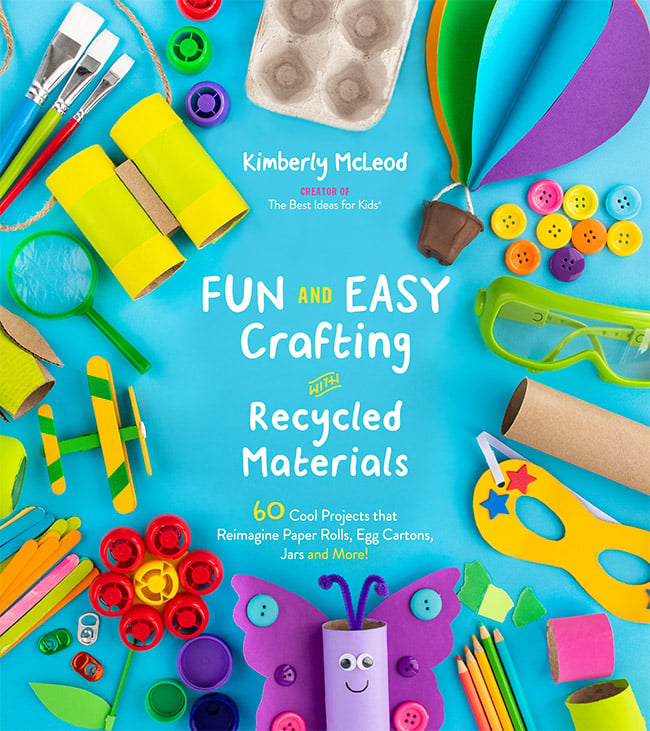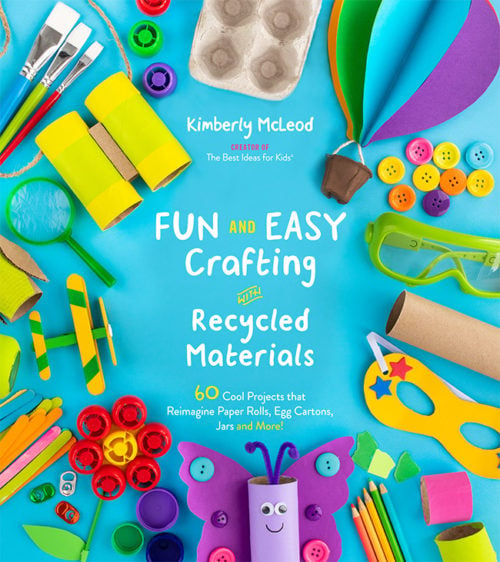 Watch the full tutorial video here!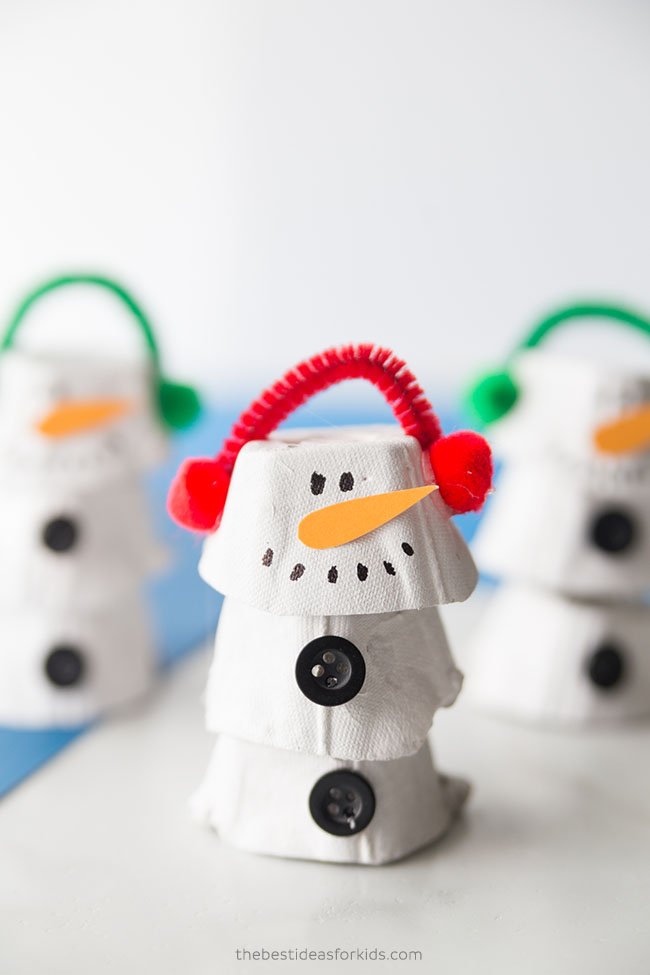 Directions To Make an Egg Carton Snowman
1. First, cut out three egg cups from your egg carton.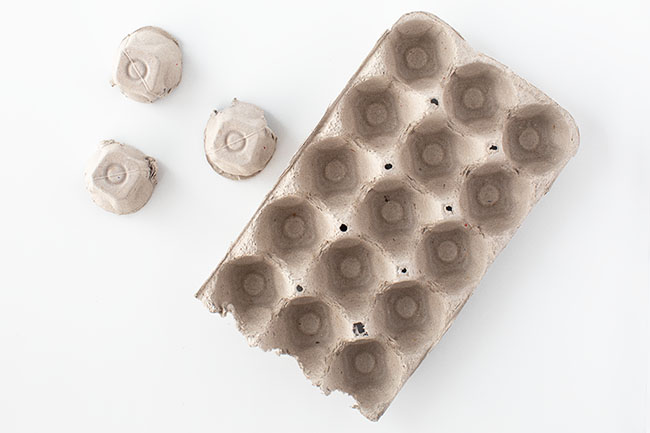 2. Next, paint your egg cups white. You may need a few coats of paint to fully cover the egg cups.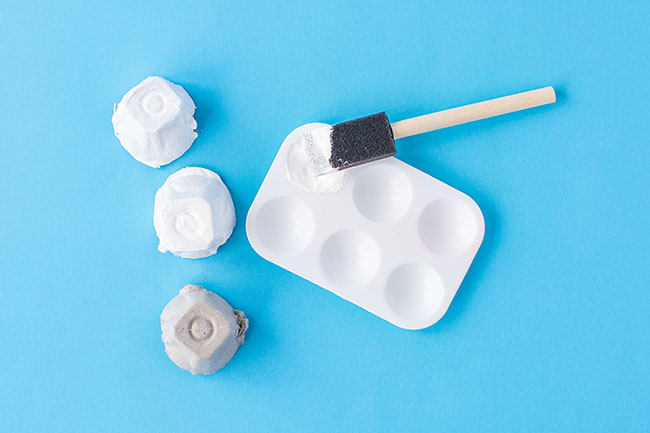 3. To stack your cups, you will need to add spacers in between to allow the cups to sit higher. In order to make the spacers, you will need to cut out a small strip from the egg carton lid. Fold the strip into a square. Glue this square to the top of one egg carton.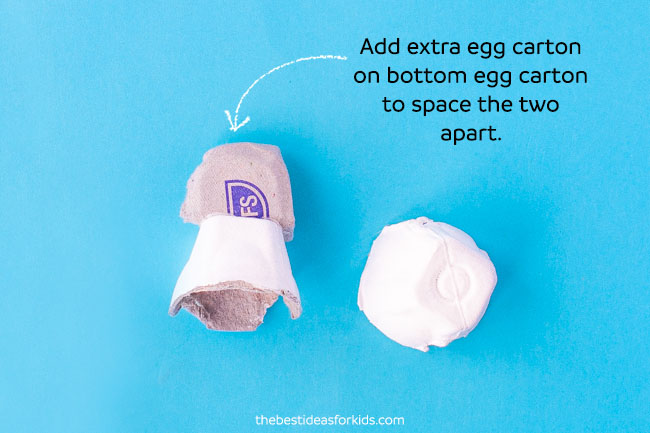 4. Glue another egg carton on top of the one with the spacer. Create another spacer with a strip of egg carton lid and attach this to the top of the second egg cup. Then, glue your final egg cup to the top.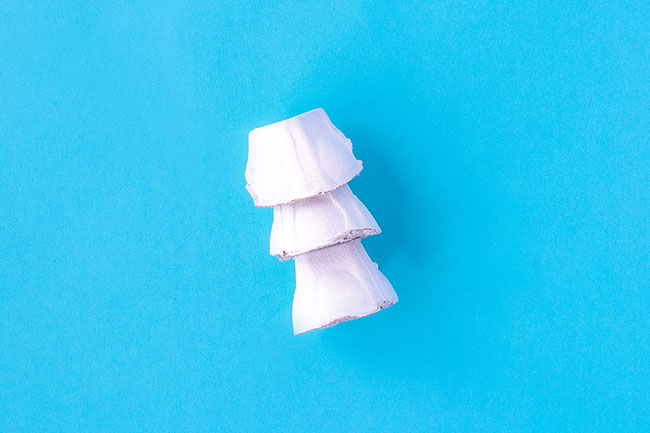 5. To make earmuffs, cut a small piece of pipe cleaner and curve it into an upside down "U" shape. Glue this to the top egg cup. Next, glue two pom poms on either side of the pipe cleaner to make it look like earmuffs.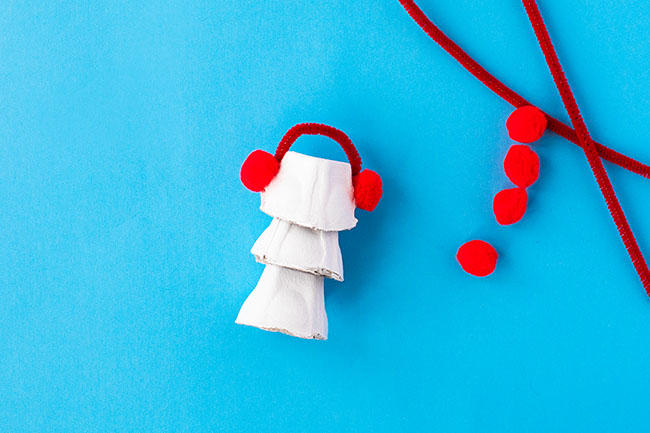 6. Draw a carrot nose onto a piece of orange cardstock and cut it out. Glue this to the top egg carton.
7. Draw on eyes and a mouth with a black Sharpie.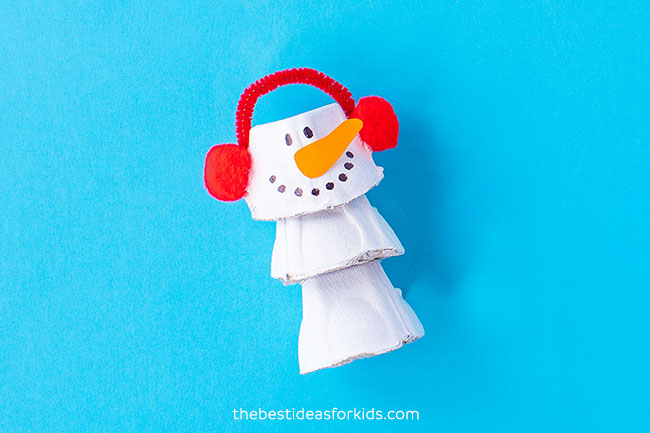 8. Finally, glue one black button onto the middle and bottom egg cups.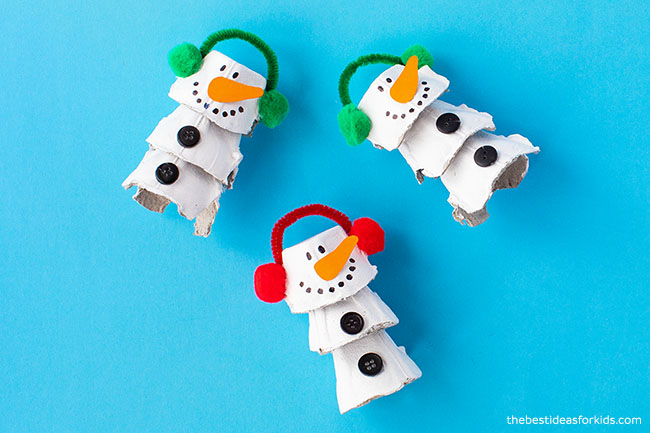 Kids will love making this egg carton snowman! Make one or a bunch of snowmen to display or play with this winter.
This is one of the 60 crafts in our book – Fun and Easy Crafting with Recycled Materials – see more of the projects in our book here.
More Christmas Ideas
For more Christmas craft ideas, see 50+ Christmas Crafts for Kids.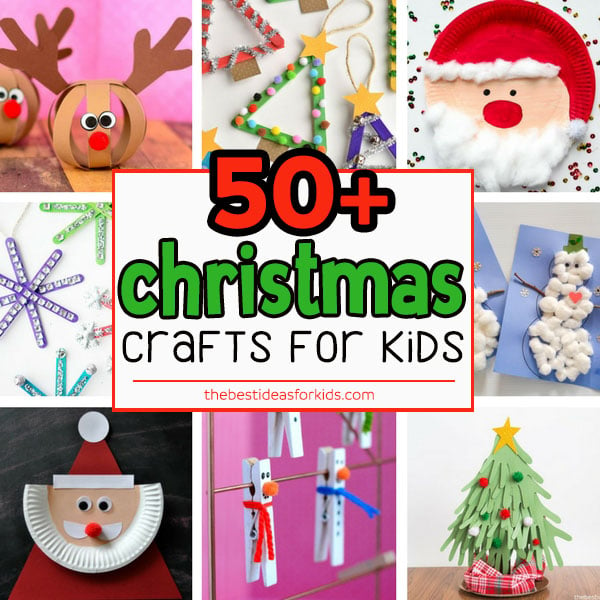 See another cute snowman craft – this snowman card is really fun and easy to make!