For a festive treat idea, make these Santa Rice Krispie Treats this holiday season! These are easy for kids to help put together. Make a batch to serve at a holiday party or family gathering this Christmas season!
RELATED: Christmas Tree Rice Krispie Treats
Santa Claus Rice Krispie Treats
We love how easy these Santa Rice Krispie treats are to make! You won't need a lot of ingredients to make these festive holiday treats. Kids will love helping to make them too! You can even put them in clear bags or decorative tins and give them out to neighbors or friends for the holidays!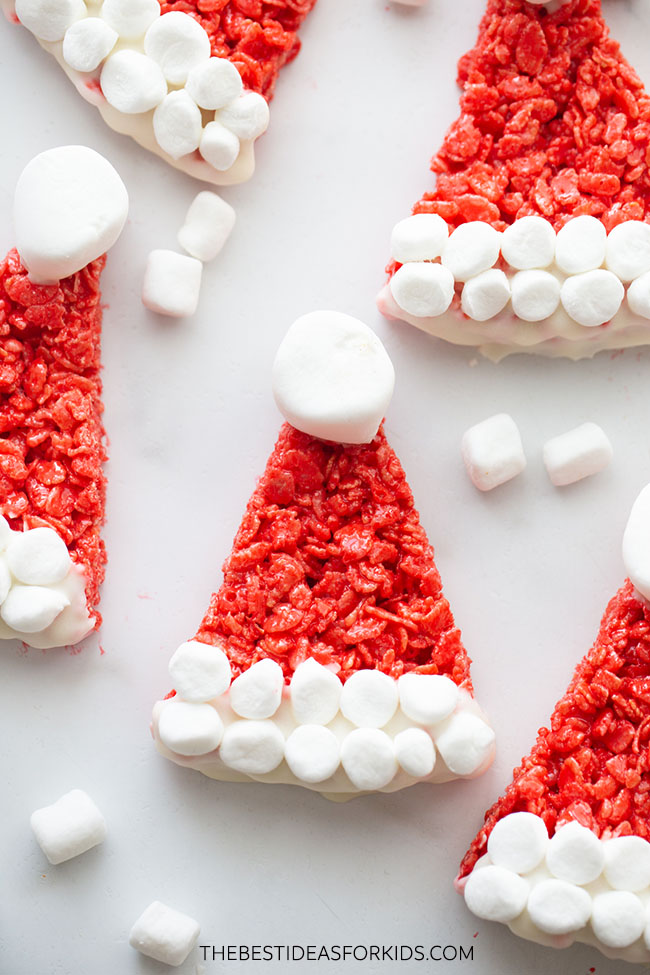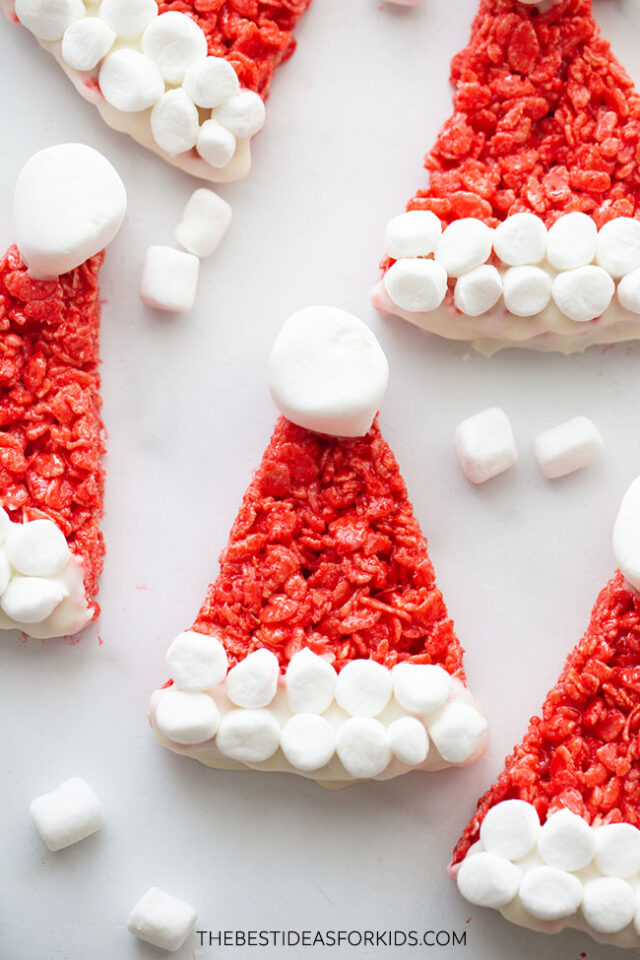 Ingredients Needed to Make Santa Rice Krispie Treats
Here is what you will need:
Rice Krispie cereal
Marshmallows (regular and mini)
Unsalted butter
Vanilla extract
Salt
We used concentrated food coloring to get a more vibrant red color for these Santa hat treats. You can use liquid food coloring also, you will just need to add more drops to make it darker (10-20 drops).
We used white chocolate melting wafers but you can also use white chocolate chips. The chocolate is the 'glue' to stick the marshmallows on.
You'll need both regular-sized and mini marshmallows to make these Santa Claus Rice Krispie treats. Both will be used for decorating and the regular marshmallows will also be used to melt with the Rice Krispie cereal.
Alternatives to Red Food Coloring
Use red sprinkles. Mix red sugar sprinkles into the Rice Krispie mixture to give the hats a red hue.
Make your own pomegranate dye. Using a lemon squeezer, squeeze half a pomegranate to make juice. Add a tablespoon into the marshmallows to slightly dye the marshmallows a red tint. Add more as needed to make the color more vibrant. Be careful not to add too much or it will become too watery. You can also cook the juice and it will deepen in color. Then strain with a cheesecloth.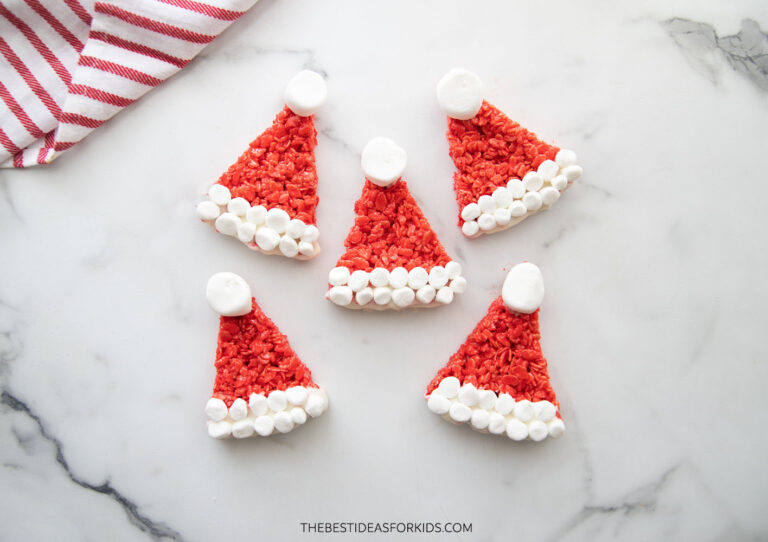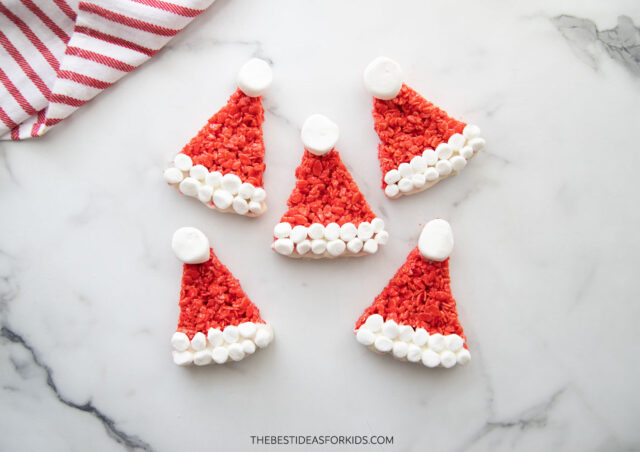 Tips
Butter or spray the spatula: Buttering your spatula will make it a lot easier to handle the mixture and press it down into the prepared cake pan.
Melt marshmallows slowly: Melt the marshmallows in 45-second increments in the microwave so that they do not overcook. You can also melt on low heat on the stove.
Use a round cake pan or rectangular pan: A round cake pan makes it easy to cut symmetrical wedges. If you don't have a round cake pan you can still use a rectangular pan and cut triangle shapes by cutting X lines into the Rice Krispies once they are set.
How to Store
Store any leftover Santa hat treats in an airtight container at room temperature for 3 to 4 days. Lay them out in a single layer to retain the shape. They will start to get hard over time, so it's best to consume within four days.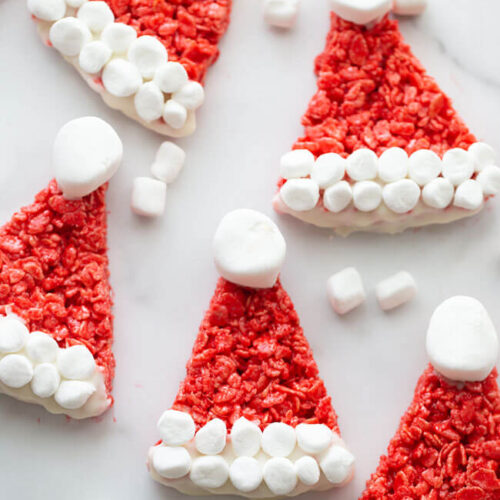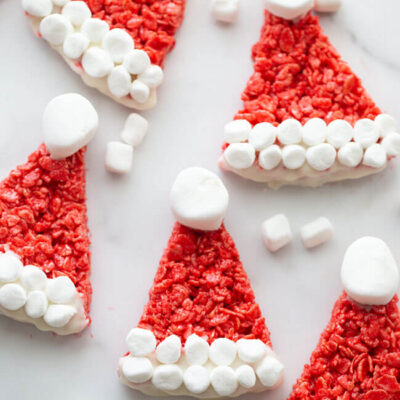 Santa Hat Rice Krispie Treats
An easy Santa Rice Krispie treat for the holidays!
Ingredients
32

regular-sized marshmallows

3

tablespoons

butter, unsalted

1

teaspoon

vanilla extract

pinch of salt

4-5

drops

red food coloring

3

cups

rice krispie cereal

50-55

mini marshmallows, cut in half

1

cup

white chocolate melting wafers
Instructions
Prep a 9" round cake pan (or you can use a rectangular pan) by lightly spraying it with cooking spray or adding a light coating of butter.

In a microwave-safe bowl, place the butter and 28 regular-sized marshmallows. Microwave on high for 45 seconds. Take the bowl out of the microwave and stir it well. Microwave for an additional 45 seconds. Stir the marshmallow mixture well until it is completely melted and smooth.

Next, add vanilla, red food coloring (4-5 drops for concentrated food coloring and 10-15 drops liquid food coloring), and salt to the bowl and mix it well. The color should be well combined. If the red is not dark enough, add more food coloring.

Spray a rubber spatula with cooking spray and use it to fold in the Rice Krispies until they're evenly coated with the marshmallow mixture.

Transfer the Rice Krispie mixture into the previously prepared cake pan. Lightly spray the spatula with cooking spray again and press the mixture into an even layer. Set it aside to allow the Krispie treats to set (approx. 30 minutes).

In the meantime, line a large baking sheet with parchment paper.

Cut 50 mini marshmallows and 4 regular-size marshmallows in half.

Once the Rice Krispie mixture is set, carefully remove it from the pan and cut it into 8 wedge-shaped pieces.

Follow the directions on the package to melt the white chocolate melting wafers. Dip one end of each Rice Krispie wedge about 1 inch into the melted chocolate and then place the dipped treats on the parchment-lined sheet.

To create the bottom brim of the Santa hat, place two rows of the mini marshmallows (cut side down) on the white chocolate.

Dip the cut side of a halved regular marshmallow into the melted chocolate and put it on the top end of the hat to make the pom-pom. Repeat this process for the remaining 7 Rice Krispie wedges.

Let the chocolate set completely at room temperature before serving.
Nutrition Estimate
Calories:
213
kcal
,
Carbohydrates:
39
g
,
Protein:
2
g
,
Fat:
6
g
,
Saturated Fat:
4
g
,
Polyunsaturated Fat:
0.3
g
,
Monounsaturated Fat:
2
g
,
Trans Fat:
0.2
g
,
Cholesterol:
13
mg
,
Sodium:
121
mg
,
Potassium:
33
mg
,
Fiber:
0.1
g
,
Sugar:
23
g
,
Vitamin A:
833
IU
,
Vitamin C:
7
mg
,
Calcium:
14
mg
,
Iron:
3
mg