Salt Dough Ornament Recipe
All activities should be supervised by an adult. As an Amazon Associate I earn from qualifying purchases. This post may contain affiliate links.
Salt dough ornaments are the perfect Christmas craft and activity to do with your kids. We love making salt dough ornaments and have made quite a few including our salt dough handprint ornament, fingerprint ornaments and star ornament.  All of these salt dough ornaments make perfect gifts for kids to help make too! Make them to give to grandparents or simply make as an activity and hang them on your tree. We will walk you through our easy salt dough ornament recipe and answer any questions you may have on how to make salt dough!

Salt Dough Ornament Recipe
The best part about making salt dough is it's easy! And you typically already have the ingredients on hand – salt, flour and water. Don't worry if you don't have the decoration supplies just yet. Make your batch of salt dough, bake and then let them air dry for a few days before decorating.
Watch the full tutorial video here before you get started!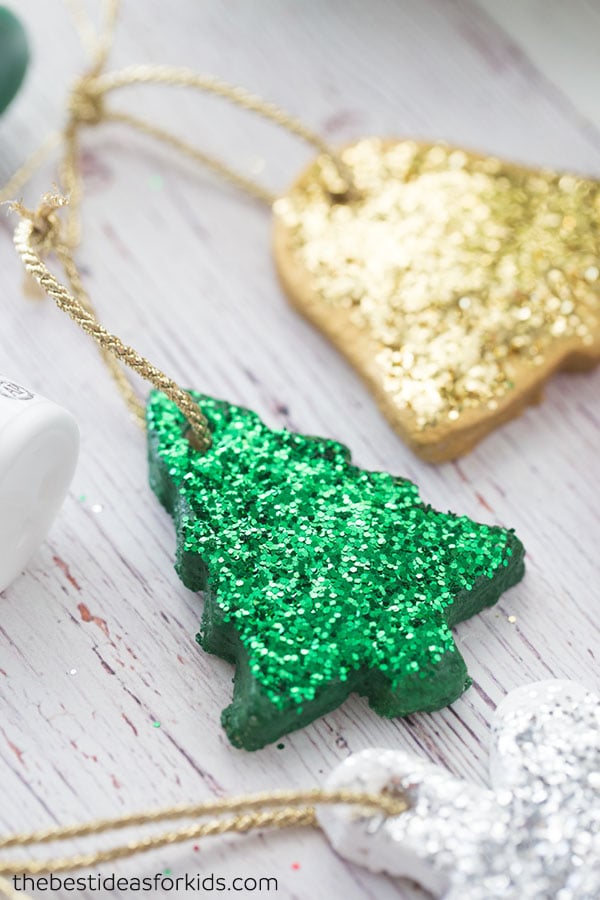 Just a friendly reminder that salt dough can be dangerous around pets – please keep out of reach of pets and small children.  Always read and follow the directions of products used.
We're going to show you how to make these glittery salt dough ornaments – aren't they so pretty? Your Christmas tree will be glistening with these homemade ornaments!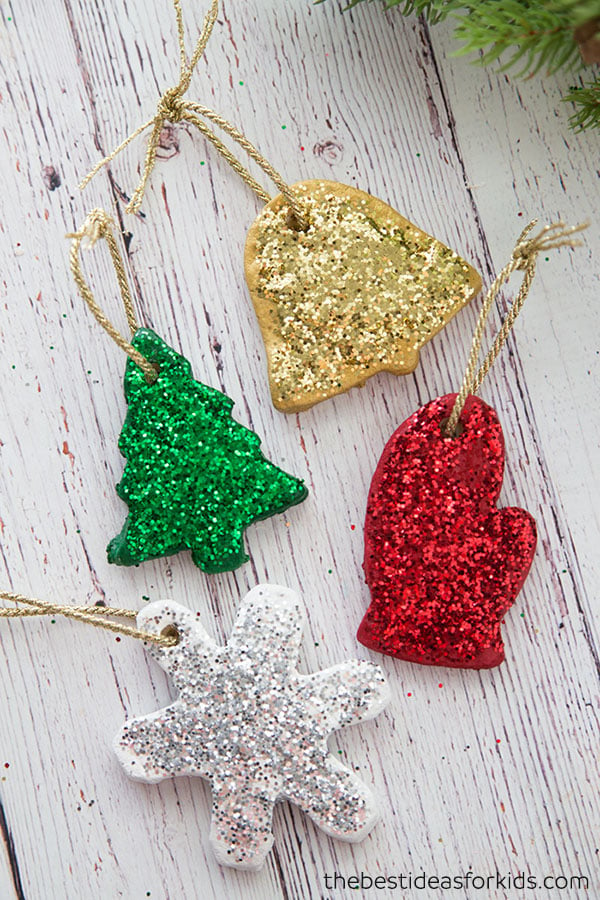 Ingredients Needed to Make This Salt Dough Ornament Recipe 
– 4 cups Flour
– 1 cup Salt
– 1.5 cups Water (maybe a little more)
– Glitter
– Clear glaze spray or mod podge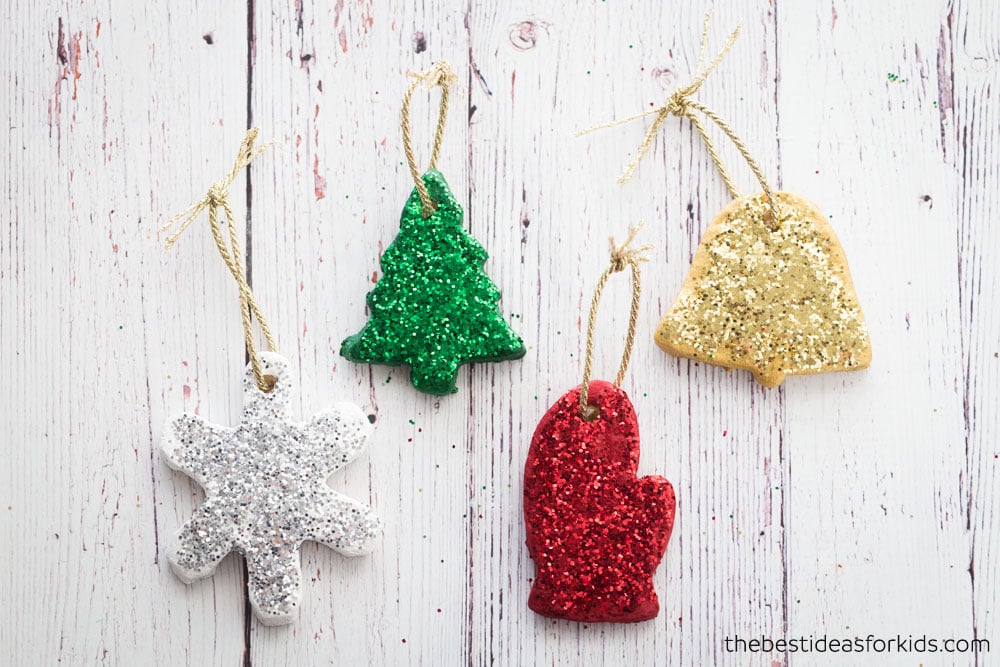 How to Make Salt Dough – Ornament Recipe
1. Preheat your oven to 200 degrees Fahrenheit. Adults will need to do the baking part, but kids can help decorate!
2. Combine your flour, salt and water and mix well. Knead for 10 minutes. If your dough is too dry, add a little bit more water. If it's too sticky, add a little bit of flour. It will help to place flour down on your surface when kneading and on your hands.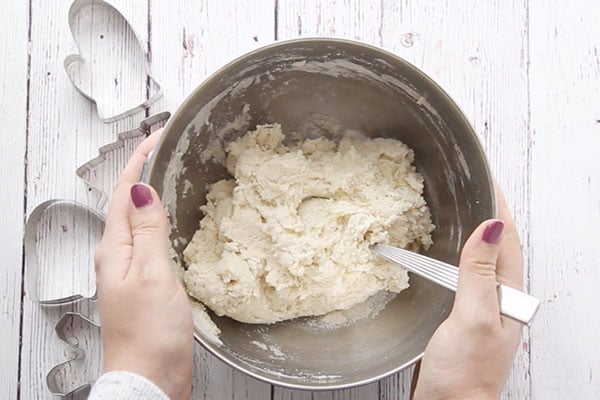 3. Once you're done kneading, roll out the dough to about 1/2 cm thickness. The thinner you make the ornaments, the better they will thoroughly bake and dry through.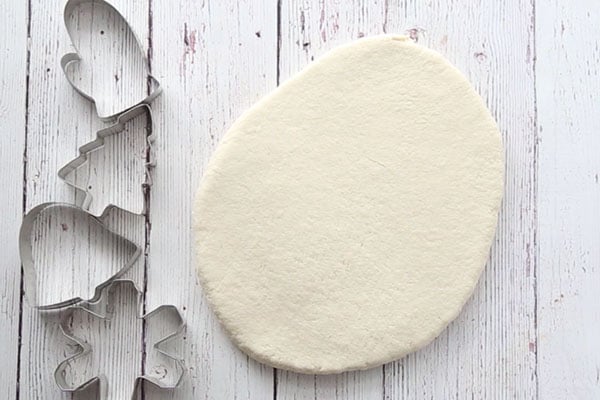 4. Using your Christmas cookie cutters, cut out different shapes for your salt dough ornaments.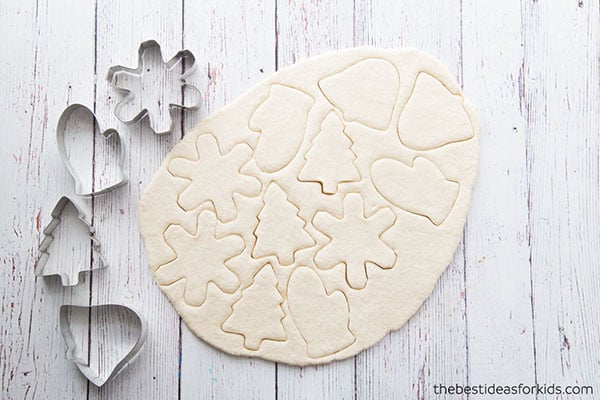 5. Using a straw, make a hole in the top of the ornament for where you would like the twine to hang.
6. Bake for 1-2 hours. If your ornaments are not completely dried through when you pull them out put back in for another hour.  The baking time will vary greatly depending on the size and thickness of your ornaments. Larger ornaments will take longer whereas smaller ornaments will take less time. You can also let them air dry for a day before baking and this will cut down on the baking time.
If you notice puffing when baking, it is likely because the ornaments are too thick. In this case, let them air dry for a few days before baking.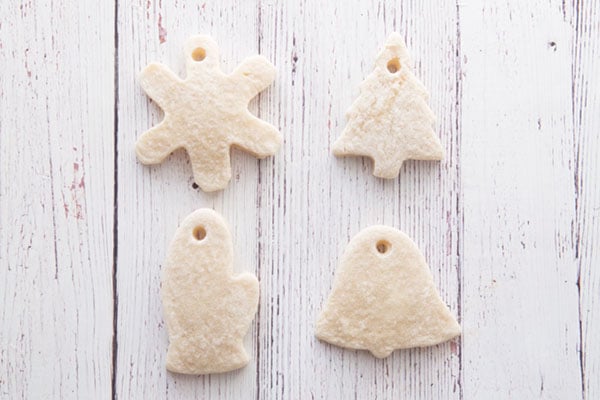 7. Once cool and completely dried, paint with acrylic paint.  We used white for the snowflake, red for the mitten, green for the Christmas tree and gold for the bell.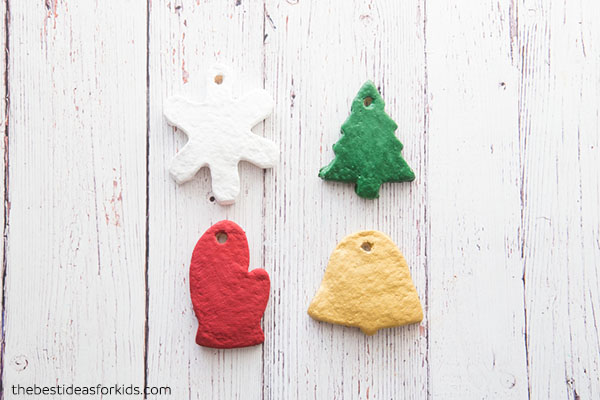 8. Now you'll want to seal before adding your glitter. Make sure your ornaments are completely dried through before sealing. Spray with a clear glaze spray (adults only) or finish with mod podge.
9. Now add clear glue on top of your ornament and shake glitter on top until you fill the ornament with glitter.  Kids will love helping with this part!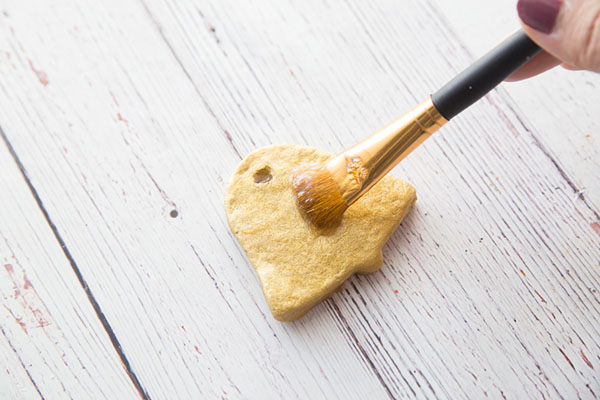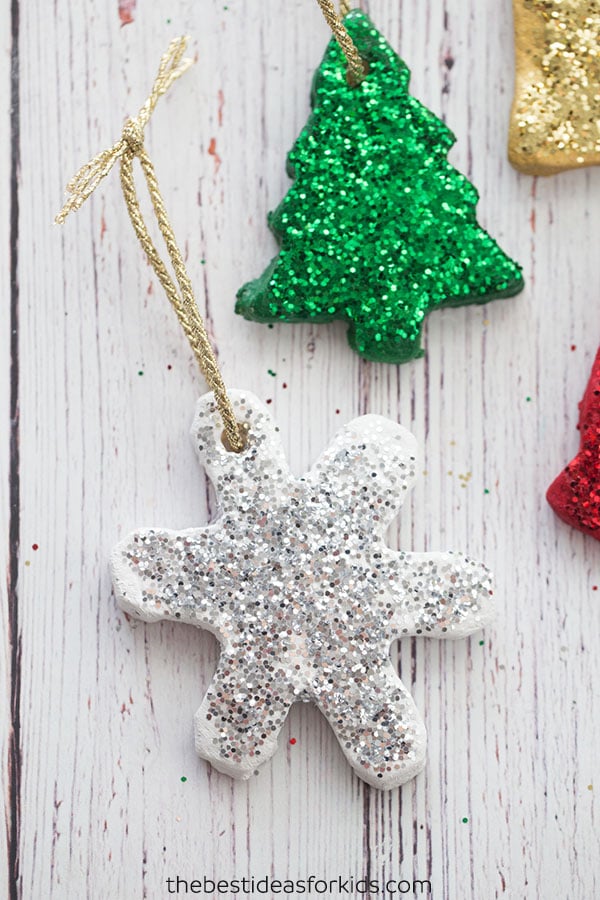 Once you're done, add your gold twine for hanging them on the tree.
These have to be our favorite salt dough ornaments we've made and they look great on the Christmas tree! This salt dough ornament recipe is the best we have tried – if you have any questions feel free to leave a comment below and we can help you!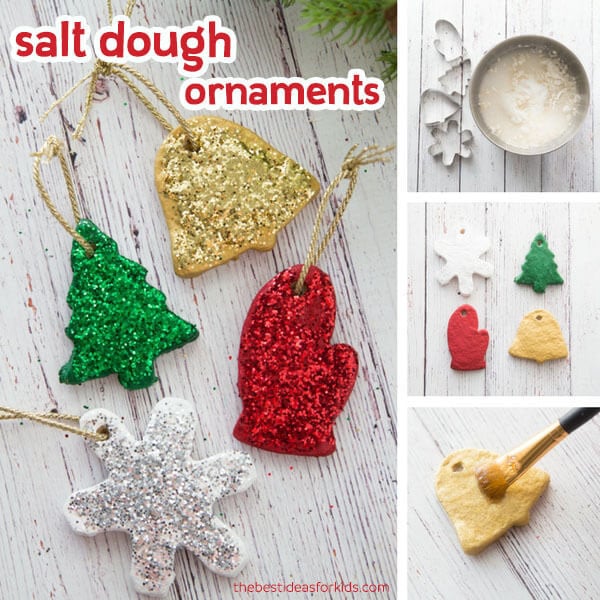 Looking for more fun Salt Dough Ideas?
See over 25+ Salt Dough Ornament Ideas – these are such cute keepsakes!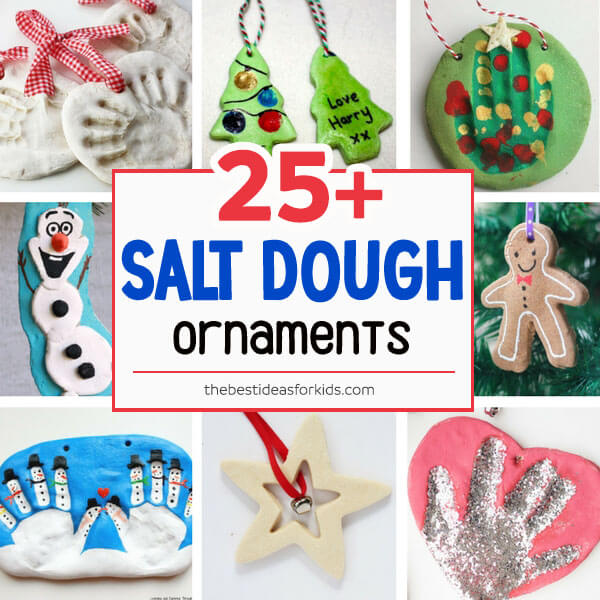 These Salt Dough Handprint ornaments are our most popular salt dough ornament. See how to make these adorable handprint keepsakes!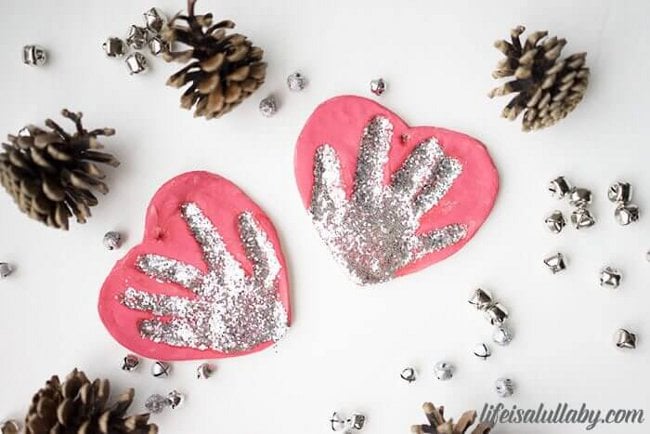 And for another ornament idea – make these salt dough star ornaments. These look great with the bell added!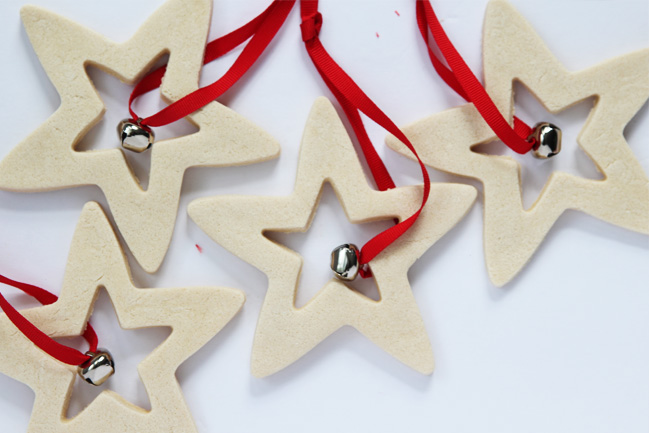 More from The Best Ideas for Kids