I can't believe that it's already time to start thinking about Christmas decorations! The holidays sneak up on me every single year, so why not get started a little early this time around? If you've ever attempted to make Salt Dough Christmas ornaments, you will know how easy and fun they are. If you haven't tried it yet, now is the time to make these Star Salt Dough Decorations!
These salt dough ornaments are so easy to create and would make the perfect Christmas gift to give out to teachers and co-workers. Kids can make these Salt Dough Decorations themselves and they will turn out beautifully every time. Switch it up to personalize it or make it just like the tutorial!
RELATED: Salt Dough Glitter Handprint Ornaments
We just love how simple these salt dough ornaments are to make! You don't even need to paint them but if you want to make them different colors, simply just paint them after they are done baking.
These would make perfect handmade Christmas gifts for grandparents, teachers or parents! Even preschoolers and toddlers can help make them and parents can bake them and package as gifts.
Just a friendly reminder to keep these out of reach of pets (they can be toxic to dogs especially) and small children that would want to put them in their mouths.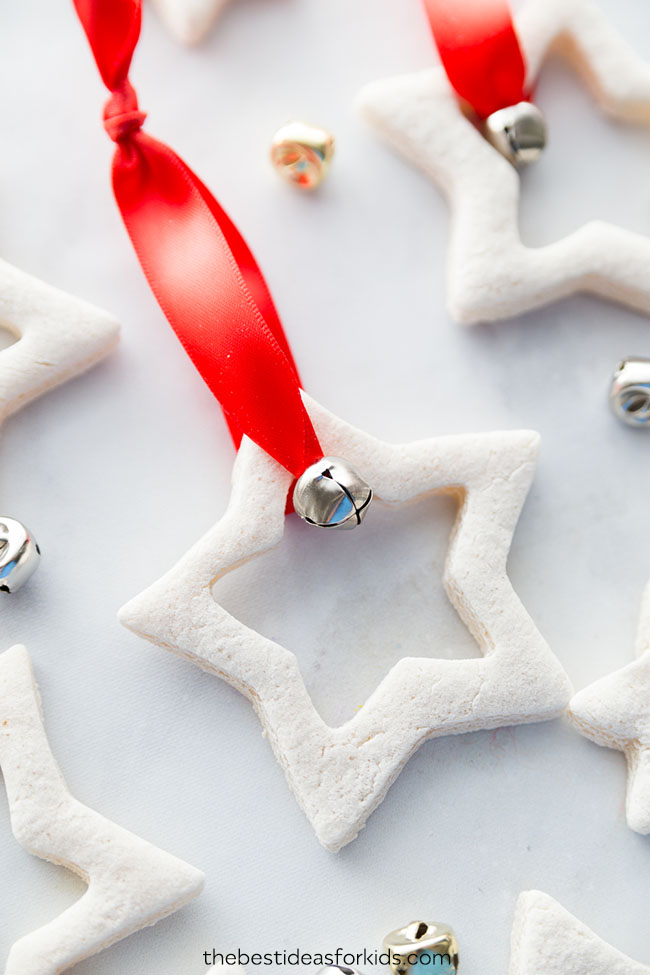 Supplies Needed to Make Salt Dough Decorations
Here's what you will need:
Directions to Make Salt Dough Ornaments
Begin by mixing the flour and salt together.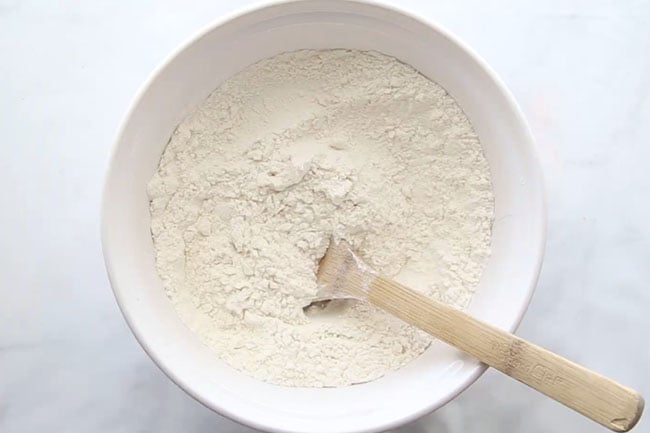 2. Add the water until it starts to form a dough.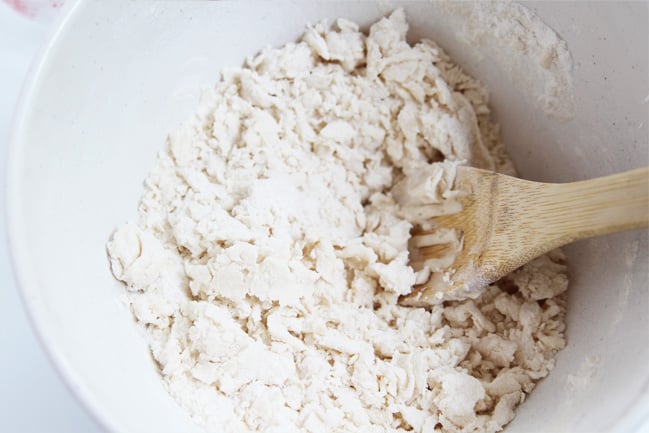 3. If it feels a little dry, you can add more water. Add one tablespoon at a time. If it is too sticky, then add a little more flour in.
4. Knead the dough until it forms a soft ball. You will need to knead for at least 5-10 minutes to get it to a good consistency. Roll it out to about 1/2 inch in thickness.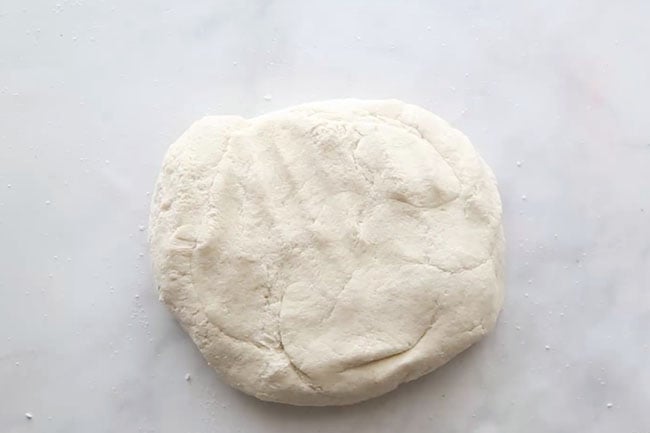 5. Cut out star shapes using a small and large star cookie cutter.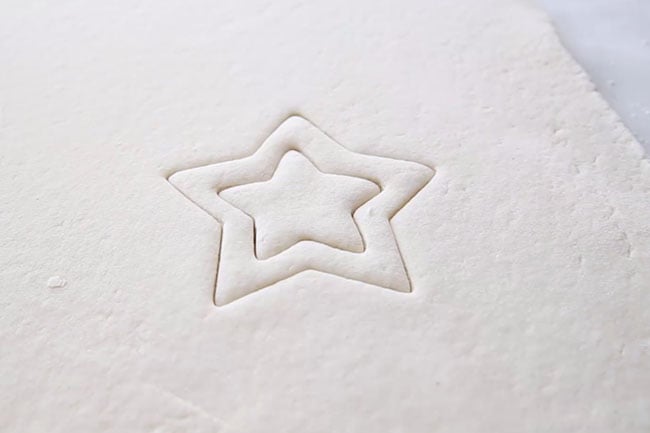 6. Place the salt dough shapes on a parchment paper lined cookie sheet or non-stick baking pan and bake at 250 degrees F for about 2-2.5 hours (Adults only). If the dough is not completely dried out, you can let it bake longer or turn the temperature of the oven slightly up.
If you do decide to turn the temperature up, keep an eye on the ornaments to make sure they do not puff up. If this happens, turn the temperature back down. If you find the ornaments are still not dry, let them sit out on a cookie drying rack to air dry overnight.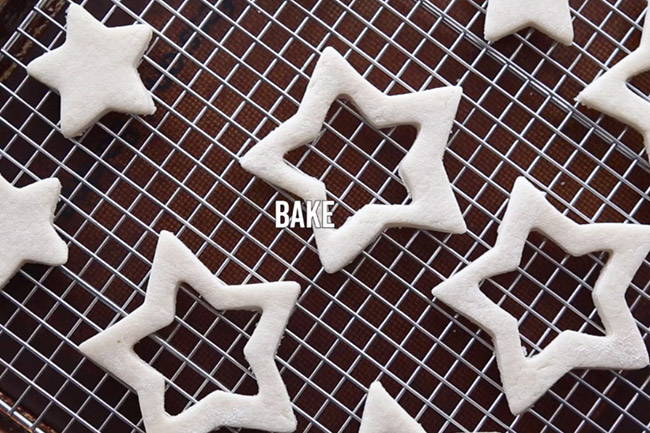 7. Once they are full dry, seal with either mod podge or a clear glaze spray. We like this spray for a durable finish. Adults should do the spraying and always follow directions of the product chosen. Sealing the final ornaments will help stop them from cracking in a few years.
If you would like to paint them, paint the ornaments first and then seal them.
8. Next, thread some narrow ribbon through some bells.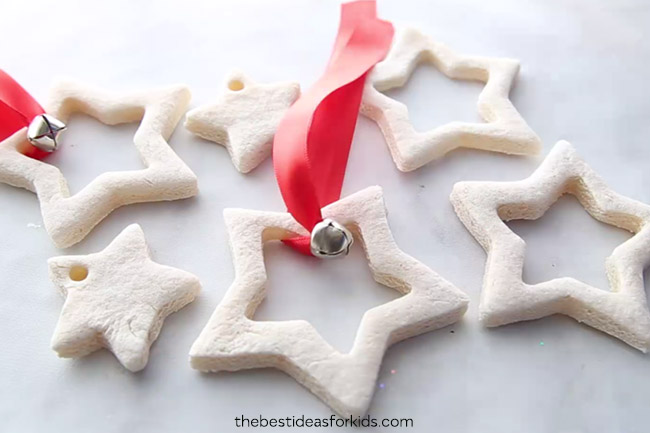 8. Then tie the ribbon around the salt dough ornaments so that the bell is in the center.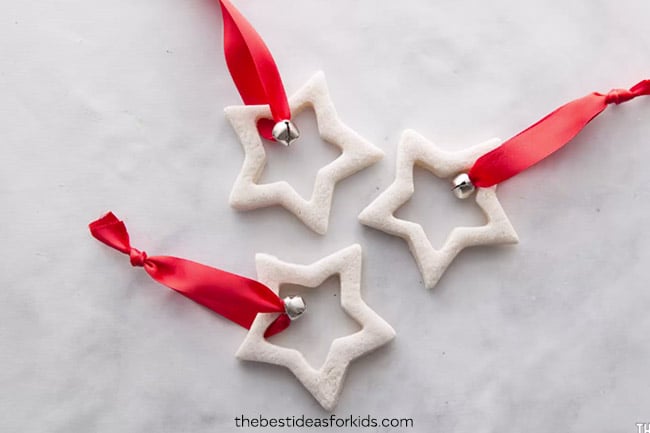 And now you have your finished salt dough star ornaments!
Hang some from the tree or attach them to gifts. You can even put names and dates on the back before you bake them.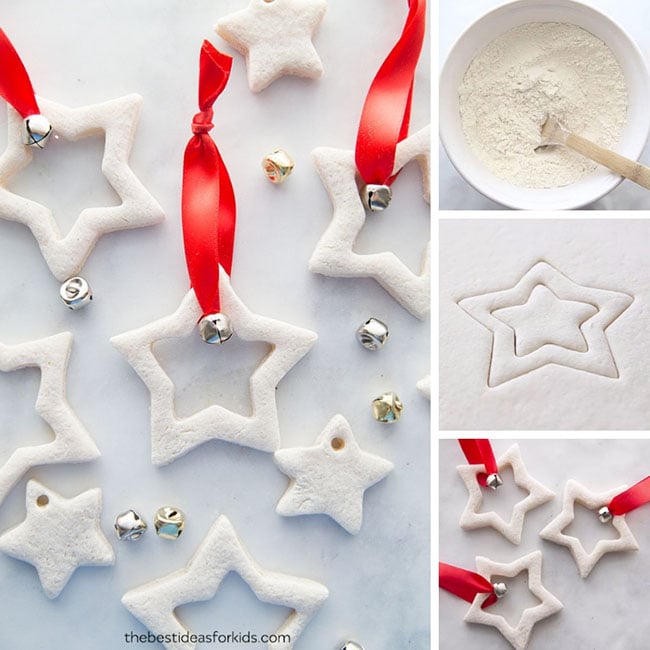 Watch the full tutorial video here before you get started! 
More Salt Dough Ornament Ideas
And if you love these handmade Salt Dough Ornaments be sure to also see these Handprint Salt Dough Ornaments.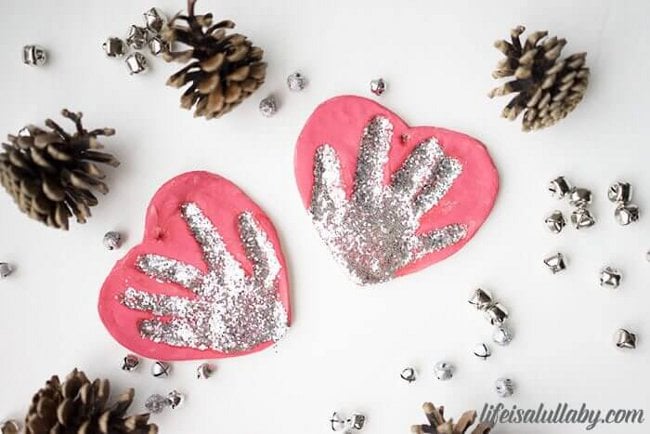 See over 25+ of the best Salt Dough Ornaments here for more great ideas!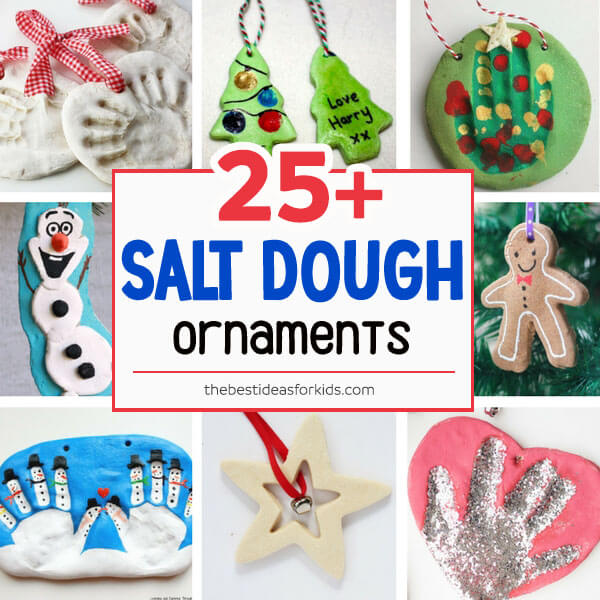 These salt dough glitter ornaments are so fun to make and look great on the Christmas tree!