Make this cute pumpkin handprint card for someone this fall or Halloween season! Add this to a Halloween treat bag or give to a teacher or friend on Halloween.
RELATED: Halloween Handprint Art
Pumpkin Handprint Craft
This easy pumpkin handprint craft only requires a few supplies. Follow the instructions below to turn it into a card and add a cute saying inside!
Here are some cute pumpkin-themed sayings you can use:
Love, your little pumpkin
You're as cute as a pumpkin!
Hey there pumpkin!
You're the cutest pumpkin in the patch!
You can also make this same craft using paint. Paint a hand with orange paint and then stamp onto white paper and cut it out. Then follow the same steps.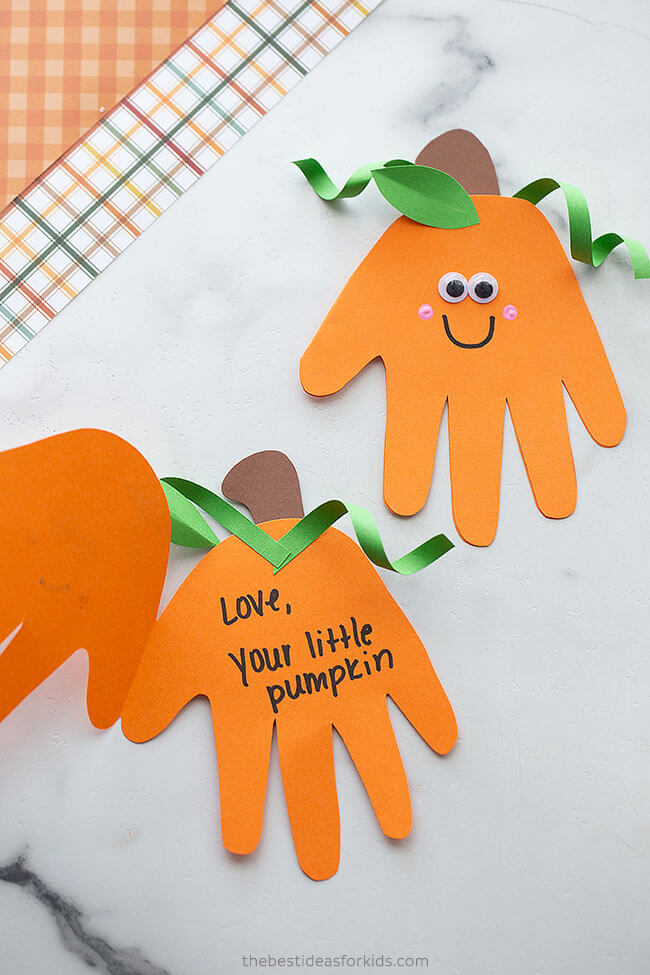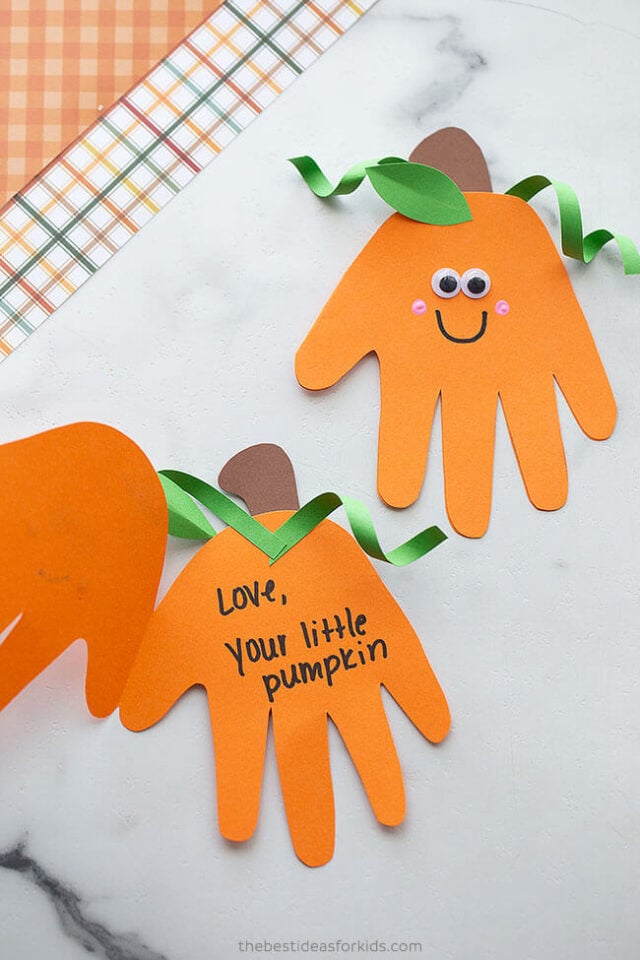 Supplies Needed to Make a Handprint Pumpkin
– Colored cardstock – we used orange for the pumpkin. Then you'll need green and brown for the stem, leaf and vines.
– Pink paint
– Glue – Regular washable white glue or a glue stick is great for this project.
– Black Marker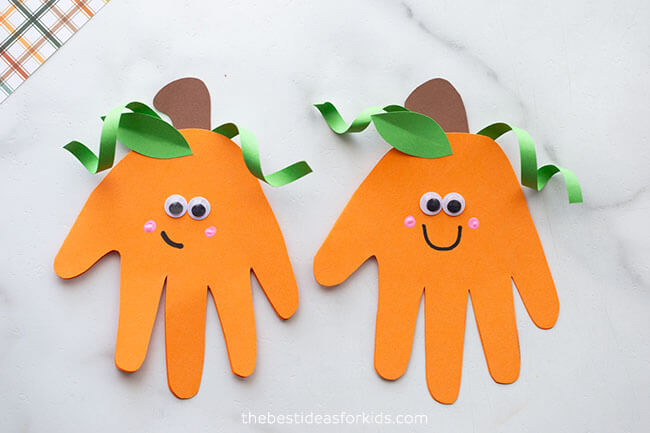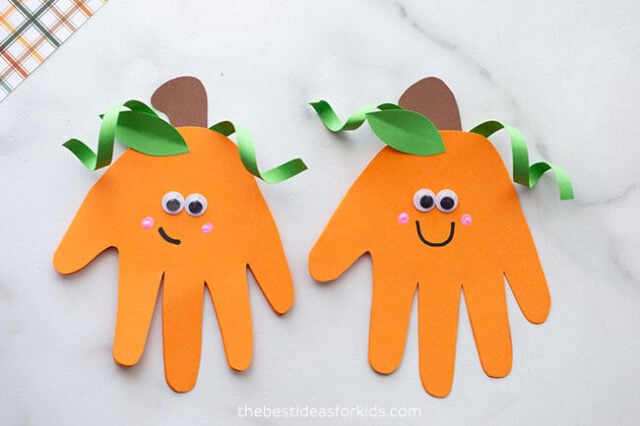 Watch the Video Tutorial Here!
How to Make a Pumpkin Handprint Card
1. Start by folding over a piece of orange cardstock.
Trace the handprint so that the thumb is along the folded part. Cut it out.
It should now open up like a card: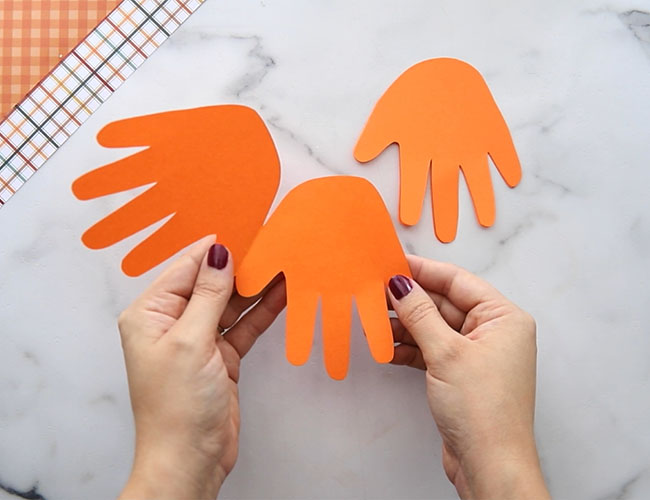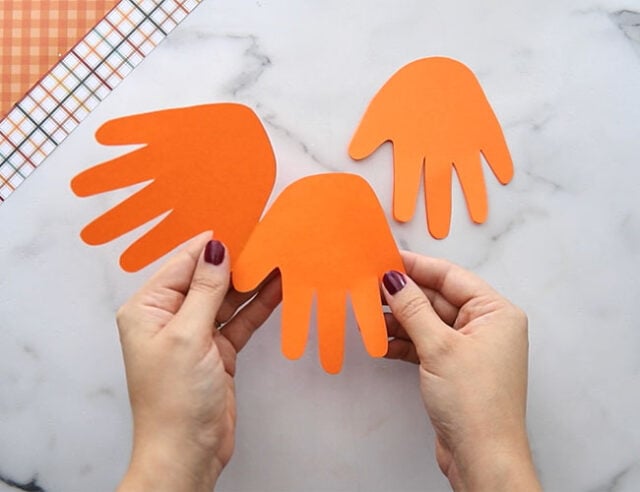 2. Cut out a stem from brown cardstock.
Glue the stem to the back of the pumpkin handprint.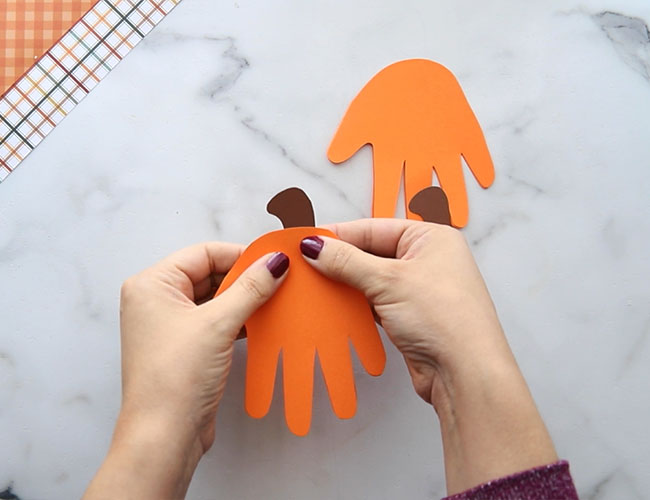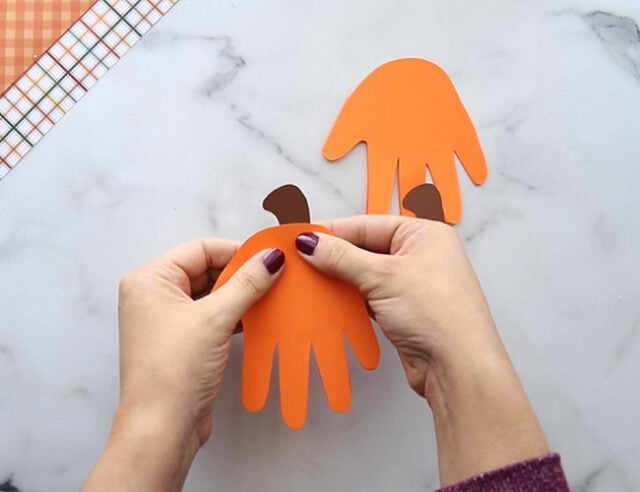 3. Cut out two long strips of green cardstock.
Wrap the strip of paper around a pencil to make it curl.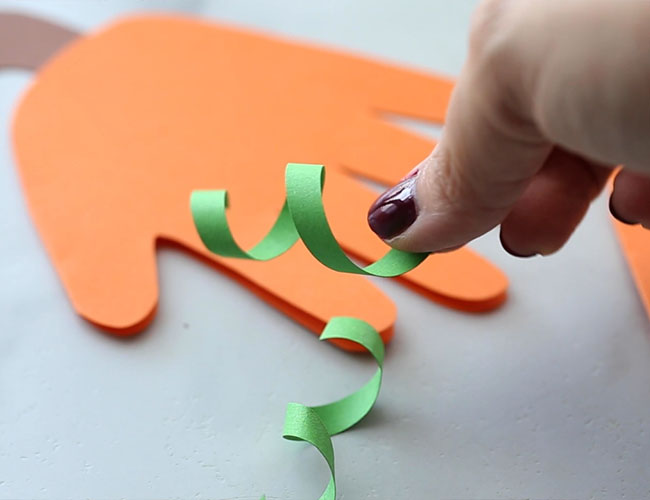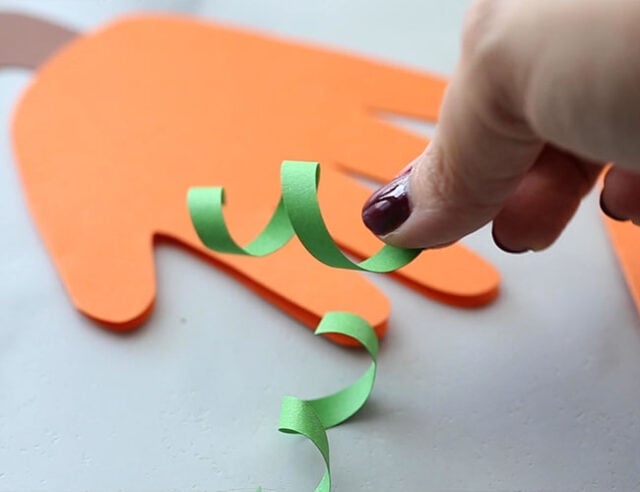 Then glue both pieces to the inside of the card.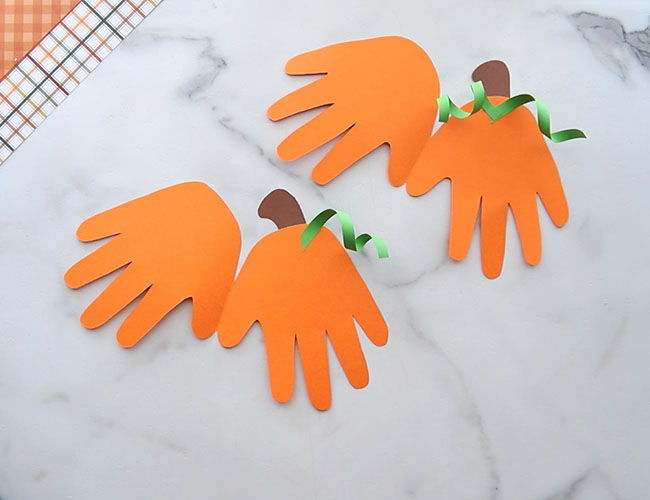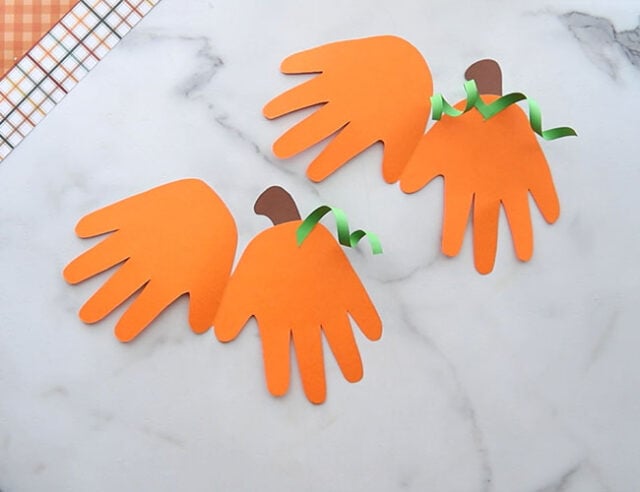 4. Cut out a leaf from green cardstock.
Fold the leaf shape in half to make the edges stand up.
Glue the leaf to the top of the handprint.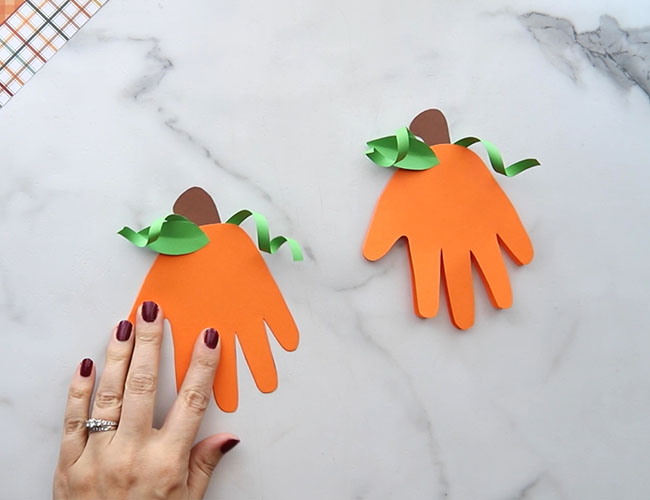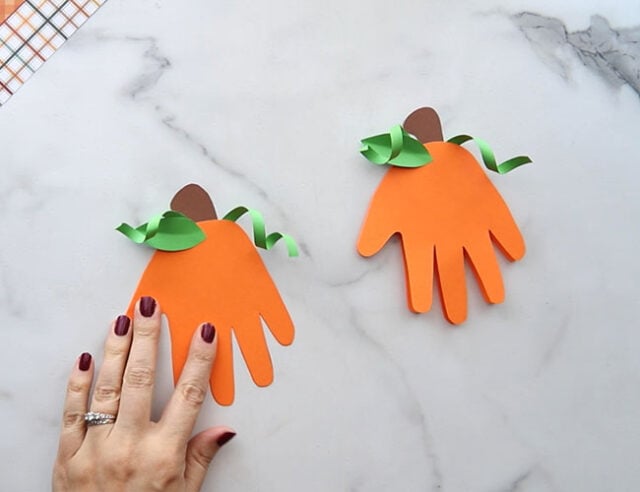 5. Glue on 2 googly eyes.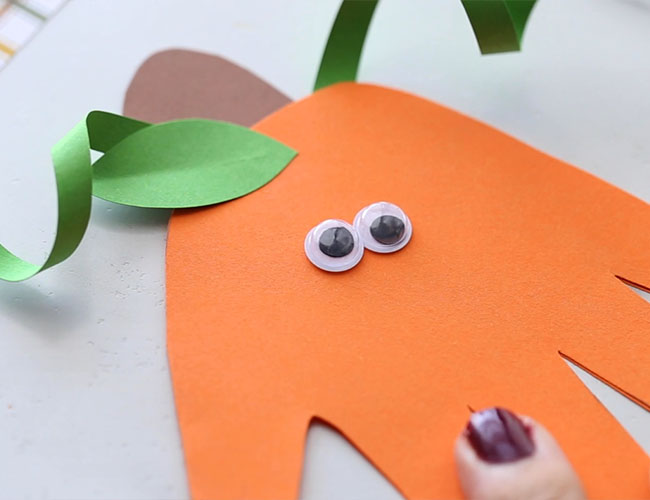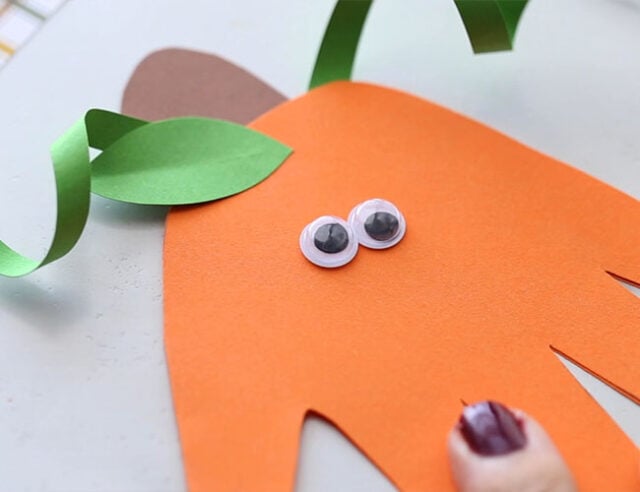 6. Draw on a smile with a black marker.
Then add 2 cheek marks with pink paint. Dip the back of a pencil or paintbrush into the pink paint and then dab onto the handprint.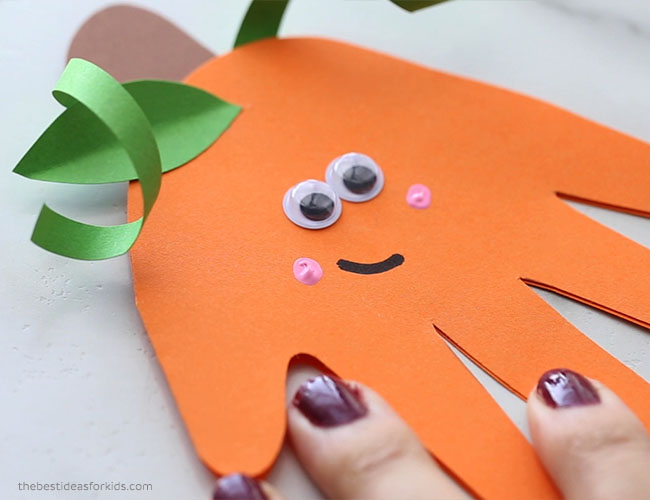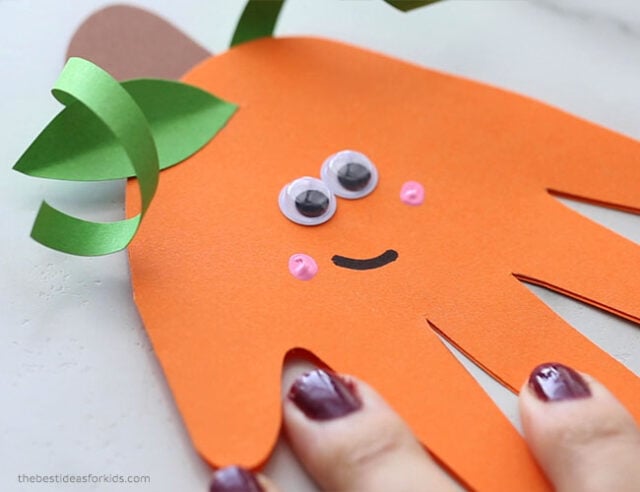 7. Write a message inside your card.
Use one of our pumpkin-themed suggestions above or create your own cute message!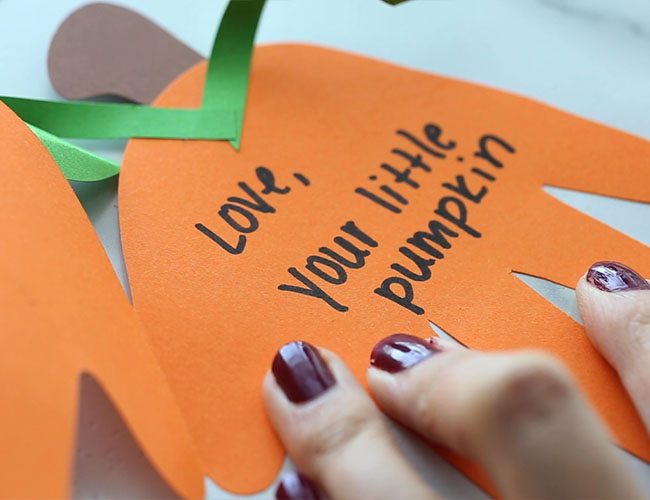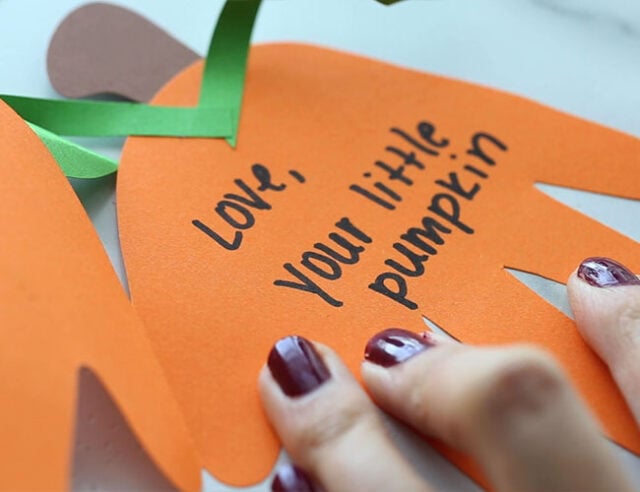 Give this to someone this fall or Halloween season as a gift with a Halloween treat! This card will make the cutest Halloween keepsake!
See more Halloween handprint ideas here.