This easy pom pom spider craft is the perfect fine motor and kids craft activity for Halloween! Not only will kids love putting their spiders together, but they will enjoy playing with them too!
RELATED: Halloween Crafts for Kids
Pom Pom Spider Craft
My son LOVED playing with this spider after making it- which is a win for any craft activity. There's also the benefit of developing fine motor skills from placing the beads on the legs and the eyes on the face. And my toddler just enjoyed threading the beads onto the pipe cleaners.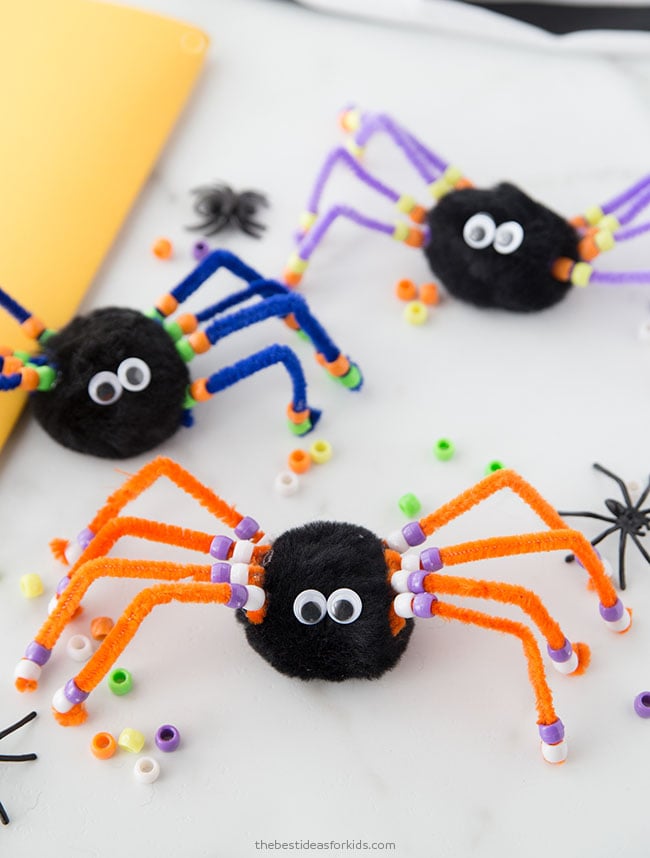 Watch the full tutorial video here!
And I love how fun you make these spiders with different colored pipe cleaner legs and beads! You can even make the spider body (pom pom) colorful too.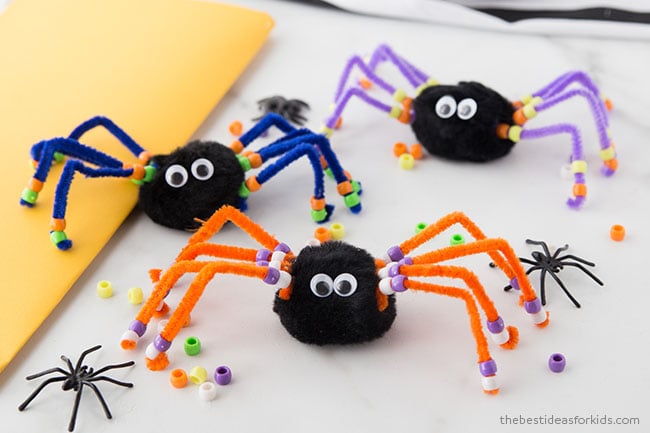 And don't forget to check out our NEW book – Fun and Easy Crafting with Recycled Materials is bursting with easy crafts for kids like this one. But not only that, it is all recycled crafts for kids too – paper rolls, egg cartons, cardboard, popsicle sticks, jars and more!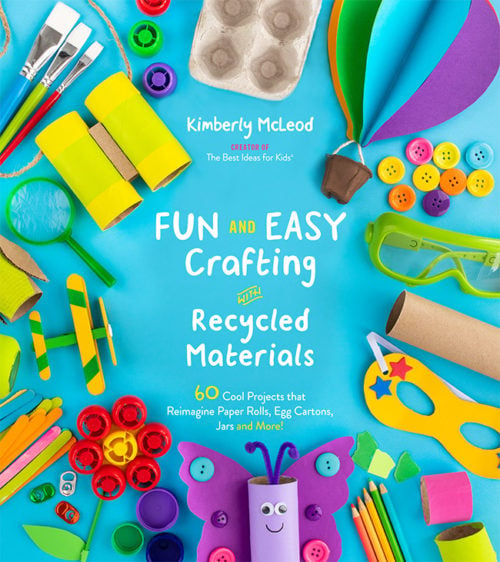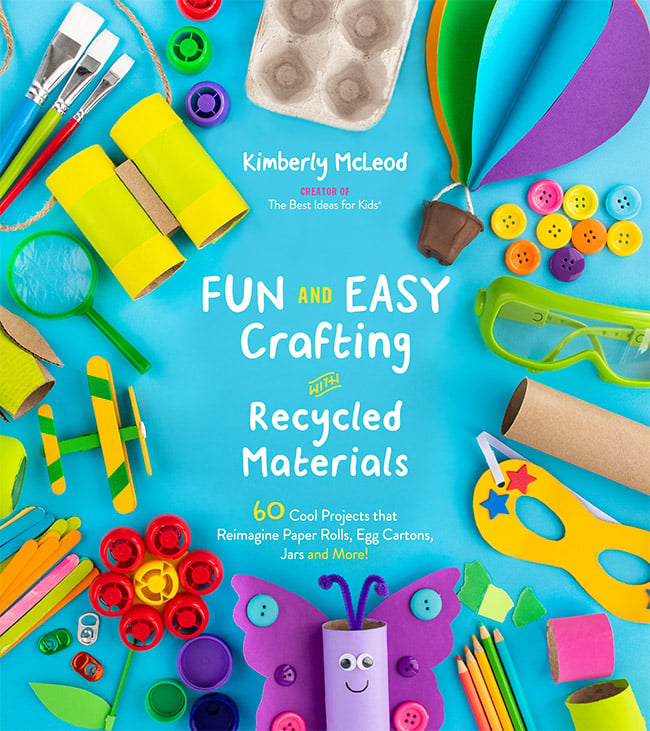 Supplies Needed to Make a Pom Pom Spider
Note: You may also want to use hot glue to keep the pipe cleaners in place. Adults only should glue these on. We also like an extra strong non-toxic glue for gluing with pipe cleaners and pom poms. As long as you give it time to dry it should hold in place without too much handling. Kids can also slightly push the pipe cleaners into the pom pom to hold it in place.
Steps to Make a Pom Pom Spider
1. Cut the pipe cleaners into 8 pieces that are the same length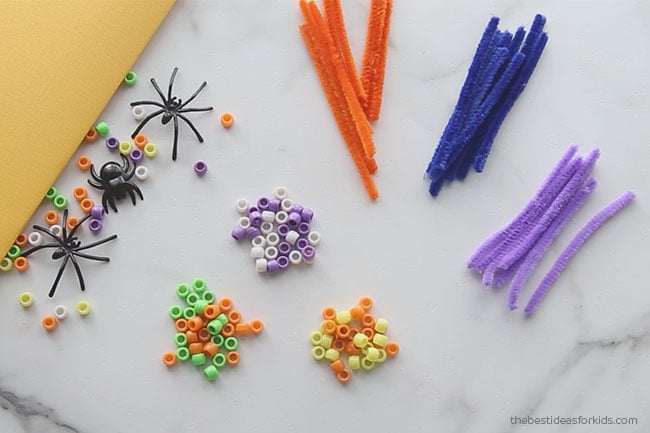 2. Put the beads onto the legs. You can make a pattern out of them or just have fun putting on as many or as little as you'd like!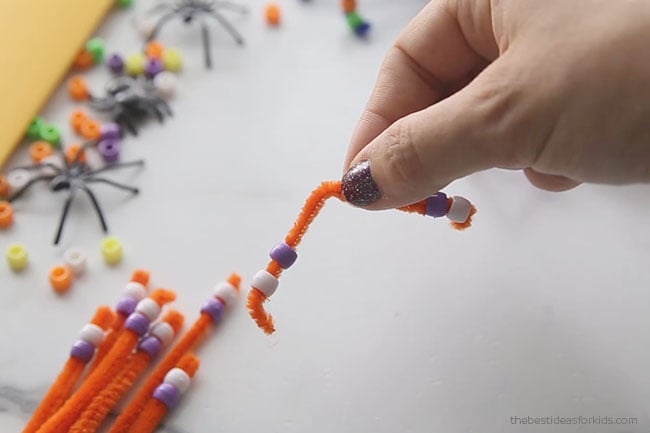 3. At the end of the leg, fold the bottom of the pipe cleaner over to create a small knot so the beads do not fall off. You can fold the pipe cleaner back into the last bead to secure the end.
4. Glue each leg to the body (large black pom pom) with the tacky glue or extra strong kids glue. Note – you may need hot glue to hold it in place for extra-sturdiness.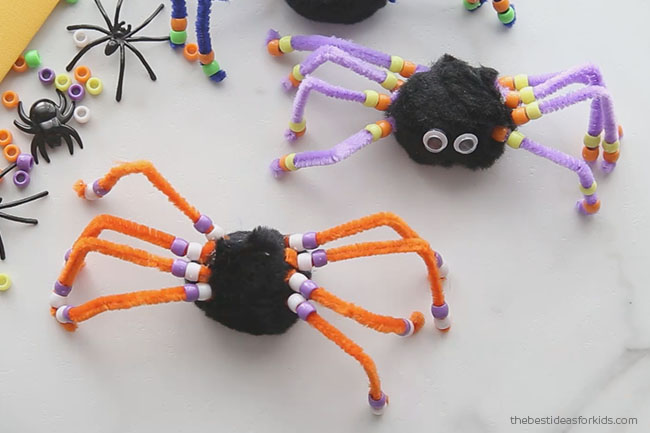 5. Attach the googly eyes. And you can add as many eyes as you'd like!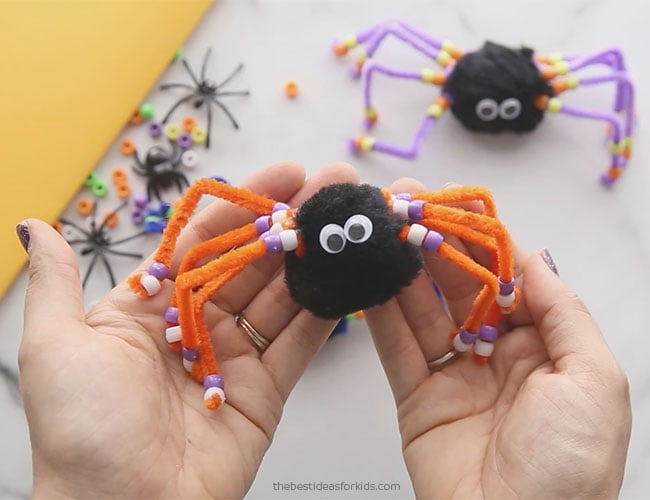 6. Let the glue dry. It's important to give the spider some time to dry. Gluing pom poms and pipe cleaners can be tricky even with extra-strong glue. If you're having trouble getting it to stay – try using hot glue (adults only).
I hope you enjoy making this fun Halloween spider kids craft as much as we did!
See more spider crafts for kids.