With Thanksgiving just around the corner for the US, this is our final Thanksgiving craft we decided to do which is a Paper Plate Turkey. You can create this paper plate turkey or get all of the same supplies and create a Paper Bag Turkey instead. The paper plate turkey requires a few more steps to make and if your little one likes to paint this one could be more fun.
What I love about this craft and the Paper Bag Turkey craft are the FEATHERS! My son had the most fun stacking and counting the feathers during the process. And of course choosing which ones to put on his paper plate (they didn't exactly go on the sides like the model but that's OK!). The craft process is more about the experience in our house, not necessarily the end outcome. But if you're able to create one like the one shown here, they will surely like to play with them afterwards!
Paper Plate Turkey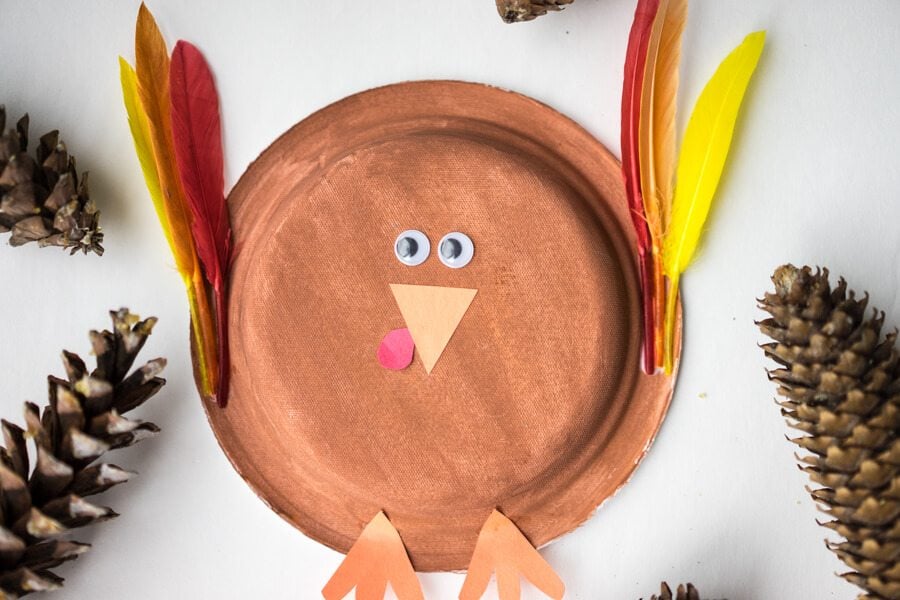 Supplies to make the Paper Plate Turkey: 
Directions:
This paper plate turkey craft is very simple! The first step is to paint the paper plates brown. You'll need to do this and allow time to dry before you apply the facial features. We painted the paper plates and decorated the on separate days.
Next, cut out the beak and feat with construction paper and get your googly eyes ready to be picked out. I just eyeballed the size and shapes for the beak and feet. But you could draw them and cut them out. Then glue on all your facial features – the googly eyes, beak and the feet. You can use just a glue stick for these items.
Now it's time to glue on the feathers! We used tacky glue and gently pressed them and held them for a minute so they would stay onto the sides of the paper plate.
You can choose any color combination for the feathers – we chose red, orange and yellow but any color paper plate turkey would look great!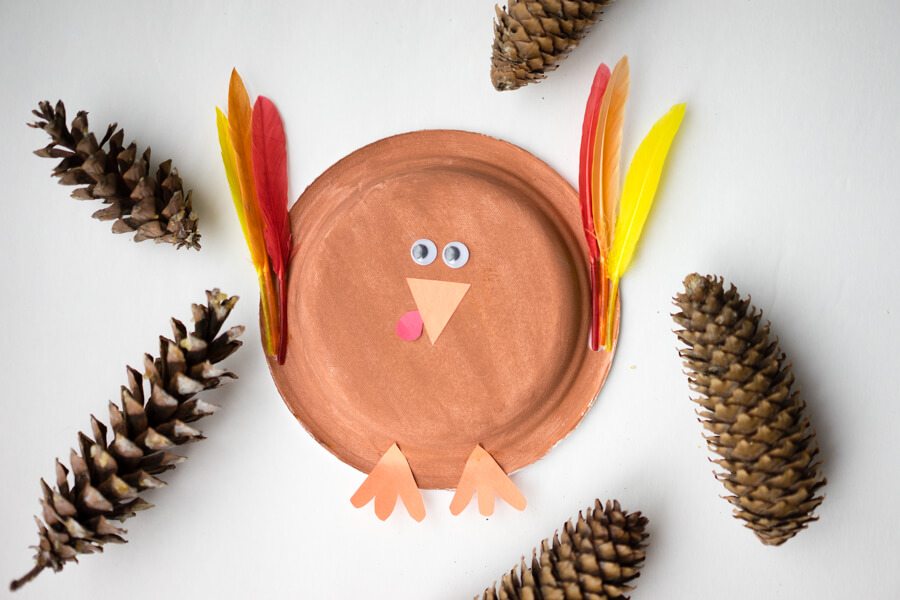 Now your Paper Plate Turkey craft is complete! You can have fun with them afterwards too. Hope you enjoy this fun Thanksgiving craft for kids!