Making shrinky dink keychains for Mother's Day is easy and is a great gift to give! Mom will love having this sweet keepsake on her keychain to remind her of her kids. You can spell out the word MOM with a handprint or make regular handprints.
RELATED:  Mother's Day Crafts for Kids
Mother's Day Shrinky Dink Keychain
We've made shrinky dink keychains before – you can see our footprint butterfly keychains or the handprint butterfly keychains we made.
Kids will love seeing their handprint shrink and this makes a perfect keepsake gift for Mother's Day too!
The package we used came with 10 sheets so you'll have more than enough leftover to do some extra keychains that kids can design themselves.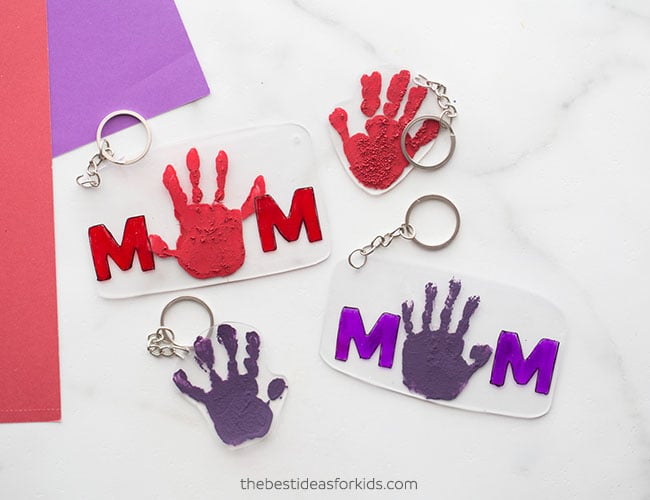 Supplies needed to make a shrinky dink handprint: 
Watch the full tutorial video here before you get started!
Directions to Make a Mother's Day Handprint Shrinky Dink Keychain
1. First, paint your child's hand. Cover the hand completely with paint so the handprint will show up without any missing paint spots. If you do have some parts not fully painted you can touch them up with a paint brush.
2.  Place one handprint on the Shrinky Dink plastic. Press down firmly to get a good imprint. If making the MOM version, place the handprint in the middle of the shrinky dink plastic so you have room on both sides to add the M.
3.  If you want to make the MOM version, trace around a letter M on each side with a sharpie. You can use these M templates or draw your own.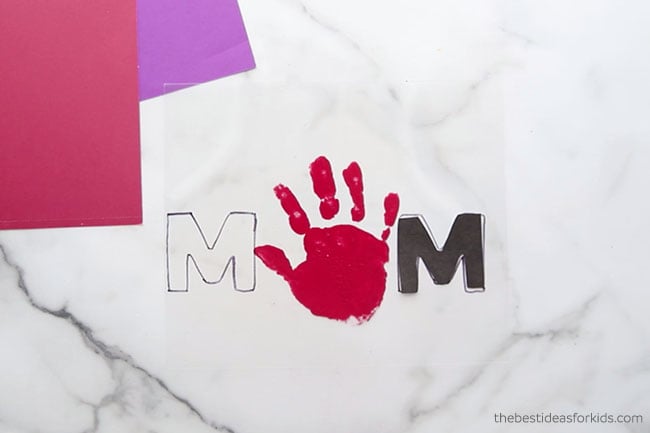 4. Fill in the letter M with a colored sharpie.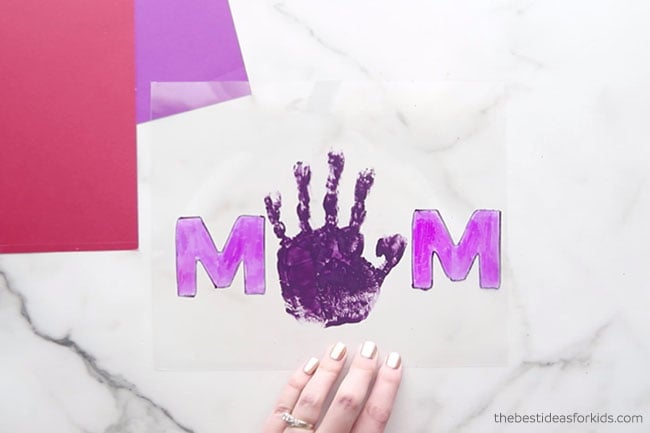 5. Let the paint dry completely and then cut out the handprint.
For the MOM version, we cut out a rectangular shape and made the corners rounded.
Don't forget to leave a spot for where you want to place the keychain.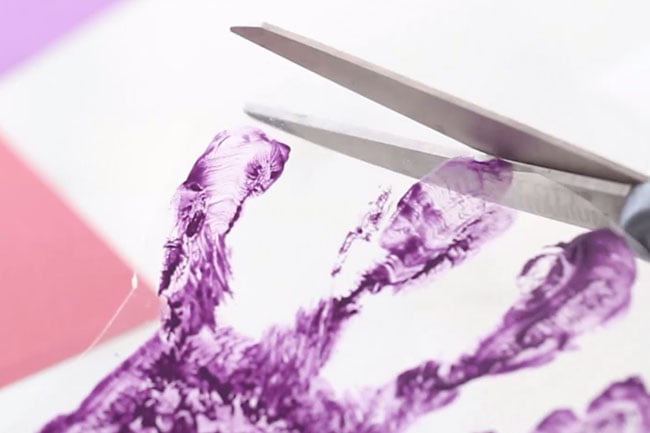 6. Add a hole punch to where you want your keychain to go. Make sure you do this step before you bake!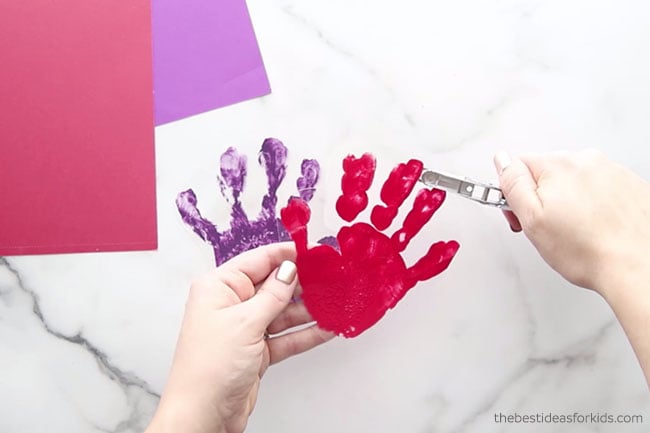 7. Now bake according to the Shrinky Dink package directions. Place paint side up in the oven and on a parchment paper lined cookie sheet.
Tip:  If your handprints come out a little curled, immediately press them with a spatula when warm to flatten them out.
If your handprints are still large and didn't shrink you can put them back into the oven and bake for a few more minutes. If they are still really curled and they won't press down, you can put them back in the oven to bake a little longer.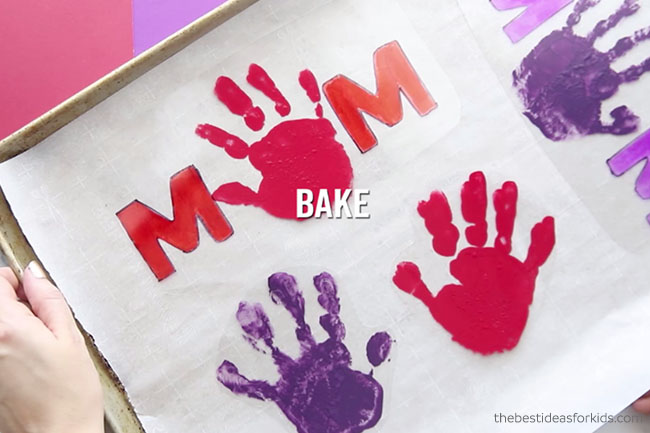 8. Paint mod podge on the side of the paint to protect it from chipping off.
9. Once completely dry, you can now add your split rings and keychains to your handprints!
We love how easy this gift is to make for Mother's Day!
More Mother's Day Ideas
See over 20+ of our favorite Mother's Day Crafts for Kids.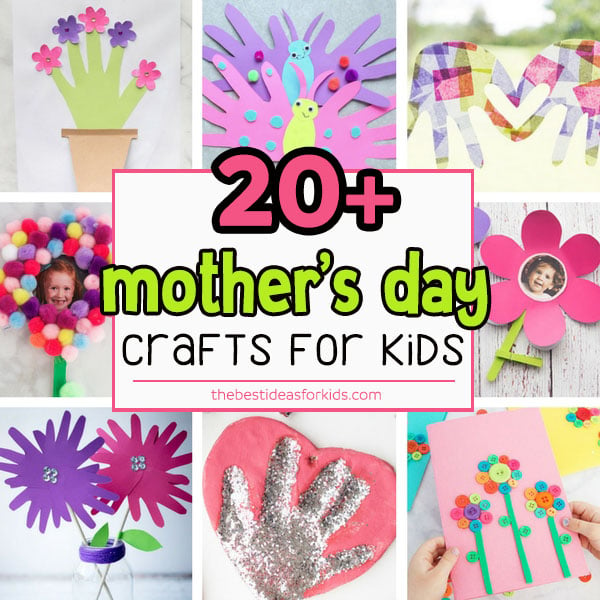 This handprint flower pot card is an adorable card to go with your keychain gift!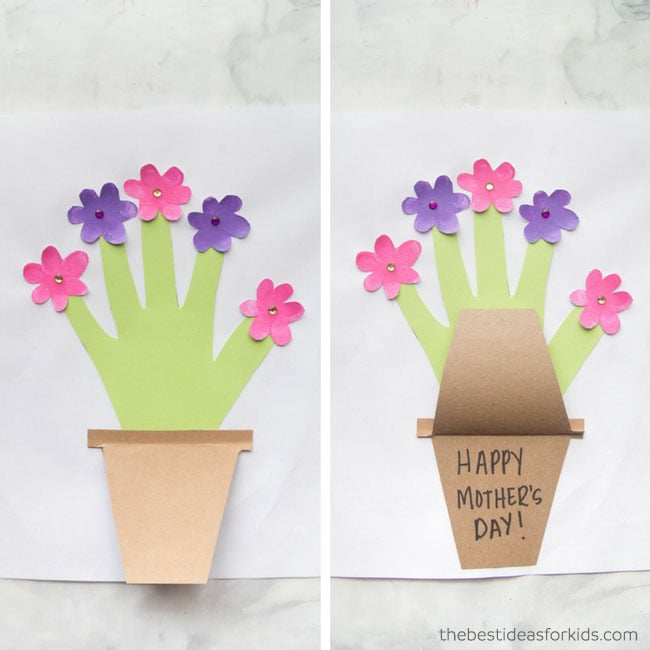 See how we made this adorable handprint butterfly card!