Homemade jello can be made with four simple ingredients. Real fruit added into the jello gives it such a pleasant taste. And we love that you can use all natural ingredients too!
RELATED: Homemade Gummy Bear Recipe
Homemade Jello Recipe
This recipe is made with only fruit, natural juice, unflavored gelatin, and honey. Most of these ingredients you probably already have on hand!
Kids will love this real fruit jello as a snack. Choose between a slightly sour flavor or a sweet version by changing the type of juice you use.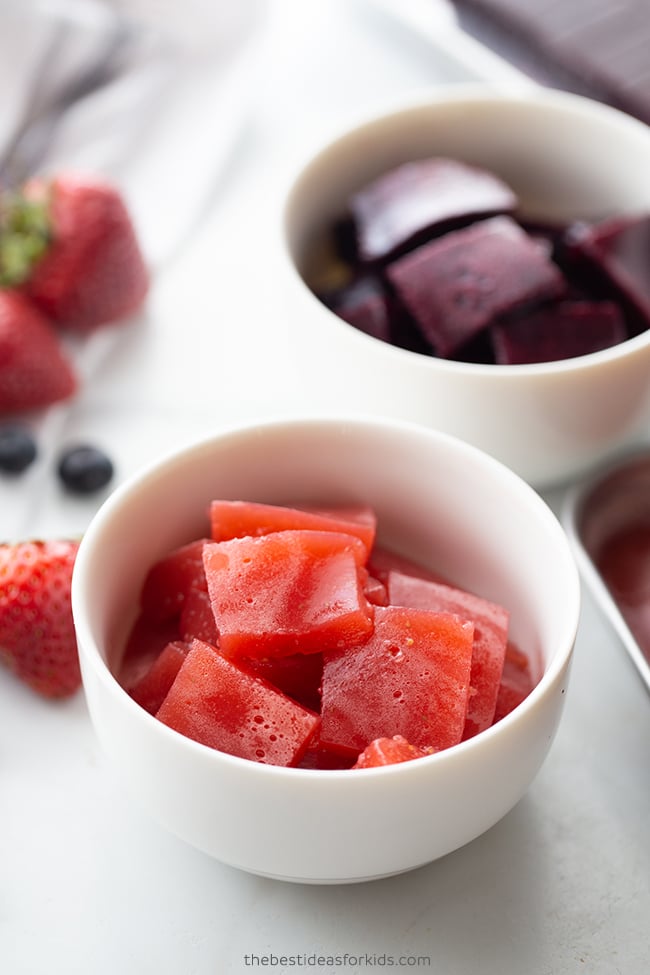 Ingredients Needed to Make Homemade Jello
Fresh fruit – we recommend a type of berry – we used strawberry and blueberry (more on the quantities below)
Juice – we used Simply Lemonade which gives the jello a slightly sour taste. If you want to use an all natural juice, you can use a 100% apple juice with no added sugar. Apple juice will also make it a little sweeter.
Unflavored gelatin – we used the Knox packets but you can use any kind of gelatin
Honey – we used honey but you can also use any sweetener of your choice. Note: honey should not be given to babies under 1 year old.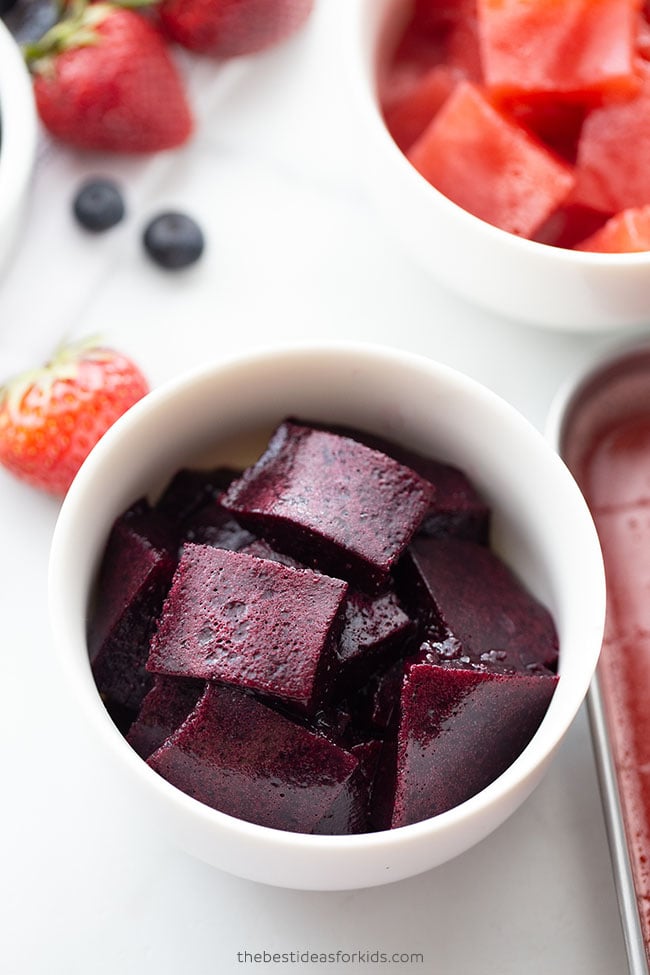 Can I Use Any Kind of Fruit?
We recommend using a berry like strawberry or blueberry for the best flavor and quick prep (no extra steps needed). If you would like to use raspberries or blackberries we recommend straining out the seeds from the puree.
We found with testing acidic fruit that in order for it to set it must first be cooked down. Fruit like mangoes, kiwi, pineapple and papaya will need to be cooked down before pureeing.
Extra Step for Tropical Fruit: Remove any peels and seeds and cut up tropical fruit into chunks. Place into a small saucepan with 2 tablespoons of water. Bring to a simmer over medium heat and simmer for 5 minutes stirring constantly until fruit is softened. Once this is done you can continue with the same steps below for making the jello.
How Should I Store Homemade Jello?
Store any leftover jello in an airtight container in the fridge for up to 7 days. You can also freeze jello! Place into a fun popsicle mold to freeze and enjoy a tasty treat.
How to Make Homemade Jello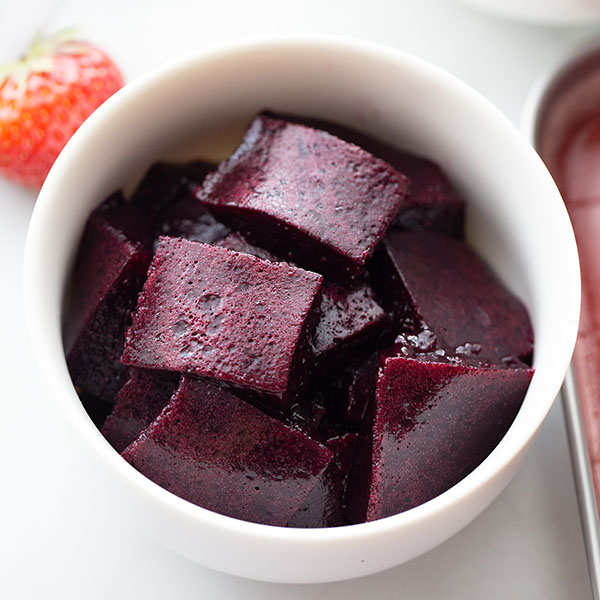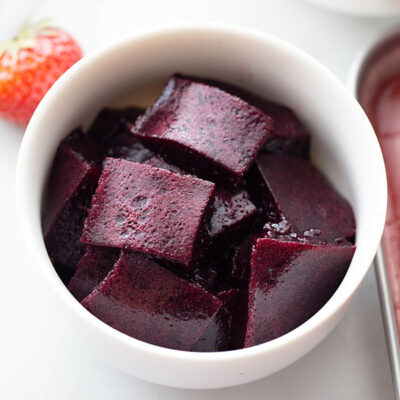 Homemade Jello
A real fruit homemade jello recipe.
Ingredients
1 1/4

cups

juice

Raspberry flavored lemonade, lemonade or apple juice

1/4

ounce

unflavored gelatin

We used 1 packet of the Knox brand. Check the packet for quantity.

3/4

cup

fruit puree

Note: this is for strawberry, for blueberry quantities, see notes below.

1

tbsp

honey
Instructions
In a small bowl, add 1/4 cup of the juice then add the gelatin and mix to combine. Allow to bloom and set aside.

Puree fruit in a high speed blender. To make 3/4 cup of puree, you need about double the quantity of fruit. We used almost 2 cups of whole fruit.

For the strawberry flavor, place 3/4 cups of the puree and the remaining 1 cup of juice into the saucepan. Bring to a boil, stirring constantly over medium heat.

Take off the heat and add in the bloomed gelatin and honey.

Whisk to combine until the gelatin is melted.

Pour into a heat proof container and let cool to room temperature, about 1 hour.

Cover and place into the fridge to set overnight. Note: your jello may set after a few hours. If you'd like to eat it the same day, check after 2 hours if it has set. If desired, you can cut the jello into small squares for serving.
Nutrition
Serving:
1
g
,
Calories:
146
kcal
,
Carbohydrates:
34
g
,
Protein:
4
g
,
Fat:
1
g
,
Saturated Fat:
1
g
,
Sodium:
18
mg
,
Potassium:
133
mg
,
Fiber:
2
g
,
Sugar:
30
g
,
Vitamin C:
51
mg
,
Calcium:
14
mg
,
Iron:
1
mg
Notes
For blueberry: you can add more fruit if you'd like: add 1/4 cup more of puree and then reduce the juice quantity by 1/4 cup. 
For a sweeter jello, use apple juice. For a slightly sour taste, use lemonade. 
If you want the jello to still be a little more sweet, you can add more honey to your liking. 
To make the jello harder, you can add slightly more gelatin. 
This is a new favorite kid friendly snack in our house! I love that it's so easy to make and the kids enjoy having it as a treat after dinner.
More Kid Friendly Snacks
Try some more of our favorite kid friendly snacks – like these homemade gummy bears!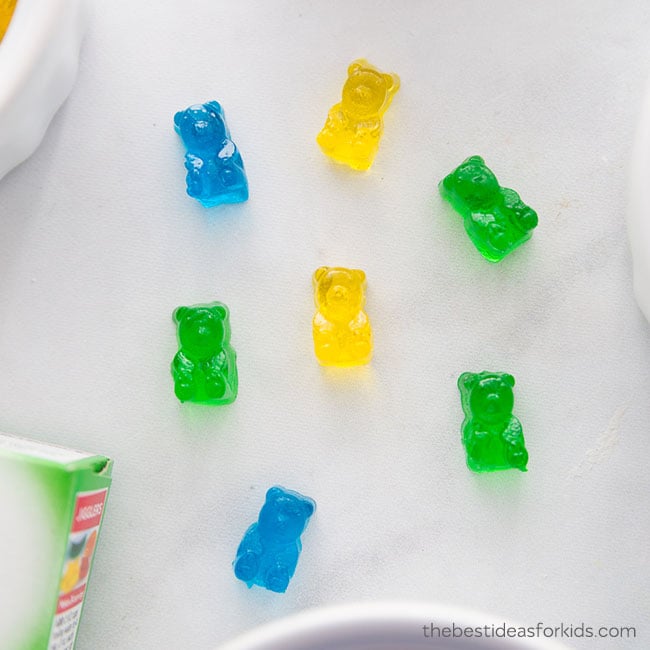 Kids will also love these homemade fruit roll-ups!