These 3-D butterfly bracelets are a lot of fun to make and wear! They are also quick and easy to make. Kids can make one for their friends and family too!
RELATED: Toilet Paper Roll Butterfly
Toilet Paper Roll Butterfly Bracelets
Our book – Fun and Easy Crafting with Recycled Materials is bursting with toilet paper roll crafts like this one. It has a whole chapter of paper roll crafts. But not only that, there are other recycled crafts for kids too – egg cartons, cardboard, newspaper, popsicle sticks, jars and more!
This toilet paper roll project is in our book and includes the butterfly template.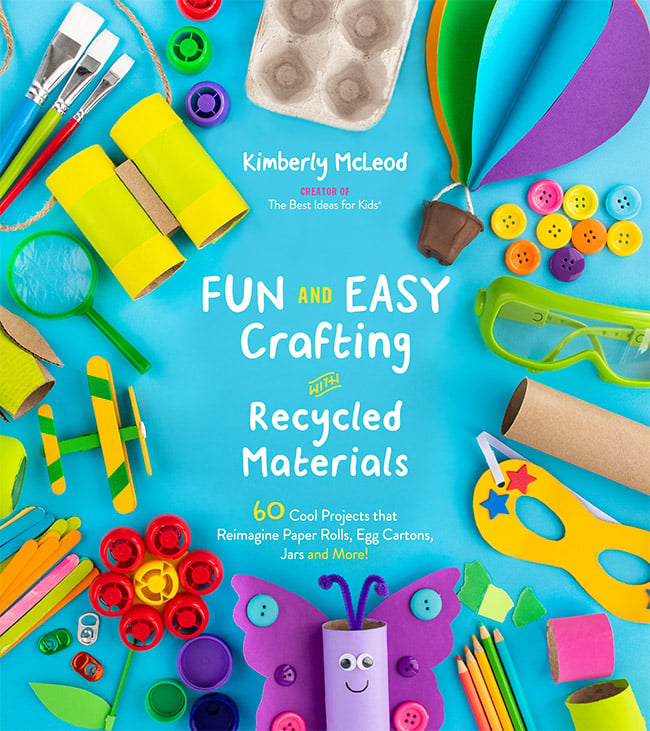 I love that kids can customize these bracelets however they'd like! Decorate them with buttons, markers, pom poms, gems or any other craft supplies you have on hand! You can even make a flower or leave them plain.
It's also really easy to make the paper butterflies with the template in my book!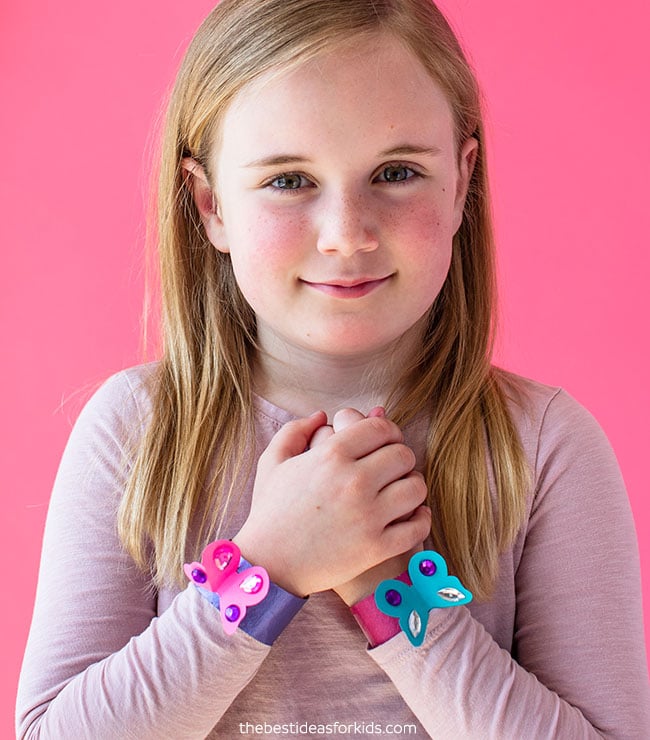 Supplies Needed to Make Toilet Paper Roll Bracelets
– Toilet paper roll
– Metallic acrylic paint – any kind of non-toxic acrylic paint will work well but we liked the metallic paint colors because they make the bracelets look more real. Here is a metallic purple, a metallic pink and a metallic teal paint.
– Scissors
– Butterfly template – Note: To get the butterfly template, ORDER our book.
– Ruler
– Extra-strong glue –  we like this glue for gluing on gems
Steps to Make a 3D Butterfly Bracelet from Paper Rolls
1. Paint the paper roll a color of your choice and let it dry. Metallic acrylic paints are perfect for this craft since they will make the bracelet look more like real jewelry.
2. Cut the paper roll to the size you'd like your bracelet to be. Then make a vertical cut on the paper roll piece so that you can fit the paper roll over your wrist.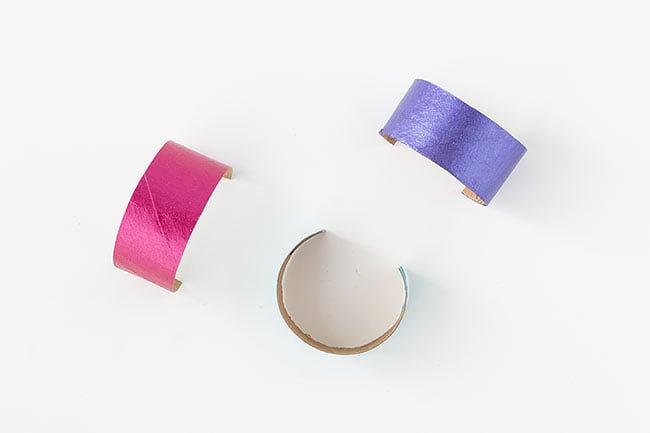 3. To make the butterfly, trace the template from our book on a piece of colored cardstock. ORDER our book here.
Cut out the butterfly.
To create the 3-D effect, make 2 folds on the inside of the butterfly with a ruler. This will make the butterfly wings stand up while the center piece is flat for gluing.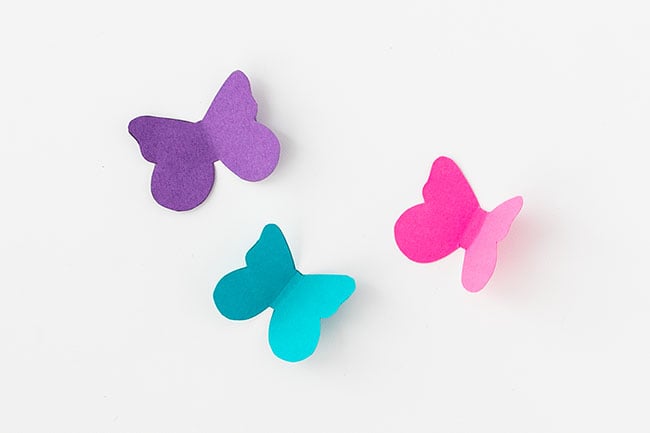 4. Glue craft gems to your butterfly. You can also color and decorate the wings with markers.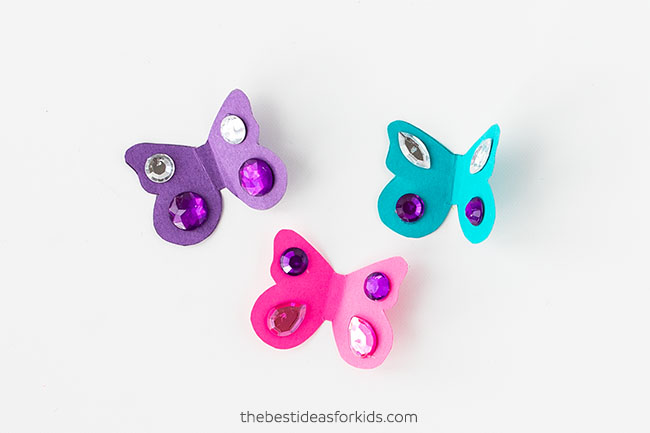 5. Glue the butterfly on top of your paper roll.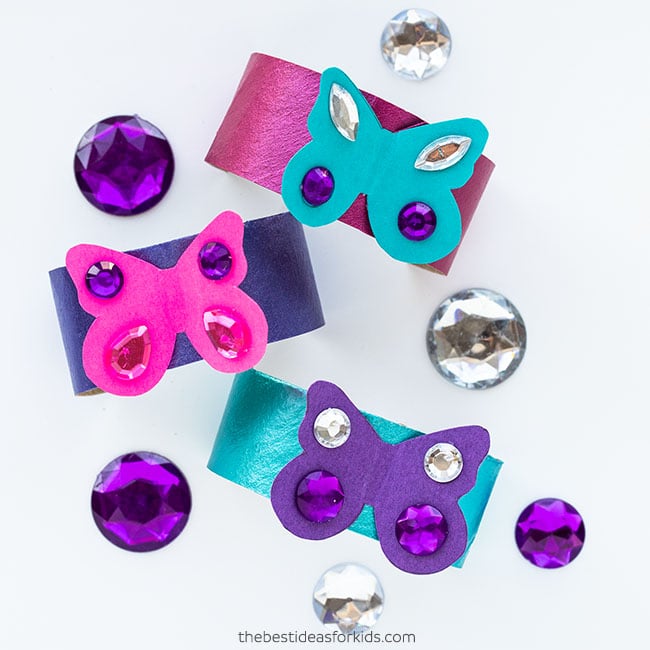 How pretty are these bracelets? We love that kids can easily make these on their own and have a lot of fun decorating them too!
More Recycled Crafts
See more of our favorite recycled crafts from our book, like these toilet paper roll butterflies! The book also comes with the butterfly wing templates to make these.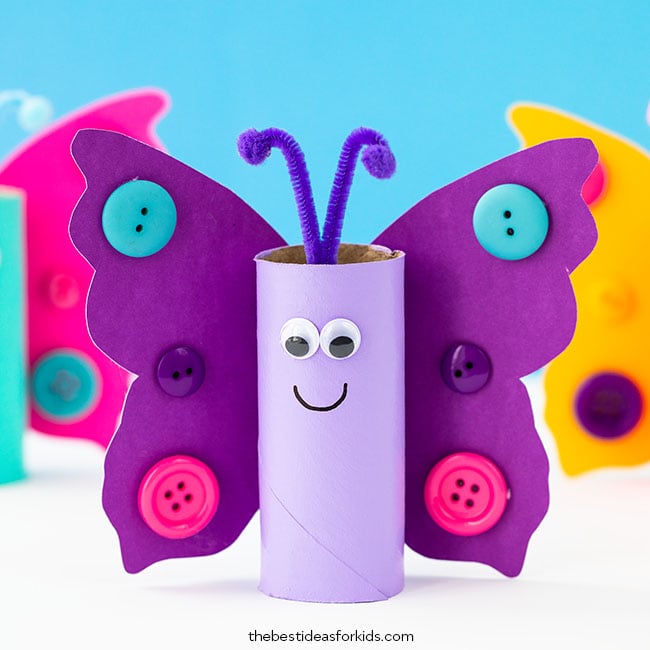 Or make this adorable snail craft and use the snail template in the book too!