For a fun scented playdough Christmas activity, try this simple Gingerbread playdough recipe! This easy playdough recipe takes 5 minutes to prep and 5 minutes to make. And the playdough will last for months!
RELATED: How to Make Playdough
Gingerbread Playdough Recipe
Isn't the smell of freshly baked gingerbread cookies the best? The smell of this playdough might also be one of our favorites. It smells like freshly baked gingerbread cookies!
For more playdough recipes, see more Christmas playdough recipes.
Now if your kids are still putting things in their mouth, they may not be ready for this recipe as this is for pretend play (and we don't want them to think it's actual cookies!). Try our traditional playdough recipe instead.
What's also fun about this playdough recipe is that kids can pretend to bake them, roll the dough out and use cookie cutters to make the gingerbread men.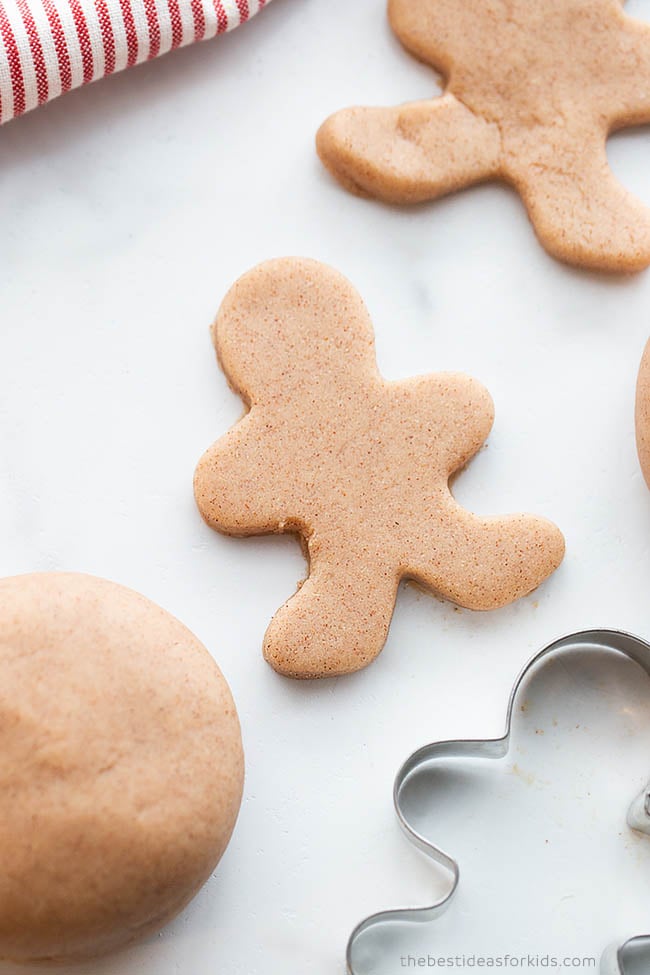 How to Make Gingerbread Playdough
There are many ways to make playdough – using a stove-top or using a kettle with boiling water. Personally, we prefer the stove-top method. We find it's easier to mix the ingredients in the pot. There are also no-cook playdough options but we also prefer this cooked playdough recipe. We find this recipe to last the longest and be the softest. This recipe only takes a few minutes to make and it will last for months!
Do I need to include all of the traditional gingerbread cookie spices?
We tested a few different recipes. This one is an easier version with less spices. We found that the smell difference was negligible and that the texture was better with less ingredients. So save yourself some time and try our recipe which is easier to make!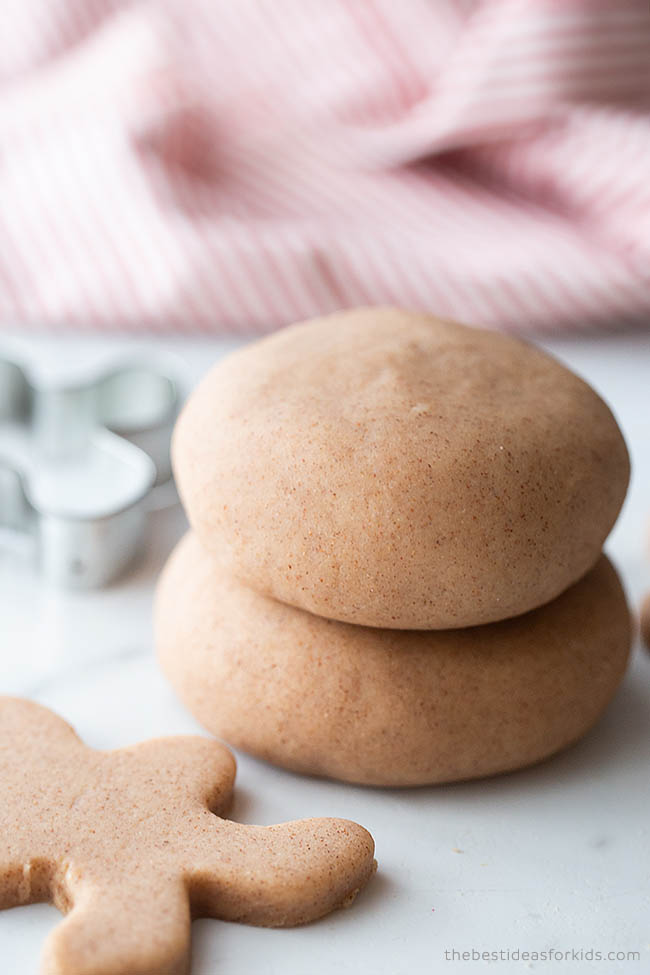 Here are the ingredients you'll need: Flour, Salt, Cream of Tartar, Spices (Cinnamon, Ginger) Water, Oil, Vanilla. Skip down to the recipe card below to see the full recipe instructions and video.
Do you need cream of tartar? Yes, if you want a soft playdough and want it to last longer, you need to add a little bit of cream of tartar. We tested different amounts and found 2 teaspoons to be the perfect amount to make the playdough super soft. If you skip the cream of tartar your dough may turn out a bit more dry and crumbly. It also helps your playdough last longer.
Do I need food coloring? Not for this recipe! The best part about the cinnamon and vanilla in this recipe is that it naturally gives the dough a gingerbread color.
How to Keep Playdough Soft
First wrap your playdough in saran wrap then store in an air-tight container. You'll notice that playdough will go hard if left out – so the less air that can get to the playdough when storing, the longer it will last!
How Do I Make Playdough Soft Again?
If your playdough dries out and turns out to be a little dry after making it, try adding in a little more oil first. You can knead the oil in with your hands. You can also knead in a little bit of water.
Homemade Gingerbread Playdough Recipe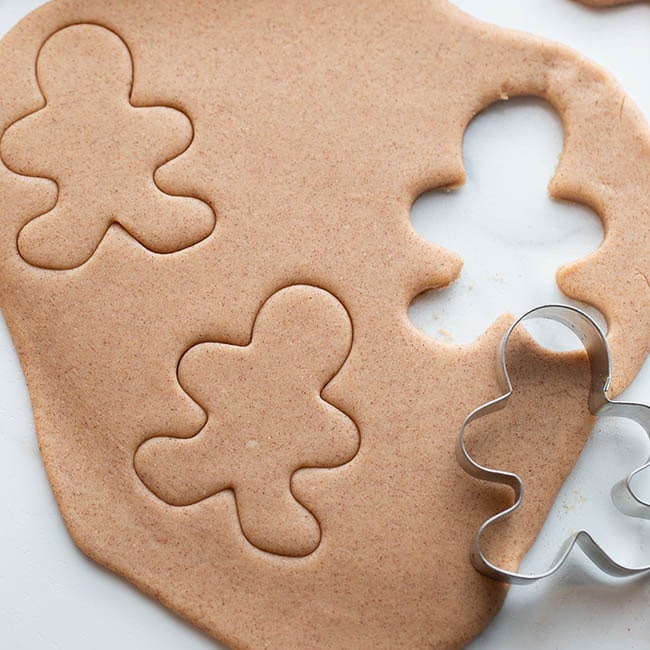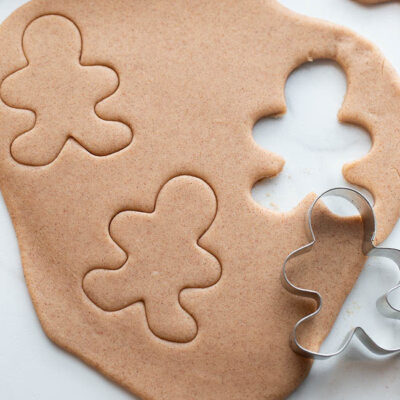 Gingerbread Playdough Recipe
An easy gingerbread playdough recipe!
Ingredients
1

cup

flour

1/2

cup

salt

2

tsp

cream of tartar

1

tbsp

cinnamon

1

tbsp

ginger

1

cup

water

1

tbsp

vegetable oil

1/4

tsp

vanilla
Instructions
Mix the flour, salt and cream of tartar and whisk well. 

Add in the ginger and cinnamon and whisk well. 

In a pan or pot, add the water, oil and vanilla and mix.

Slowly add in the dry ingredients (flour, salt, cream of tartar, cinnamon, ginger) to the pot and mix well. Cook on low to medium heat.

Because of the cinnamon, this playdough takes a little longer to come together and cook. Keep mixing well and spread out in the pan if possible so that the salt mixes well with the water to dissolve. 

Do not continuously stir while cooking. Let it sit for a few seconds before mixing and flipping the dough in the pot. The dough is done when it starts to form a ball and looks fully cooked. 

Take off the heat and let cool. 

Knead for 10 minutes to make the dough smooth.
More Christmas Playdough Recipes
See these 3 other Christmas scented recipes.