We love to make themed playdough – and this winter-themed Frozen inspired playdough is one of our favorites! Whether you're a fan of the movie or not – your kids will love this Frozen playdough! You can even make it as a winter activity using the snowflake cookie cutter stamps.
RELATED: Playdough Recipe 
Frozen Playdough Recipe
This recipe uses our favorite, classic playdough recipe. It's the softest playdough we have ever made and lasts for months! And it's not messy to make when you add the food coloring to the water.
For the white playdough – it's even less messy since you don't need any food coloring at all! And if you'd like, you can skip the glitter.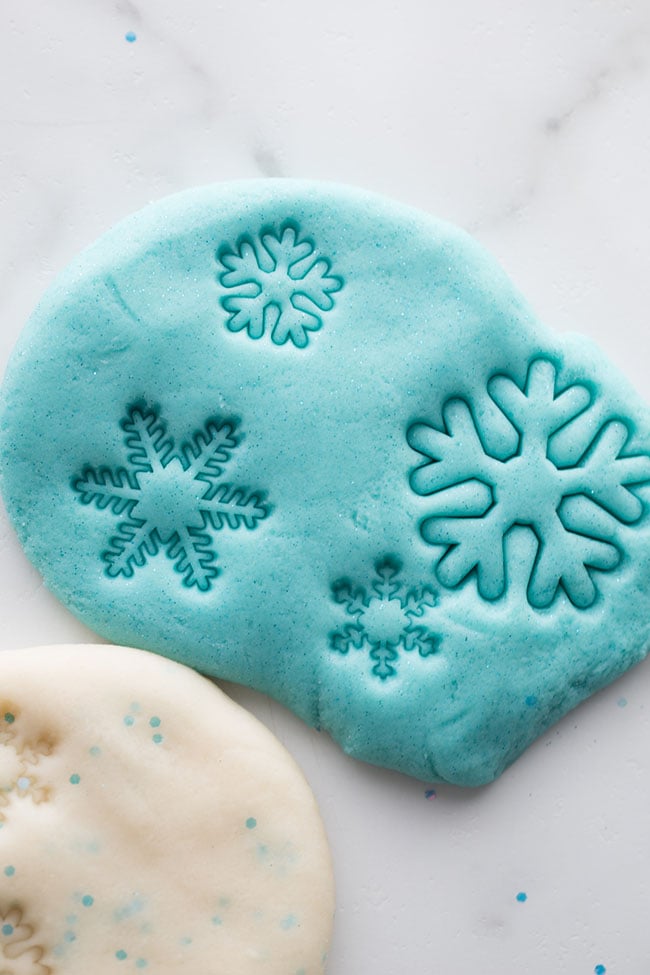 To make fun snowflake imprints in your Frozen playdough – we used these snowflake stampers. You can also use snowflake cookier cutters.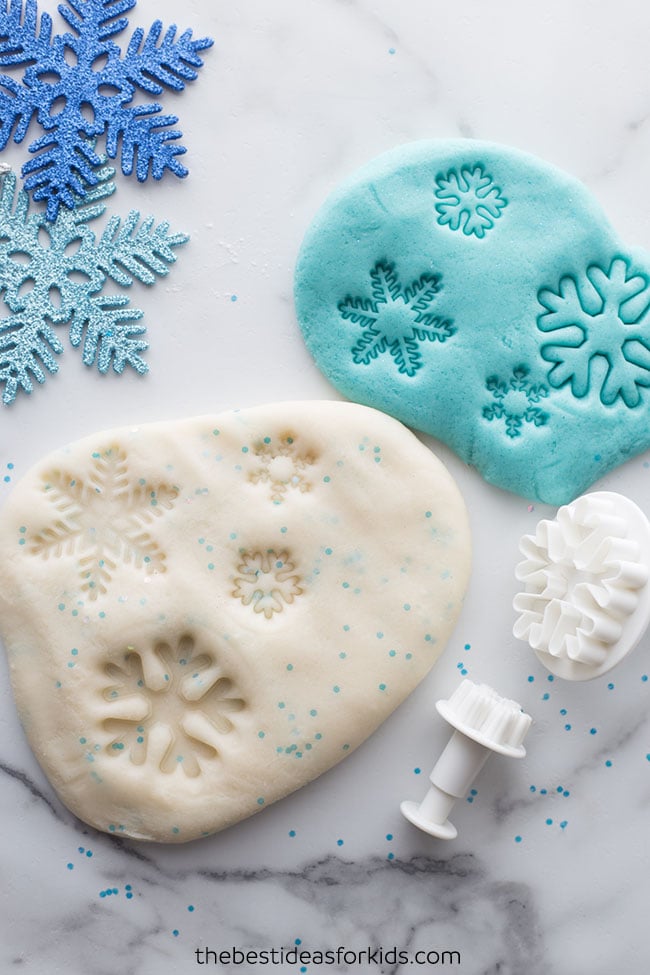 How to Make Frozen Playdough
This method for making the playdough uses the stove-top to cook the playdough. You can also substitute with boiling water and mix in a bowl. However, we find it's much easier to mix the ingredients in a pot.
Here are the ingredients you'll need: Flour, Cream of Tartar, Water, Food Coloring, Salt. Skip down to the recipe card below to see the full recipe instructions and video.
Do you need cream of tartar?  Yes, if you want a soft playdough and want it to last longer, you need to add a little bit of cream of tartar.
What snowflake stamps did you use? We used this set of snowflake stamps. You can also use regular snowflake cookie cutters too.
Glitter – for the blue playdough we used an extra fine blue glitter and for the white playdough we used this iridescent blue glitter.
If you would prefer to use a biodegradable glitter here are a few options:
Biodegradable turquoise glitter
Biodegradable iridescent glitter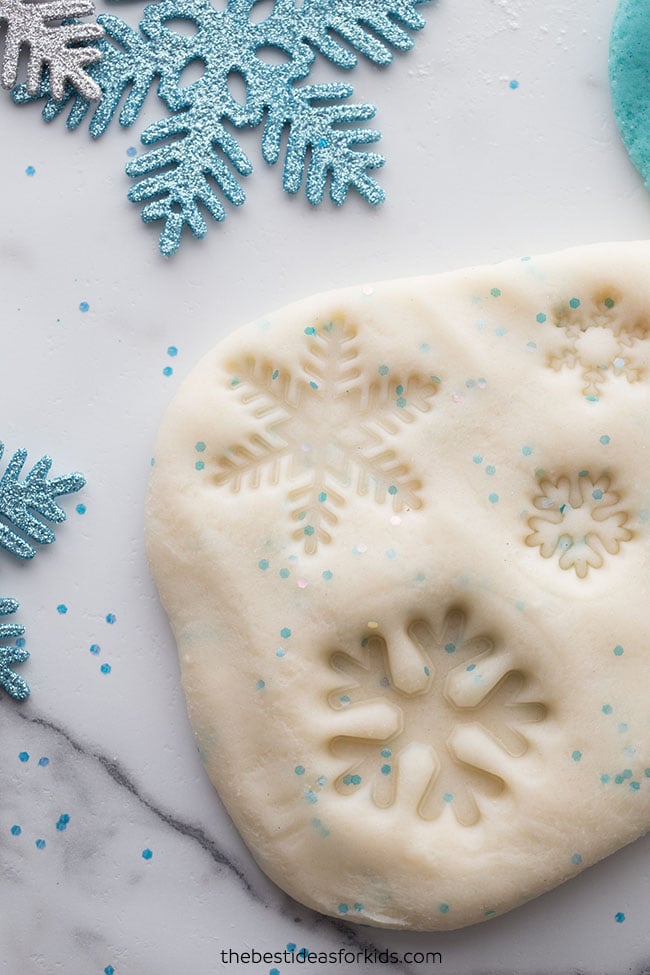 We made two different colors of playdough. One blue playdough with blue food coloring and one plain (no food coloring),
Here is the blue playdough with a little bit of fine blue glitter added to it: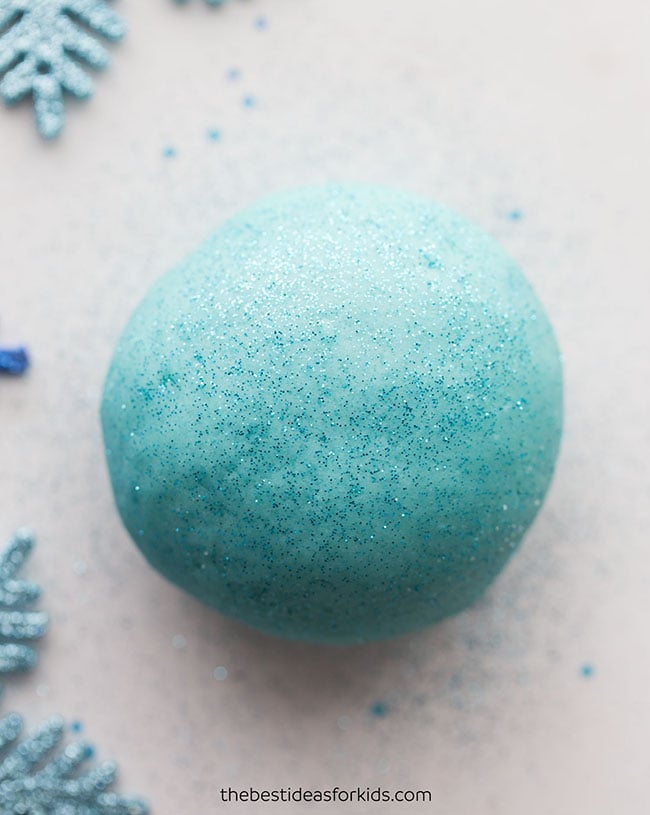 Here is the white playdough (no food coloring added) with some iridescent glitter added to it: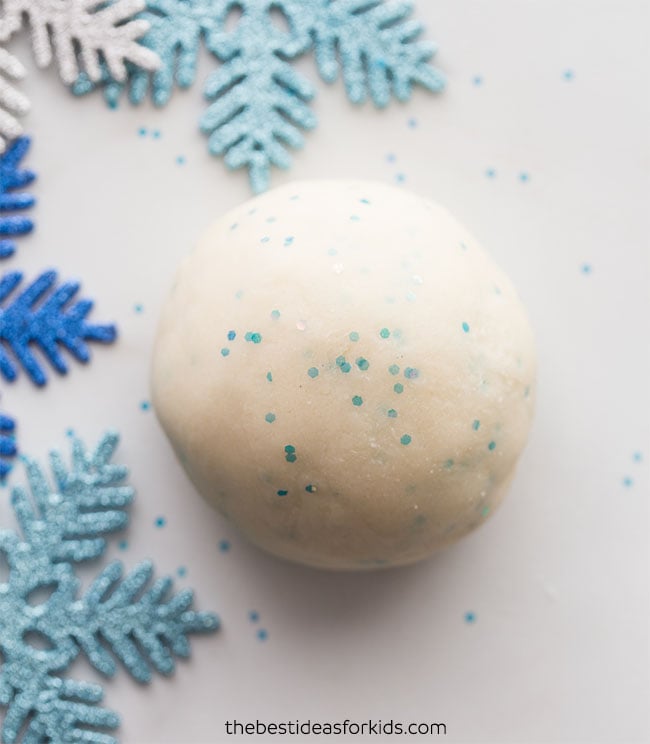 How Should I Store Playdough?
Store the finished playdough in an air-tight container. It will help to also wrap it in some saran wrap to keep the air from touching the playdough which can make it go hard.
How Long Will The Playdough Last?
It should last at least one month if stored properly. The less air that can get to the playdough when storing, the longer it will last! We like to wrap in saran wrap and then place in a container.
Watch how to make the playdough here!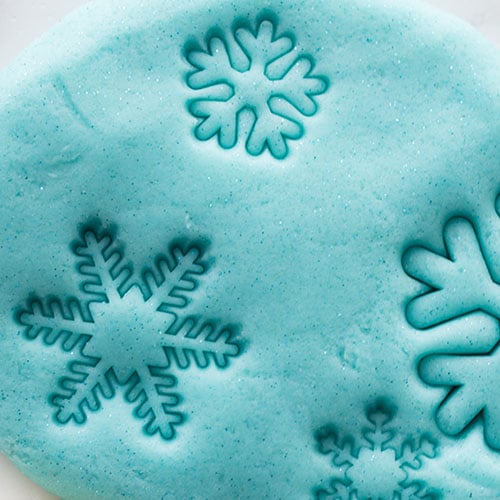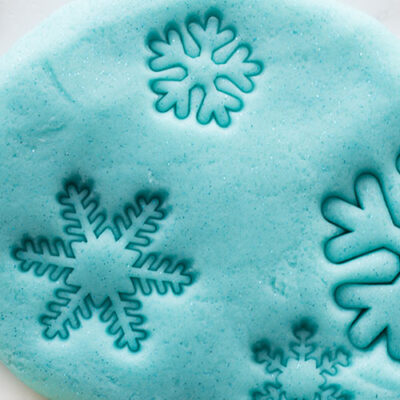 Frozen Playdough Recipe
Frozen-inspired homemade playdough.
Materials
1

cup

flour

2

tsp

cream of tartar

1/2

cup

salt

1

tbsp

cooking oil

vegetable oil only

1

cup

water

blue food coloring

for blue playdough only
Instructions
In a large bowl, combine all of your dry ingredients (flour, cream of tartar, salt) and mix well.

Mix food coloring with your water first. Then add the vegetable oil and water with food coloring to a large pot. Mix together.

Add the dry ingredients to your pot and mix well.

Cook over low to medium heat until the dough starts to form and becomes dry.

Once it starts to form a ball together and looks fully cooked, take off the heat. Let the dough cool first before touching.

Once cool, knead the dough for 5 minutes to make the dough soft.

After kneading, you can add glitter to your playdough and knead the glitter in.
Notes
If your dough is not soft, continue kneading for another 5 minutes. If you find it is still too dry, add a little bit more oil and knead in. 
Repeat recipe and instructions for each color you would like to make. For the white playdough, do not add food coloring. 
Try our other playdough recipes!