Looking for a really simple toddler or preschool craft for Mother's Day? These fork painted flowers are really easy for kids to add to a Mother's Day Card! Use our free printable included on the post to make the vase too!
RELATED: Sponge Painted Mother's Day Cards
Fork Painted Flowers – Mother's Day Cards
We love how simple it is to make flowers with a fork! You can use a regular fork or a disposable fork. Even a baby fork works well and makes smaller flowers!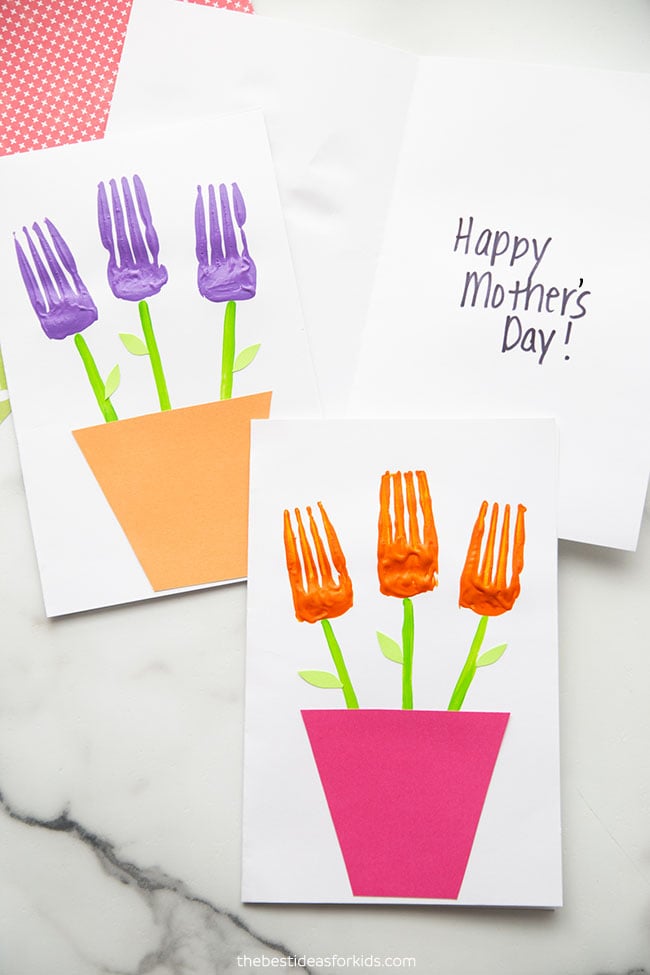 The best part about making these cards is you only need paint, paper and a fork!
Supplies to Make Fork Painted Flower Cards
Here are the supplies you'll need: 
–Acrylic Paint – you can also use washable paint but for older kids I prefer acrylic since it's a little thicker to work with
–Colored Cardstock – for the leaves and flower pots
–White Cardstock – to make the card
-Fork – any kind of fork works – either a disposable, small regular fork or baby fork
Watch the Video Tutorial Here
How to Make Fork Painted Flower Cards
1. Start by dipping your fork into paint.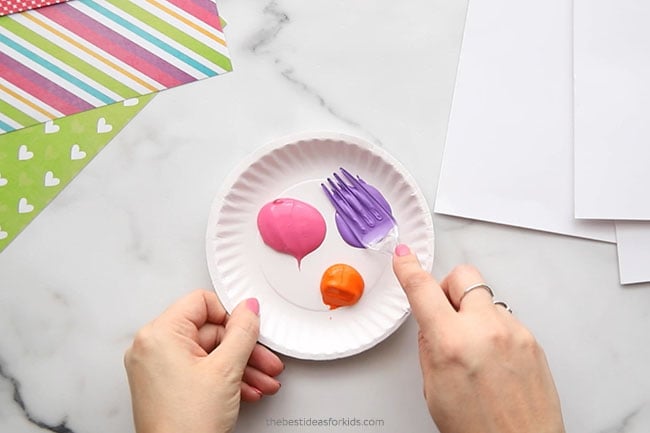 2. Fold a piece of white cardstock paper in half.
Press the fork onto your paper and make sure the whole tip of the fork touches the paper to transfer the design.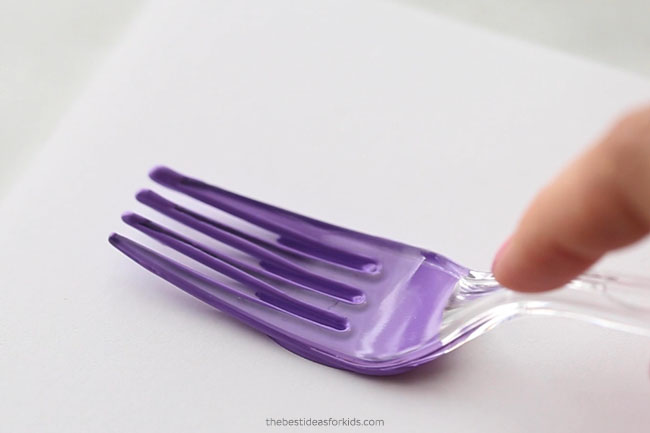 3. Make 3 flowers for each card you'd like to make.
Using green paint, draw a stem coming down from each flower.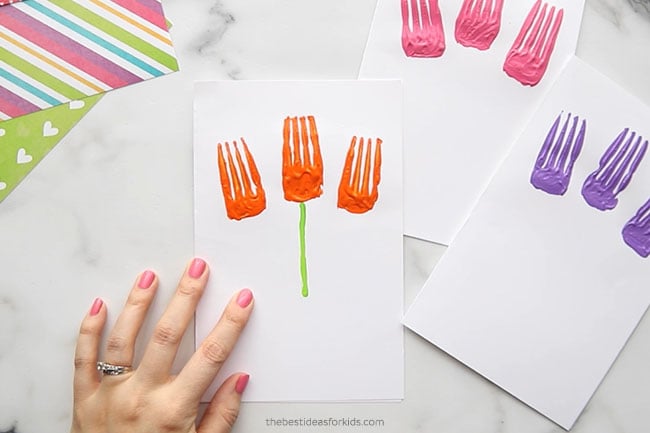 4. Cut out small leaves for your flower from green cardstock or construction paper. Glue the leaves to your flower stems.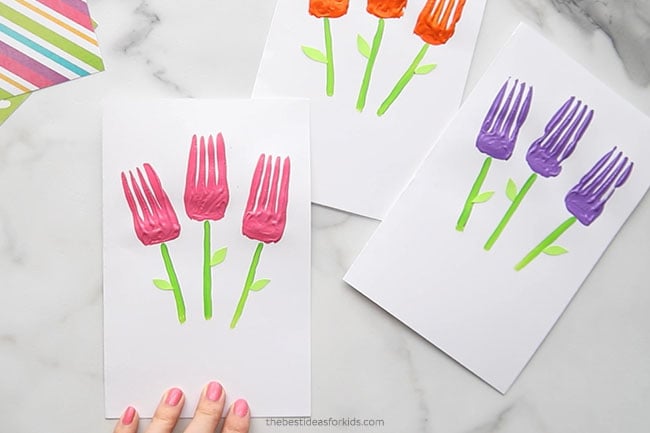 5. Using our free printable template (you can grab it at the bottom of the post), trace around colored cardstock for the vase.
Cut out the vase and glue it to the card.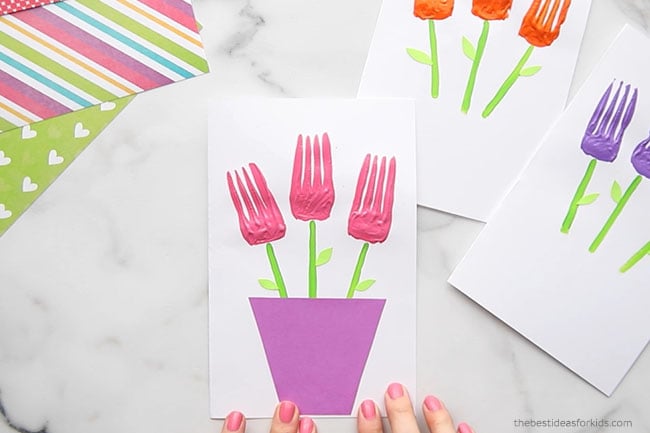 6. Write your special Mother's Day message inside!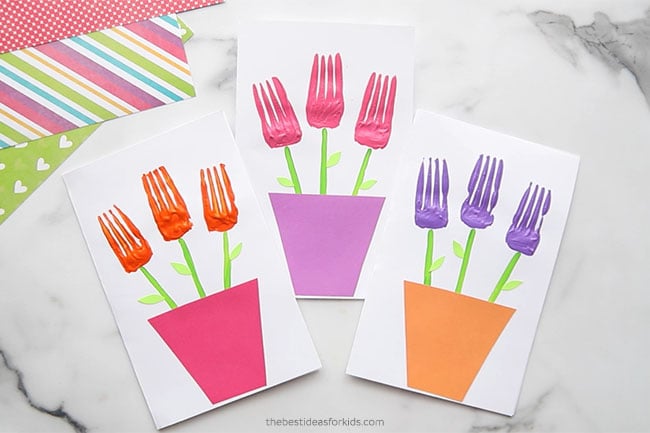 We love how easy these cards are to make! And the best part is you don't need a lot of supplies. Mom will surely love getting this card for Mother's Day too!
Get the Free Printable Vase Template
Get the FREE printable vase template HERE
More Mother's Day Ideas
See over 20+ of our favorite Mother's Day Crafts for Kids.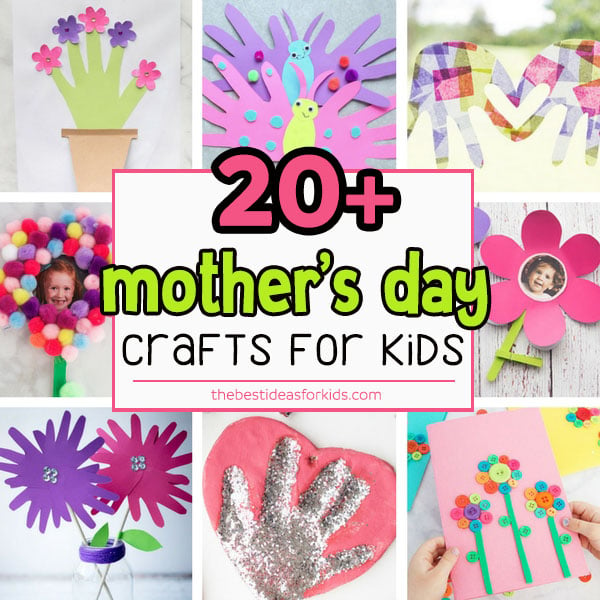 Here's another really easy way to make cards – make sponge painted cards for Mother's Day!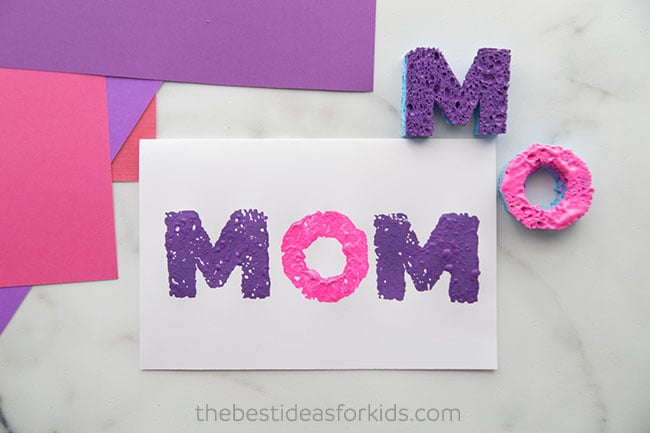 This handprint flower pot card is an adorable card to go with your keychain gift!