Here's a really easy way to make cards for Mother's Day! The best part about doing this Mother's Day Sponge painting is that the stamps are completely reusable. And they are much more economical than buying your own too!
RELATED:  Mother's Day Crafts for Kids
Make Your Own Mother's Day Sponge Stamps
Making these Mother's Day sponge stamps is a fun afternoon activity. Kids can design their own or you can use our free printable template. You can get the template by subscribing to our newsletter at the bottom of the post (with the preview of the template).
Have fun painting with these tulip and letter stamps to make your own cards for Mother's Day!  Or use them to make some canvas art for Mom or Grandma too!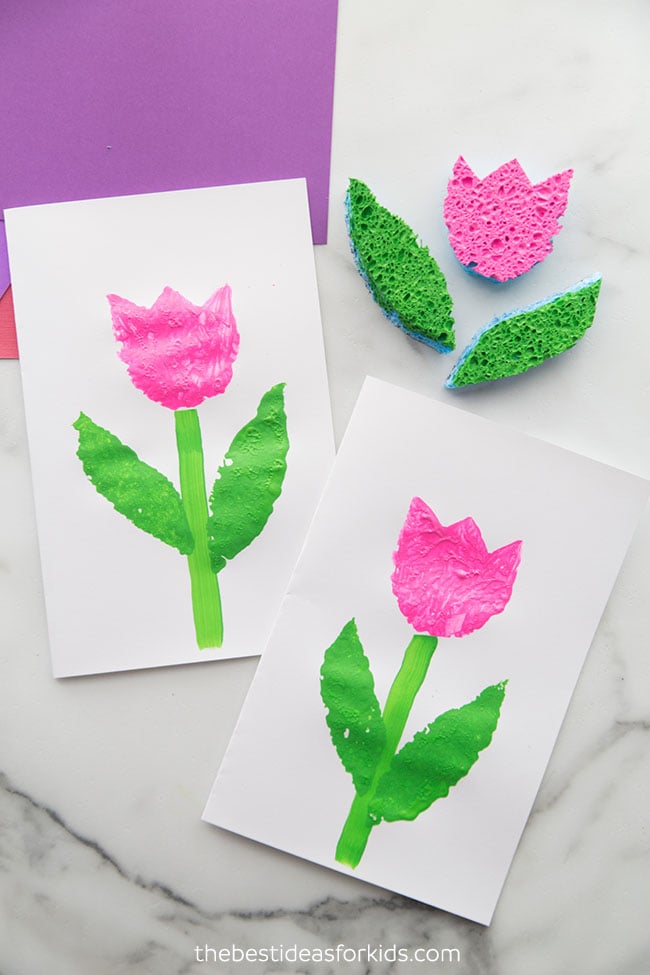 Supplies to Make Your Own Sponge Stamps
Plain Sponges – you want sponges that do not have any scrubbers on them so they are easier to cut. Ones like these.
Strong Scissors – cutting sponges can be difficult. You'll need heavy duty scissors to cut them. Adults only should do this part.
White Cardstock – regular paper size is perfect for folding in half to make a card.
Paper Plate or Plate (for stamping the sponges in with the paint)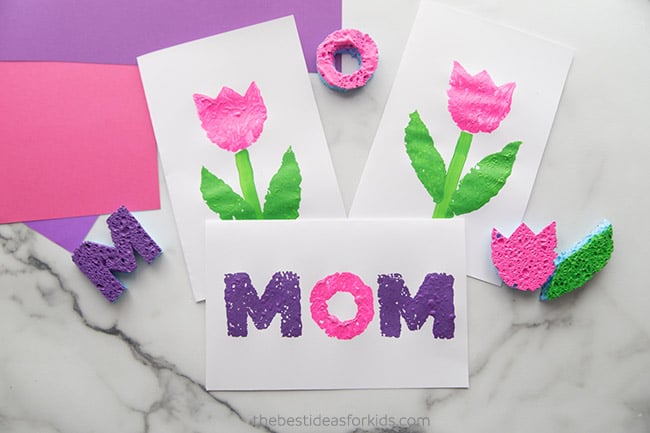 Watch the full video tutorial here!
Directions for Mother's Day Card Sponge Painting
1. First print off the free templates. You can get the template at the bottom of the post by subscribing to our newsletter (on the form with the preview of the template).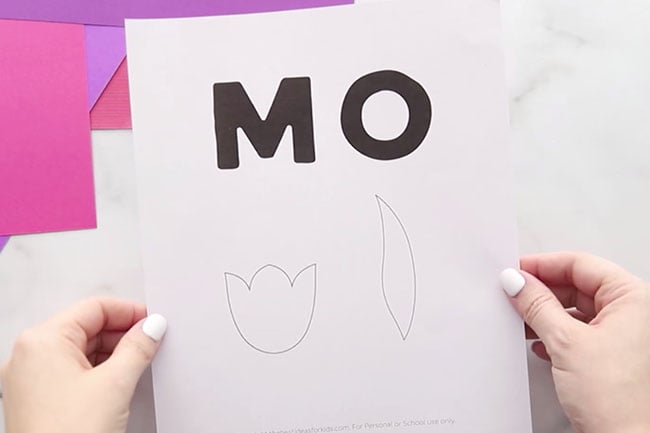 2. Cut out the templates and place on your sponge.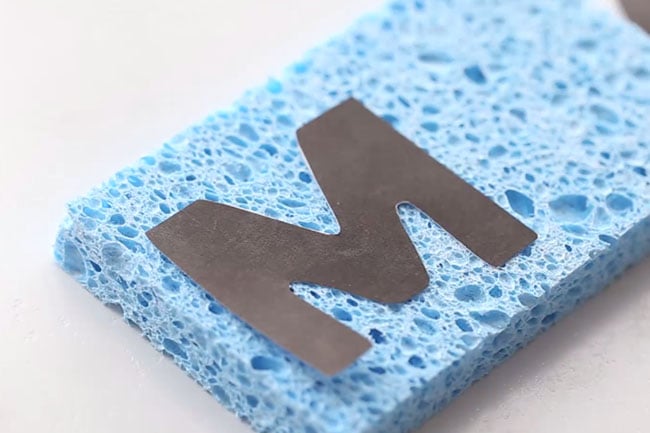 3. Trace around the template with a sharpie or marker.
4.  Finish tracing all of the templates or draw your own!
5. Now cut out your designs. Cutting can be difficult if you do not have heavy-duty scissors depending on how thick your sponges are. We recommend using a pair of scissors like these. Adults only should do the cutting.
Note: We cut out 2 tulip leaf designs, one for each side of the flower. Flip the template over to trace a mirror image of it on your sponge.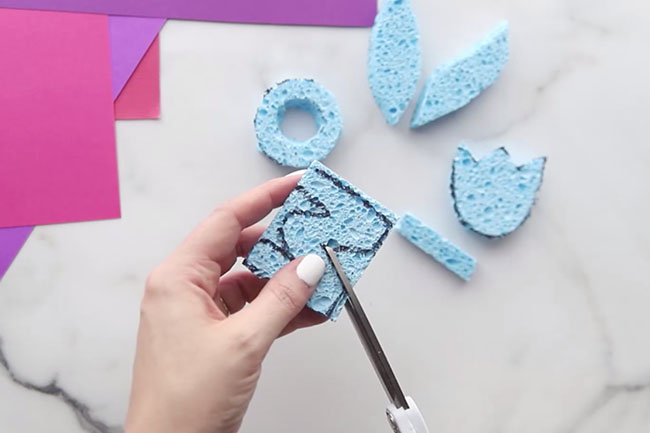 It can be hard to get round shapes when cutting the sponges, but don't worry too much about making it perfect. Once the shape is cut out you can go back and round out the edges with the scissors. Do this for the side that will be stamped down.
6. To cut out the center of the O, first cut out the outside part of the O. Then bend the O slightly and make a slit cut mark with the scissors in the center. Now you can cut around the inside.
6. Have fun using your stamps!
First, make your cards by folding a piece of white cardstock in half.
For the MOM card, we first stamped the M in purple paint.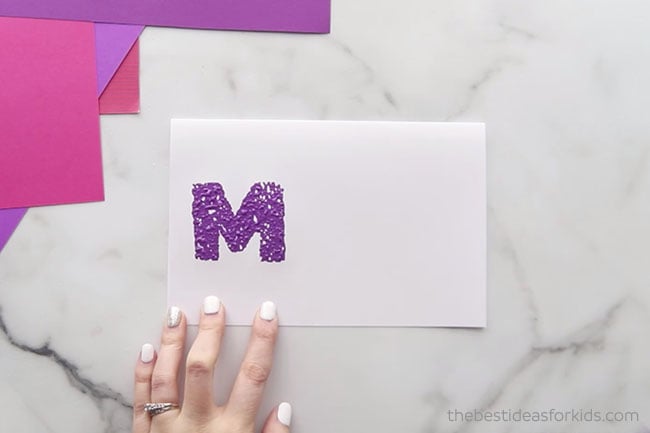 We then dipped the O in pink paint and added another M after that to spell MOM.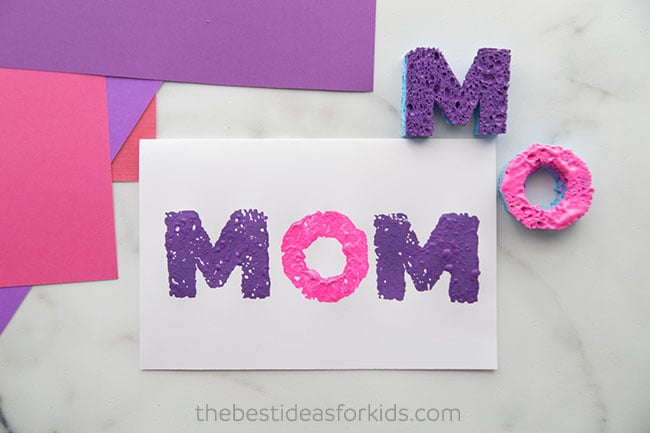 For the tulip card, first print the tulip on your card. We dipped the tulip sponge stamp in pink paint and stamped it near the top of the card.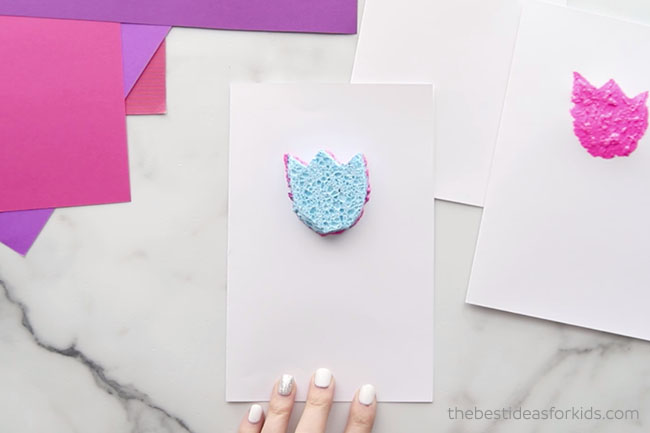 Using a paint brush, paint a green line down from the tulip flower to make the stem.
Then use the tulip leaf stamp to stamp leaves on the flower. We made 2 tulip leaves so we could have one for each side of the flower.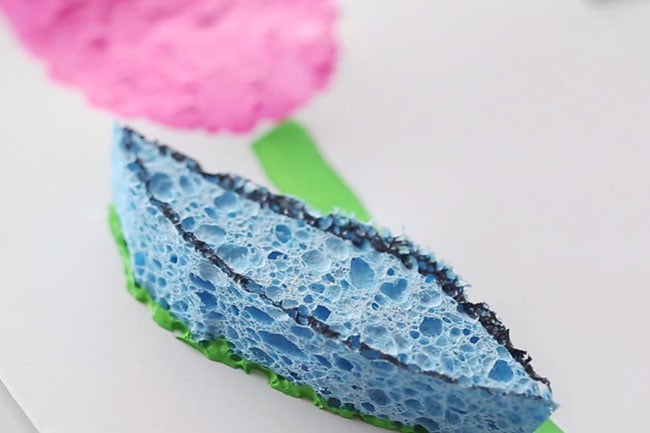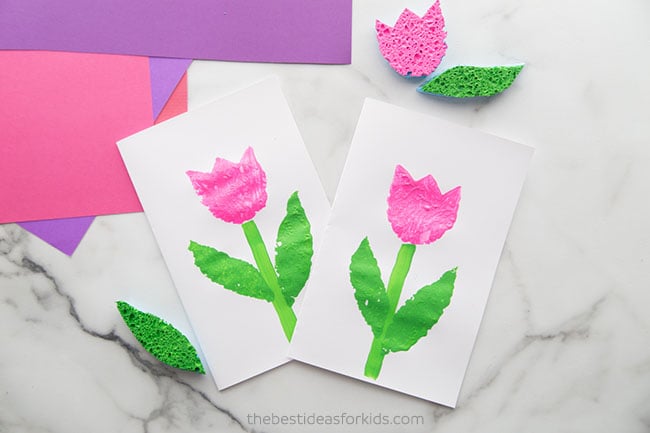 Once you're done with your sponges, wash off the paint and let them dry to reuse another time!
We hope you enjoy making your own Mother's Day Cards this year with these sponge stamps.
To get the template, subscribe below and it will be delivered to your inbox as a free gift. Please make sure to check ALL folders for the confirmation email. 
Mother's Day Card Ideas
Here are a few more of our favorite Mother's Day ideas. Or see 20+ Mother's Day Crafts for Kids.
These butterfly handprint cards are really easy and fun to make! Kids will love decorating them.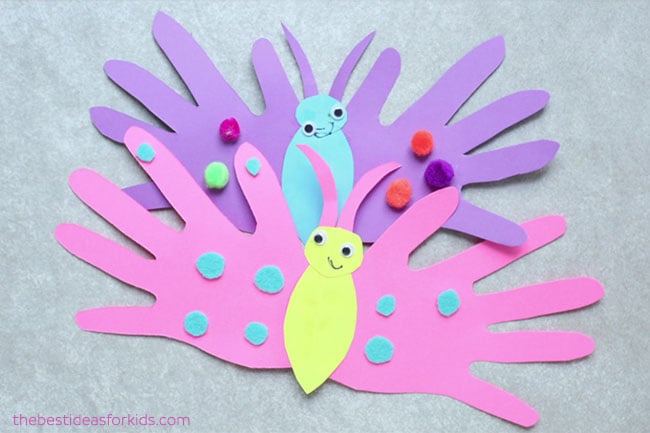 See also this tulip card with a flower pot. This Mother's Day Card Craft also has a free printable template.