For an easy Winter or Christmas craft, this footprint snowman craft activity is sure to be a hit with your kids!  Your kids will love stamping their feet into the paint and then creating their very own snowman footprint. This would also make an adorable Christmas gift or even a Christmas card. The best part is you can keep this craft for many years! Don't forget to the write the date on the back so you know the ages of your kids when they made them.
RELATED: Footprint Penguins 
Snowman Footprint Craft
If you'd rather not get feet a little messy, see our handprint Christmas cards. No paint involved and just as much fun!
If you love snowmen, then you can also create these snowman cards.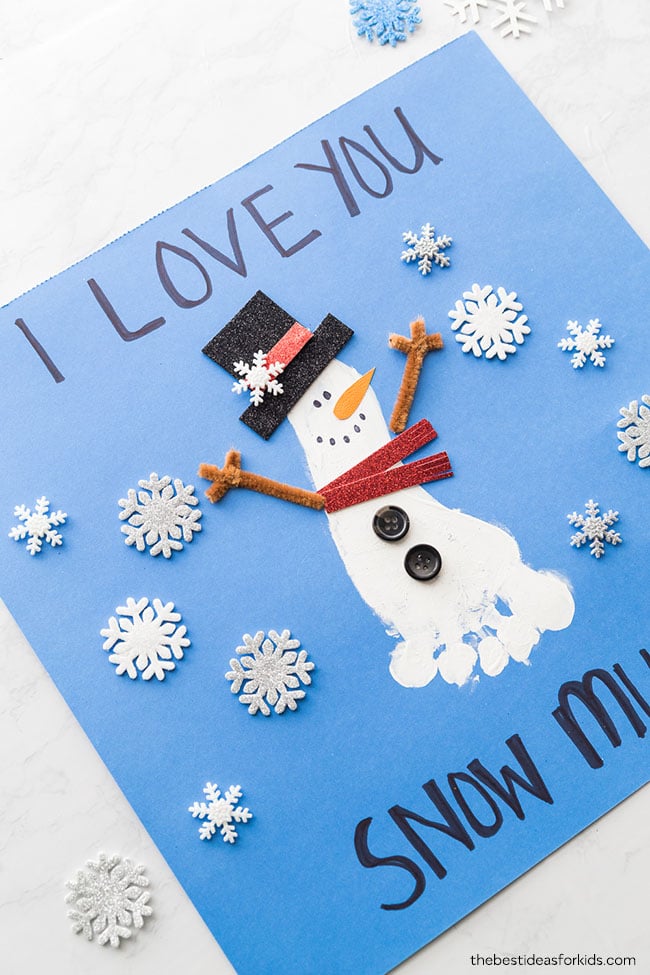 How to Get a Footprint
If you haven't done footprint crafts before then we have a few tips for you. With a little bit of preparation you can get footprints with little mess involved.
Here's a simple way to get the footprints: 
Place some paint in a paper plate and spread it around with a brush. Holding your child's leg (because you don't want them to stamp it on the ground accidentally) help them place their foot into the paint on the paper plate. Then gently help them press it onto the paper. I like to lay out a few papers in a row to do at least 2-3 papers at a time. Usually out of 3 footprints you'll have one you like. When pressing the foot down really try to hold it steady. If you move it too much the paint will get smudged.
Once you're done your footprints you can carry your child to a sink to rinse off their feet. If they are older, you may want to have a bucket ready with some soap and water so that you can easily wash off their feet without carrying them.
Kids will love making their footprints! My kids had so much fun stamping on the paper and then turning their little footprints into snowmen.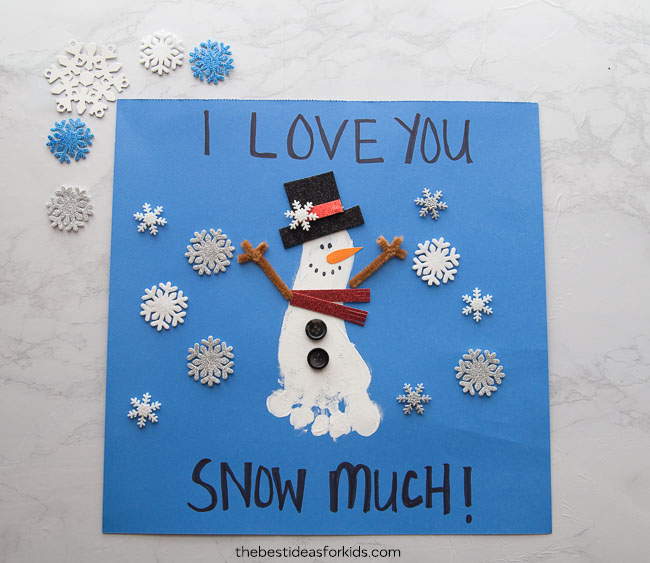 Snowman Footprint Supplies Needed
To make the full craft, here are the supplies you'll need:
White Paint – we like to use acrylic (just make sure to wash it off right away as it's not as washable as regular kids paint)
Blue Cardstock – we like to use this size since it's large and can fit the footprint and wording nicely
Extra Strong Non-toxic Glue – we like this brand. It works really well for gluing foam paper and pipe cleaners
Orange Cardstock or Construction Paper
Black Sharpie
Black Buttons
Watch the full tutorial video here before you get started!
How to Make a Footprint Snowman
1. First, start by getting your footprint on paper with white paint. See our tips above for getting the footprint.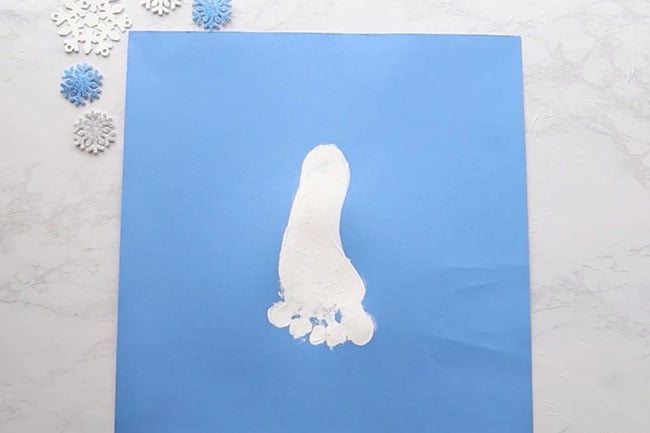 2. Cut out a hat shape from black glitter foam paper. Then add a strip of red glitter paper above the brim. Glue to the top of your footprint.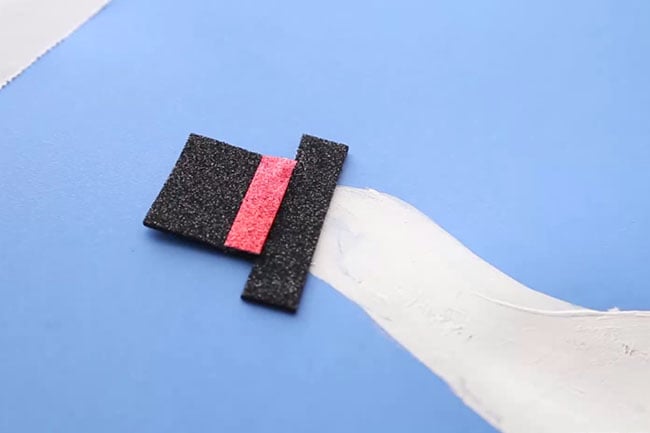 3. Cut out two small strips of red glitter paper. Cut slits on one end and fray them a little bit to look like scarves. Then glue to the middle of your footprint.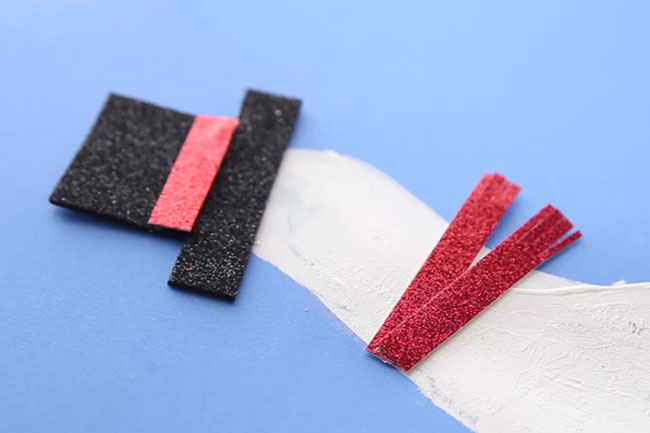 4. Glue two buttons to the snowman. You may need some hot glue to keep the buttons on. We also like this brand. It works really well for gluing foam paper and pipe cleaners too.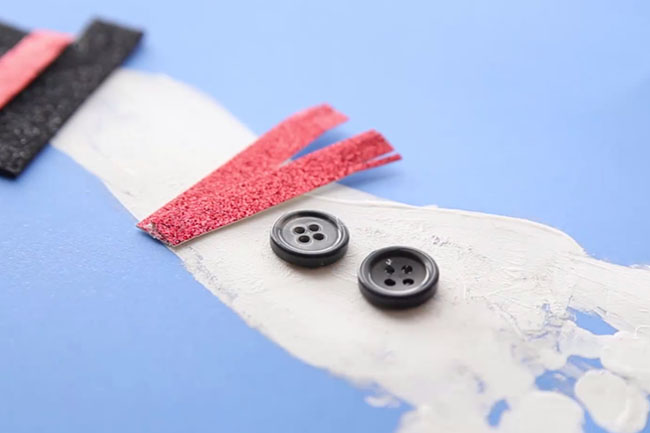 5. Make the snowman's arms with pipe cleaners. Cut a length for the arm and then take a much smaller piece and twist around the end to form the fingers.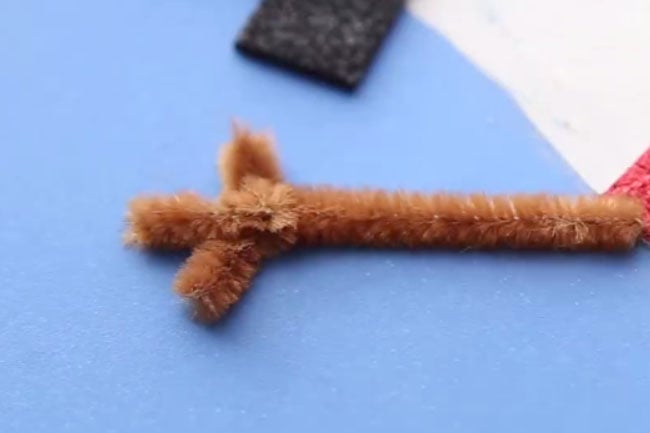 6. Make the face of the snowman by adding the eyes and mouth with a black sharpie. Then cut out a small carrot nose and glue down.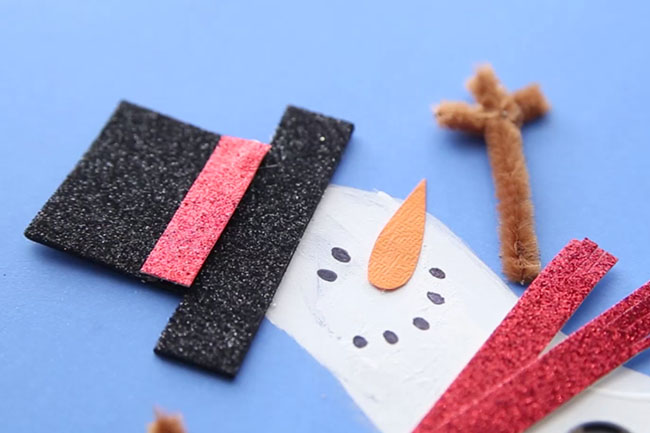 7. Write "I Love You Snow Much" or another message around the footprint. Add some snowflakes or white pom poms around the footprint for decoration.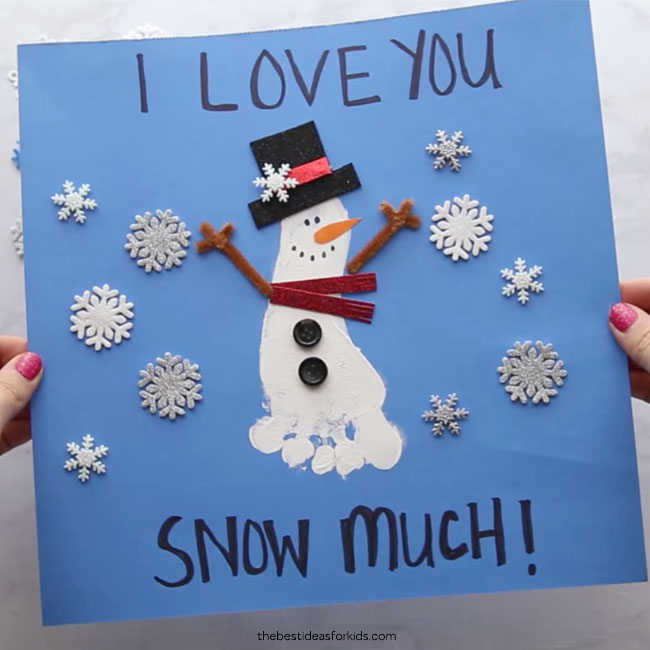 This snowman footprint craft is so easy to make and the kids will love putting it together! If you love this footprint snowman, be sure to see our footprint penguins too!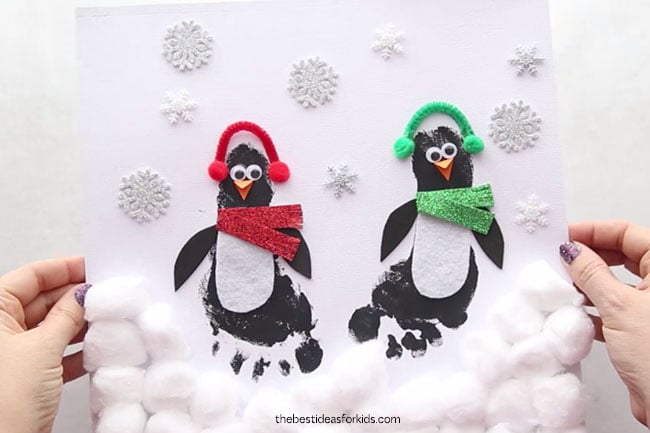 More Snowman Crafts for Kids
This snowman popsicle stick craft is so cute!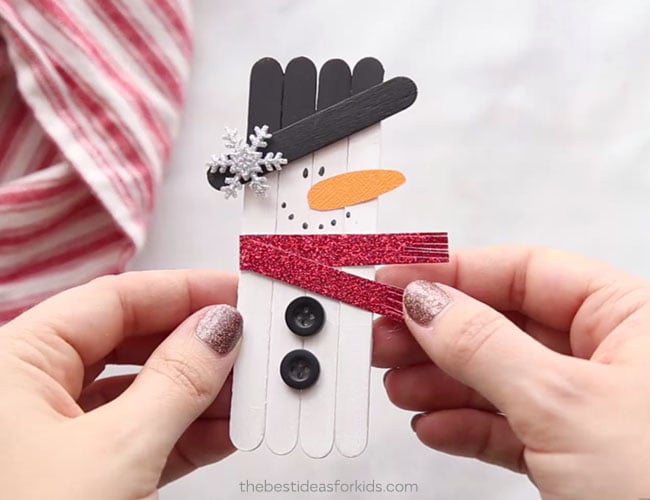 This snowman paper roll craft is so fun to make too!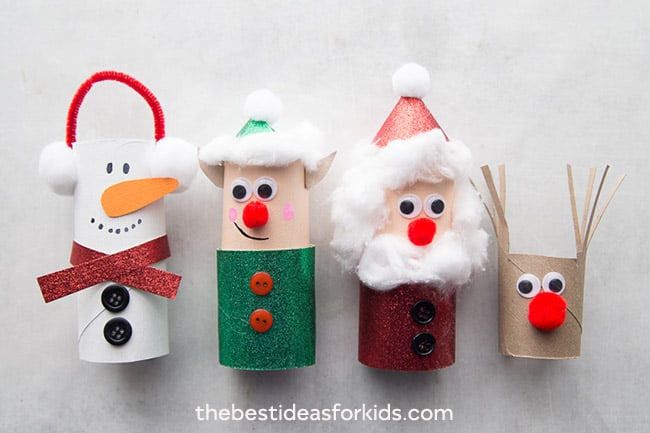 Pin this for later!