Learning about the butterfly life cycle is a fun educational activity for kids! Kids will love putting together this simple butterfly life cycle craft. And the best part is that you can use our free printable template to make it!
RELATED: Toilet Paper Roll Butterfly
Butterfly Life Cycle Craft for Kids
You only need a few supplies to make this fun and easy butterfly life cycle craft! And if you're learning about monarchs, this is the perfect activity to learn about this butterfly. We wanted to make it as accurate as possible to the monarch butterfly species by adding a monarch butterfly, a monarch caterpillar and a bright green chrysalis.
Our book – Fun and Easy Crafting with Recycled Materials  is bursting with cardboard crafts like this one. It has a whole chapter of cardboard crafts. But not only that, there are other recycled crafts for kids too – egg cartons, paper rolls, newspaper, popsicle sticks, jars and more!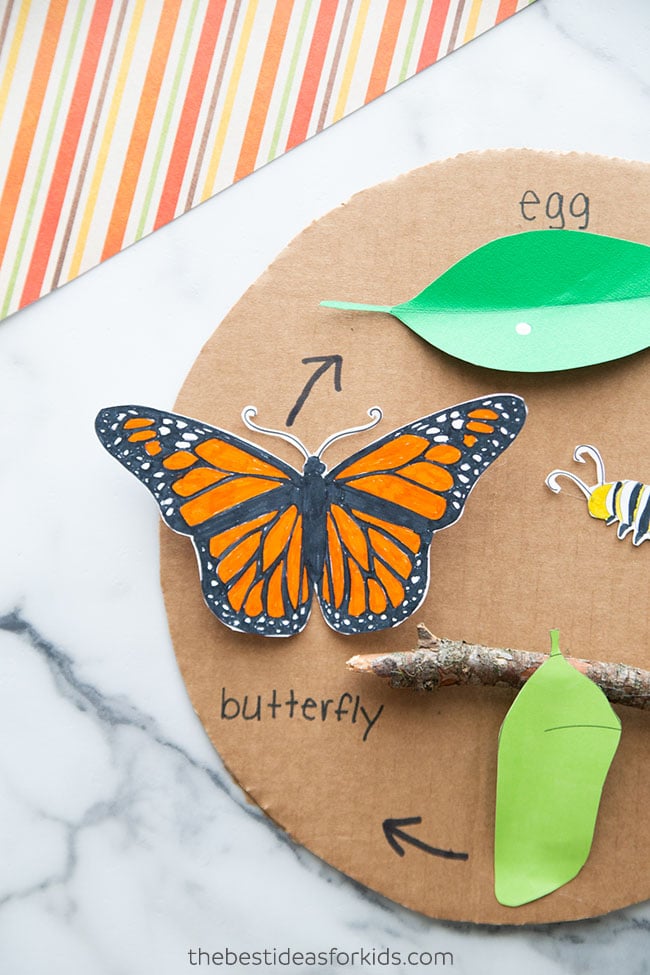 Monarch Butterfly Facts
Here are some interesting monarch butterfly facts you can share with kids when you make this craft! 
Monarchs only lay one egg on a leaf spot (not in clusters). But a female monarch can lay up to 400 eggs.
A monarch is an egg for usually 3-4 days
It takes 10-14 days for the caterpillar to turn into a chrysalis
Butterflies make a chrysalis and moths make cocoons
The time to emerge from the chrysalis is usually 8-15 days
Monarch males have a dot on each wing, which is how you can tell the difference between a male and a female
Monarch caterpillars only eat milkweed
Here are some things you can do to help the monarch population: 
Plant milkweed or learn to recognize milkweed so you don't pull it mistakenly in your garden
Plant flowers that butterflies are attracted to – milkweed is important for the caterpillar phase but the butterflies also need the nectar from flowers to eat
Supplies Needed to Make a Butterfly Life Cycle Craft
– Cardboard
– A stick
– Green cardstock paper in 2 different shades – we printed the template on a lighter green for the chrysalis and a darker green for the egg
– White cardstock – for the butterfly/caterpillar template page
– White paint (optional – we added a little bit to the leaf to make the egg stand out)
– Colored markers
– Black marker or permanent black marker
– Free printable butterfly life cycle template – see the bottom of the post for instructions on how to get the template. Make sure you input your email in the form with the preview of the template. 
Watch the Video Tutorial Here!
How to Make a Cardboard Butterfly Life Cycle Craft
1. Print off the free printable template on white cardstock.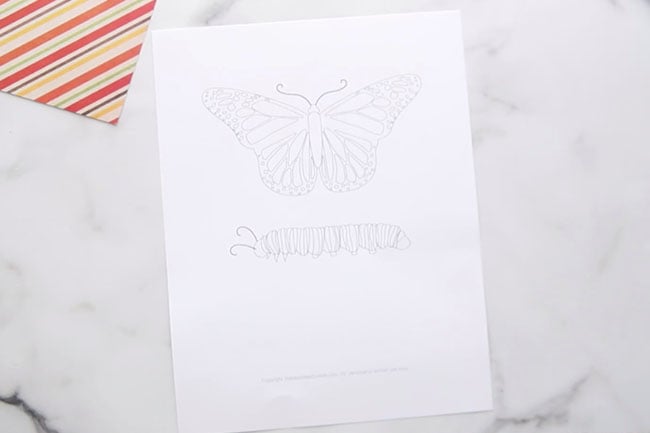 Also print off the leaf and chrysalis page on green paper. You can also print these off on white paper and color them in.
2. Start to color in your butterfly and caterpillar. We used Crayola fine line markers to color but any markers or pencil crayons will work. For the butterfly to look like a monarch, we colored in the larger areas with orange and the veins and outline with black. Leave some spot areas on the outer part white too!
For the caterpillar we alternated yellow and black to make it look like a monarch caterpillar. Then we cut them out.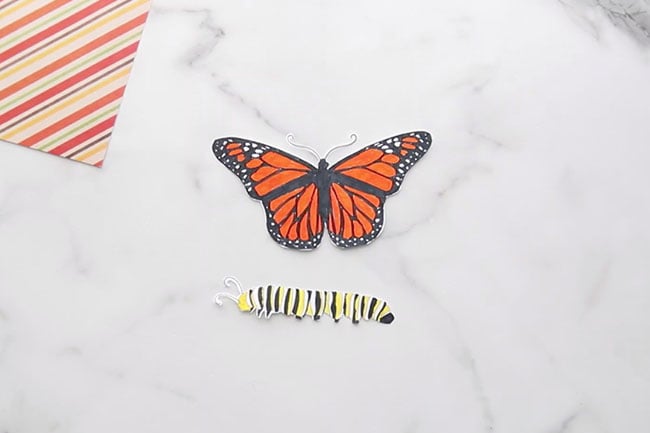 For the leaf and the chrysalis, we printed these on colored cardstock. You can also print on white paper and color them in.
For the leaf, we also added a little bit of white paint to the egg so that it would stand out on the green paper.
3. Start to glue your elements to a large piece of cardboard. We used a large salad spinner bowl to trace around cardboard and cut this out to get our circle shape.
Fold the leaf and butterfly and glue in the center so it stands up from the cardboard.
Glue the chrysalis to a stick or you can glue directly to the cardboard also.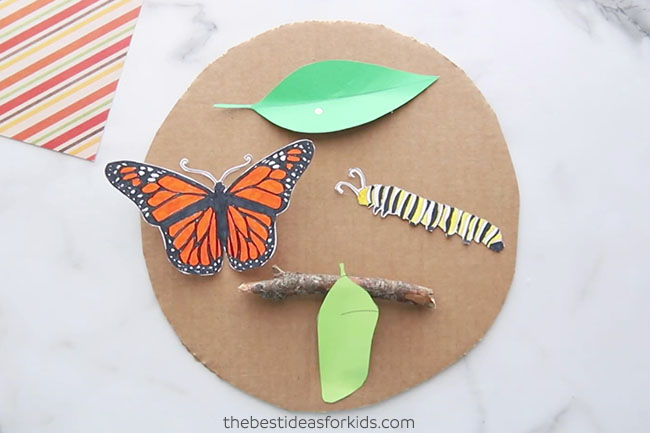 4. Add arrows and labels for each life cycle stage with a black permanent marker.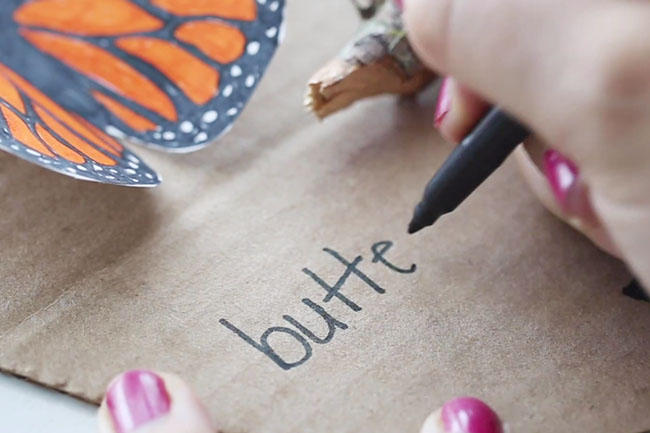 5. Your butterfly life cycle craft is now complete! This would make a great addition to any science center in a classroom too.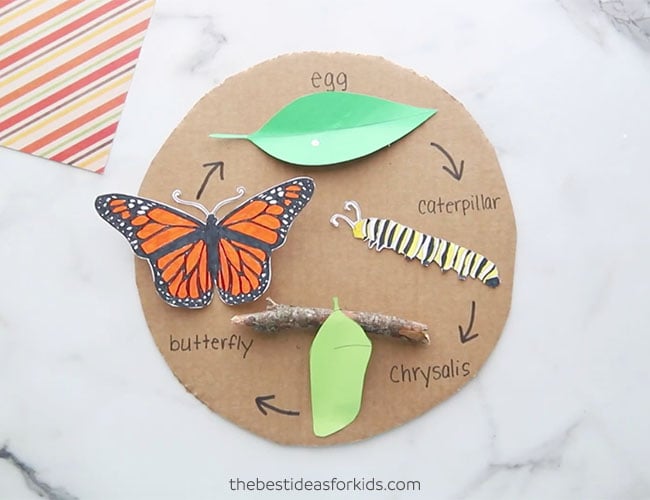 This is such a fun educational activity for kids to learn about the different stages of the butterfly life cycle!
To get the templates, subscribe below and it will be delivered to your inbox as a free gift. Please make sure to check ALL folders for the confirmation email. 
More Butterfly Crafts for Kids
Make these toilet paper roll butterflies as a follow-up craft. You can even decorate them to look like Monarchs too!