If you have tried some of our other slime recipes then you know we love to make slime here! And slime can be a great non-candy gift idea for Valentine's Day. Kids can have fun helping you to make the slime and printing off these cute slime gift tags "Happy Valen-slime Day". This Valentine Slime will make a great gift this Valentine's Day!
RELATED: Unicorn Slime
You can grab the free Valentine Slime gift tags at the bottom of this post. We included 2 colors to choose from – pink and red so you can decide which color slime you'd want to make. Or you can make both! We also included a slime safety tag to glue to the back of the tags. This is important if you want to hand these out to other kids as not everyone is aware of slime safety.
Here is what the safety tip tag says:  Slime Safety Tips! This is homemade slime made with love using glue, baking soda and contact lens solution. If you are sensitive to these ingredients, please do not use. Slime is not to be placed in the mouth and you should wash your hands after use. Adult supervision is recommended. 
Grab the free printable tags and slime safety tag by subscribing to our mailing list at the bottom of this post.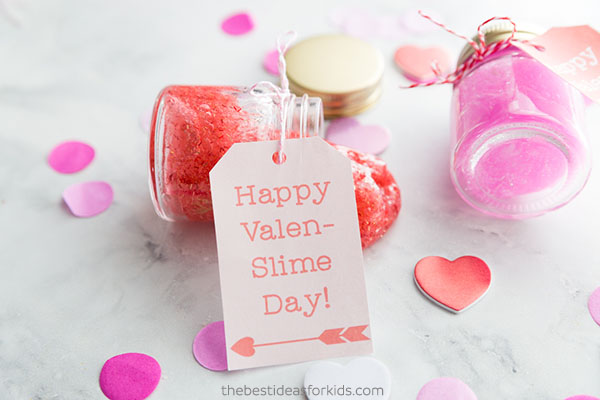 Ingredients Needed to Make Valentine Slime
– 1 Bottle of Elmer's Glitter Glue (6 oz).  We used red and pink. Note: We have only tested this with Elmer's glitter glue and recommend this brand as other brands may not work.
–  1/4 cup water (to make your slime more stretchy)
–  1/2 tsp Baking Soda
– 1½ TBSP of Contact lens solution. **Important: your brand of contact lens solution must contain boric acid and sodium borate. See our full contact solution slime recipe for the brands we recommend.
To Make the Slime Jars You'll Need:
–Cardstock for printing the gift tags (grab the gift tags at the bottom of this post)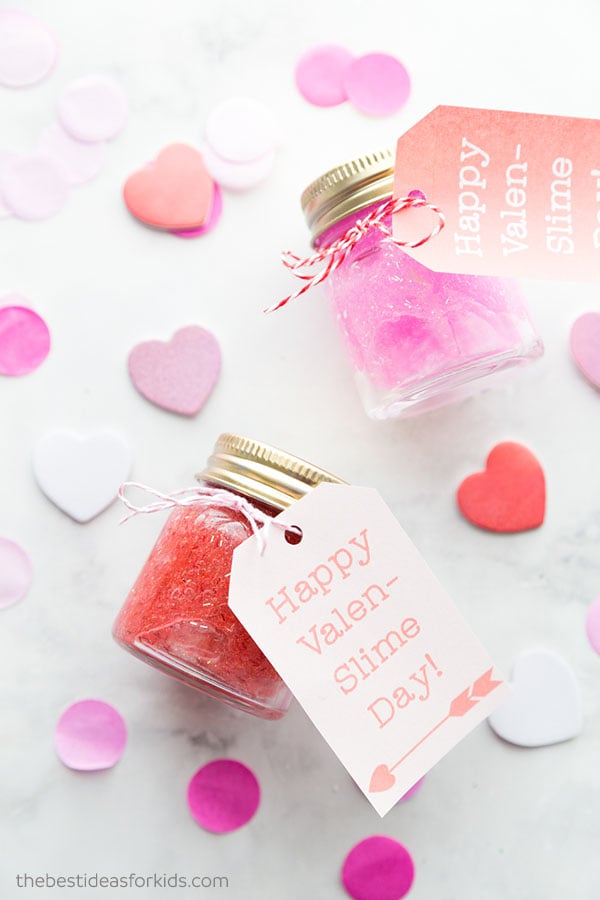 Watch the Video Tutorial Here!
Directions to Make Valentine Slime
We made two glitter glue slimes – this was the red slime.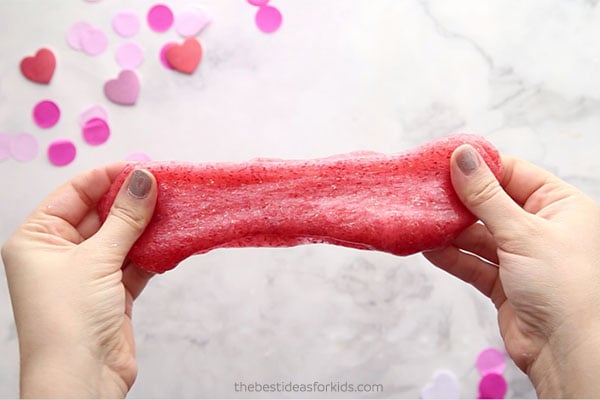 And this is the pink slime.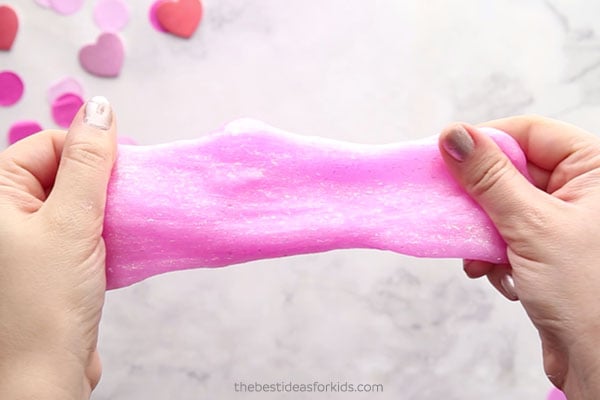 Once you have both slimes made, you can fill your small mason jars. Depending on your size of jars you should be able to get 2-3 jars with one batch/recipe. We filled 2 small mason jars with one batch.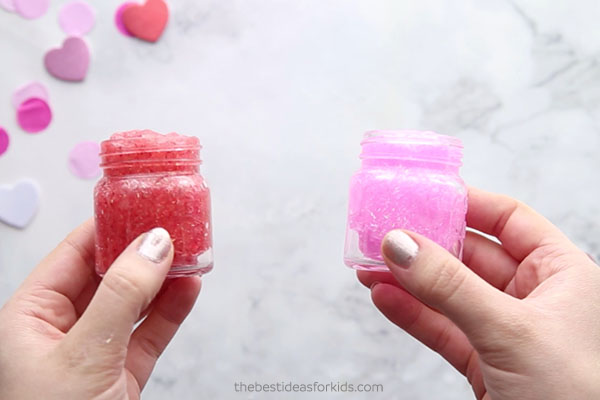 Now add your gift tags with a little bit of twine wrapped around the jar!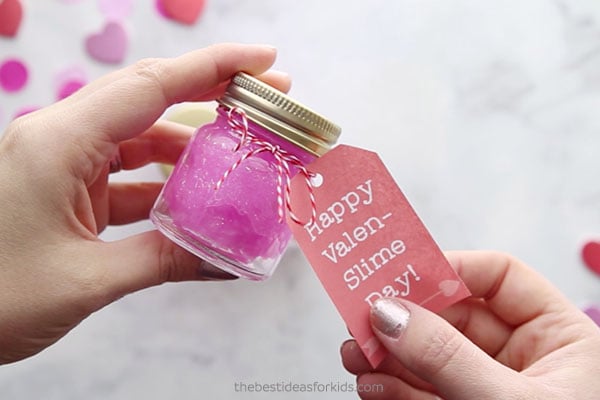 Steps for How to Make the Valentine Slime
1. Get a bowl to mix your slime ingredients in.
2. Pour your entire 6 oz Elmer's Glitter glue into the bowl (or 3/4 cup of glue from a larger bottle).
We used red and pink Elmer's glitter glue.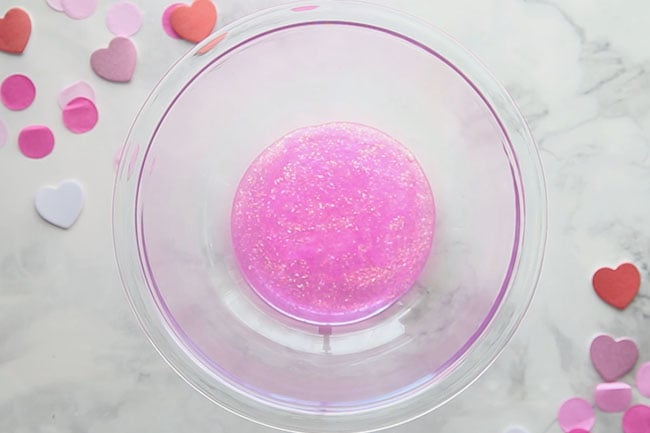 3. Add your 1/2 teaspoon of baking soda and mix in thoroughly.
Also add up to 1/4 cup of water if you want a more stretchy slime.
You can add extra glitter in too.
5. Slowly add in your contact lens solution (Reminder: your contact lens solution should contain boric acid or your slime will not form).
Add it in slowly and mix if possible so that you can adjust and ensure you do not add too much.
We like to add in 1 tablespoon to start and then mix. Then slowly add in the rest.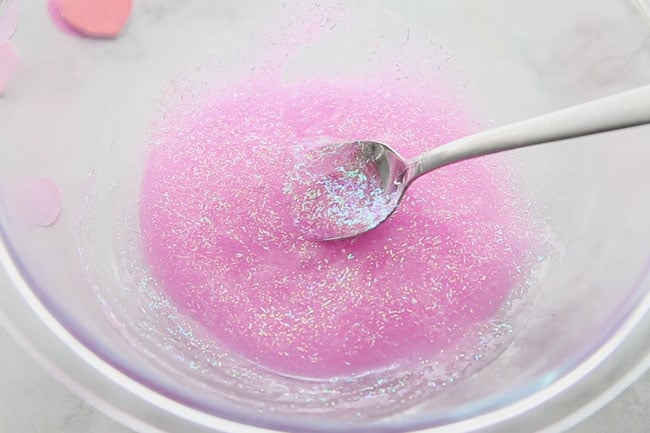 Knead and mix thoroughly before adding more as you do not want to add too much or your slime will get too hard.
You may not need the full amount so take this step slowly.
6.  Now mix until your slime forms and begins to harden.
Take it out and knead, knead, knead. You may be surprised how much you need to knead to really make the slime form. It will be very sticky at this point. Especially if you added water. Keep kneading and stretching the slime and it will become less sticky.
If it's not the desirable consistency keep kneading. Only add a little more contact solution a teaspoon at a time to prevent the slime from becoming too hard.
If you still find it to still be too sticky, add a little bit of lotion or baby oil to your hands.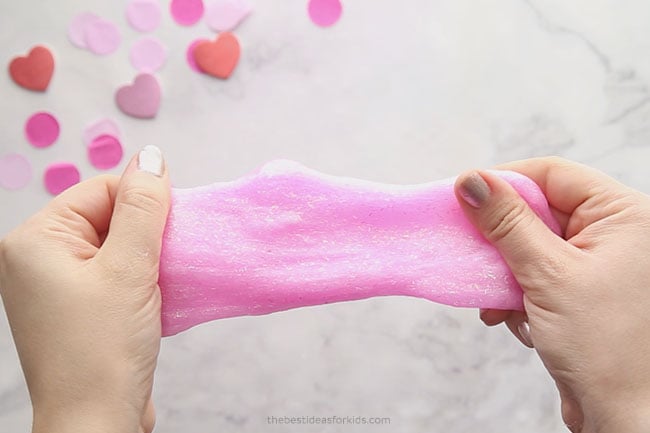 Sign up for our Newsletter and get this Valentine Slime Tags as a Thank You!
If you are having trouble getting the email confirmation, make sure you check all folders as it can sometimes land in the promotion and junk folders.
Slime Safety & Precautions
Note: Making slime is a science experiment and safety precautions should still be made when creating slime. By making this slime, you agree to our site terms which you can read here.
Adults should handle any chemicals and products
Adults should make the slime
Always read and follow the labels of products used. If contact lens solution is accidentally ingested, seek medical attention immediately.
This project is not suitable for children under 4.
Slime should not be placed in the mouth. Always wash hands before and after playing with the slime.
If you notice any skin irritation, discontinue use immediately. If you have sensitive skin, wear gloves while making and playing with the slime.
Slime is a science experiment and should be made and played with in moderation. Do not allow children to make their own slime and do not play with slime for an extended period of time.
We hope this easy to follow recipe on how to make slime with contact solution has been helpful!
More Slime Recipes
For more slime fun, see our Unicorn Slime Recipe.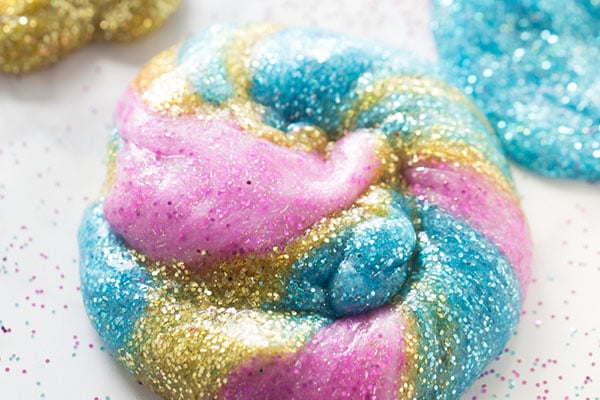 If you haven't tried fluffy slime, you can make Valentine fluffy slime instead.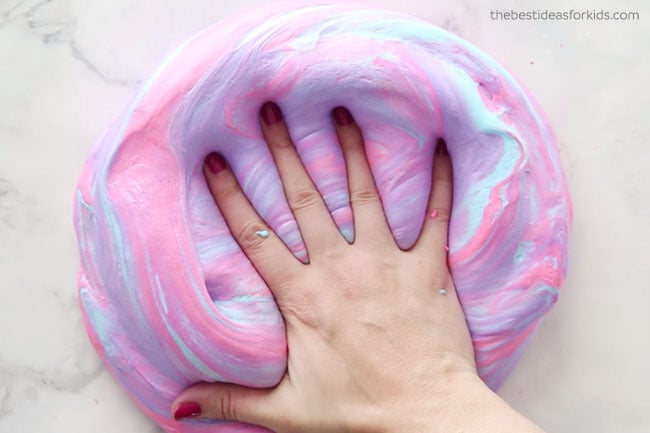 And for a different slime texture our butter slime is stretchy and fun to make!