If you have a superhero fan in your house – then this easy superhero craft will be a big hit! We were inspired to make these from different superhero painted handprints we have seen. We turned these handprints into cards so you can use them for Valentine's Day, a birthday card or Mother's Day / Father's Day. And the best part is they are really easy to make!
Superhero Craft
We can't decide which superhero card is our favorite – but it's probably the batman one! We just love his mouth smirk. The Ninja Turtles are so cute too! Your superhero fan will surely be able to choose which one is their favorite!
Here are the Supplies You'll Need to Make These Superhero Cards
Ninja Turtle Cards:
– Colored glitter foam paper – we used red & blue
– Googly eyes
Spiderman Card: 
–Red, black and white cardstock
-Black sharpie
Batman Card: 
– Acrylic paint for the face. We used this color.
– Black sharpie
Watch the full tutorial video here before you get started!
Steps to Make Your Superhero Craft Cards
These Ninja Turtle cards are so fun! Make one of them or make all 4. We did two to show you how they can look together. These would be adorable to make for a Ninja Turtle birthday party – or simply make them with your Ninja Turtle fan to give for Valentine's Day or Father's Day.
Ninja Turtle Cards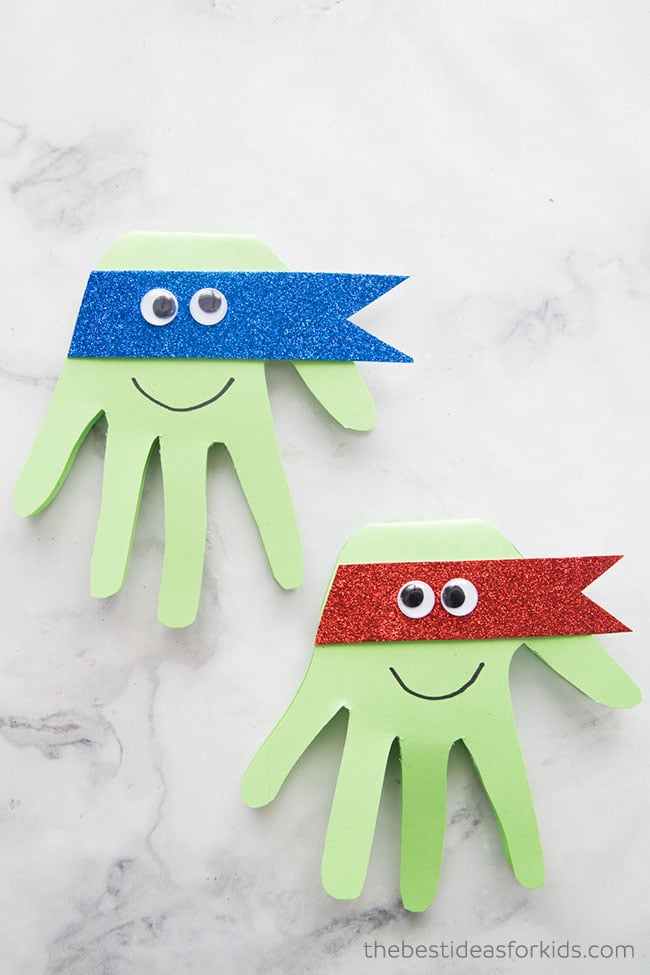 1. First fold your green cardstock in half.
2. To make these cards, trace your handprint with the wrist portion over your folded green cardstock.
3. Cut out your handprint and be sure to round the top part of the card (head of the Ninja Turtle) when cutting out.
4. Once you have your handprint cut out, you can now trace your foam glitter paper for the bandana. Place your foam glitter paper under your handprint to mark on your paper the size you'll need. Then cut out your bandana in a straight line and add your triangle cut out on the right side.
5. Glue on your googly eyes and add your smile.
6. Now write your message inside your card!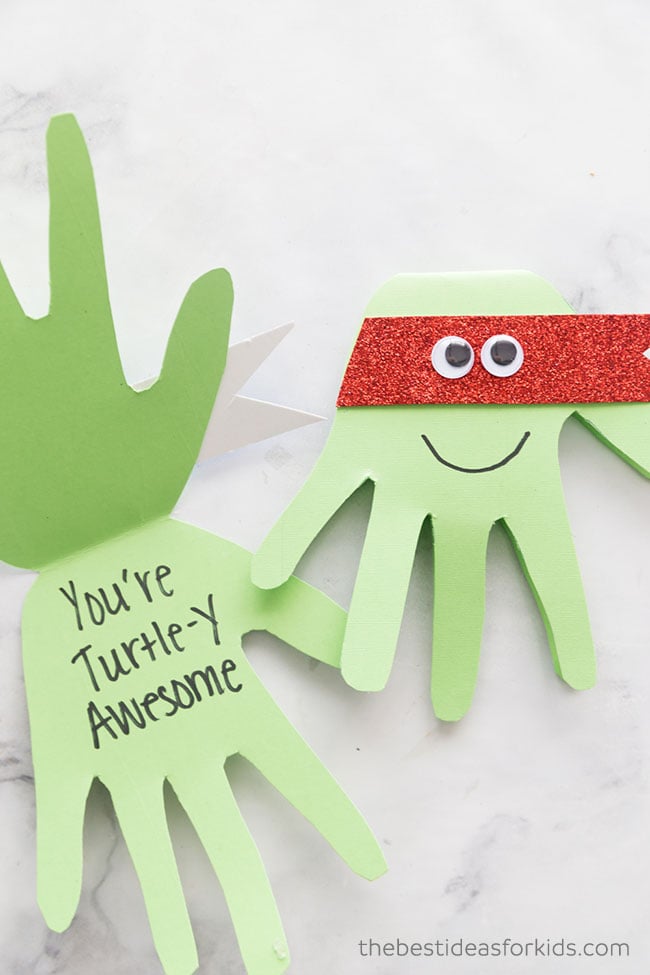 Batman Card
To make the Batman card – you'll need to trace your hand the same way. Watch our video at the top of this post to see how it's done! We love the way this Batman looks – and you're little ones will love making them too!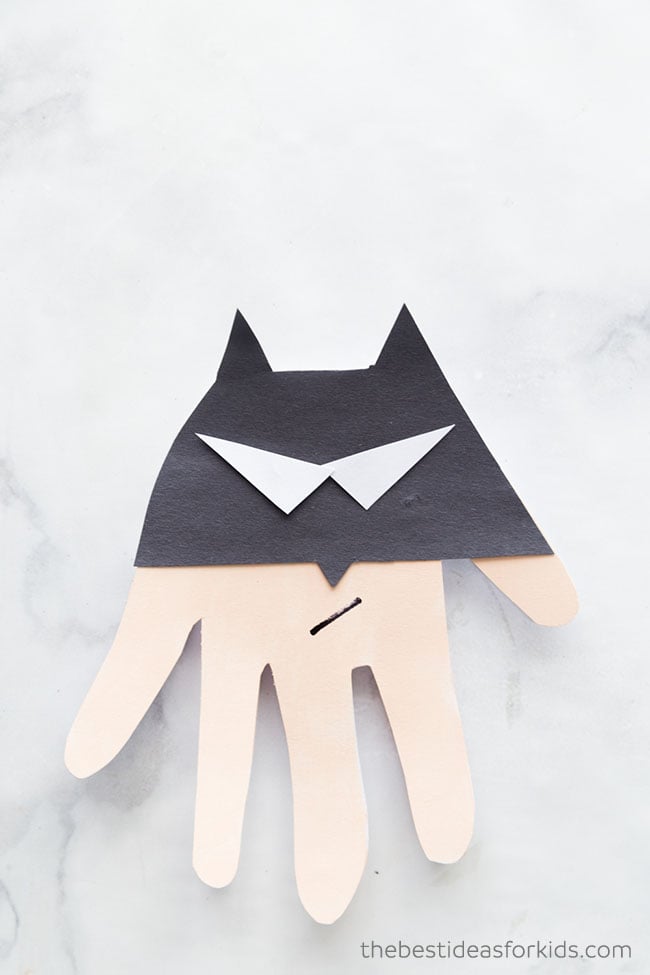 1. Fold white cardstock over and trace the hand so the folded part is by the wrist. Cut out and "smooth the top" when cutting where the top of the head would be.
2. Now paint the bottom of your handprint with your paint and let it dry.
3. Measure the size of your handprint top to make a Batman mask. We measured the top of the handprint and drew out the pointy parts of his mask and the pointy nose. Then glued it down and trimmed/cut around the sides of the handprint to fit.
4. Now cut out 2 identically sized eyes with white cardstock and add on top. You can draw one eye and then use it to trace the other one.
5. Now draw on your mouth.
Spiderman Card
This Spiderman card is one of the easiest ones to make! Kids will love making the web on Spidey's face. They can draw all of the lines and help cut out the eyes too!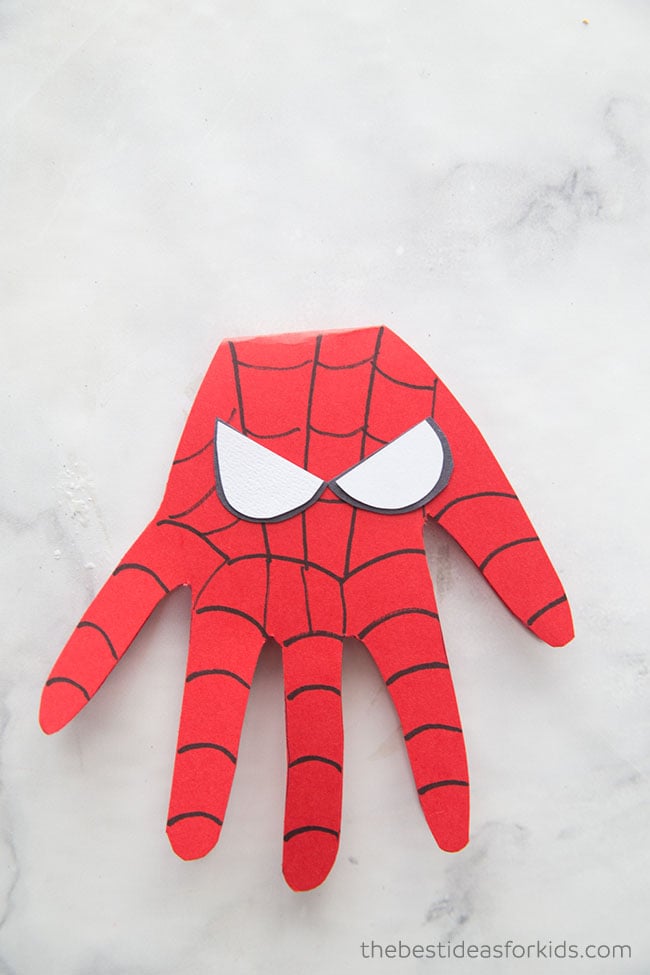 1. Fold the red cardstock over and trace the hand so the folded part is by the wrist. Cut out and smooth the top when cutting where the top of the head would be.
2. Now cut out the eyes from black paper and make 2 the same size, then trace on your white paper and make 2 other white versions slightly smaller. Glue your black on first and then the white on top.
3. Draw your spiderwebs with a black marker or sharpie. For the top of his head the webs swoop down whereas the bottom they swoop up.  You can grab a spiderman toy and use that as your guide too!
4. Now add your message inside! We wrote "You're AMAZING".  We think this seems to fit Spidey and all those webs he has, doesn't it?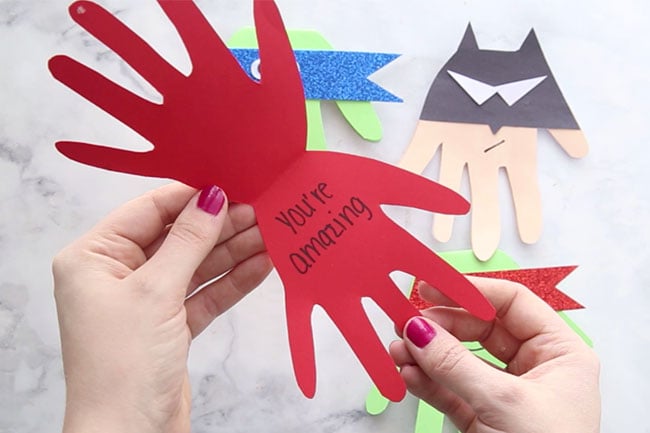 We'd love to know which card is your favorite? We can't quite decide but think Batman followed by the Ninja Turtles. This superhero craft will surely put a smile on everyone's faces – those that make it and those that receive it!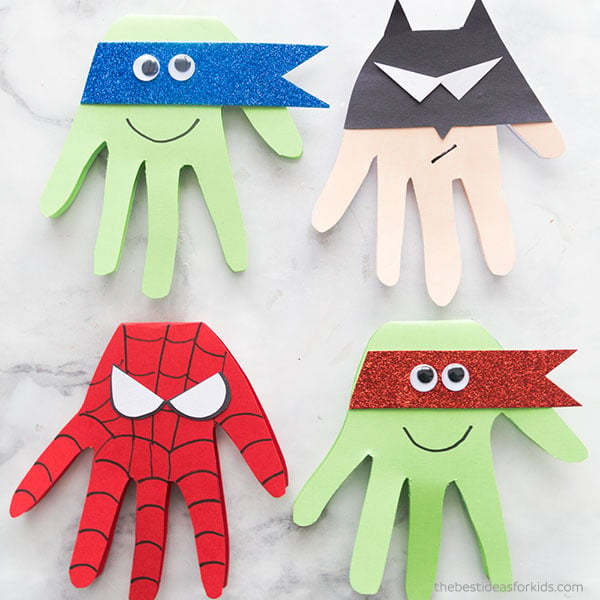 For more fun craft ideas, see our page with over 100+ craft ideas for kids.