We love salt painting as a craft activity. It's really easy to set up and kids love seeing the "magic" happen when the paint runs along the salt. This salt painted Christmas tree activity can actually be done two ways. You can do salt painting or you can make a glitter painted Christmas tree. You can even turn the glitter painted trees into Christmas cards.
RELATED: Salt Painted Snowflakes
Salt Painted Christmas Tree Activity
If you'd rather not do salt painting, you can use this same printable template to make glitter painted Christmas trees.
Follow along with the same steps but instead of adding salt on top, add your favorite glitter.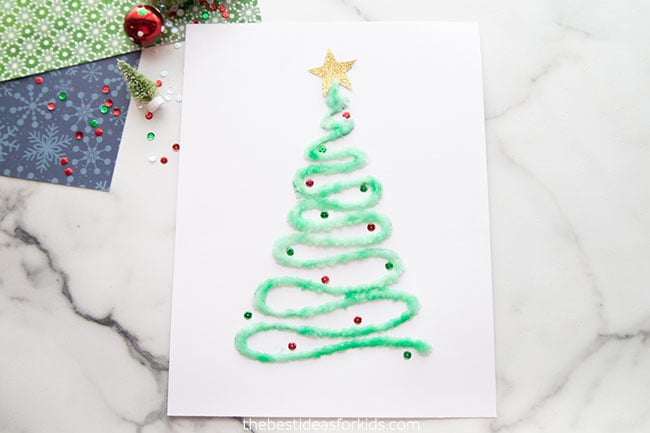 We made this craft really simple by including a free template. You can get the template emailed to you as a free gift by signing up to our newsletter on the form with the preview of the Christmas tree template (close to the bottom of the post).
You can also do this activity drawing your own Christmas trees too!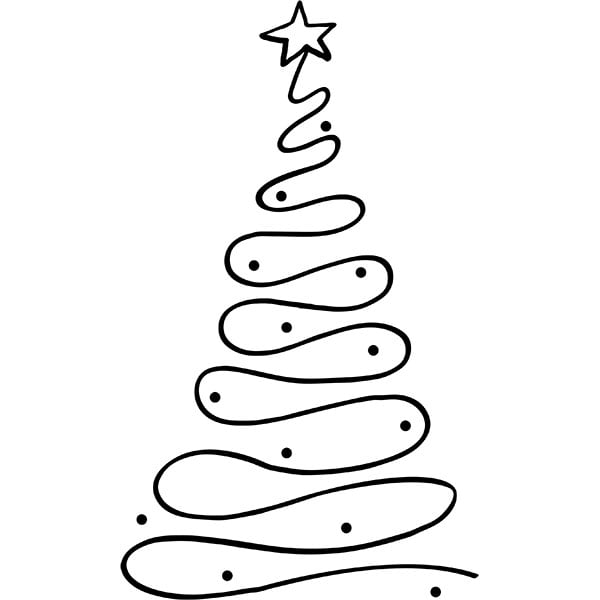 Supplies Needed for Salt Painting
– Liquid watercolors – we like this brand
– Salt – regular table salt
– White glue – this bottle size is the best for tracing our template as the nozzle is smaller.
– Paintbrush
– A little bit of water
Watch the full tutorial video here before you get started!
TIPS FOR SALT PAINTING: 
Use a higher concentrated solution of liquid watercolors. Only add a small amount of water to your solution to keep the colors more vibrant.
Dip your paintbrush gently into your liquid watercolors. Only get a little bit of watercolor at a time. If you have too much water when you're painting the water may spill over the salted area. Don't worry too much if you're doing this for fun with the kids. But if you want to keep it as art to hang up we found using just a little bit of paint works best.
You can paint after the glue dries or right away. We like to paint right away.
Use some cardboard underneath your cardstock to avoid getting your counter or table wet as the liquid watercolor may seep through a bit.
Use a thick white cardstock to avoid paint bleeding  – this white cardstock is thicker than regular sizes but you can also check the thickness of the paper when ordering (we like 100 lbs).
Steps for Salt Painting
1. First print off the template or draw your own Christmas tree.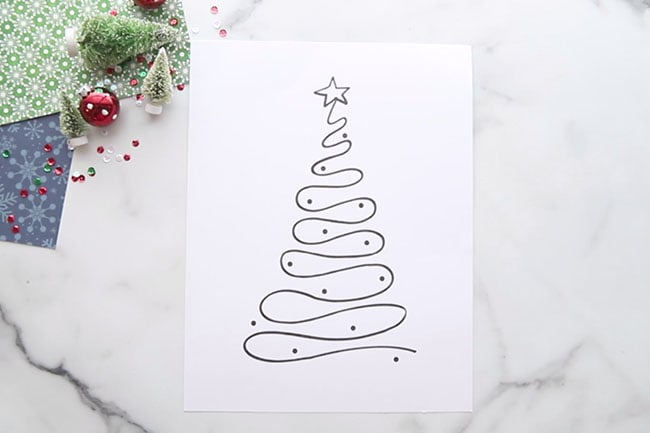 2. Begin by tracing the Christmas tree with your glue. We like to use this bottle of glue since the nozzle at the top is smaller and less glue will come out.
Don't worry about some black showing through when you trace with the glue. Once you add the salt on top the black will not be noticeable.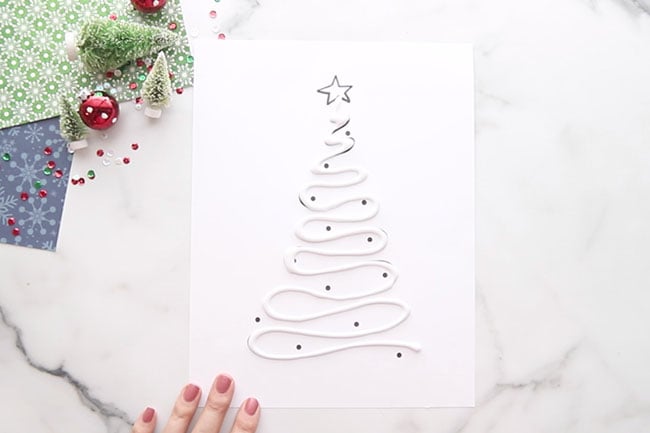 3. Now for the fun part! Sprinkle on your salt. We like to keep a separate stash of salt for art activities. When you're done, you can shake off the excess salt and store again for another salt craft.
Or you can use it again to make these salt painted snowflakes.
Tip: Pour lots of salt over your Christmas tree to ensure you coat all of the glue. If you miss a spot then the color won't run over that part.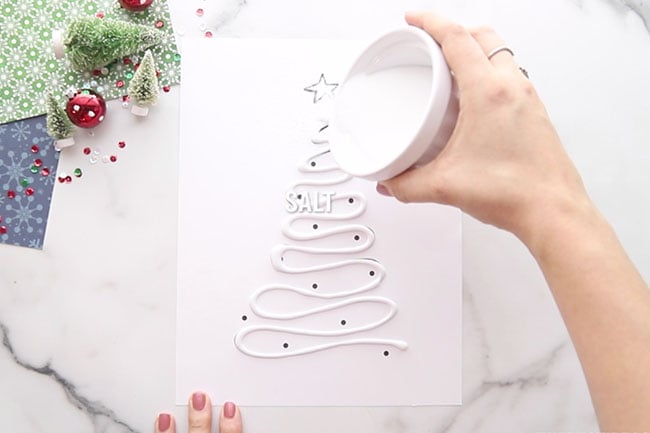 4. Now you can begin to paint with your watercolors!
We like to use liquid watercolors as they are easy to use and more vibrant than food coloring or regular watercolors. However, food coloring or regular watercolors would also work. Whichever paint you decide to use, don't dilute it with too much water to keep the colors vibrant.
If you're looking for a low cost brand of liquid watercolors we like these ones.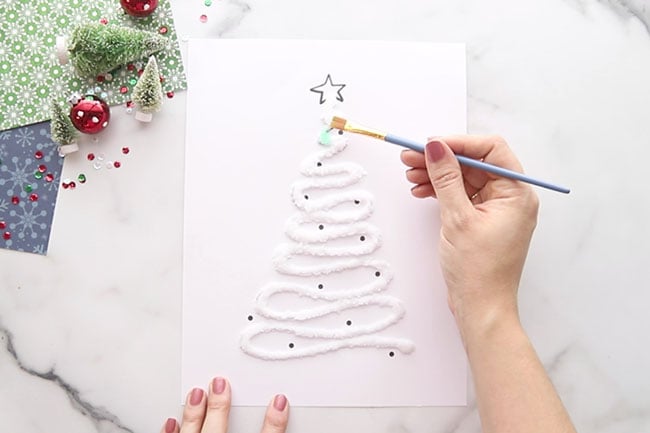 5. Once you're done the salt painting, you can decorate your tree.
Add some confetti ornaments or sequins to the tree. We also added a gold glitter star to the top. You can also salt paint the star instead.
We love how this salt painted Christmas tree turned out! Your kids will love creating it too!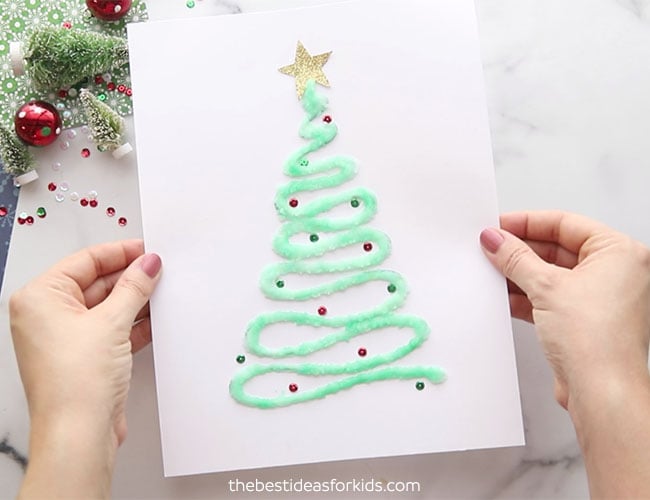 To make the glitter painted version, simply sprinkle glitter on top of your glue instead of salt and then decorate.
Sign up for our Newsletter and get this Salt Painted Christmas Tree Template as a thank you!
If you are having trouble getting the email confirmation, make sure you check all folders as it can sometimes land in the promotion and junk folders.
More Christmas Ideas
If you love salt painting, see our salt painted snowflakes with free printable template.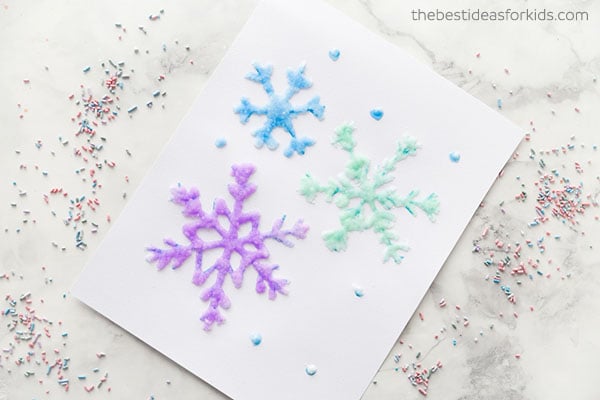 These handprint Christmas cards make the cutest keepsake cards for Christmas. See how to make a Santa, reindeer and elf handprint card.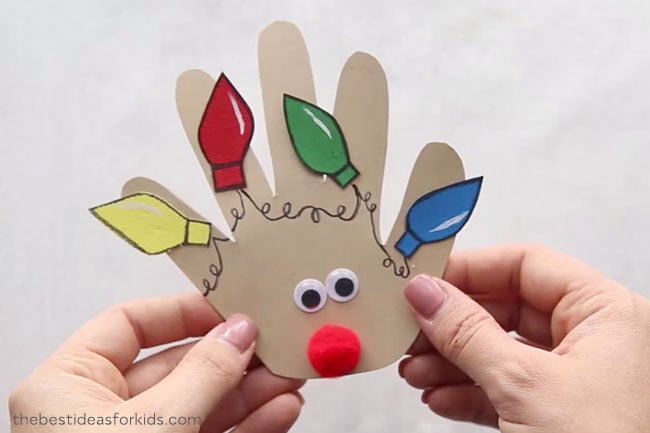 This Christmas tree handprint card includes fingerprints for the lights and is really easy to make.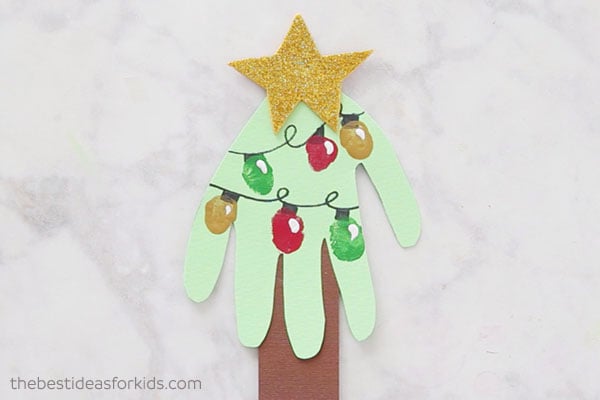 For more Christmas craft ideas, see 50+ Christmas Crafts for Kids.