These peppermint ornaments are so simple to make and will look beautiful hanging on your tree! Make them as ornaments or make them as fun treats to give away at Christmas.
RELATED: Cinnamon Applesauce Ornaments
Peppermint Candy Ornaments
You won't believe how easy it is to make these beautiful peppermint ornaments. You can choose your favorite holiday cookie cutters to make a variety of ornament designs.
Kids will love to help place the candies inside of the cookie cutters and watch them melt into different shapes.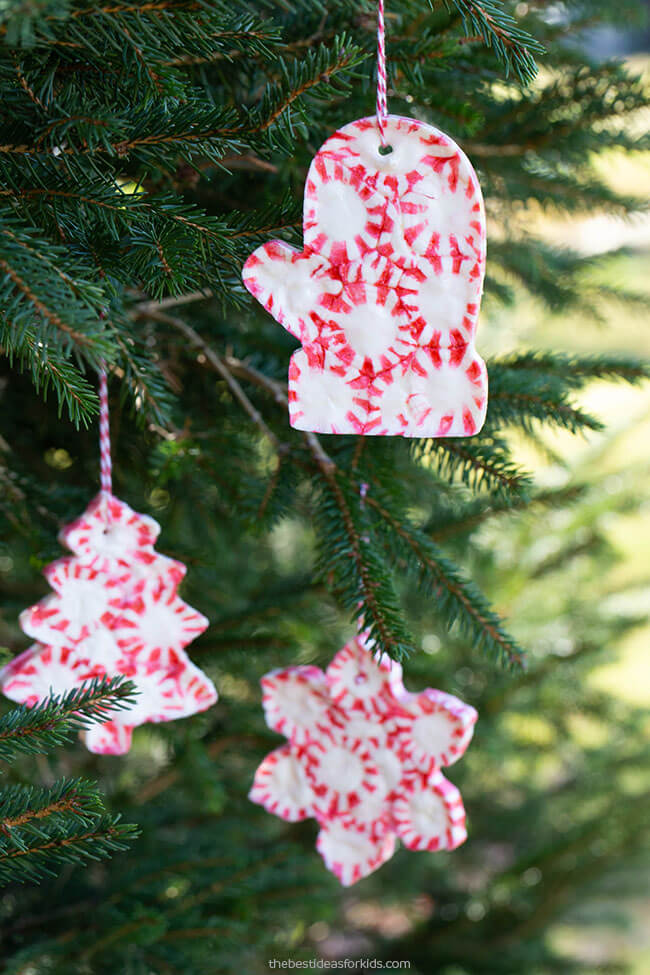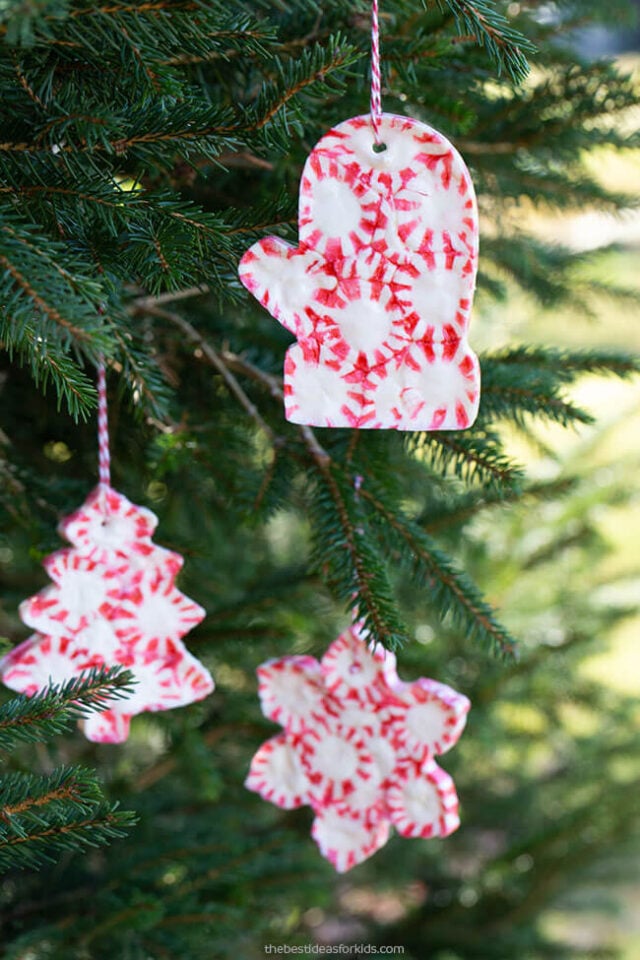 Supplies To Make Peppermint Ornaments
Toothpicks
Parchment Paper
Nonstick cooking spray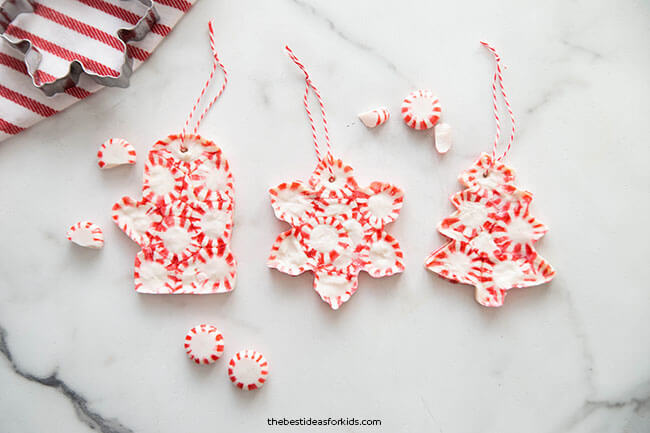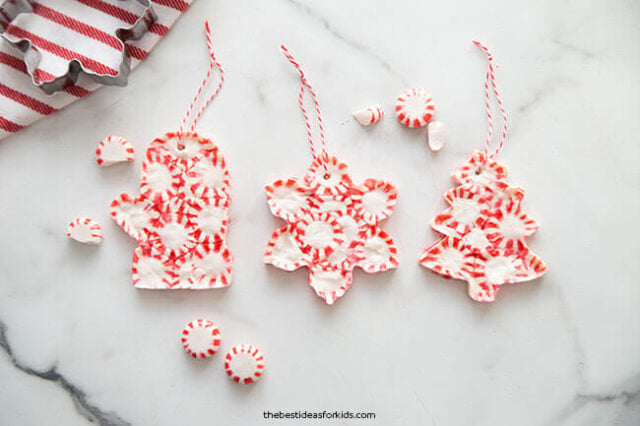 Watch The Video Tutorial Here
This project requires adult assistance for the baking process. Once the candies are taken out of the oven, the metal cookie cutters will be hot. Adults will need to remove the cookie cutters with gloves and use the toothpick to make a hole.
How To Make Peppermint Ornaments
1. Place the cookie cutters on a parchment lined baking sheet
Spray the cookie cutters with a non-stick spray.
Tip: If you have any oil that remains after baking, just take a paper towel and dab off the oil from the ornament.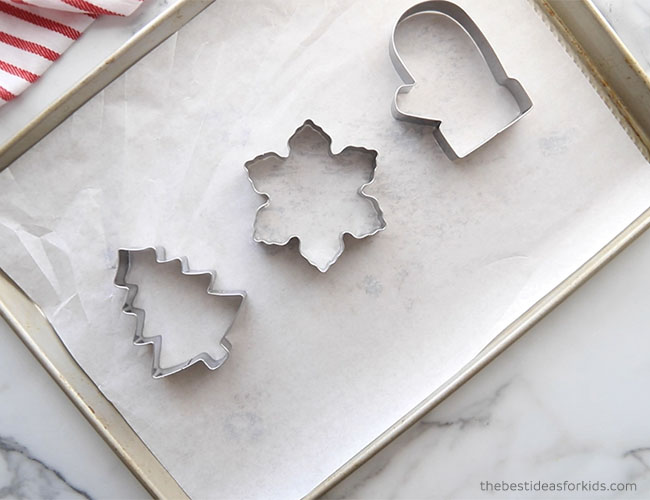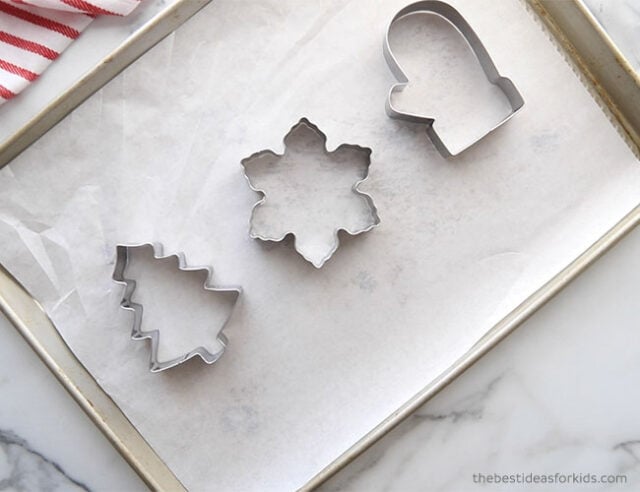 2. Place peppermint candies inside the cookie cutters.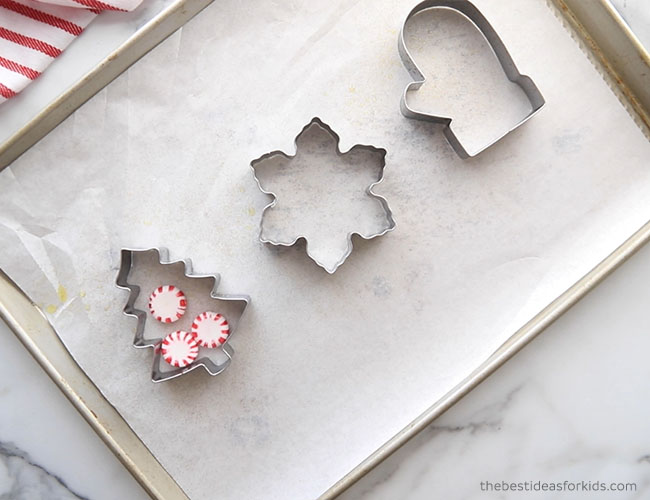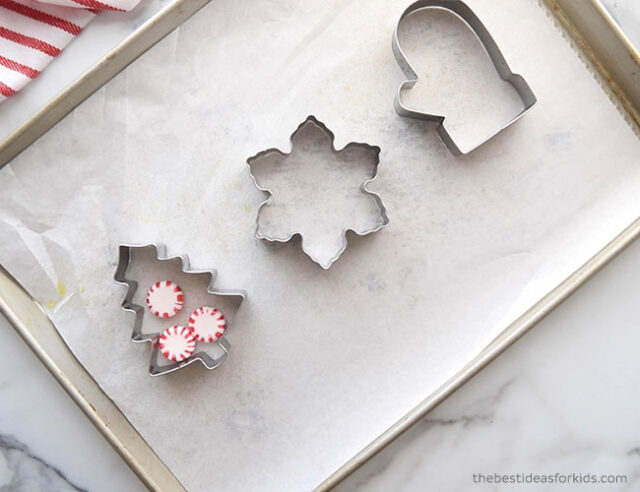 You may need to break some candies up to fill in any large spaces.
You can use a knife to cut some of the candies into smaller pieces (adults only).
Check to make sure that the cookie cutters are flush to the baking pan. If there are any gaps at the bottom of the cookie cutters, the melted candy will leak out of these areas. To prevent this, place a glass bowl on top of the cookie cutters to press them down and close the gaps while baking. Make sure to wear gloves when removing the glass bowl from the oven as it will be hot.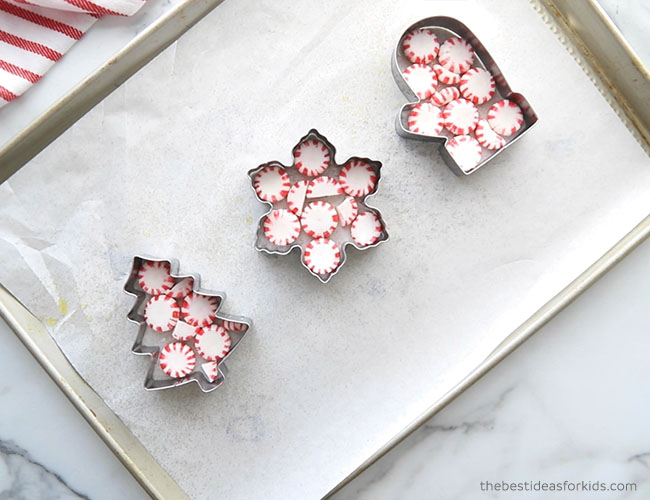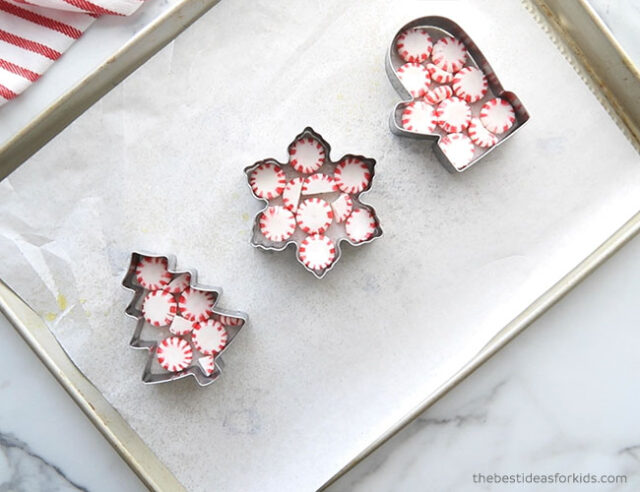 3. Bake the cookie cutters at 350 degrees fahrenheit.
Bake until the candies have melted. This will take approximately 6-10 minutes. Keep an eye on them so that they do not start to bubble. If they start to bubble, take them out immediately.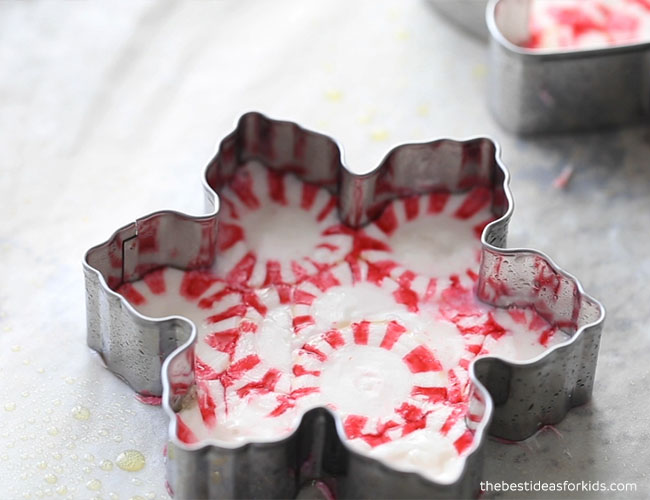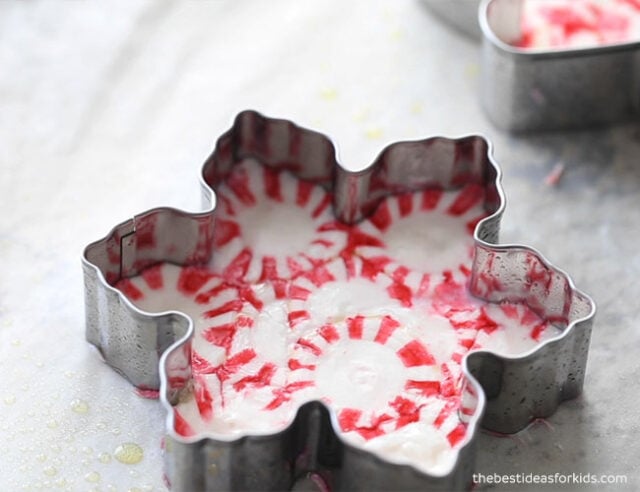 5. While the candies are still warm, remove the cookie cutters.
Use gloves if the cookie cutters are still hot.
Wait 1-2 minutes and then remove the cookie cutters. They should easily pull away from the cookie cutters. If they do not pull away easily, they have cooled down too quickly and have become hard. You must remove them before they become too cool/hard.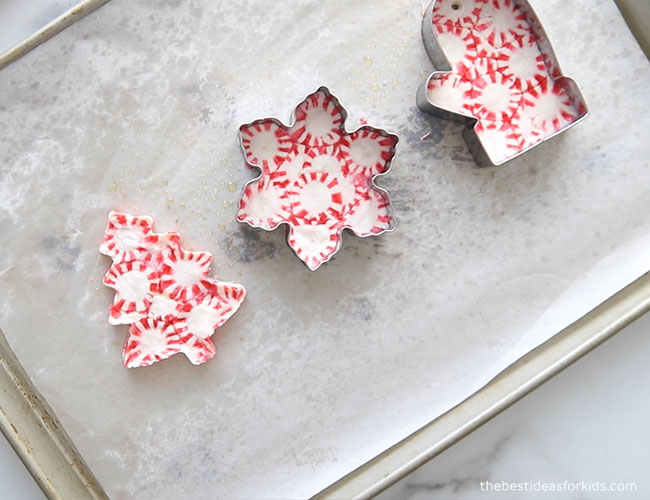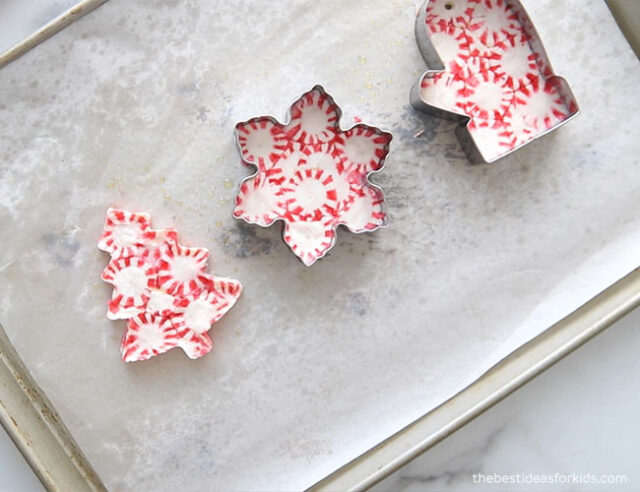 6. Use a toothpick to make a hole in the top of the ornament.
Do this immediately after taking the cookie cutter off while the candies are still warm. They will harden quickly.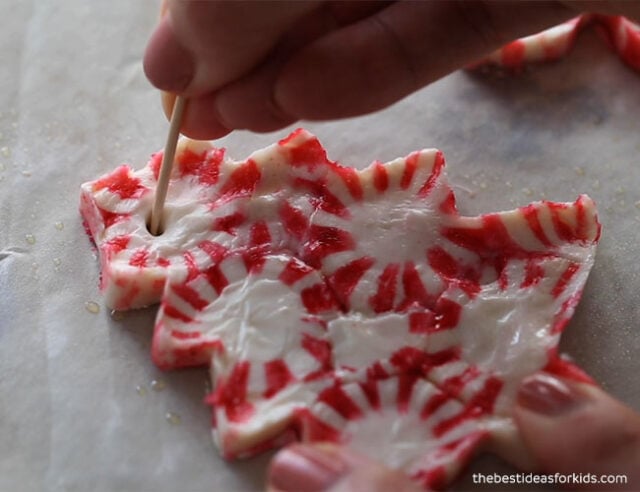 7. Once the ornaments are cool, insert some baker's twine in the hole and tie a knot.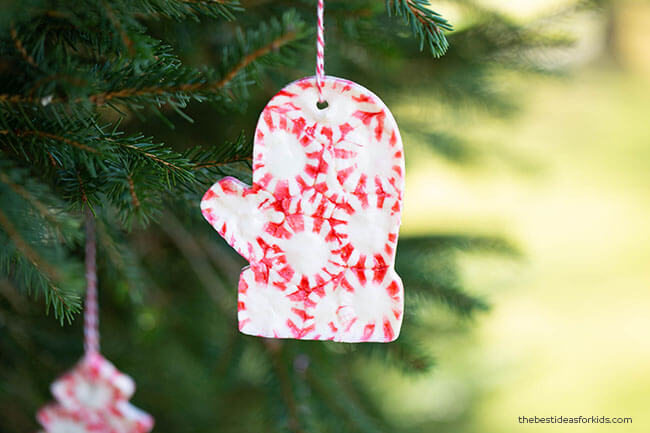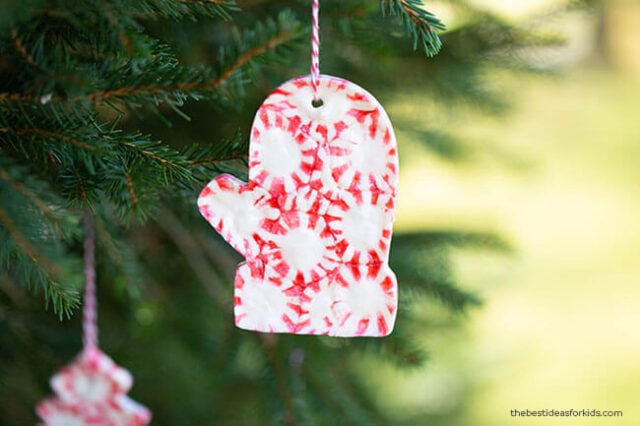 We hope you have fun trying out this easy peppermint ornament craft! You can experiment with different cookie cutter shapes and various colors of peppermint candies to make your ornaments special and unique.
For more fun homemade ornaments, try these salt dough ornaments or handprint salt dough ornaments!