This adorable jellyfish handprint craft is super cute to make for any occasion! Give this to someone special and add the message "I Jelly Love You!", or make this as a fun summer craft.
RELATED: Turtle Handprint
Jellyfish Handprint Craft
This handprint jellyfish craft is so easy and fun to make! Kids can add a personal message to it or turn them into handprint cards. You can write "I Love You Jelly Much!" on the card or craft.
And if you love recycled crafts, see my recycled crafts for kids books.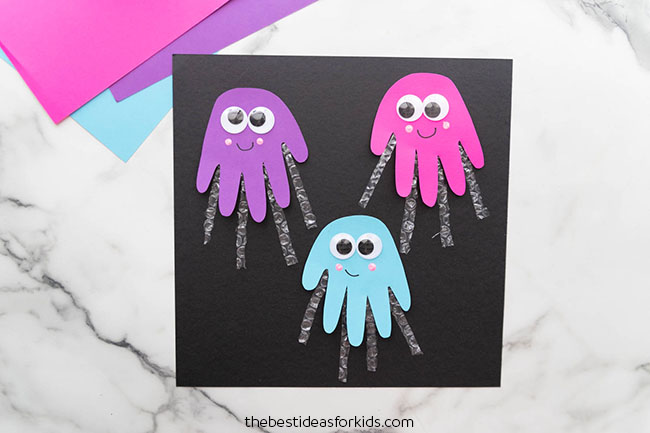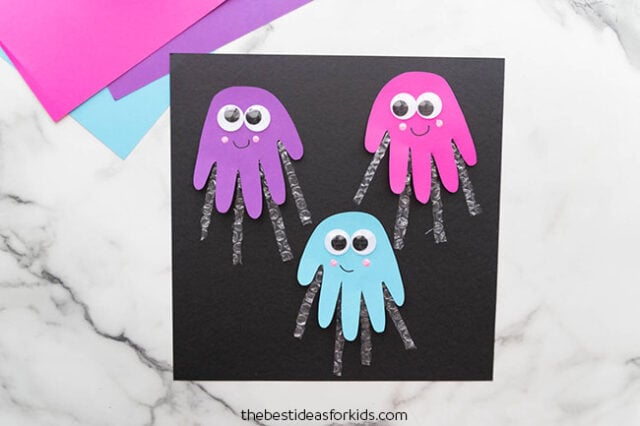 Watch the Video Tutorial!
Check out these cute jellyfish message ideas!
I Love You Jelly Much!
Have a Jelly Good Day!
You can also make up your own saying or message to add to the craft.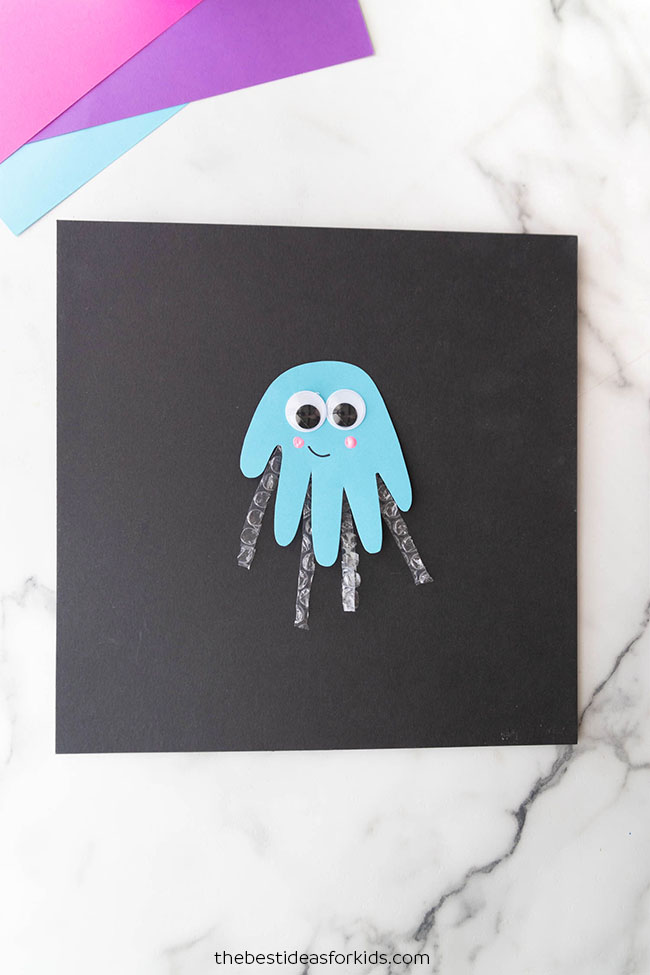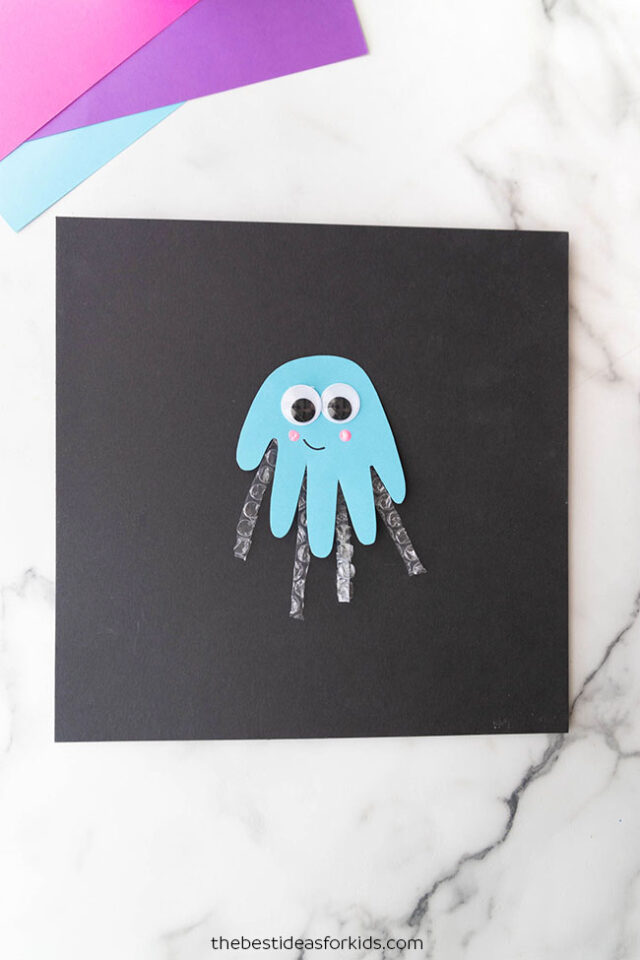 You only need a few supplies to make this easy jellyfish craft. If you don't have colored cardstock, you can paint handprints and make painted handprints too. Then draw the tentacles on with a silver marker.
If you don't have googly eyes you can cut out white paper and then use a marker for a dot in the center. You can also have kids draw or color on the pink cheeks if you would rather not use paint.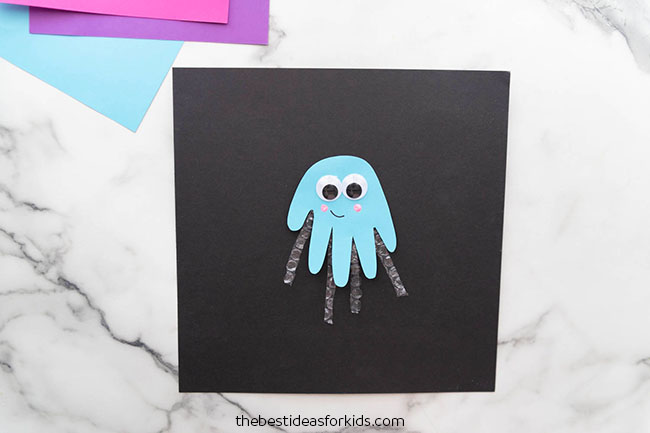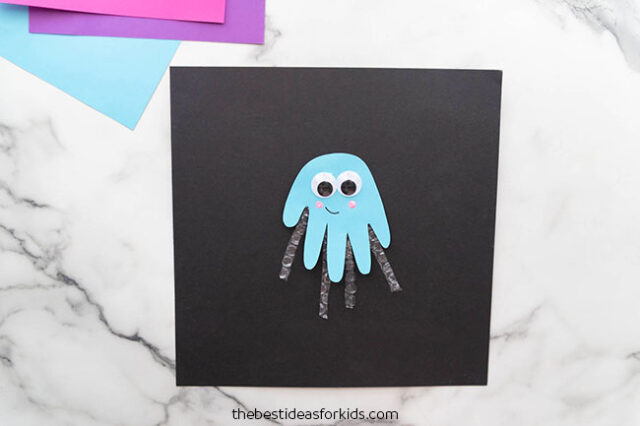 Supplies Needed To Make a Jellyfish Handprint
Bubble Wrap
Black Marker
Tape
Glue – We like to use this glue for gluing on googly eyes which tend to be a little harder to glue. You can also use hot glue (with adult supervision or help) or regular white glue (just allow enough time for it to dry).
How to Make a Handprint Jellyfish
1. Cut out 3 handprints.
You can also turn these into a handprint card by folding over a piece of cardstock and tracing with the thumb along the folded part.
2. Cut 4 small strips of bubble wrap.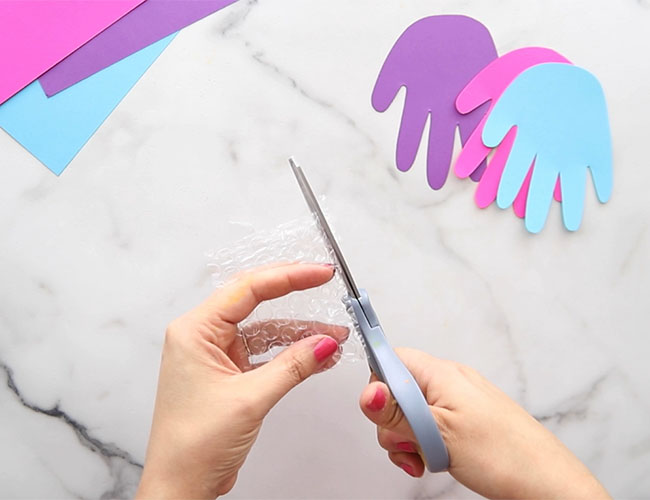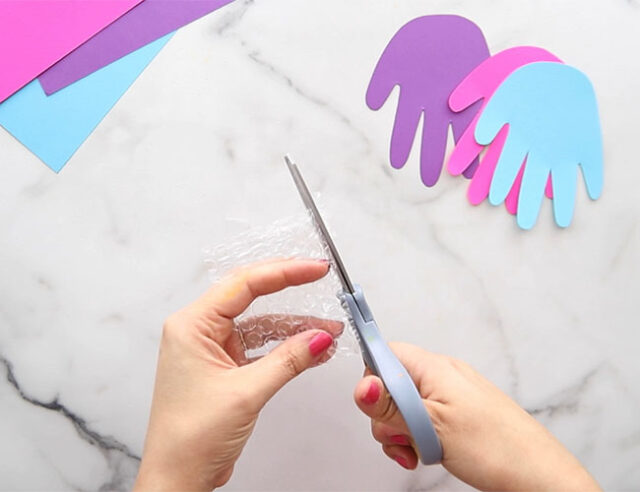 3. Tape the bubble wrap to the back of the handprint.
Tape in between each finger.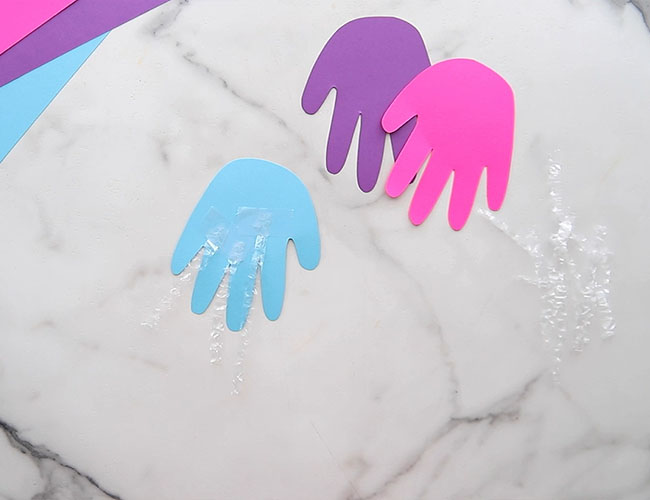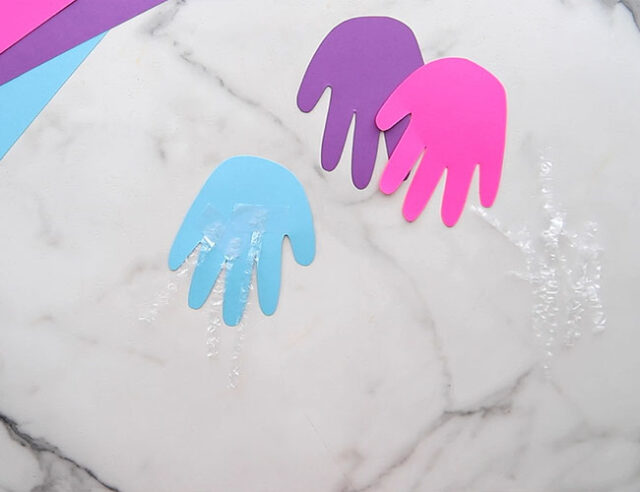 4. Glue or Tape the Handprints to Black Cardstock.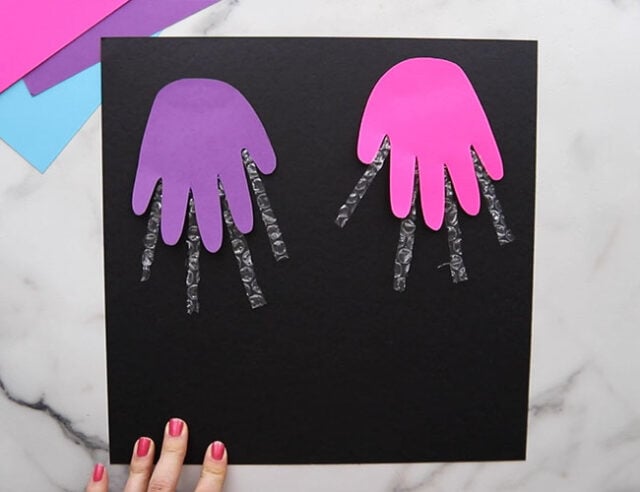 5. Glue 2 Googly Eyes On.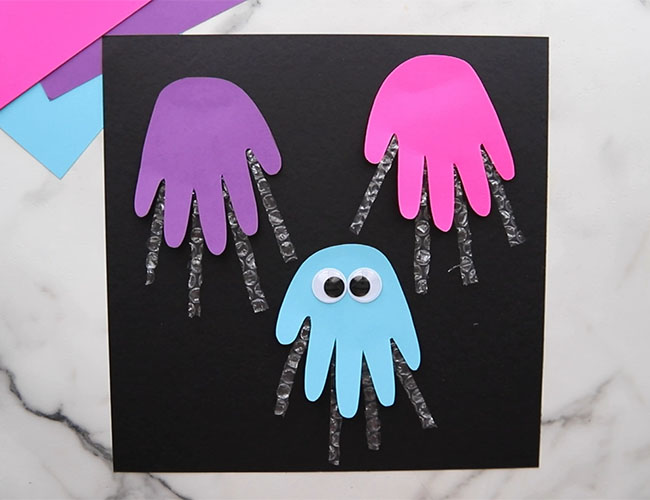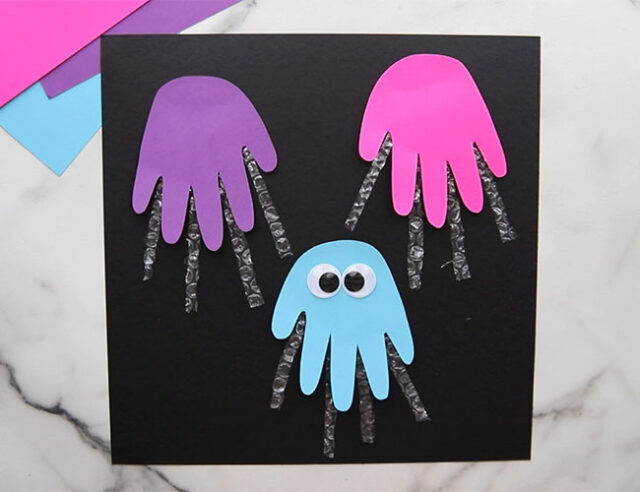 6. Draw on a Smiley Face.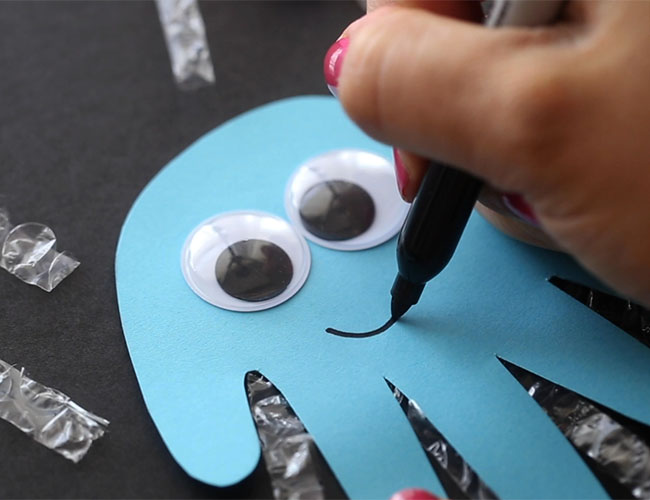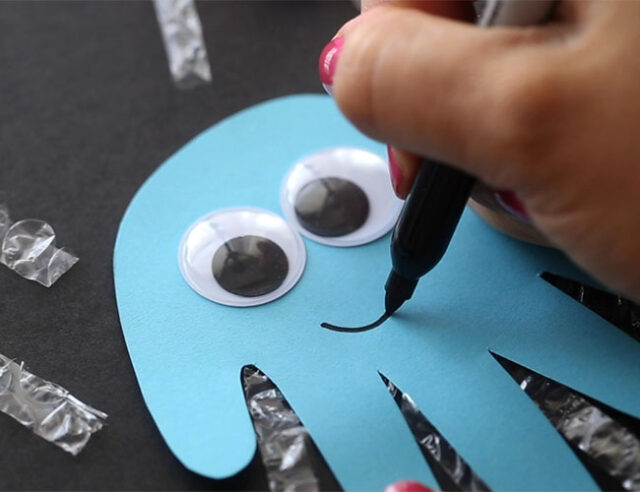 7. Make the Pink Cheeks.
Dip the back of a pencil or paint brush into pink paint and dab onto the sides of the jellyfish face.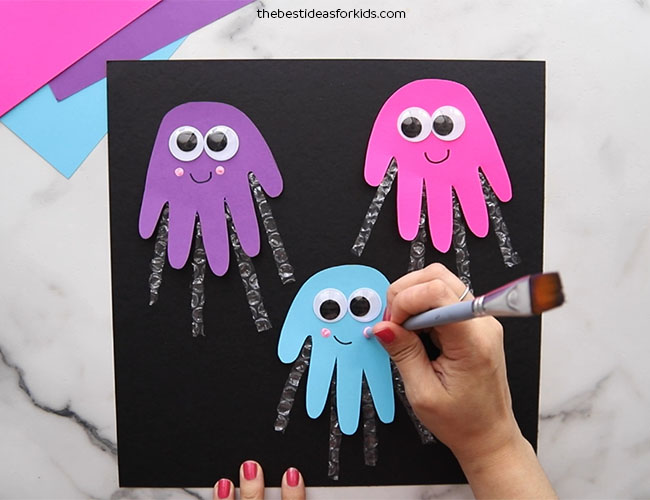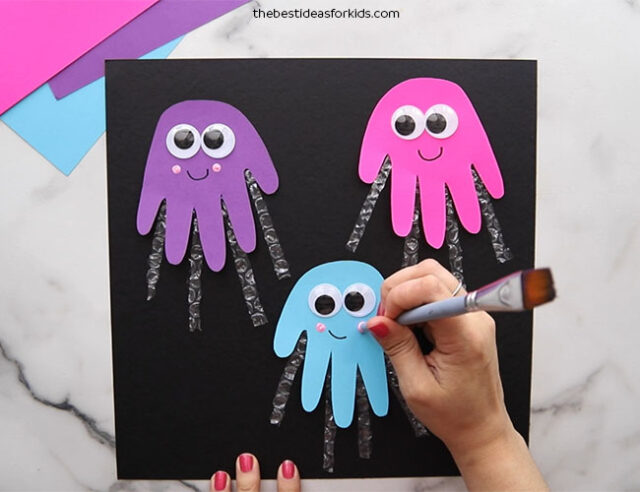 This is the cutest craft to make for summer or any other occasion!