This adorable cork snowman craft makes a cute ornament for your Christmas tree! They are perfect to make as gifts for teachers, friends or family. You can even add them to the top of gifts.
RELATED: 50+ Christmas Crafts for Kids
Cork Snowman Craft
The best part with this craft is that it's using recycled corks! If you don't have any recycled corks you can buy them in bulk on Amazon or you can find them at a craft store too.
If you love recycled crafts, also be sure to check out my book – Fun and Easy Crafting with Recycled Materials. The book is bursting with easy recycled crafts for kids like this one. It has egg carton crafts, paper rolls, cardboard, popsicle sticks, jars and more!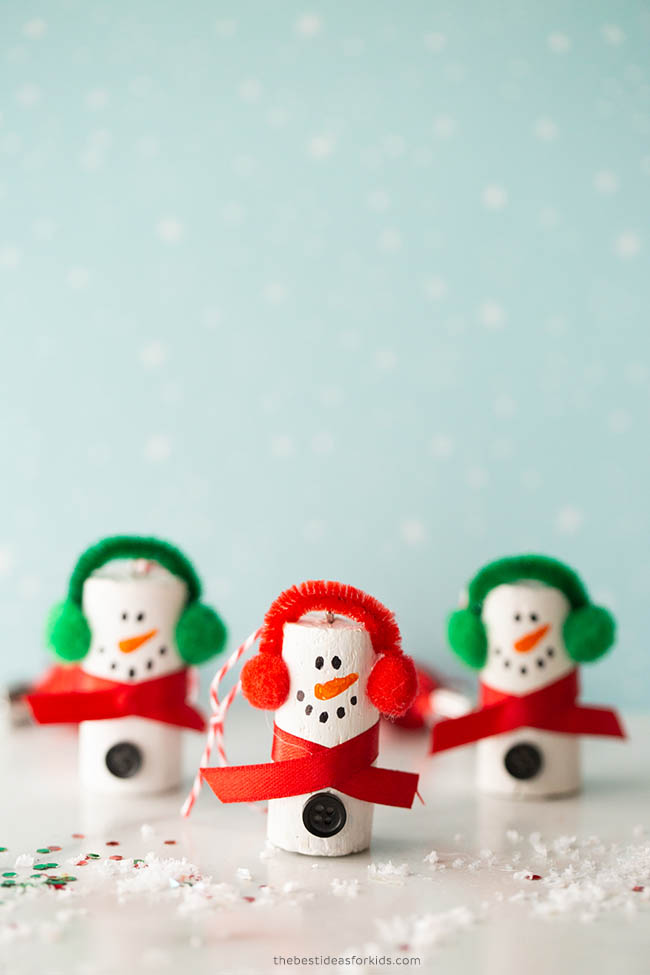 These cute snowmen can be added as extra gifts on top of presents this year or given as teacher or friend gifts! They are easy enough to make more than one at a time.
Supplies Needed to Make Cork Snowmen Ornaments
– Recycled Corks
– Pipe Cleaners (green and red)
– Small Pom Poms – these are 0.5 inch size. You want the smallest pom poms you can get because the corks are not too big.
– Small Black Buttons – these were 0.28 inch. You want the smallest size you can get because the corks are not too big. You can also draw the buttons on with the marker too.
– Metal Hoop Pegs – these are for adding to the top so you can hang them. We used these.
– Glue – Hot glue is going to work best for the pipe cleaner and pom poms. Adult supervision required for this step. If you'd like to try a white glue, we like this extra strong glue. Make sure to allow time for it to dry.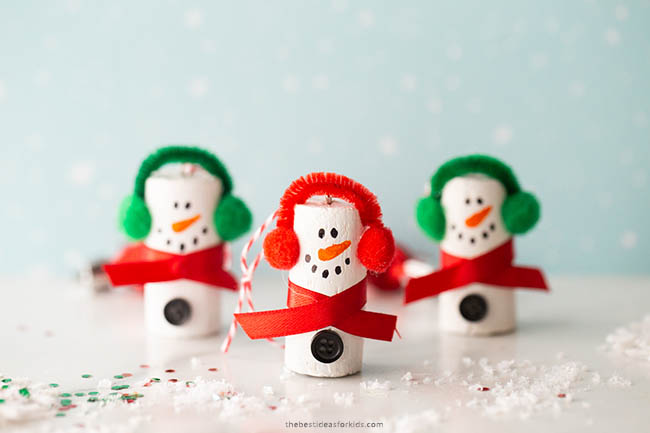 How to Make a Cork Snowman
1.  Start by painting the corks white and allow the paint time to dry.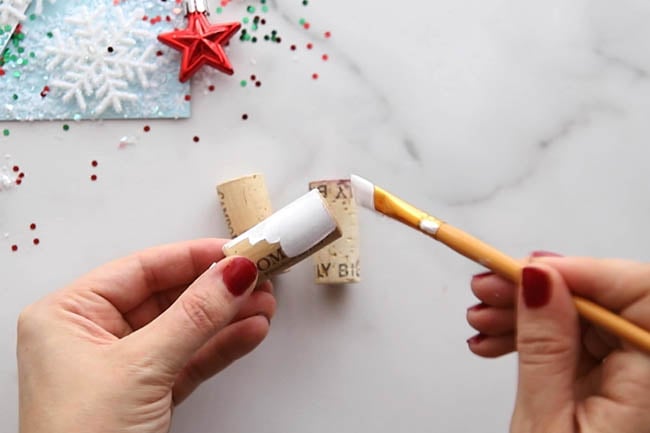 2. Twist in one metal hoop peg into the top of each cork.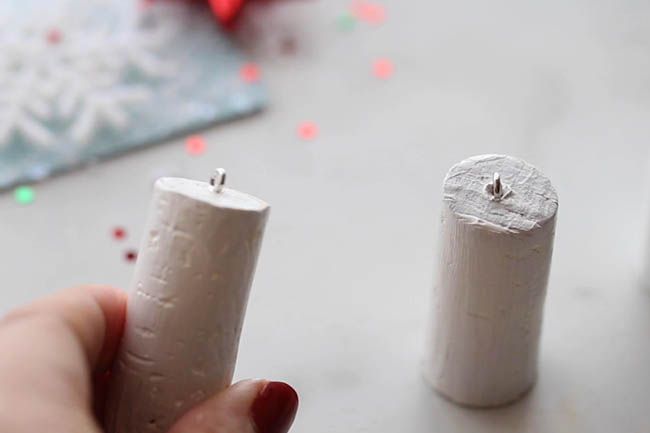 3. Cut a small piece of pipe cleaner to fit along the top of the cork. Glue this to the side of the top of the cork.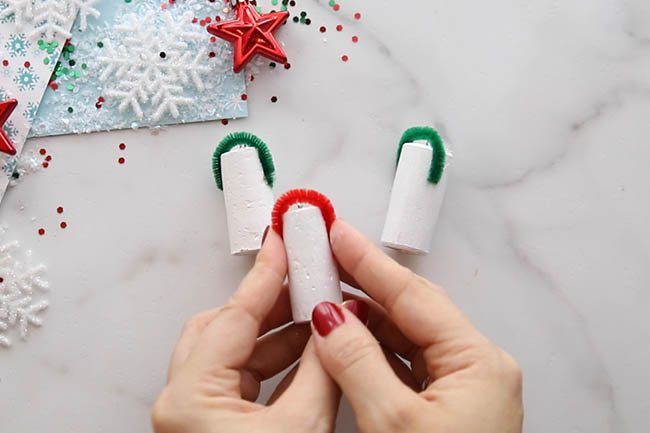 4. Glue 2 small pom poms to the side of the pipe cleaner.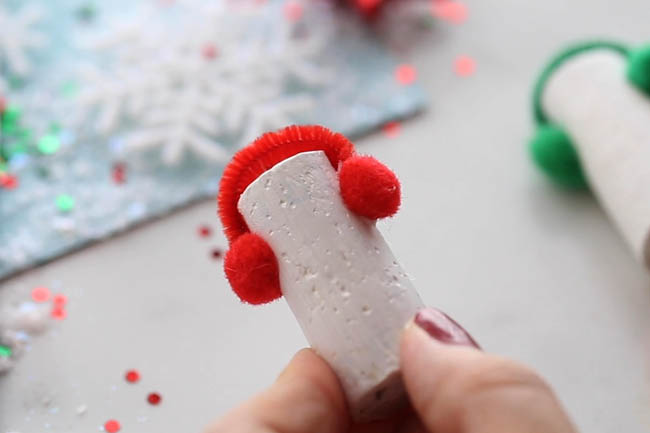 5. Cut a small piece of ribbon and glue around the middle of the cork.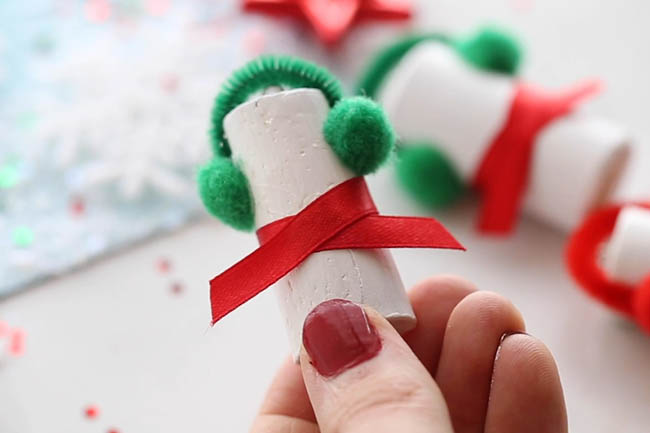 6. Glue a small black button under the ribbon.
7. Paint a small carrot nose on with orange non-toxic acrylic paint.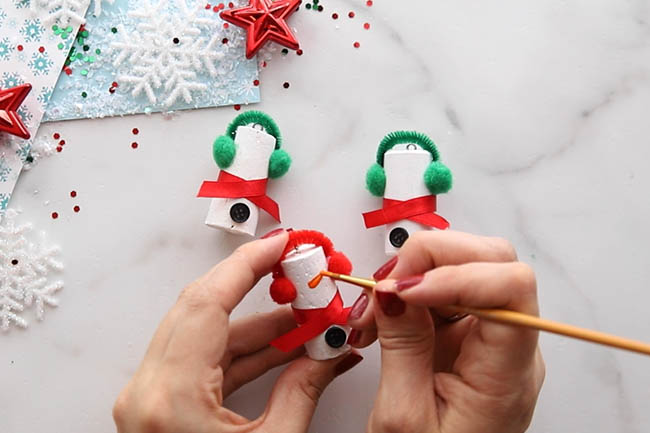 8. Draw the eyes and nose on with a black permanent marker.
9. Add some thin twine for hanging on the Christmas tree.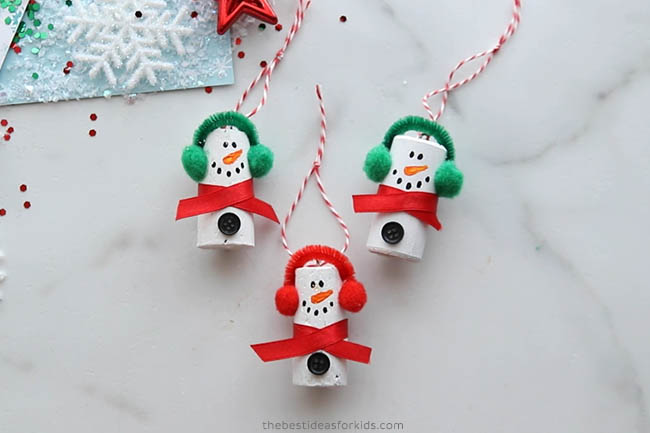 We love how these cork snowmen are so easy to make! Give them as gifts this holiday season or make them for yourself.
More Snowmen Crafts
See also these egg carton snowmen.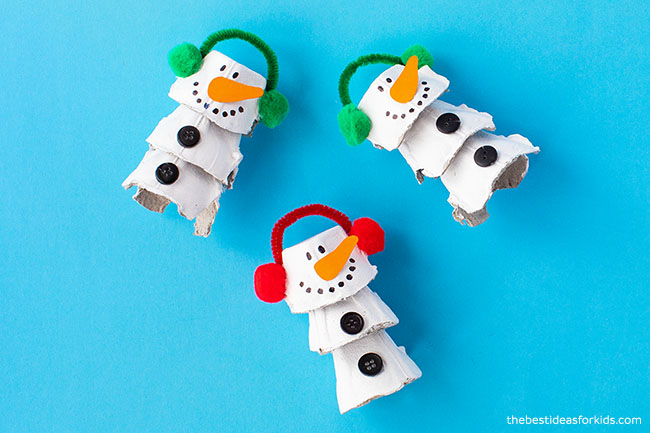 Christmas Toilet Paper Roll Crafts