Christmas Tree Slime Recipe
All activities should be supervised by an adult. By using this site, you agree to our Terms of Use. This post may contain affiliate links. Read our disclosure policy here.
Christmas is a great time to whip up some holiday-inspired slime! Make some to give away or get the kids involved by having them add in Christmas glitter additions to create a super fun slime experience! This Christmas Tree Slime recipe couldn't be easier and you can easily add in Christmas glitter or sequins to make it a perfect sensory activity for Christmas!
If you want more holiday-inspired slime ideas see our Christmas Slime Jars, Candy Cane Slime and Fluffy Santa Slime too!
RELATED: Christmas Slime

Christmas Tree Slime – a Christmas Sensory Activity!
Kids will love stretching and making their very own "Christmas Tree" with this easy homemade slime recipe. Add in any kid-friendly sensory items like mini ornaments, glitter and confetti to this slime. You can even make a paper cone for kids to wrap the slime around and create a 3D slime tree!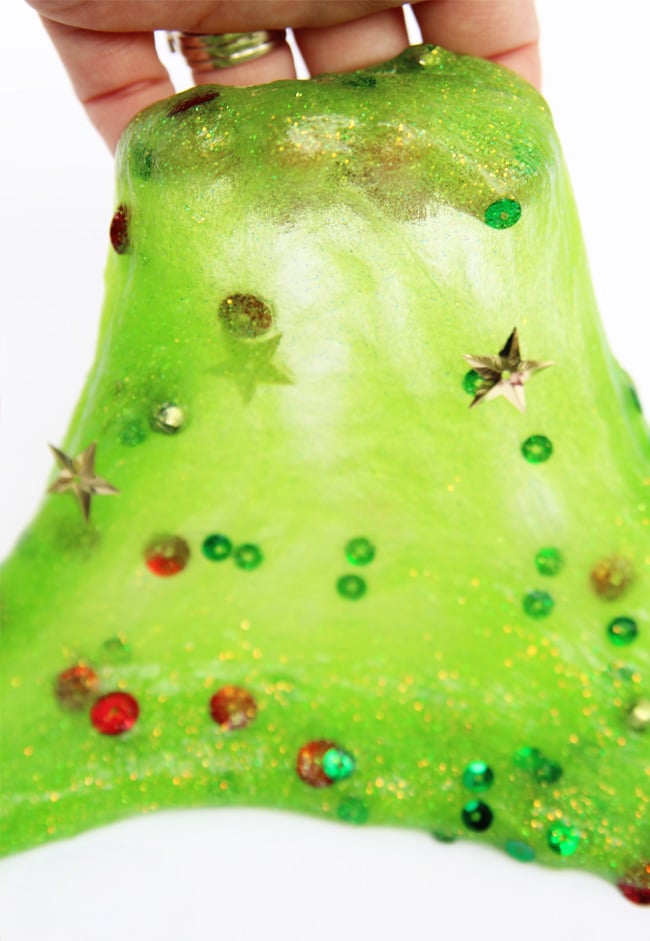 We love how easy this homemade slime is to make! It's the perfect Christmas slime recipe if you're looking for something that is not too messy. Skip the food coloring if you want to keep hands clean and use large sequins to avoid the mess that glitter sometimes brings.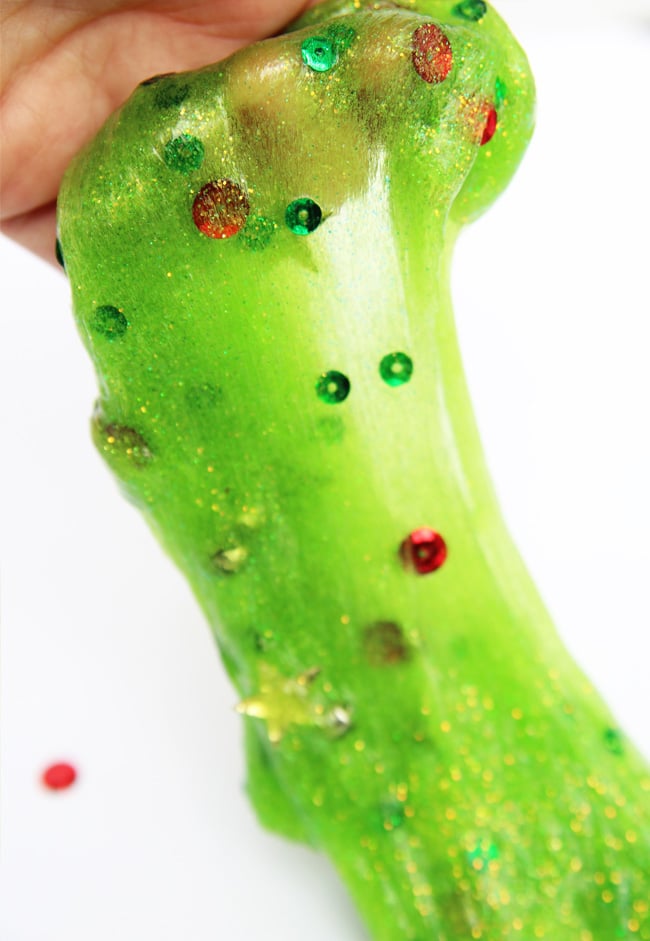 Ingredients Needed for the Christmas Tree Slime Recipe
– 1 Bottle of Elmer's Green Glitter Glue (6 oz). Do not substitute with any other brand of glue because the ingredients may not be the same and your slime might not work!
–  Red and green sequins, stars, tiny bells and/or glitter
–  Green Food Coloring – a few drops (optional)
– 1/2 TBSP Baking Soda
– 1½ TBSP of Contact lens solution. **Important: your brand of contact lens solution must contain boric acid and sodium borate. See our full contact solution slime recipe for the brands we recommend.
– Add 2 TBSP or up to 1/2 CUP of water if you'd like a stretchier slime.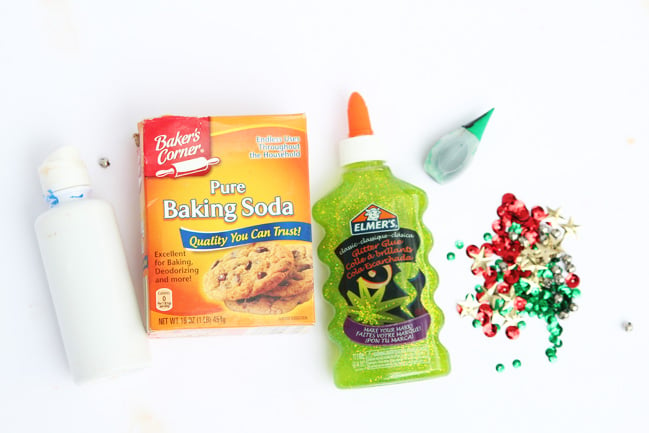 To turn our slime recipe into a Christmas Tree slime, add in your sequins, glitter (optional) and a few drops of green food coloring to make the slime a darker green.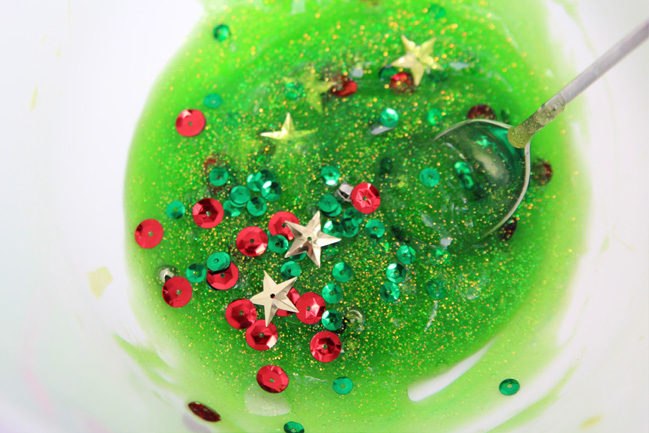 Now head over to our FULL RECIPE PAGE to get the step-by-step instructions HERE.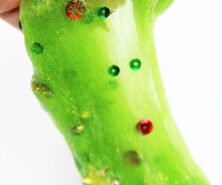 Christmas Tree Slime Recipe
Ingredients
- 1 Bottle of Elmer's Green Glitter Glue
-Green food coloring
- 1 TBSP or more up to 1 cup water
- Red Green & Gold Sequins
- 1/2 TBSP Baking Soda
- 1½ TBSP of Contact lens solution.
Instructions
See our slime making step-by-step instructions

here

.
Nutrition Information
As always, adult supervision is recommended and slime should never be placed in the mouth. Adults should make the slime. See the full recipe for more slime safety tips.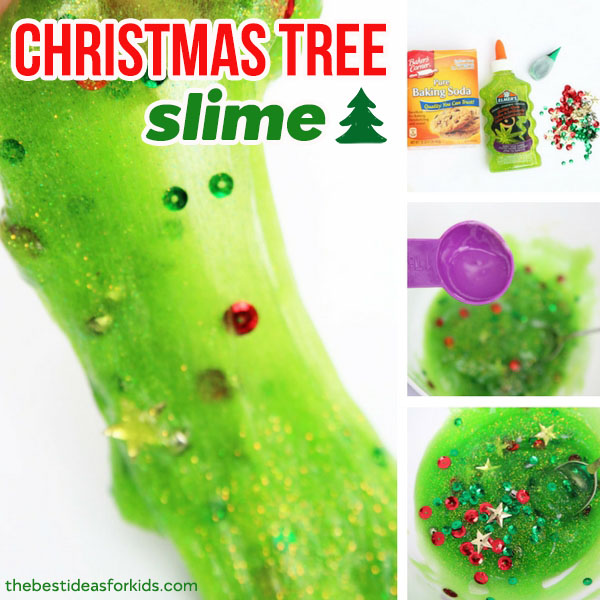 Here are a few of our other favorite Christmas slime recipes to check out!
These Christmas Slime Jars are so cute – and would be so fun to make for a Christmas party!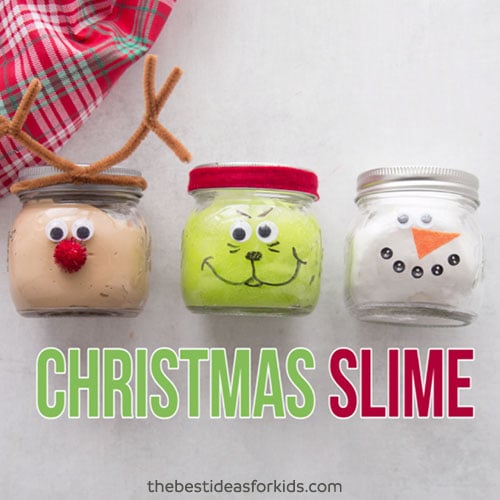 This candy cane slime smells just like candy canes! Fun to make and twist to form a candy cane too!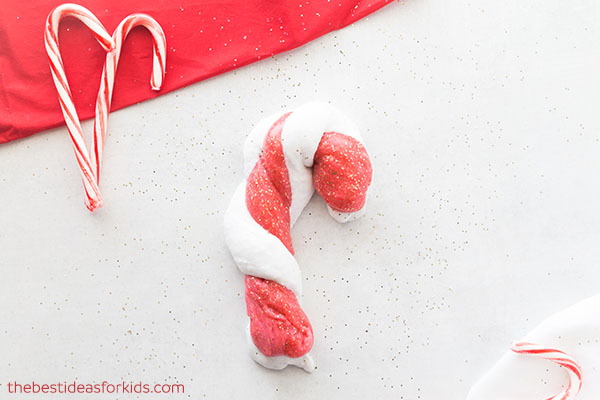 This adorable Santa Mason Jar is filled with Fluffy Christmas slime – a different slime recipe to try!