For a fun twist on traditional sidewalk chalk, try this chalk ice recipe. Kids will love creating art on the sidewalk with these sidewalk paintsicles. Ice painting is a great process art activity since kids can see the colors melting together. They will also love helping to make these chalk paintsicles!
RELATED: Puffy Sidewalk Paint
Sidewalk Chalk Ice
This sidewalk chalk ice melts quickly (as all ice does) so you won't want to do this on an extremely hot day.  You can make all of your ice chalk the same color to save time, or make a whole rainbow of colors like we did!
If you want the ice chalk to last longer, freeze batches in larger containers. You can use small tupperware containers, like a small salad dressing container. Then your ice chalk blocks will be larger and will last longer if it's a really hot day.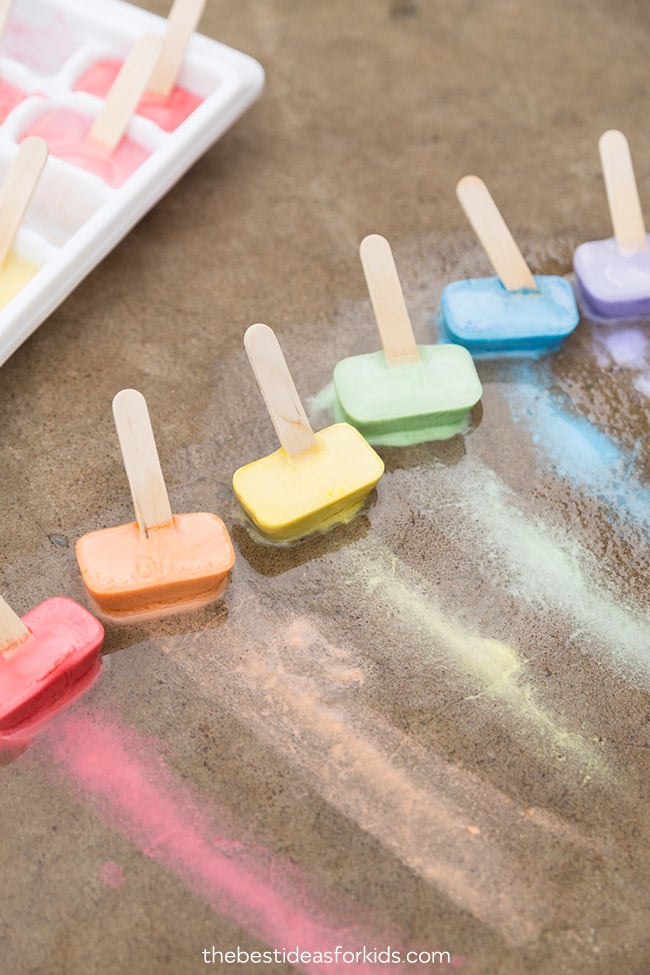 Supplies Needed To Make Ice Chalk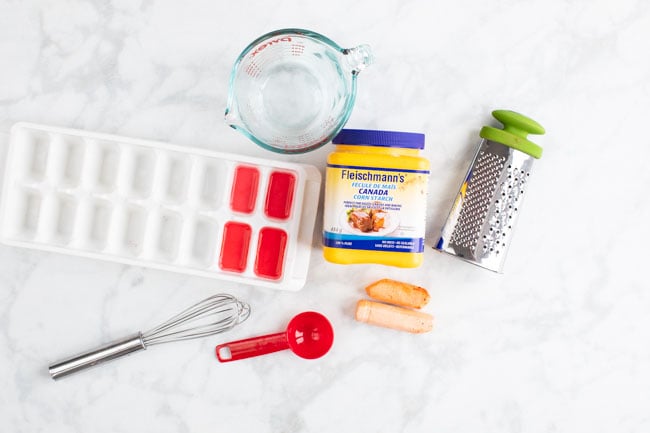 Water
Sidewalk Chalk – the leftover remnants of old chalk are perfect for this!
Ice Cube Tray – or small plastic containers
This recipe will fill up 2-3 small ice cubes in a tray. If you want more of one color, double or triple the recipe.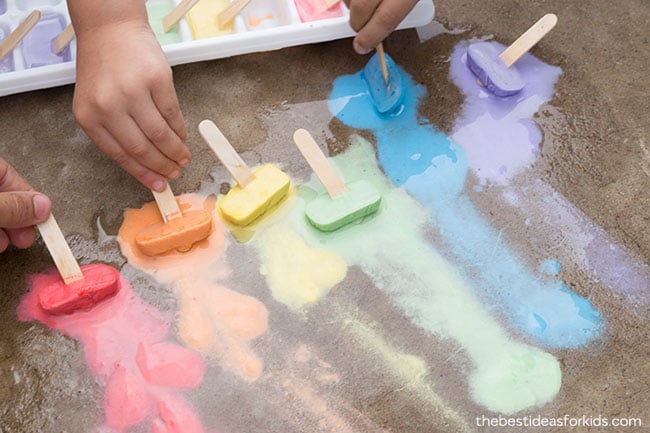 Notes on Staining:
We had no issue rinsing off this sidewalk paint. We suggest you have a high pressure spray hose ready to rinse off when you're done. Do not leave it sitting out in the hot sun for too long. We suggest testing the chalk ice in an inconspicuous area and then try washing it away with water. This sidewalk ice chalk should rinse off easily with regular water like sidewalk chalk does. However, it's best to rinse it off while still wet once you are done the activity.
TIP: Wet your sidewalk before you paint, this will allow the paint to glide better on the surface when painting. It also makes clean-up much easier!
A note about sidewalk chalk: Sidewalk chalk is designed to be washable but can sometimes stain newer driveways or sidewalks if the surface still has open surface pores in the concrete which can absorb the colorants. Always read the packaging of the sidewalk chalk you purchase.
How long does the ice chalk last?
This ice paint will need to be used the same day. Once you take it out of the freezer, it will start to melt and the popsicle sticks may start to separate from the ice if too much melts.  If you want to make a large batch, use a few colors at a time and keep the rest in the freezer for another day.
Another option is if you do not want to freeze it – you can use it as paint with a paintbrush instead!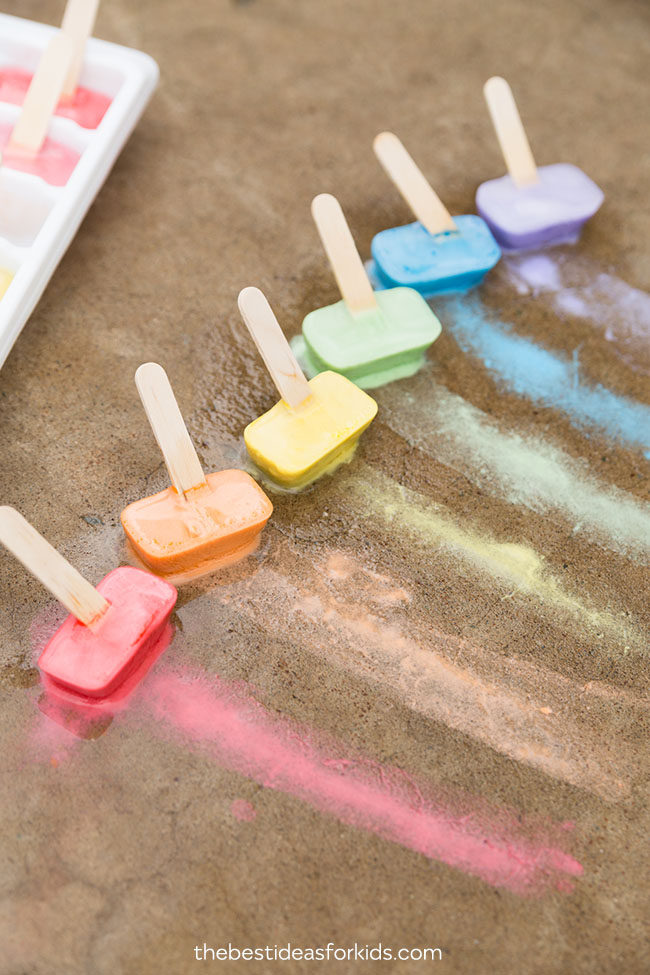 Clean-up Tips
Clean-up time! When you are finished, simply spray it down with a garden hose on the highest pressure setting. We recommend you spray while the paint is still wet and do not let it dry in the sun. If this happens, get a brush broom to help scrub some of the paint off while spraying with water.
If you are still having difficulty cleaning up, wet the paint and wait 5 minutes. Then spray the area with the highest pressure setting on your nozzle and as close to the paint as possible on a slight angle.
TIP: Before painting with your ice chalk, wet the sidewalk first with a hose. This will allow the paint to glide better on the sidewalk and makes clean-up a little easier.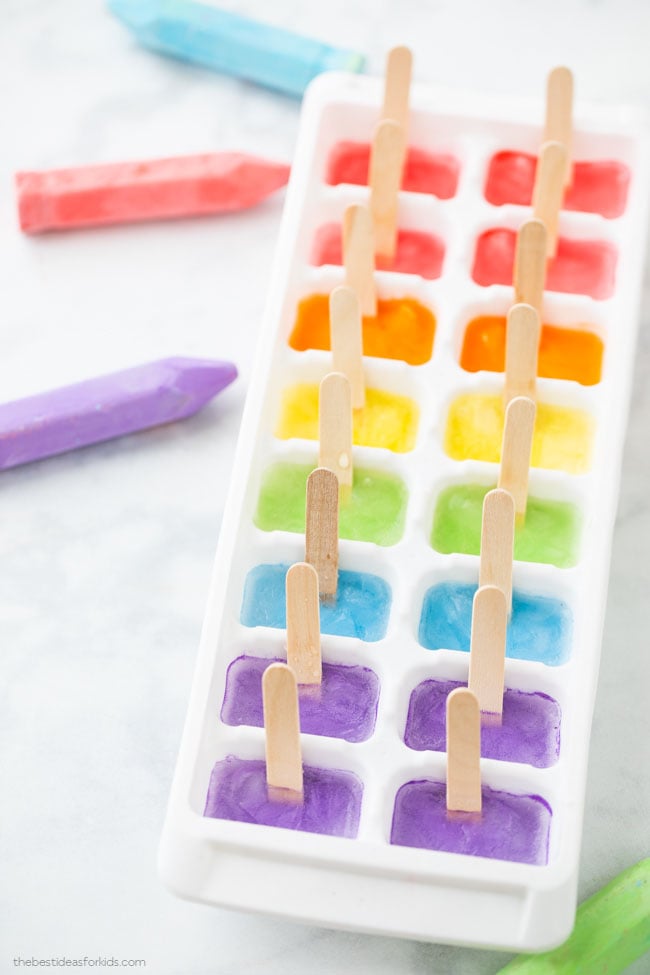 Steps To Make Ice Chalk
Kids will love helping you make this ice chalk!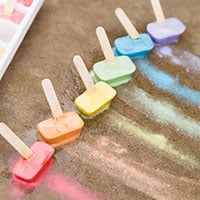 Chalk Ice
Equipment
Ice Cube Tray

Mini Popsicle Sticks

Cheese Grater

Freezer
Materials
1

piece

sidewalk chalk

2

tbsp

cornstarch

4

tbsp

water
Instructions
Start by grating a sidewalk chalk piece into a measuring cup that pours. Use a small grater if you can so that you can grate directly into the cup. If you don't have a small grater, then grate into a larger bowl and then transfer to a pouring cup. We used about half a sidewalk chalk piece per color.

Add 2 tablespoons of cornstarch into the measuring cup.

Add 4 tablespoons of water. 

Pour the mixture into an ice cube tray or small plastic container.

Repeat for each color you'd like to make. Double or triple the recipe to make a larger batch. This recipe will fill 2-3 ice cubes.

Add mini popsicle sticks into the ice cube trays. You can lean them to one side to keep them standing up.

Once frozen, let the ice cube tray sit out for a few minutes so that you can easily pull the paintsicles out.
Notes
Each recipe will make 2-3 ice cubes. Double or triple the recipe to make a larger batch. See our clean-up tips above before using. 
If you are interested in trying a store-bought sidewalk paint, we recommend this kind by Crayola.
More Summer Ideas
See this list of over 100 summer bucket list ideas – and then have fun completing each item this summer with your kids!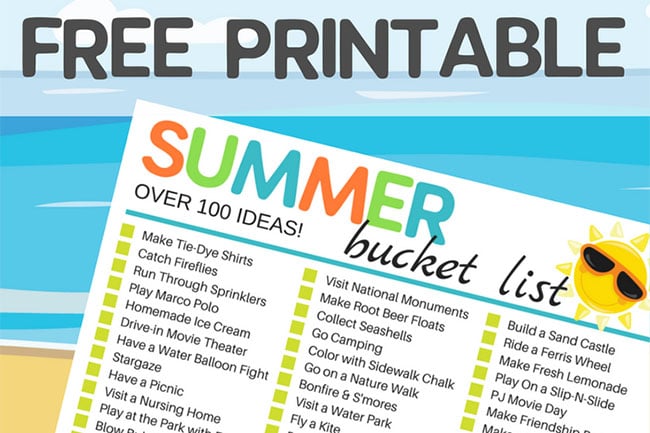 If you love this sidewalk ice painting, try our puffy sidewalk chalk paint!