There are so many fun painting activities you can do with a paper roll. These toilet paper roll fireworks are one of our favorites!
RELATED: Toilet Paper Roll Flowers
You only need a few supplies to make these toilet paper roll fireworks! The best part is you can use recycled toilet paper rolls or kitchen paper towel rolls (just cut them down to size).
For more fun and easy crafts with recycled materials – see my recycled crafts for kids book!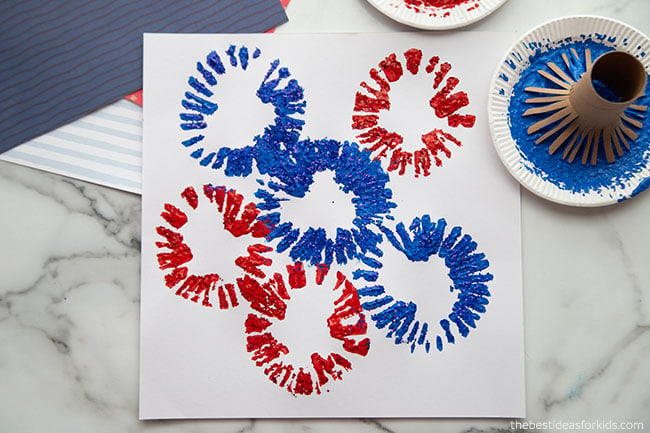 Supplies for Painting Fireworks with Paper Rolls
Toilet Paper Rolls or Kitchen Towel Rolls 
Paint – use washable paint for a mess free clean-up or acrylic paint if you want a thicker paint
Paper – recommend either 12×12 size to fit the fireworks or white easel paper
Optional – glitter (you can use biodegradable glitter too)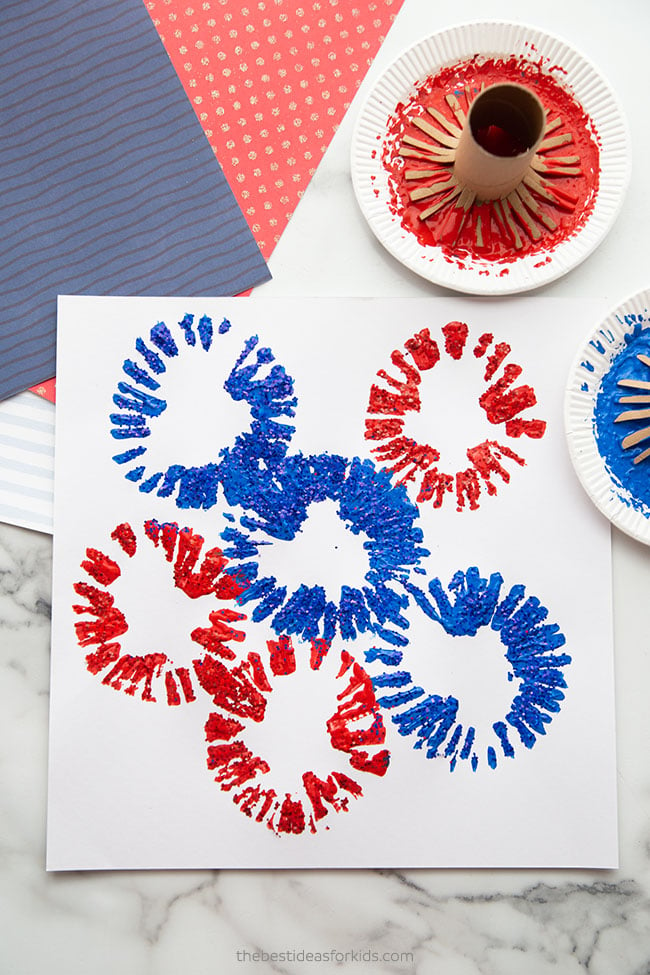 Watch the Video Tutorial Here!
How to Make Toilet Paper Roll Fireworks
1. Start by cutting slits all around one end of the paper roll.
The longer you make the slits, the bigger your fireworks will be.
Also thinner slits work better to show more detail.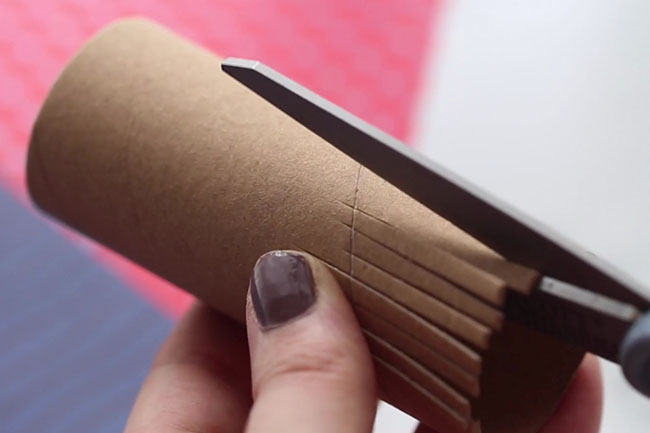 2. Place paint in a dish or paper plate and have kids stamp the paper rolls into the paint.
Fill the paper roll with paint covering all of the paper roll slits. You may need to stamp a few times to get it covered.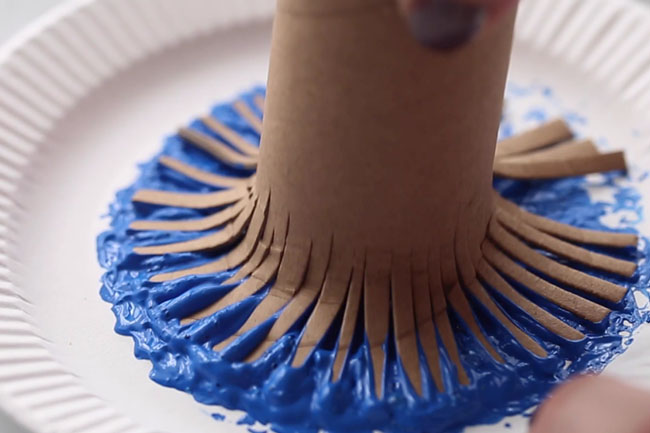 3. Now kids can stamp the paper roll onto paper to make their fireworks!
We recommend using a larger piece of paper (either 12×12) or easel paper you can roll out. This is because the firework stamps can be large so you'll have more space to make the fireworks.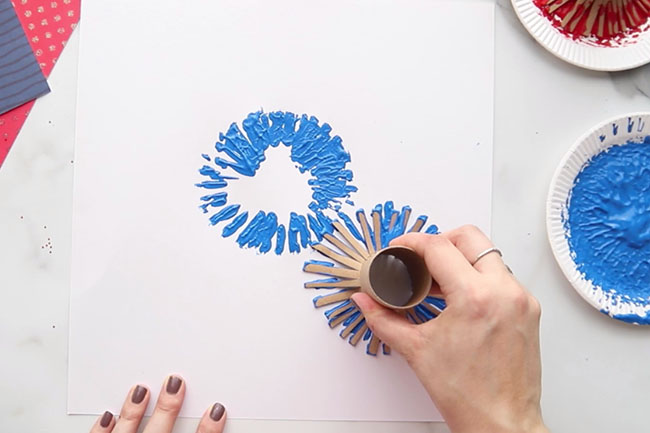 4. Keep stamping until you are happy with your fireworks! Kids can press down once or a few times to make different designs.
We used blue and red but you can use any color you'd like!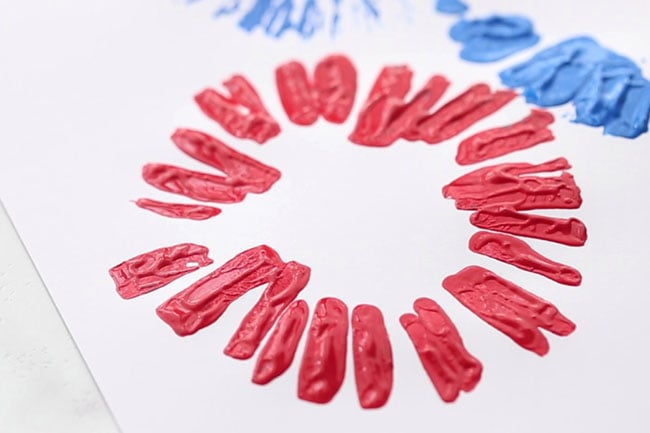 5. If you want to add some glitter (see above for a biodegradable glitter option) we recommend you sprinkle the glitter on when the paint is still wet.
The glitter will naturally stick to the paint when it dries.
Alternatively, you can let the paint dry and add some glue and then put the glitter on top of the glue.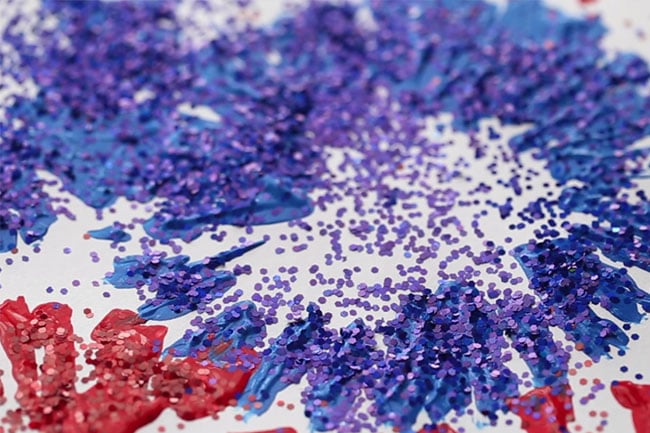 6. Shake off any excess glitter and save for another project.
Your paper roll fireworks are now done! Do this craft project to decorate a paper table cloth for the 4th of July, wrapping paper or just as a fun painting project!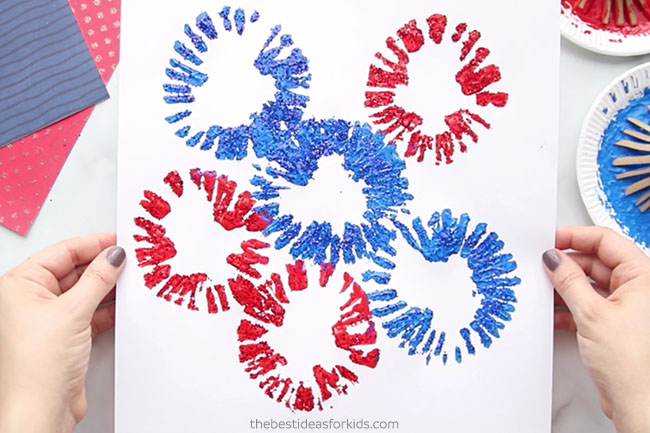 More Firework Activities
Try these salt painted fireworks next!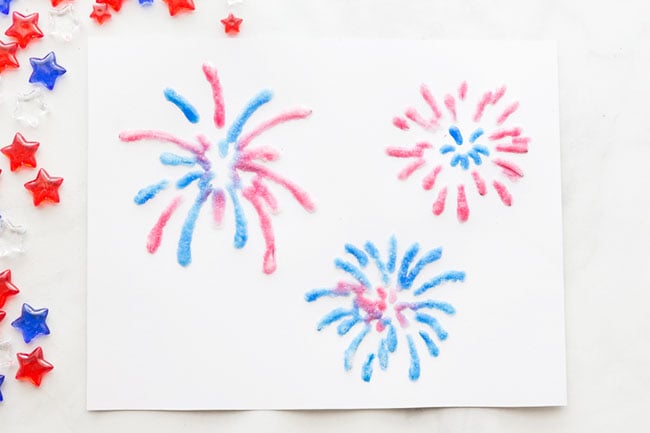 Or for a fun science experiment – try out this fireworks in a jar!