This taste safe moon sand recipe is really easy to make! You only need 3 ingredients to make it! You probably already have these ingredients in your kitchen cupboards. The best part about it is that it's completely taste safe too!
RELATED:  Cloud Dough
Moon Sand – Taste Safe Recipe
Moon sand is typically used to refer to a sand-like texture that is moldable. Most moon dough recipes call for 8 cups of flour to 1 cup of oil.
I wanted to see if I could get a similar consistency with a recipe that uses cornstarch instead.
This recipe is taste safe – however we don't recommend kids actually eat it. So as always, please supervision during play.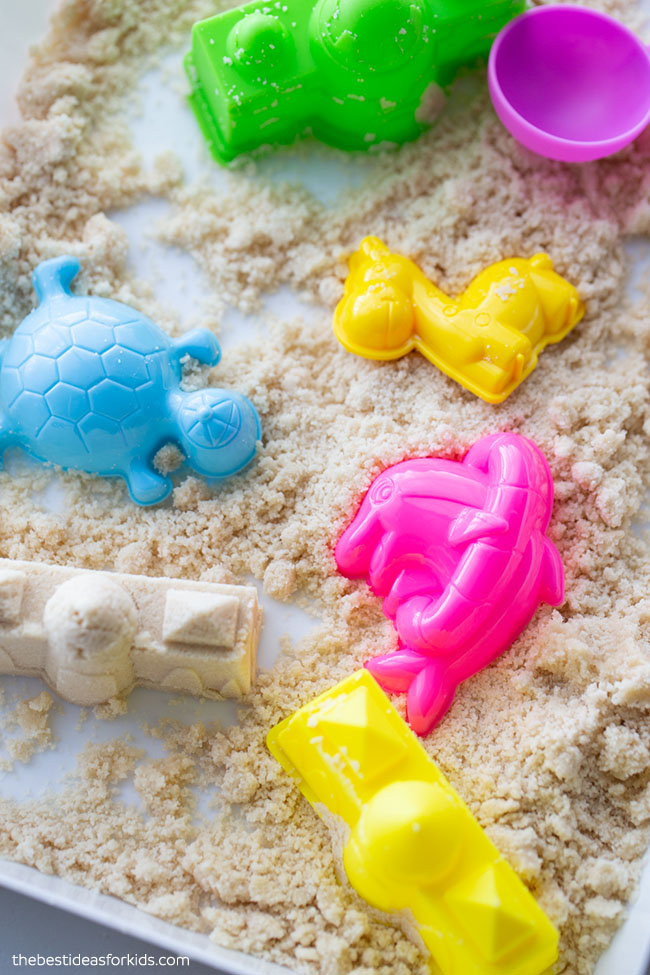 We wanted to make the sand look like real sand but you could also color it with some food coloring!
How To Make Taste Safe Moon Sand
This is an easy to make moon sand recipe. And you probably already have these ingredients in your cupboards! The mixture comes together easily in 10 minutes (it's fast!).
Here are the ingredients you will need: 
Cornstarch (also called White Cornflour)
Golden Yellow Sugar or Light Brown Sugar
Small Sand Toys – these sand toys are perfect for playing with your own indoor moon sand
Trays – we like these white trays for sensory play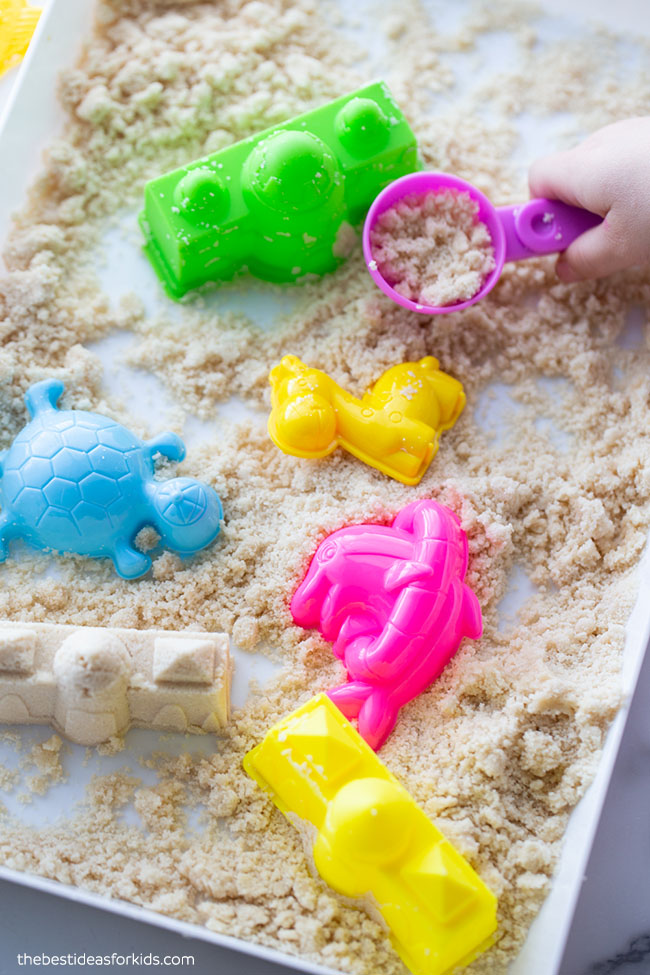 How do I store moon sand?
To help your moon sand last as long as possible, it's important to keep it airtight so that it doesn't dry out. Place in a Ziploc or sealed bag and press all of the air out of it. Store in a cool, dry place.
How long does it last?
We have found this moon sand to last quite awhile, however, since this recipe is intended to be taste safe I would not recommend keeping beyond a week.
Taste Safe Moon Sand Recipe
Note: To make this taste safe, bake the cornstarch in advance in the oven. Place the cornstarch on a baking tray and spread it out. Bake at 300 degrees Fahrenheit for 10 minutes. Allow to cool before making the recipe.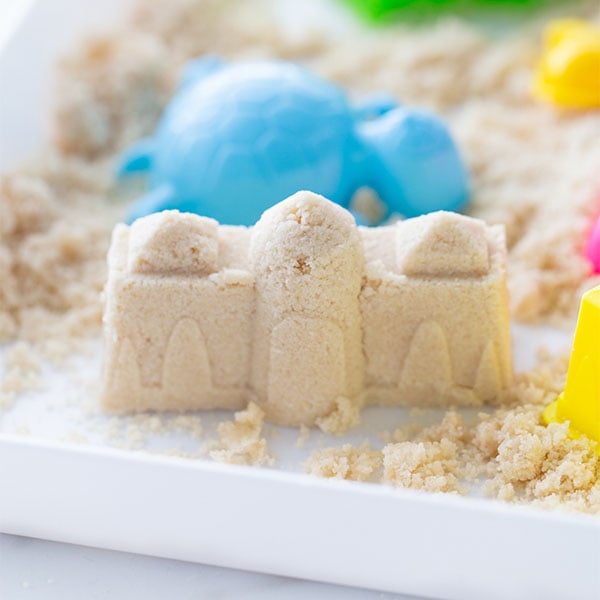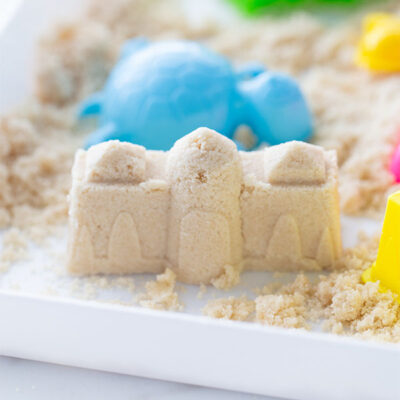 Taste Safe Moon Sand
A taste safe moon sand that is moldable.
Materials
1

cup

cornstarch

also called cornflour

1

cup

golden yellow sugar or light brown sugar

4

tbsp

coconut oil

melted
Instructions
Add 1 cup of cornstarch to a bowl.

Add 1 cup of golden yellow sugar.

Melt 4 tablespoons of coconut oil and add to the mix.

Using a whisk keep stirring until you get a powdery-like consistency that looks like sand (the oil will clump up so you just need to keep pressing it down with a spoon and mixing until all of the clumps go away).

Add some small sand toys for play!
Notes
Note: you can use regular brown sugar but the coloring of the sand will turn out darker. 
To make this taste safe, bake the cornstarch in advance in the oven for 10 minutes at 300 degrees Fahreinheit. 
Once your moon sand is finished, use some small sand toys to play with it! These sand toys work perfect with it.
To store: simply place in an air tight ziploc bag.
More Sensory Play Recipes
See our cloud dough recipe which is made from just 2 ingredients!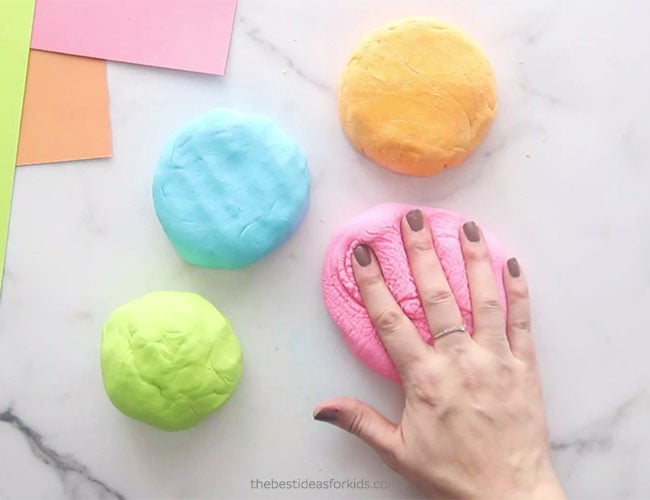 See our Kool-Aid Playdough recipe.