Making your own newspaper hat is really easy! Follow along with these simple folding steps and you will have your very own newspaper pirate hat!
RELATED: Recycled Craft Book
How to Make a Newspaper Hat
Turn your newspaper hat into a pirate hat. Or paint it blue and white and make it a sailor hat instead. Make extra large newspaper hats for older kids by using a double spread of newspaper. You just need to follow the same directions but use two pages instead of one (make sure they are still connected).
This craft is from our new book – Fun and Easy Crafting with Recycled Materials.  If you're looking for a fun Halloween craft, pirate craft, or simple newspaper craft – you have to try to make these easy newspaper hats! Kids can paint them and easily glue on the pirate template.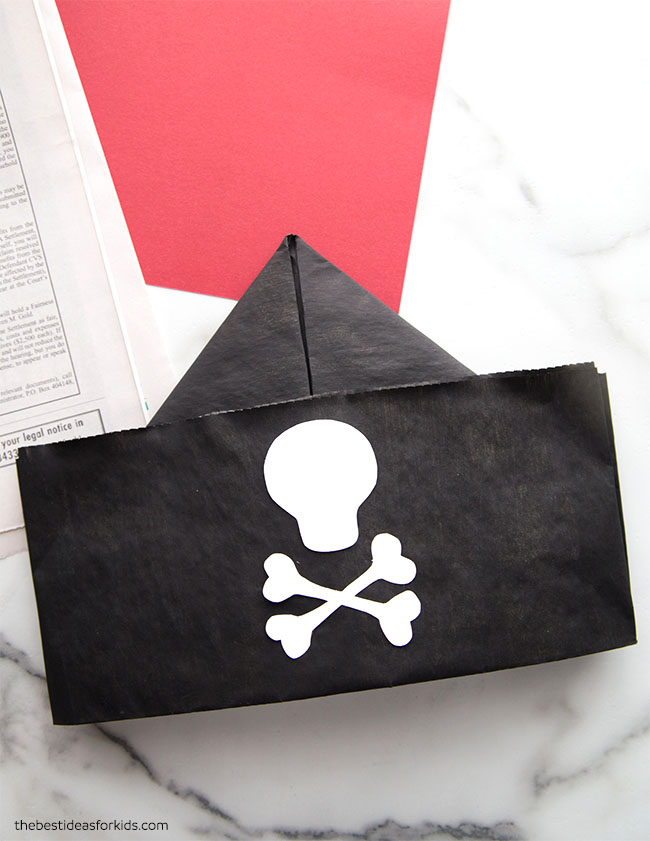 Supplies Needed to Make a Newspaper Hat
-Newspaper
-Scissors
-Black paint
-Paintbrush
-Ruler
–Pirate hat template – included in our book Fun and Easy Crafting with Recycled Materials
-Glue
And don't forget to check out our NEW book which has this craft in it! Fun and Easy Crafting with Recycled Materials is bursting with easy newspaper crafts for kids like this one. But not only that, it is all recycled crafts for kids – paper rolls, egg cartons, cardboard, popsicle sticks, jars and more!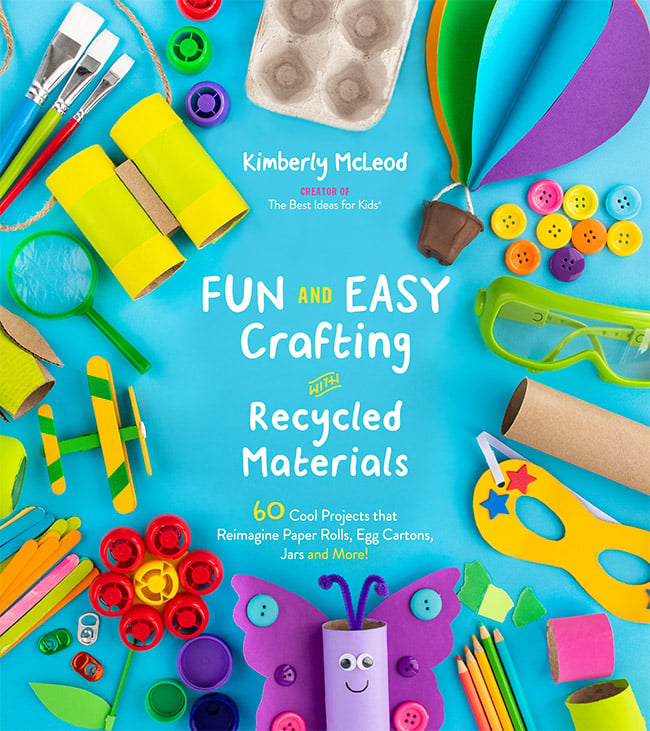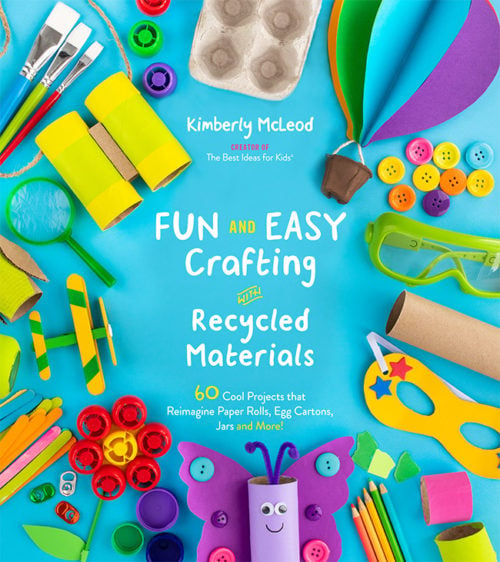 Watch the video tutorial to see the folding step-by-step instructions!
Directions to Make a Newspaper Hat
1. Cut out one sheet of newspaper. Paint the whole sheet black. Paint both sides if you want the whole hat to be black. Let it dry.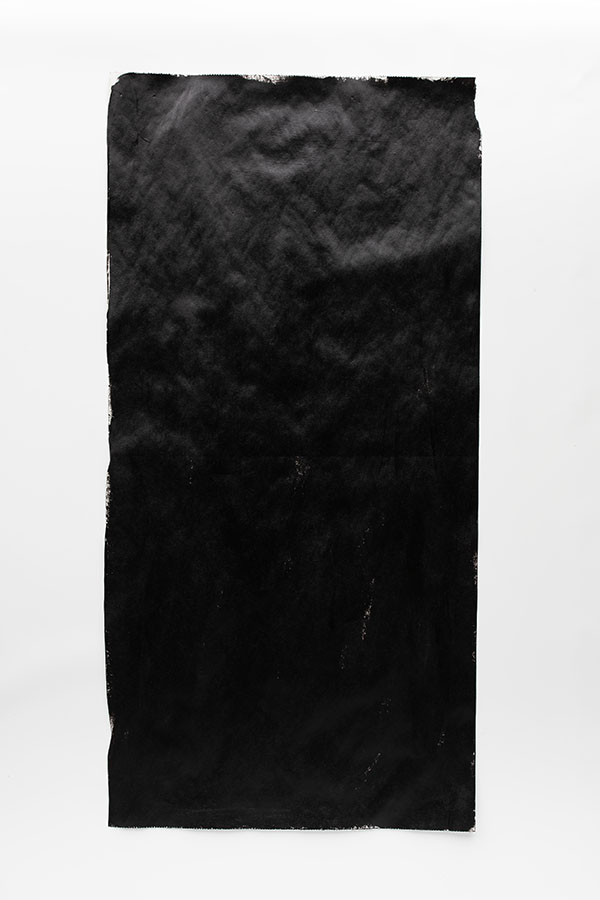 2. Place the newspaper vertically (as you would normally hold it upright) on a table. Fold the newspaper in half by folding the top to the bottom of the newspaper.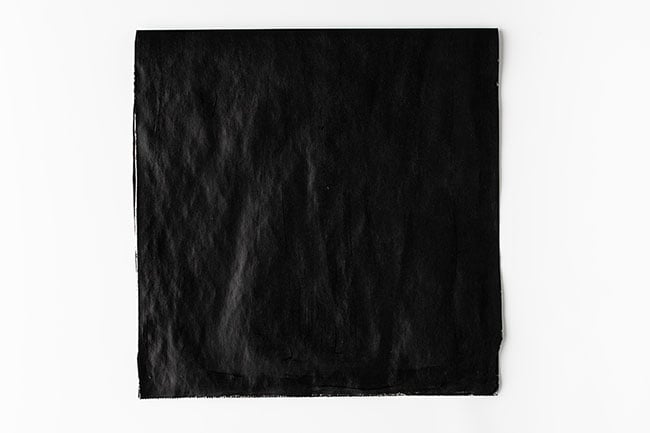 3. Take the right and left top corners of the folded side and fold them down to the center. (Measure the center point first with a ruler if needed).

4. Take the bottom part of the top sheet of newspaper and fold it up towards the triangle piece.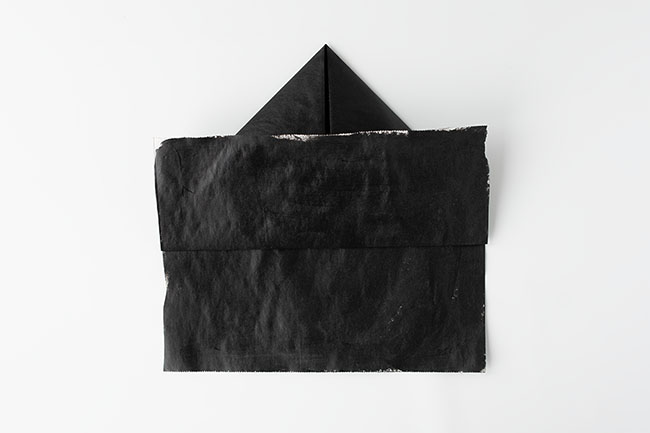 5. Flip the hat over. Fold in a small strip on the left and right side of the hat to make the hat. Tape or glue the top part of the strip down. This will make the hat smaller and sturdier. If you need the hat to be smaller, fold larger strips here. If the hat is too small, then you'll need to use a double page spread of newspaper to make a larger hat.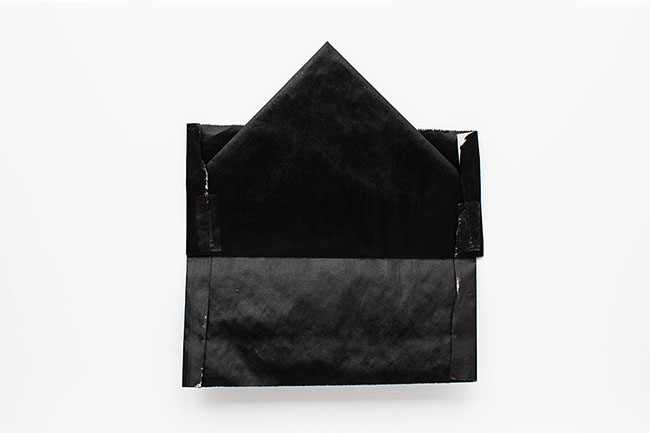 6. Fold the bottom part of the newspaper up.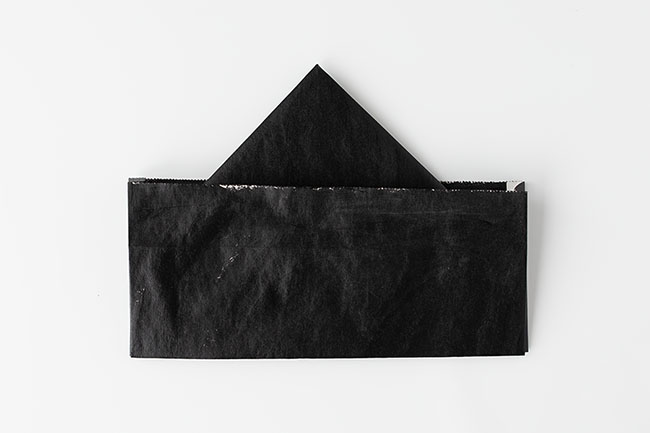 7.  Turn the hat back over. The newspaper hat is finished! Now you can add the skull and crossbones to the front. Trace the template in our book on white cardstock. Cut it out and glue the skull and crossbones to the front of the hat.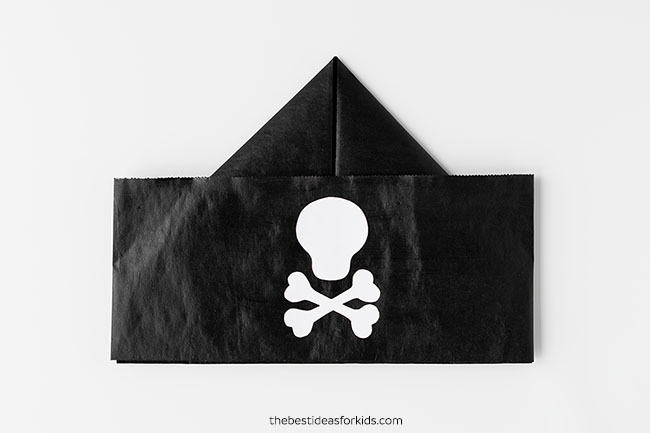 We love how easy these are to make! You can make one or make a whole set for a pirate party!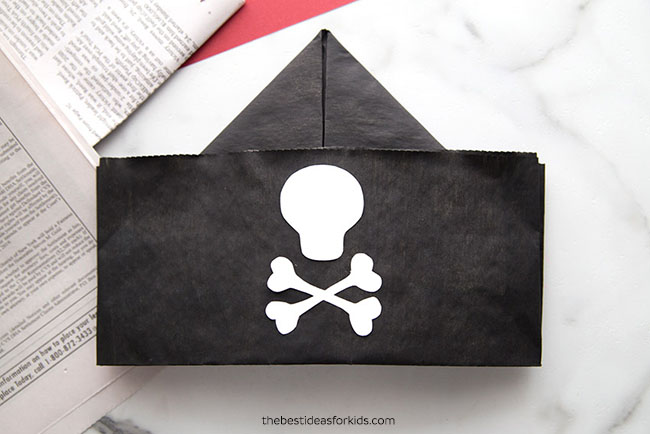 See more newspaper crafts like this one in our book – Fun and Easy Crafting with Recycled Materials. The book also includes 12 cut-out templates, like this skull and crossbones to make a pirate hat.