If you're looking for a thoughtful but easy card to make for Mother's day, this card is really simple to make. You just need colored paper and our free printable template.
RELATED: Mother's Day Crafts for Kids
DIY Mother's Day Flower Card
This simple but beautiful card is perfect for kids to make! You can grab the free printable template on the bottom of our post (on the email form with a preview of the template).
Make colorful flowers to add to your mason jar card or you can use one color for all of the flowers. You can even just use the mason jar part and make fingerprint flowers instead.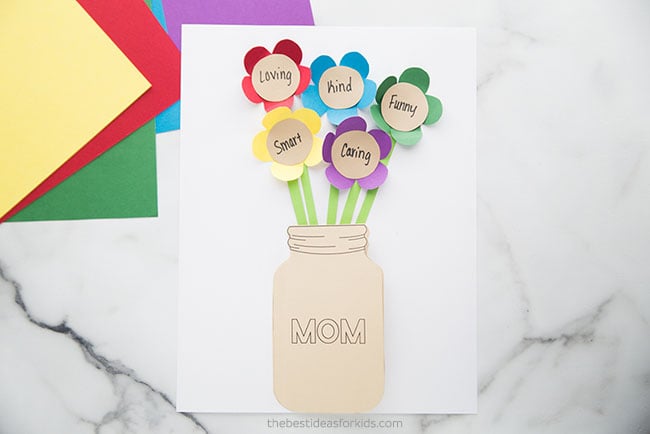 Supplies to Make A Mother's Day Flower Card
Here is what you need to make this card:
Light Beige Cardstock or Cream Cardstock
Black Sharpie
Glue Stick
Free printable templates – can get the free templates by subscribing to our email list on the form with the preview of the template (near the bottom of the post)
Watch the full tutorial video here before you get started! 
Steps to Make a Mother's Day Flower Card
1. Print off the flower template on white paper.
If you are making more than one card, you can print directly on colored cardstock too and skip a step.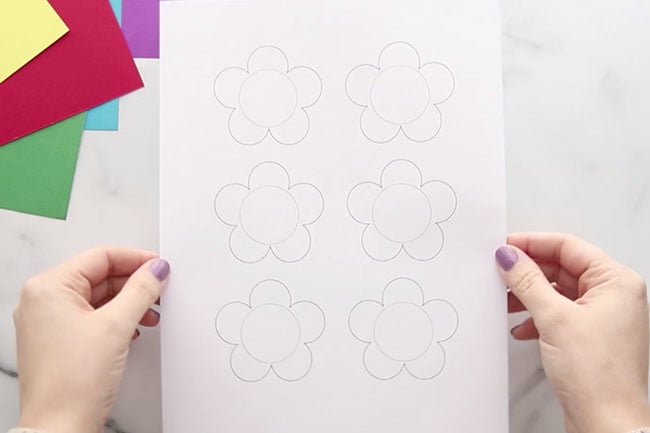 2. Use one flower to trace around colored cardstock. Trace 5 flowers and cut them out.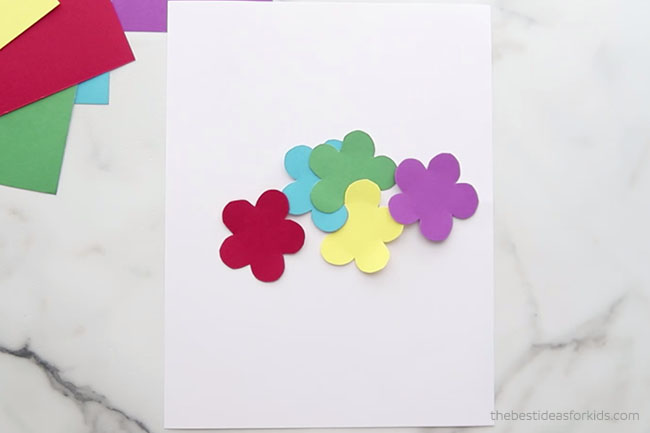 3. Glue 3 flowers to the top of a sheet of white cardstock. Curl the flower petals up to make them look 3D.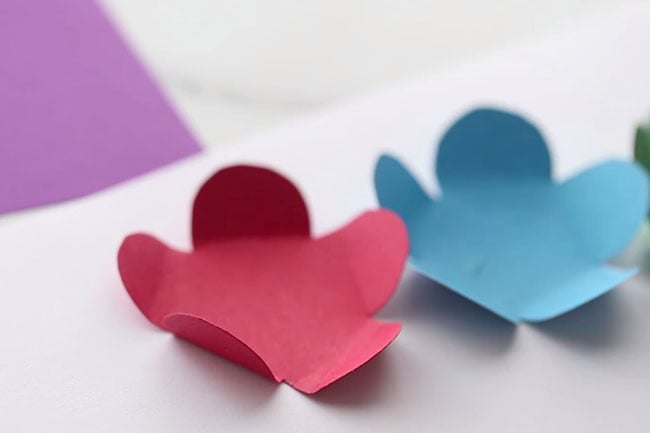 4. Cut out strips of green paper for the flower stems and glue below the flowers.
5. Add the remaining 2 flowers and flower stems.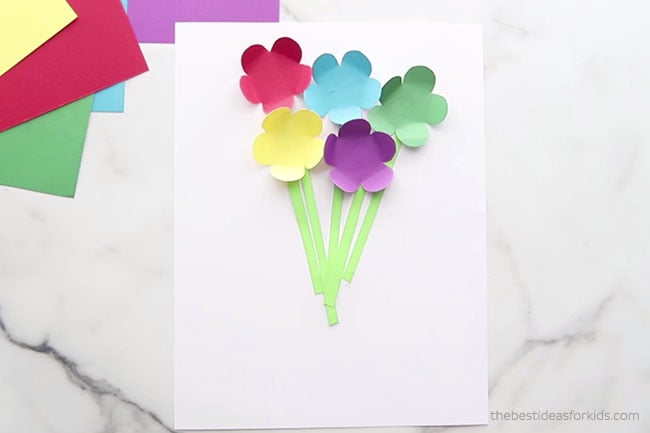 6. Print out the mason jar card template directly on light beige paper and cut it out.
You will need 2 mason jars for the card.
7. Glue the top of the card on by gluing the left side of the jar only. This will allow you to open up the card.
Cut out the 5 circle centers for the flowers.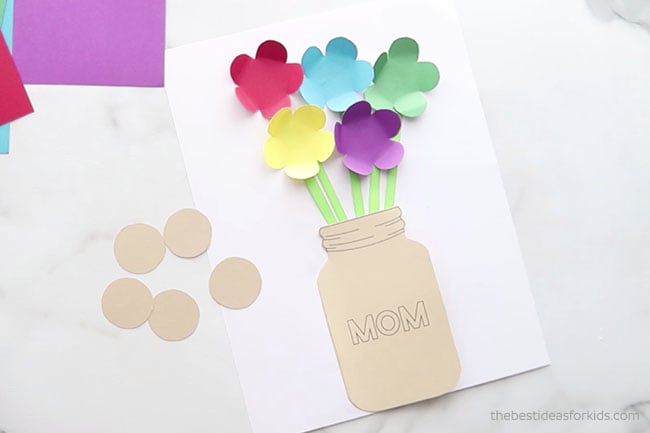 8. Write nice things about Mom on the circle centers with a black marker. Glue these circles to the center of the flowers.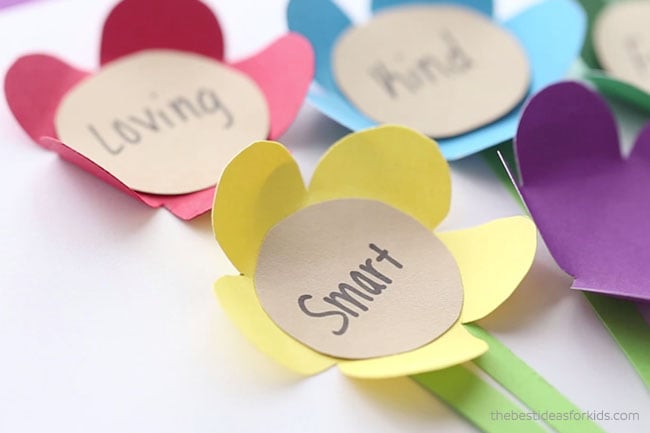 9. Write Happy Mother's Day inside the card or another personalized Mother's Day message.
If you want to make this for Grandma you can use the blank mason jar template and add Grandma to the front with a black marker.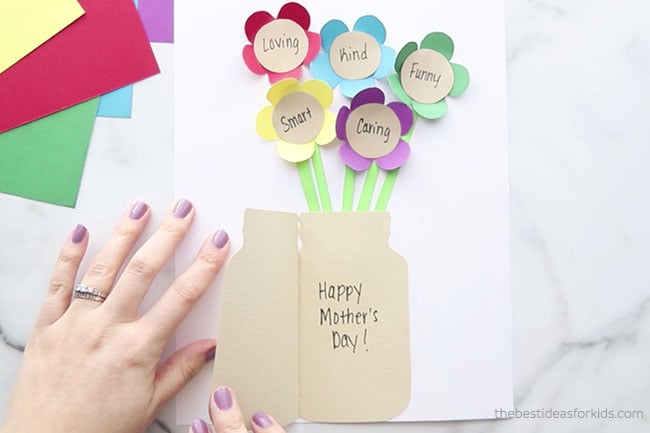 Mom or Grandma will be so happy to receive this personalized card for Mother's Day!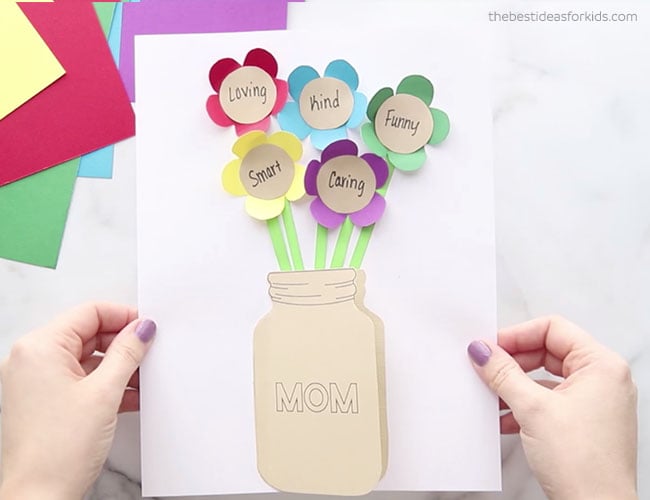 To get the template, subscribe below and it will be delivered to your inbox as a free gift. Please make sure to check ALL folders for the confirmation email. 

Mother's Day Card Ideas
Here are a few more of our favorite Mother's Day ideas. Or see 20+ Mother's Day Crafts for Kids.
These butterfly handprint cards are really easy and fun to make! Kids will love decorating them.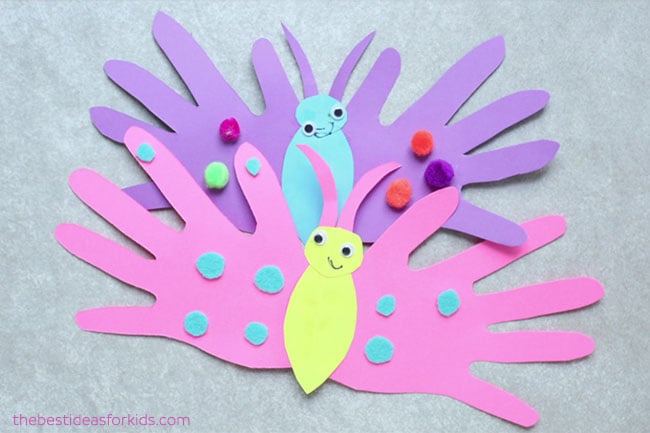 This tulip card is also a beautiful and easy card to make for Mother's Day!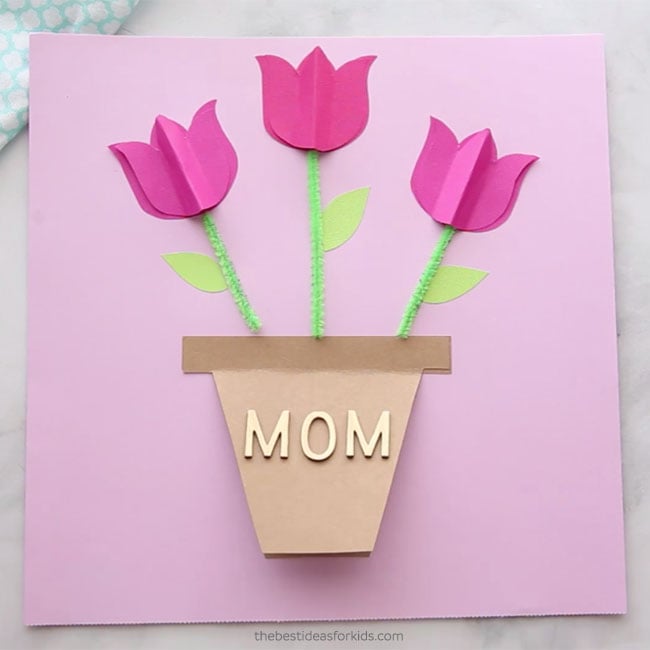 Or make this coffee cup card which also comes with a free printable template.