Looking for an easy way to make a no-cook, gluten free and super soft playdough? This Cloud Dough recipe is a fun twist on our traditional playdough recipe. We love that it's only 2 main ingredients and can be scented with lotion. If you like making your own homemade playdough, then you definitely want to try this recipe!
RELATED: Playdough Recipe
Cloud Dough
This is a great recipe to make if you've never made playdough before. It's really easy to make since it's only 2 main ingredients and no cooking required! Kids also love the texture of this playdough. It's the softest playdough you will ever try!
For our traditional playdough recipe, see it here.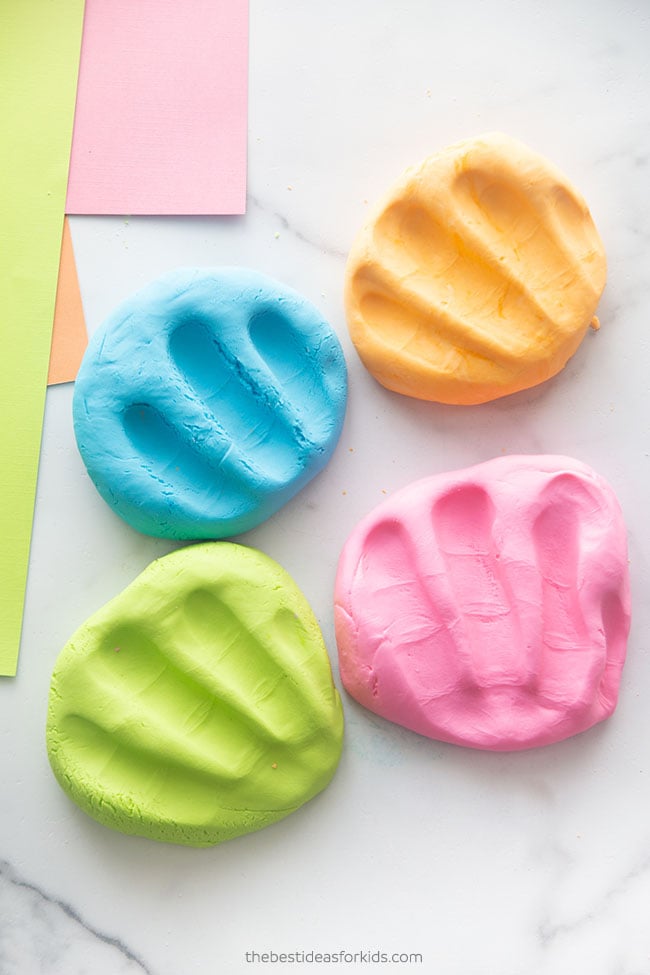 You can make a few batches with different colors or choose your favorite. Wrap the dough in plastic wrap and then put in an airtight container to keep it fresh and long lasting.
How To Make Cloud Dough
This is a no cook playdough recipe. It's perfect if you want to make some playdough and you don't have access to a stove top or kettle. The mixture comes together easily in 5 minutes (it's fast!).
This is also gluten free!
Here are the ingredients you will need:
Cornstarch
Lotion
Food Coloring (optional) – we like this liquid food coloring gel in neon colors because you only need a few drops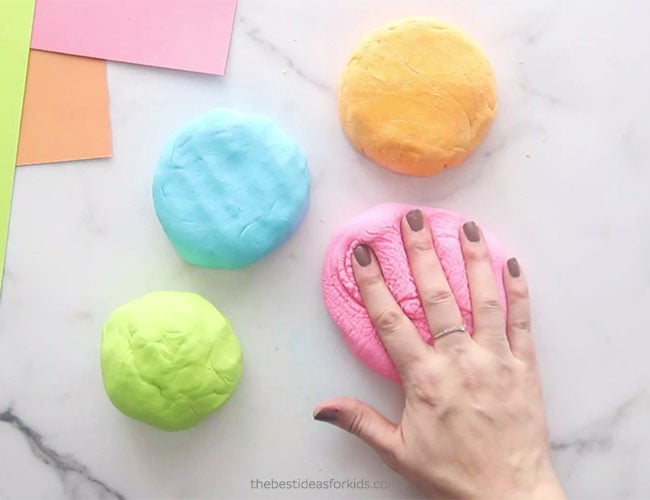 How do I store cloud dough?
To help your playdough to last as long as possible, it's important to keep it as airtight as possible so that it doesn't dry out. Wrap each color of playdough in plastic wrap and then place it in an airtight container to help it stay soft. If you find that your playdough has become a little dry, you can add a little bit of extra lotion and knead it in.
How do I keep the dough soft?
First wrap your playdough in saran wrap then store in an air-tight container or Ziploc bag. You'll notice that playdough will go hard if left out – so the less air that can get to the playdough when storing, the longer it will last!
How do you make the dough soft again?
If your playdough dries out or turns out to be a little dry after making it, try adding in a little more lotion. If the playdough is too sticky after making it, add a little bit more cornstarch.
How long does it last?
This dough will not last as long as our traditional playdough recipe. The lotion will start to dry out from it within a week. However, you can easily revive it by just adding a few extra squirts of lotion to it and kneading it in. This will make it almost like brand new again.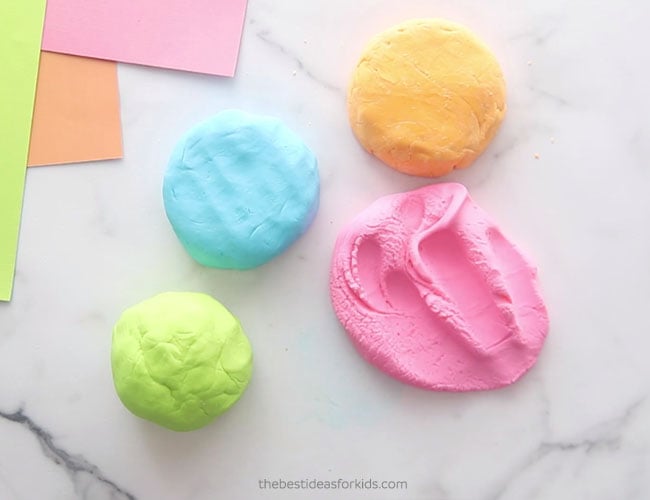 Cloud Dough Recipe
Cloud Dough
2 ingredient playdough recipe.
Materials
1/2

cup

lotion

regular lotion or baby lotion

1

cup

cornstarch

also called cornflour
Instructions
Add 1/2 cup of lotion to a bowl. Add 1-2 drops of the food coloring (if using concentrated gel, if using regular food coloring you'll need more drops to color) and mix. 

Mix the lotion and food coloring until combined.

Add 1 cup of cornstarch and mix.

Then take out the dough and place on some wax paper. Knead with your hands (you may want gloves here so your hands don't stain). Keep kneading until it forms a dough-like consistency. If it's still too sticky add another tablespoon of cornstarch. 
Notes
Repeat recipe for each color you would like to make. 
Once your cloud dough is finished, use cookie cutters and rolling pins to play with it!
To store: simply put the playdough in plastic wrap and store in an airtight container to help it last longer. If the dough dries out, add a few extra squirts of lotion to it and knead back in.
More Playdough Recipes
See our Kool-Aid Playdough recipe.