If you are looking for free printable chore charts for kids, then you will love these 3 designs! There are 3 different chore chart templates for you to choose from. You can print out a dinosaur, robot or mermaid chart to motivate your kids with their daily chores!
RELATED: 100+ Indoor Activities for Kids
These are so easy to print off and you can easily customize them for your own needs!
Supplies Needed for Printable Chore Charts
Paper
Dry Erase Marker (optional)
Self Laminating Paper (optional)
Dot Stickers (optional)
How to Use These Chore Charts
These chore charts are blank so that you can fill them in with age appropriate chores. Each chore chart has a row which allows you to write a set chore on it. For example, if you want vacuuming done once a week on Saturday, you can mark it off for that date. When complete, you can color in the box or add a sticker.
You can also laminate your chore charts or put them inside of a clear page protector and then use a dry erase marker to fill them out each week.
You can also use these charts so everyone in the family knows what chores they are responsible for and when they need to complete them. Post the chart up in an area where everyone can see it, like on the fridge.
Using Dot Stickers With Your Chore Charts
For my 6 and 3 year old, I do not list out set chores but instead we use dot stickers whenever a chore is completed. For example, picking up toys, helping to put laundry away, helping to put dishes away from the dishwasher, etc. The kids will get a dot sticker that they can then add to the current line they are working on.
After they fill a line they get to pick out a small toy from a prize box. I used a shoe box to make the prize box and the kids decorated it. Inside I put small, inexpensive prizes like hot wheel cars, Pokemon cards and small dollar store toys.
After the chart is filled with stickers we let the kids pick out 2 prizes from the prize box.
While the "prizes" are small and inexpensive they are still very motivating for my kids to want to help out around the house.
Whether you decide to include a reward system or not – having kids help around the house will still benefit the whole family.
Free Printable Chore Charts
We have 3 different options to choose from so that your kids can select their favorite design. Choose between a robot, dinosaur or mermaid design.
Here are what the robot designs look like: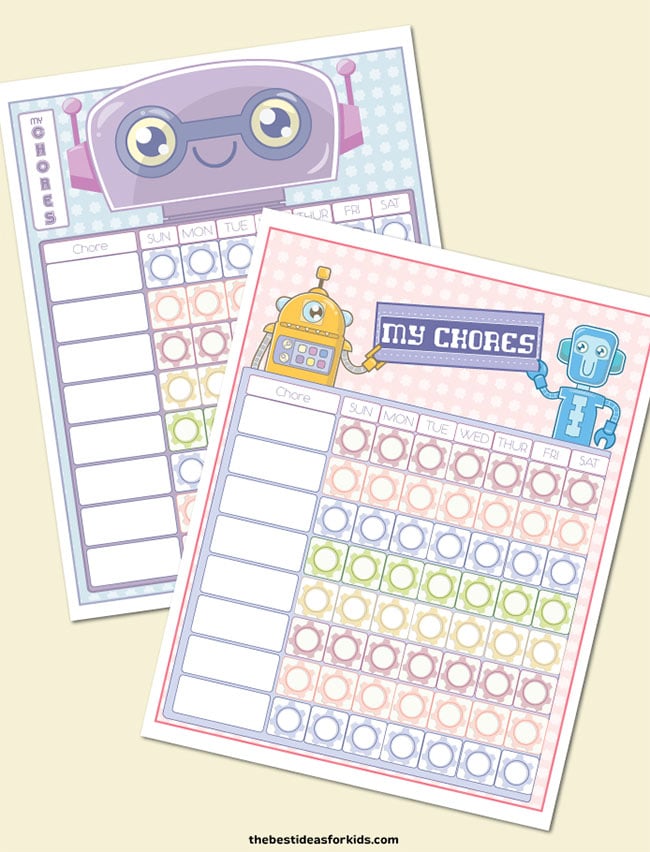 And here are the mermaid designs: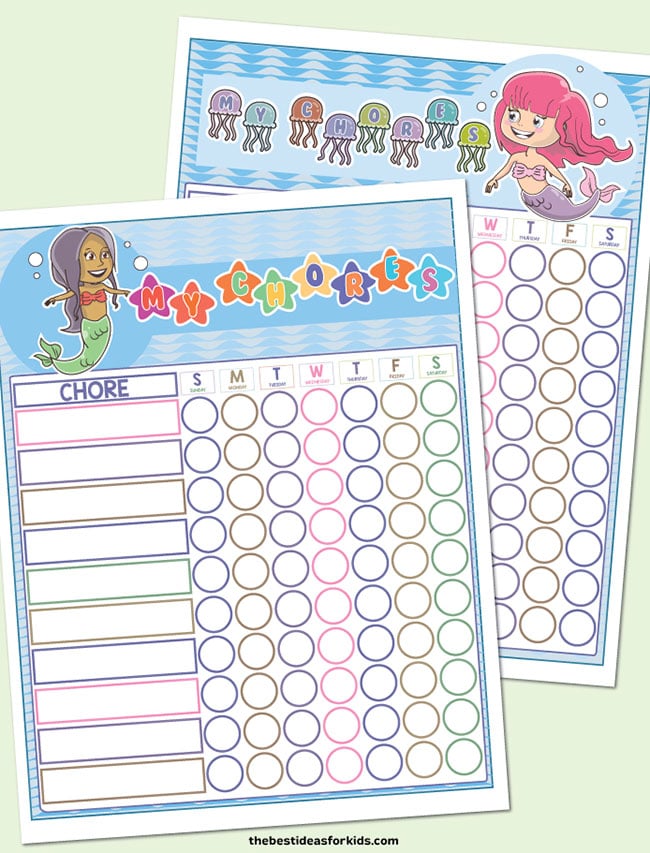 We hope you find these printable chore charts helpful in your family!
To get the printable chore charts , subscribe below and it will be delivered to your inbox as a free gift. Please make sure to check ALL folders for the confirmation email. 
If you're looking for indoor activity ideas, see our list of 100+ indoor activities for kids.