There's something fun about turning a piece of cardboard headed for the recycling bin into something else! Do you remember doing shoe box crafts as a kid? I remember making a shoe box manger and it was one of my favorite activities in school. This is a similar idea (you could do a shoe box aquarium too!) but this is using a cereal box! This cereal box aquarium is so much fun to make and such a fun craft to keep afterwards too.
RELATED: Tissue Box Monsters
This cereal box aquarium craft is a great one for encouraging creativity! Kids can choose how they want to decorate their aquarium, what colored fish and what colors even! There are so many options and ways to build an aquarium. We would love to see how you make yours!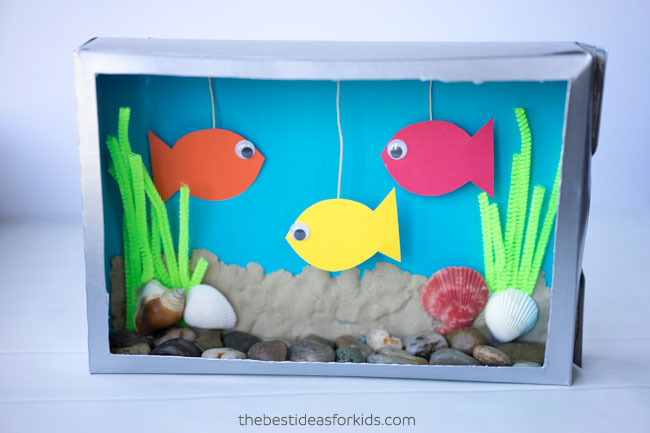 Our book – Fun and Easy Crafting with Recycled Materials is bursting with cardboard crafts like this one. There is a whole chapter of cardboard crafts. But not only that, there are other recycled crafts for kids too – egg cartons, paper rolls, newspaper, popsicle sticks, jars and more!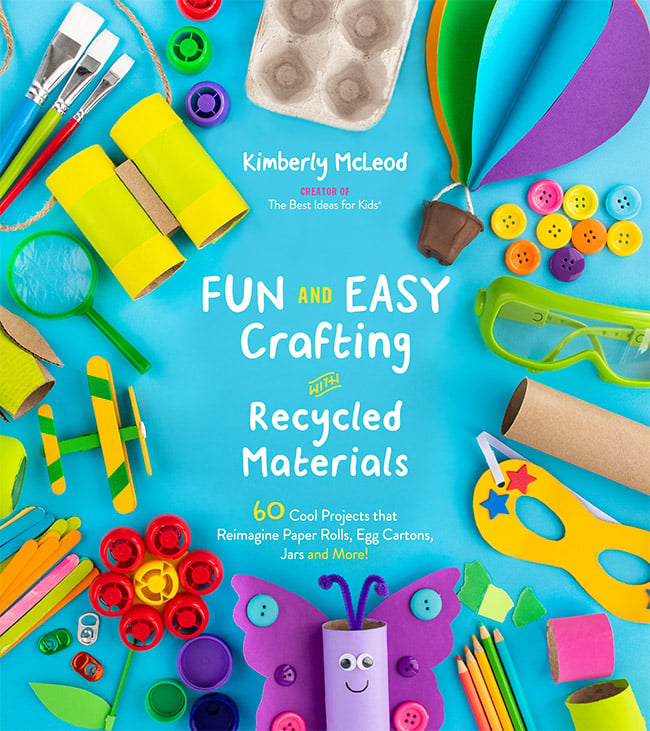 Supplies to Make This Cereal Box Aquarium Craft
1 large cereal box
Kinetic Sand (We found ours at the Dollar Store for only $3)
Fish Template (see below for template instructions)
X-acto Knife (adults only to use)
Hot glue (adults only to use)
Watch the Video Tutorial
Directions to Make a Cereal Box Aquarium 
1. First you need to trace a cut-out on your box.  We used a sharpie to make our lines and then used an x-acto knife (adults only) to cut out the center of the box.
2. Now paint the inside of your box a turquoise blue color.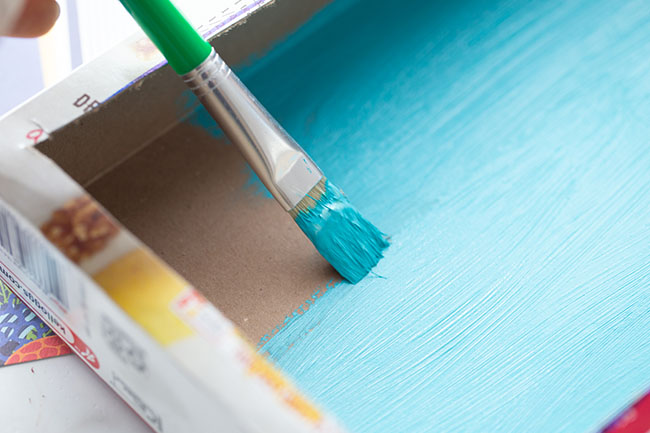 3. Paint the outside of your box silver (to make it look like an aquarium).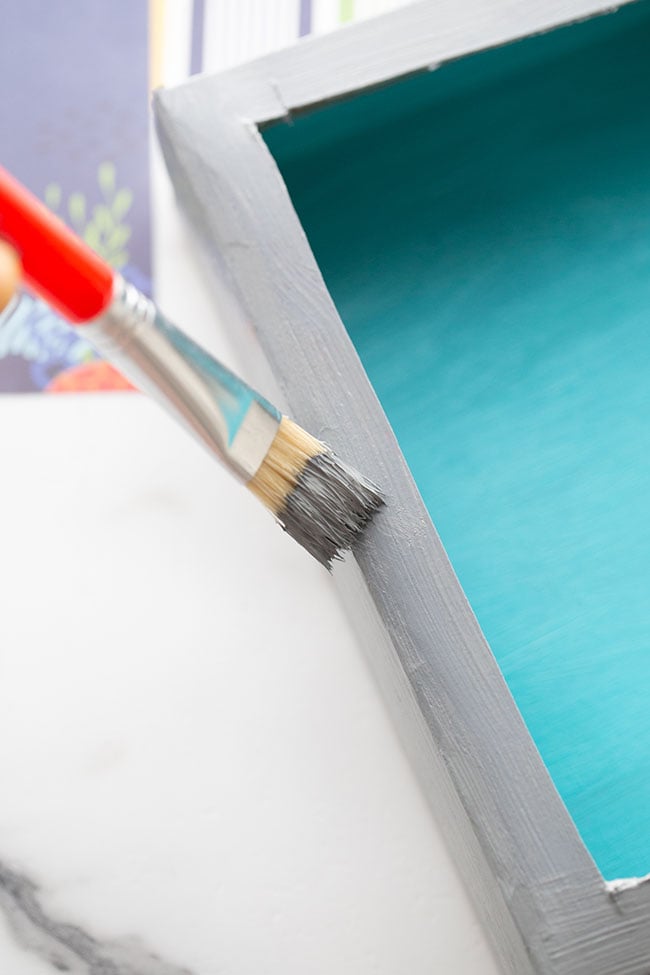 4. Now you can decorate your aquarium however you'd like!
Here are the elements we added:
Kinetic sand as a background on the bottom. We didn't try regular sand but regular sand would likely work too.  The kinetic sand sticks together and holds in place so it's easy to work with. You could also use cereal like cheerios or a puff style cereal to make it look like sand.
Green Pipe Cleaners – cut some strips of green pipe cleaners and glue to the bottom of your box to make it look like seaweed.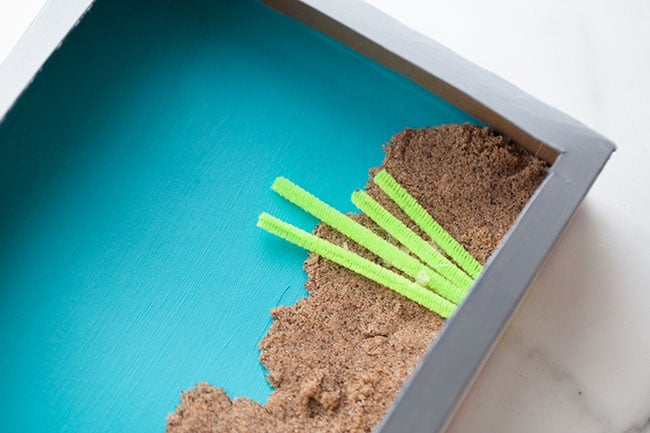 Sea Shells – we used the sea shells to hide the bottom of the pipe cleaners. Add some sea shells wherever you think they will fit! These will need to be hot glued down.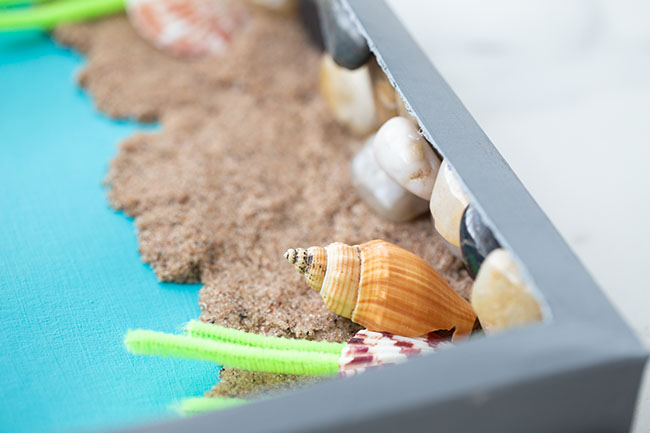 Stones for the bottom of the aquarium. Stones will add some weight for the aquarium to stand up on its own.  Stones can be placed at the bottom or hot glued down.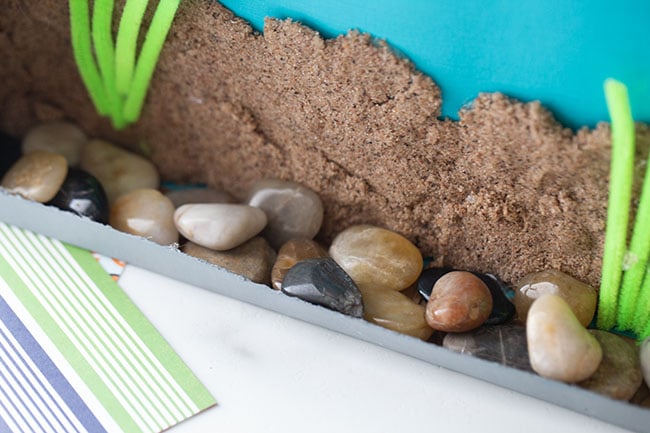 Now it's time to add your fish!
4. Print off this fish template to make these adorable fish for your cereal box aquarium.
5. Now cut out your fish template and use it to trace your fish shapes onto your colored paper. We used orange, yellow and red cardstock.
6. Glue on googly eyes to your fish.
7. Take a small piece of string and tape it to the back of your fish.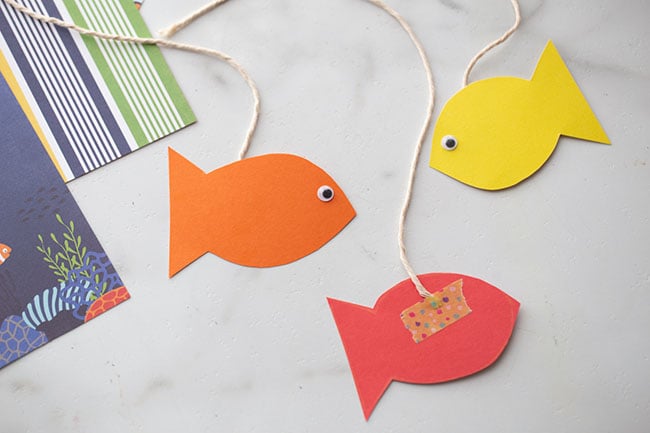 8. Now attach the strings to the top of your cereal box.
Now you have a finished cereal box aquarium. We hope you had as much fun making these as we did!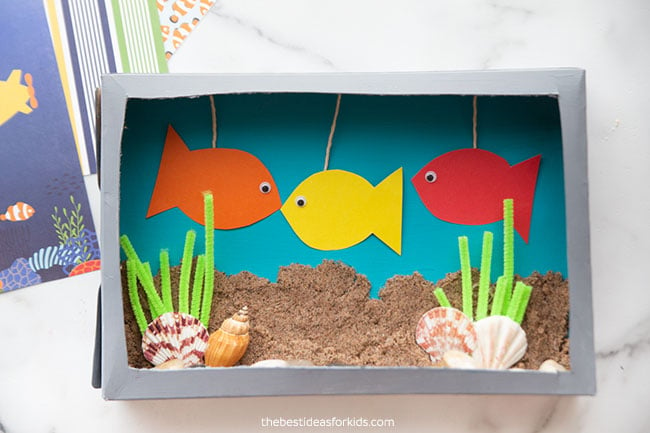 Looking for more fun crafts? Check out some of our favorites and most popular crafts below!
Looking for another fun fish craft? Make this adorable Fish Handprint Card. This would be perfect for Father's Day or the fishing lover Dad's birthday!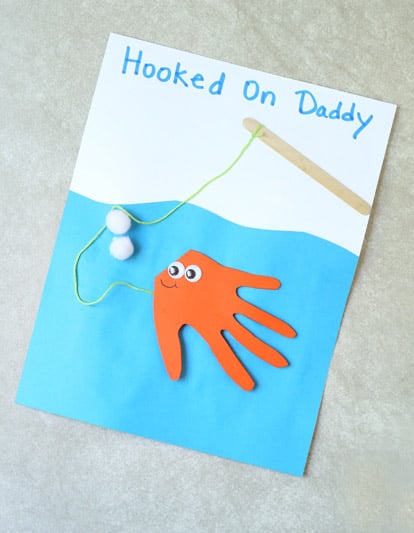 These butterfly handprint cards are also an adorable craft to make for any occasion!