These cardboard Christmas ornaments can be made with recycled cardboard and just a few other supplies. They are easy enough for kids to help make, and will look great hanging on your Christmas tree! We'll show you how to make a stocking, candy cane, Christmas tree and snowman.
RELATED: Christmas Crafts for Kids
Cardboard Ornaments
Try making these cardboard Christmas ornaments next time you need an easy Christmas activity. You could also attach one of these ornaments to a gift. Make one or try making all 4 of these cardboard Christmas ornaments this holiday season!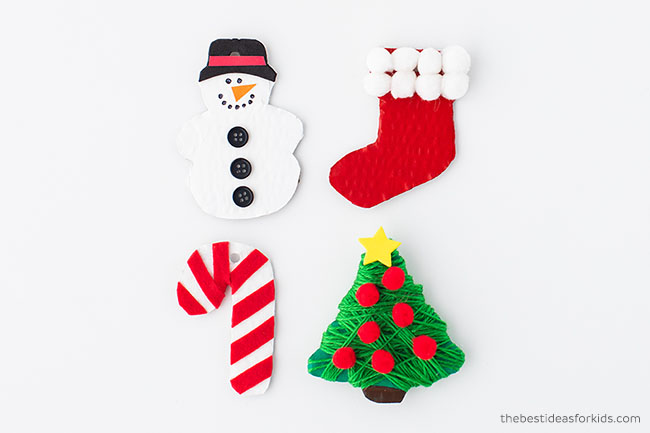 Supplies Needed For Cardboard Christmas Ornaments
Snowman
Snowman Cookie Cutter
Cardboard
White Paint
Black Buttons
Orange Cardstock
Black Sharpie
Twine
Black Foam or Paper
Red Foam or Paper
Christmas Tree
Christmas Tree Cookie Cutter
Cardboard
Green Paint
Brown Paint
Green Yarn
Small Red Pom Poms
Yellow Foam Star
Twine
Stocking 
Stocking Cookie Cutter
Cardboard
Red Paint
Small White Pom Poms
Twine
Candy Cane
Candy Cane Cookie Cutter
Cardboard
White Paint
Red Felt
Twine
What kind of glue should I use? Hot glue is always going to work best when working with yarn and pom poms, but you can also use an extra-strong glue like this one. Just make sure to let it thoroughly dry and press and hold for the glue to take. For the yarn wrapping, you may need to tie the back of the yarn a few times if not using hot glue.
What paint works best on cardboard? We like to use acrylic paint. You can get a whole set of our favorite brand here.
Cookie Cutters – if you don't already have a set of Christmas cookie cutters, these Wilton cookie cutters have a variety to choose from.
Pom Poms – you can get a pack of different colored pom poms here 
Twine – We like to use twine for hanging the ornaments but you can also use ribbon
And don't forget to check out our NEW book which has this craft in it! Fun and Easy Crafting with Recycled Materials is bursting with easy cardboard crafts for kids like this one. But not only that, it is all recycled crafts for kids too – paper rolls, egg cartons, cardboard, popsicle sticks, jars and more!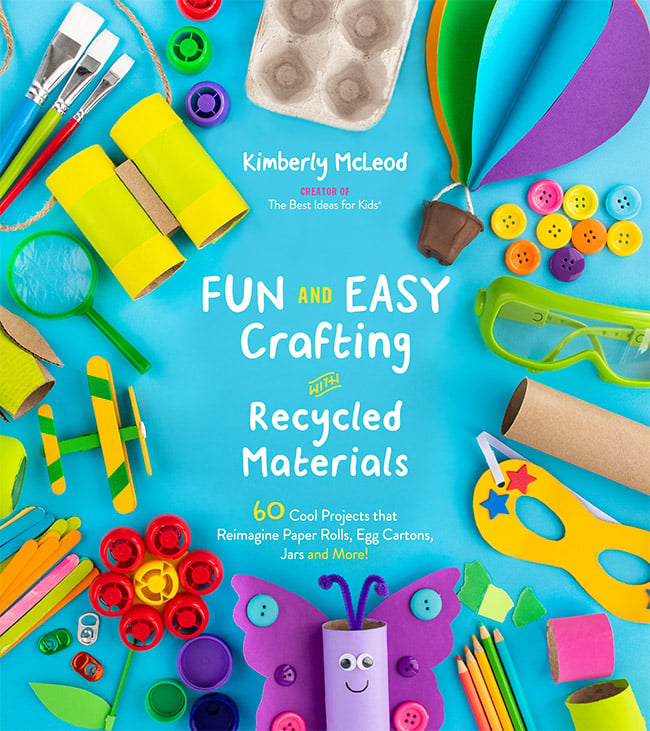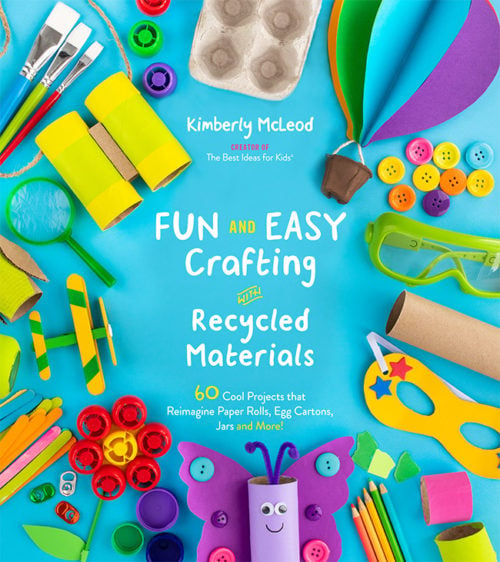 Watch the full tutorial video here!
Directions for How To Make Cardboard Christmas Ornaments
1. Trace your favorite Christmas cookie cutters on the cardboard.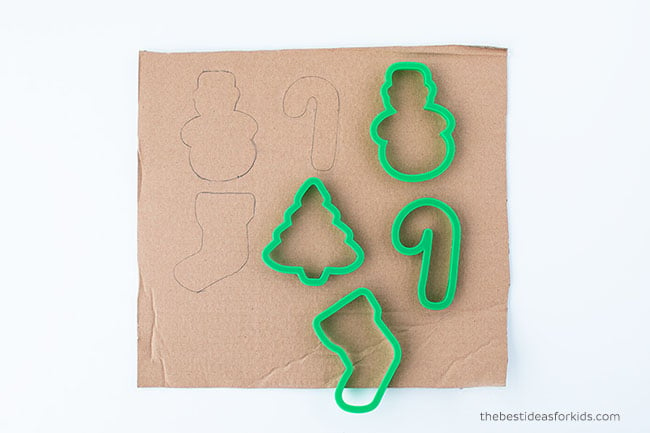 2. Cut out the different shapes.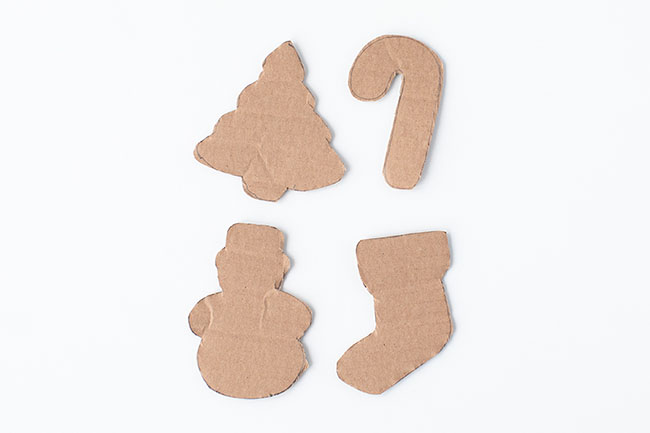 3. Punch a hole at the top of the cardboard shapes. Then paint the snowman and candy cane white. Paint the stocking red and the Christmas tree green.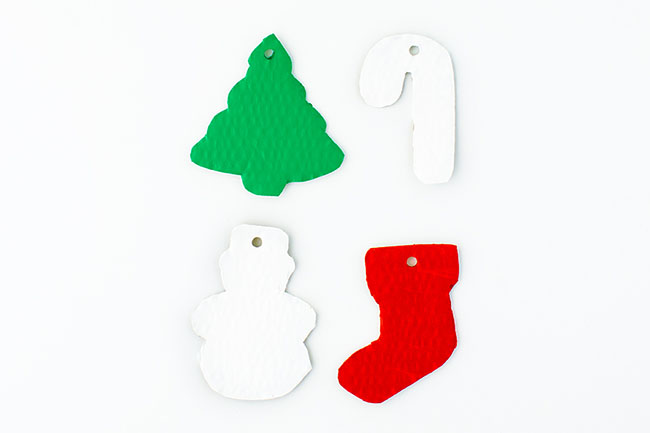 4. To make the candy cane, cut out strips of red felt and glue them diagonally to the cardboard.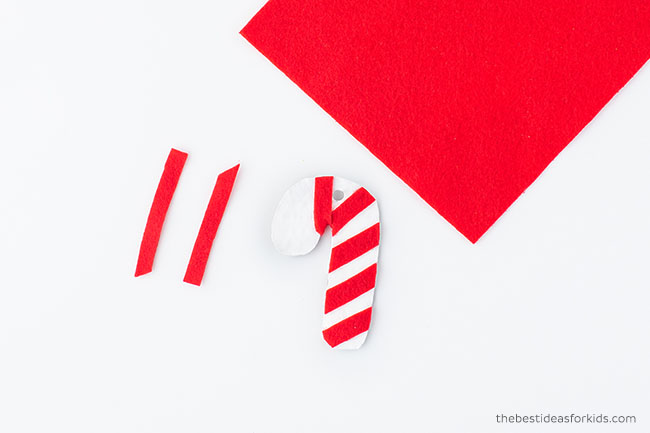 5. To make the Christmas tree, wrap green yarn around the cardboard. Decorate with red pom-poms and a yellow foam star sticker. Tie the yarn to the back of the ornament or use glue to affix the end down.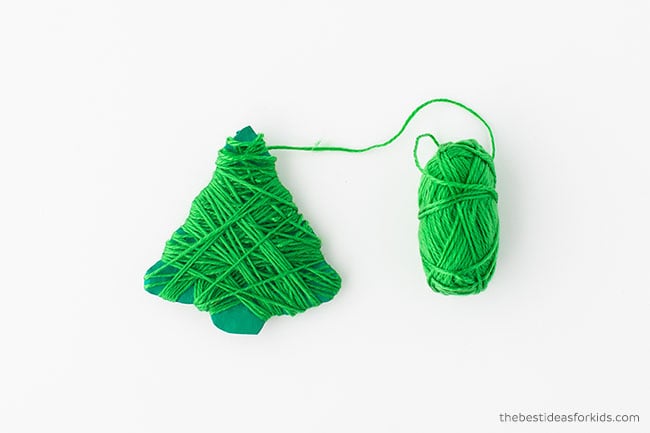 6. To make the stocking, glue white pom-poms to the top of the stocking. You can also use cotton balls.
To make the snowman, glue on the 3 black buttons. Glue a piece of black foam or cardstock to the top to make the hat, and then trim around the edge to fit it to the snowman's head. Add a red cardstock strip for the brim of the hat. Add a nose by cutting one out from orange cardstock.
Draw the eyes and mouth with the black marker.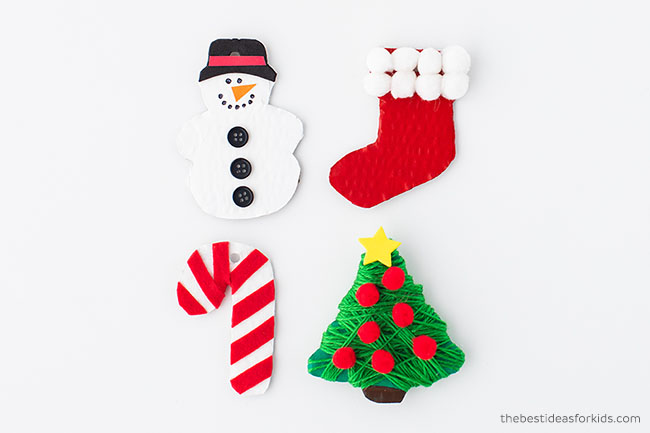 7. Add twine to the ornaments for hanging.
We love that no template is required for these ornaments! Simply grab some of your favorite Christmas cookie cutters and some cardboard and you're ready to make them!
This is one of the 60 crafts in our book – Fun and Easy Crafting with Recycled Materials – see more of the projects in our book here.
More Christmas Crafts
You can also use cookie cutters to make these easy salt dough ornaments.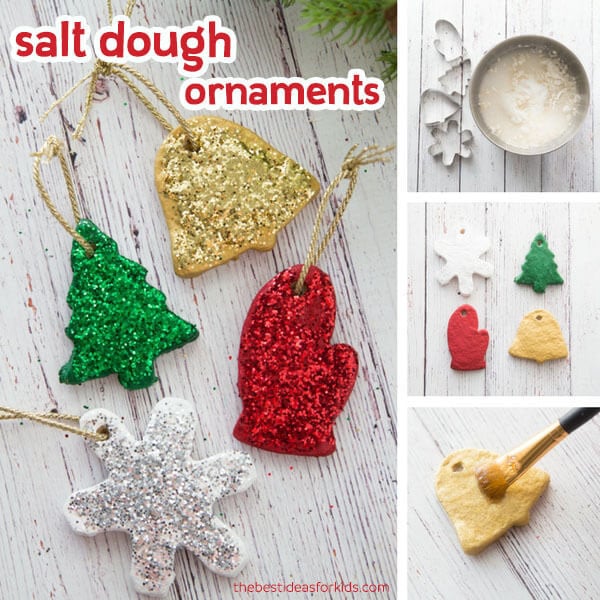 For more Christmas craft ideas, see 50+ Christmas Crafts for Kids.