For an easy winter or Christmas craft, this penguin footprint craft is fun to make! The best part is you'll get to treasure this craft as a keepsake for many years too! And don't forget to put the date on the back so you can remember how old your kids were when they made them.
RELATED: Handprint Penguin
Penguin Footprint Craft
If you'd rather not get feet a little messy, see our handprint penguins. No paint involved and just as much fun!
See more penguin crafts here!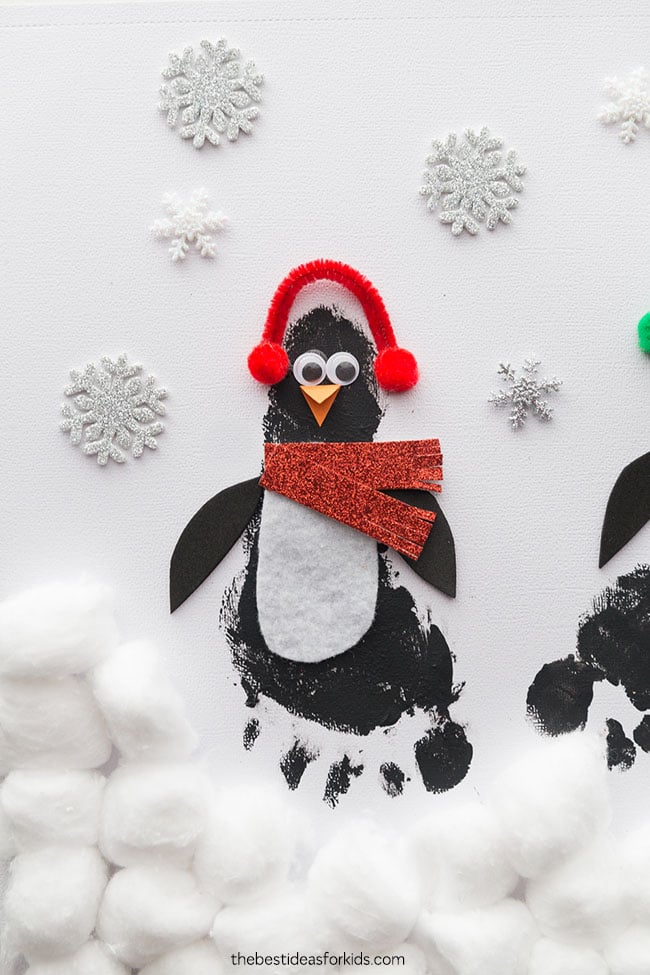 How to Get a Footprint
If you haven't done footprint crafts before then we have a few tips for you. With a little bit of preparation you can get footprints with little mess involved.
Here's a simple way to get the footprints:
Place some paint in a paper plate and spread it around with a brush. Holding your child's leg (because you don't want them to stamp it on the ground) help them place their foot into the paint on the paper plate. Then gently help them press it down on the paper. I like to lay out a few papers in a row to do at least 2-3 papers at a time. Sometimes the footprints can get smudged as you are pressing down so it's good to have a few versions to choose from.
Once you've pressed down on your paper, quickly head over to a sink to wash off the paint. If your child is too large to carry (since they'll have paint on their feet) it can be easier to have a bucket nearby with some soapy water. You can also use a baby wipe to wipe off the paint on the feet and then walk over to the sink.
My kids loved doing their footprints! They had a blast and thought it was a really fun experience to feel the paint on their feet.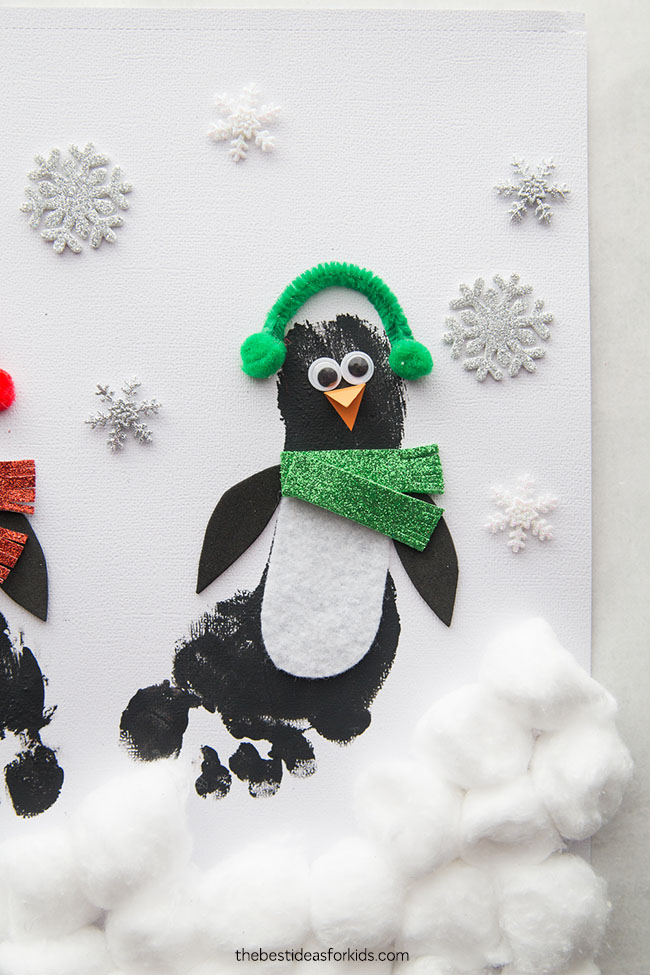 Penguin Footprint Supplies Needed
Here are the supplies you'll need:
Black Paint – we like to use acrylic (just make sure to wash it off right away as it's not as washable as regular kids paint)
White Cardstock – we like to use this size since it's large and can fit two footprints easier
Extra Strong Non-toxic Glue – we like this brand. It works really well for gluing on pom poms and pipe cleaners.
Orange Cardstock or Construction Paper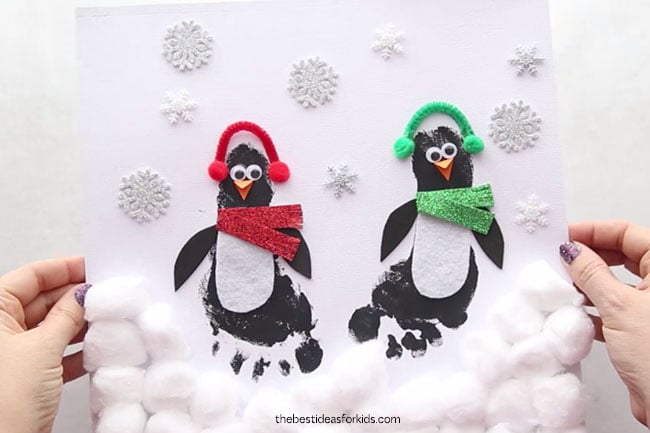 Watch the full tutorial video here before you get started!
How to Make Footprint Penguins
1. First, start by getting your two footprints on paper.
See our tips above for getting the footprints. We did one from each foot.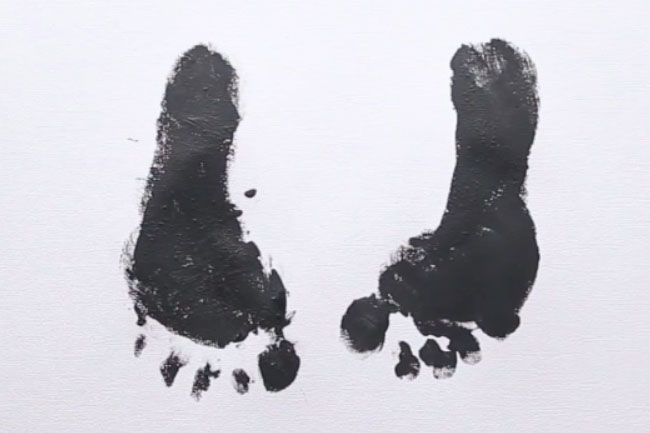 2. Start by gluing on two flippers from black foam paper to the sides of the footprints.
We just cut these out of black foam paper to give it some dimension but you can also use black cardstock or felt.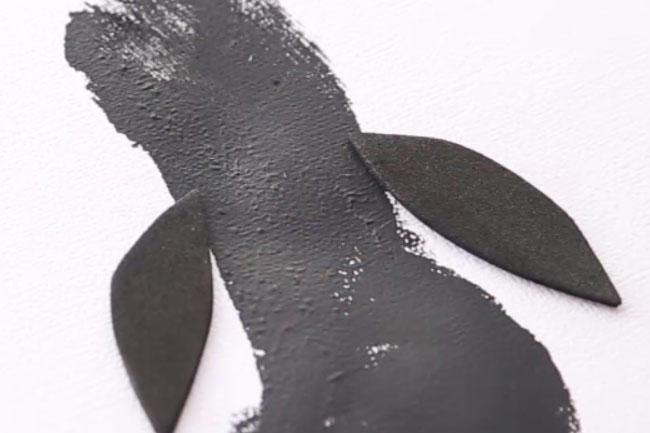 3. Add a longer oval-like shape cut-out from white felt to the middle of the footprint for the belly.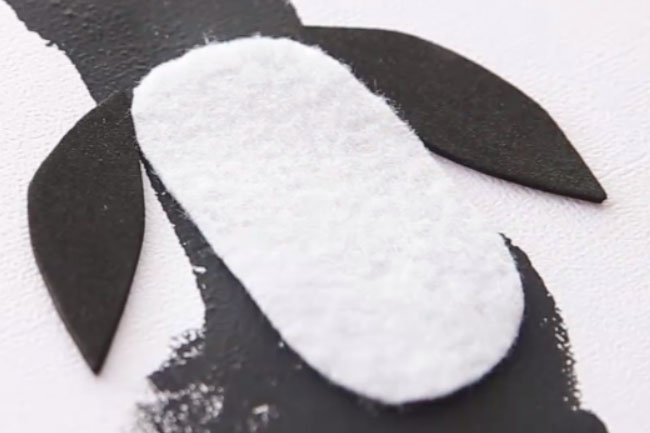 4. Glue on the googly eyes.
Then cut out a beak from orange cardstock and glue down.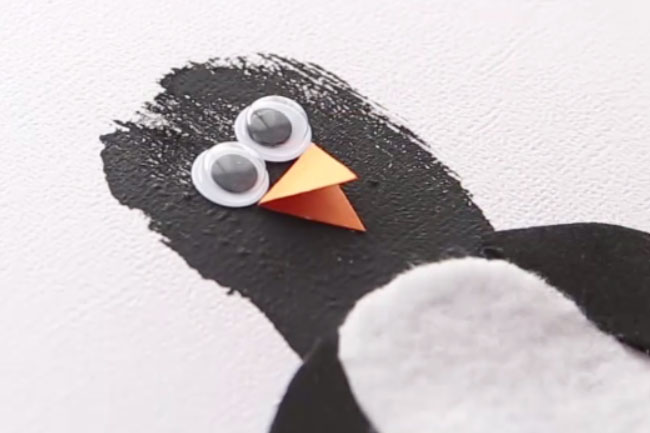 5. Cut out two strips of glitter paper in red and green.
Cut small slits on the ends to make them look like scarves. Glue down. We like to use this glue for thicker paper, pom poms and pipe cleaners.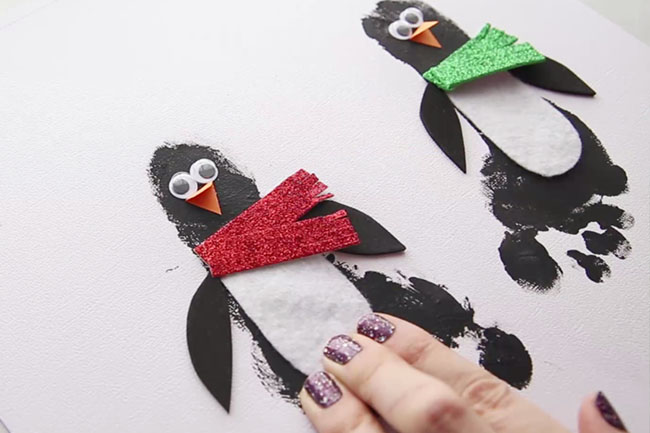 6. Glue a small piece of pipe cleaner around the penguin head.
Then glue two pom poms to the ends of the pipe cleaners to make them look like ear muffs.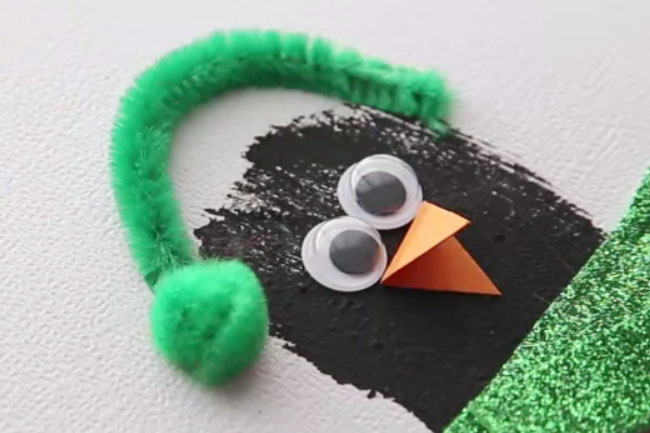 7. Now decorate your paper!
We used cotton balls to make it look like snow. You could also add white felt or larger white pom poms. Add some snowflakes around your footprint penguins too.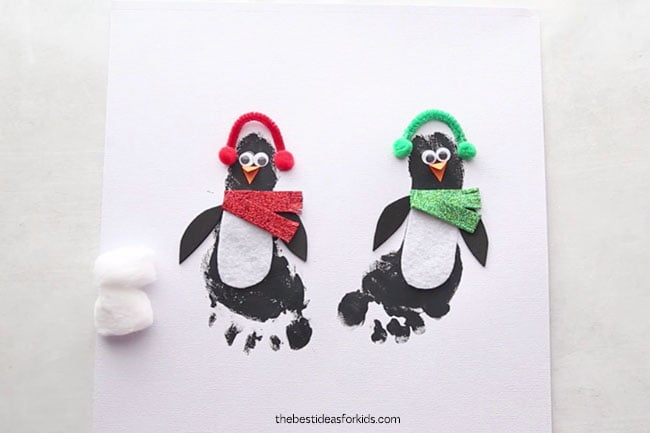 This penguin footprint craft is so easy to make and the kids will love putting them together!
If you love these footprint penguins, be sure to see our handprint penguins too!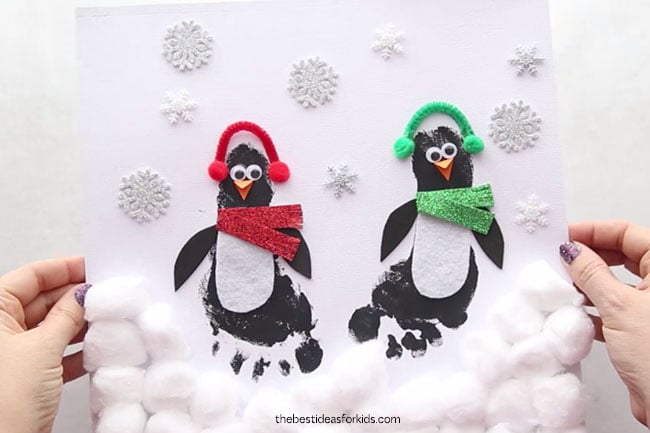 More Penguin Crafts for Kids
If you'd rather not get feet messy, see this handprint penguin craft.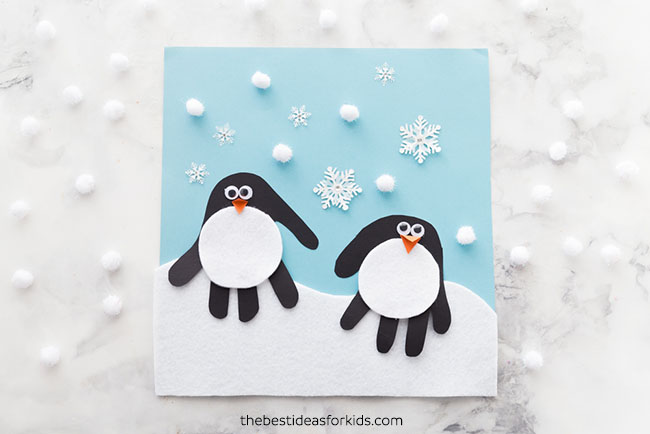 For more penguin craft ideas, see 15+ penguin crafts for kids.