What better way to warm up this Winter but with a comfort food like this One Pot Winter Chili Recipe? If you love chili in the winter like I do, then this recipe is for you!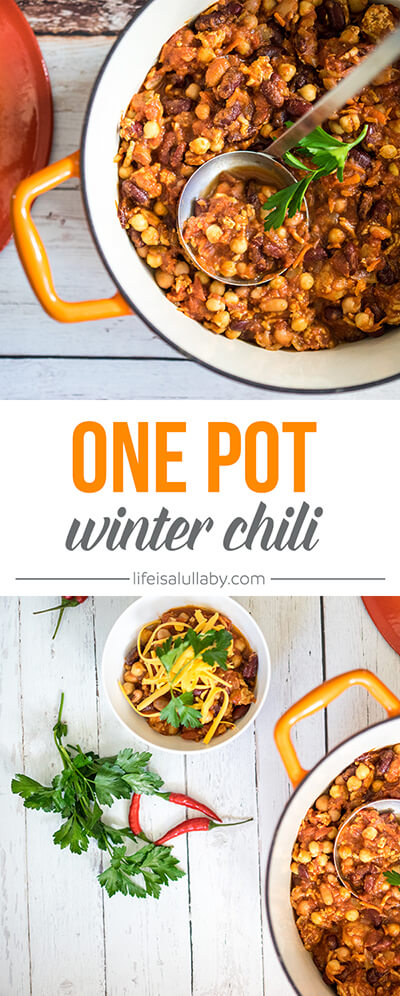 One Pot Winter Chili Recipe
This One Pot Winter Chili Recipe is an absolute favorite in our house. I especially love making it on Sundays and then having leftovers for the week. I hope you enjoy it as much as my family does! What makes this chili so delicious is the mix of flavors. My favorite is the celery and carrot. These were always ingredients that my mom had put in her chili growing up and I just love the combination. Having chili for me is nostalgic – it brings back memories of those cold winter days that we'd have chili for dinner. That's why I love making this recipe in the winter. The best part is you'll have plenty for leftovers to make a second dish or freeze for another night!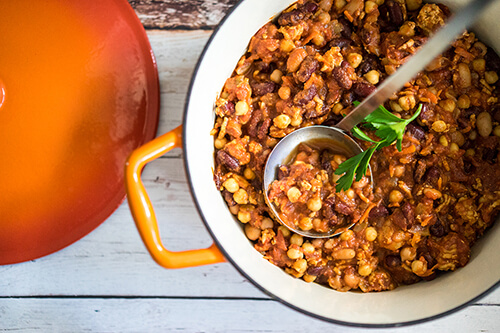 This one pot winter chili recipe is seriously such a comfort food. My favorite part about it are the different beans and veggies. And cooking everything in one pot makes the clean-up much easier! I like to open all the cans and prep the carrots and celery while the meat is cooking to save time. It's a really easy meal to prep and freezes well. We also like to do taco night with the leftovers. Just use the chili as your taco meat and serve with taco shells, cheese, tomatoes and lettuce!
If you like different veggies in your chili, no worries – you can swap out the carrots and celery for more peppers, corn or more tomatoes. You can also change up the beans and we've even made it with white kidney beans or lentils.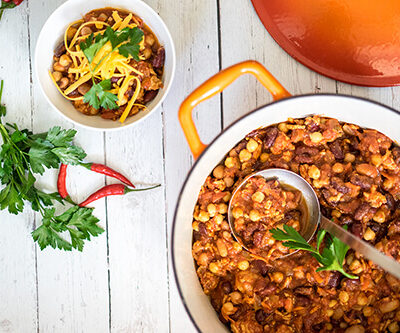 One Pot Winter Chili Recipe
Ingredients
1

lb

ground beef or ground chicken

1

large yellow onion

1

can kidney beans

1

can chick peas

1

can mixed beans

1

can Alymers chili

you can substitute for more chili seasoning, an extra can of tomatoes and some peppers if you do not have this in your local grocery store

2

carrots

2

celery stalks

1

tbsp

chili seasoning
Instructions
Cut up onion and place with olive oil in a large pot.

Cook the onions until soft and translucent.

Place the ground beef into the pot and cook until done.

Meanwhile while the ground beef is cooking, shred the carrots and celery.

Once the ground beef is done, place the carrots, celery, cans of beans, Alymer chili can, diced tomatoes and chili seasoning in the pot.

Cook for 45 minutes on low-med heat (just enough for a soft boil), stirring every 15 mins.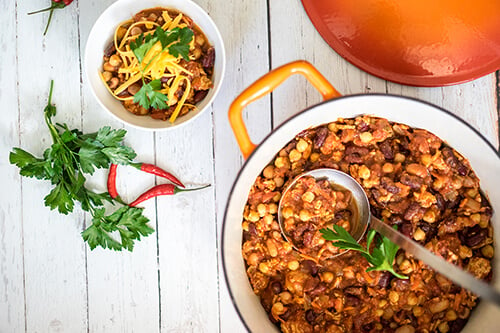 What's your favorite winter comfort food?