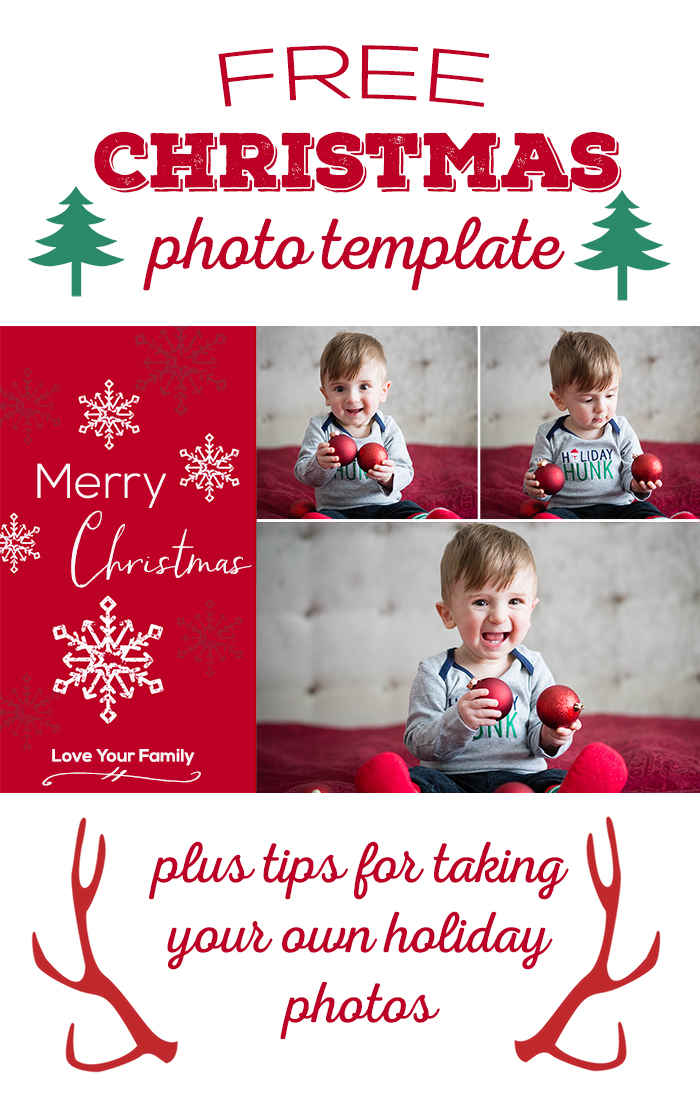 This year is the first year we've had a baby – so it's the first year I've decided to make digital photo cards for our Christmas cards. I wanted to create them myself as well as take the pictures myself. I wanted something unique and so that is why I decided to make them myself.
Do you want to make your own Christmas digital photo cards? If you're not quite into using Photoshop or GIMP, you can also order your cards from TinyPrints. great online options for getting Christmas photo cards created.
How We Created our DIY Christmas Cards
First we had a little DIY photo session. I placed a red Christmas table cloth on our bed for the base of the photos. For the backdrop, I decided that our headboard provided a nice enough backdrop and didn't drape anything over it, but you could drape a simple white sheet or blanket to provide a white backdrop. Just make sure the fabric is thick and won't looked wrinkled in the photo.
So what's in my camera bag that created these photos? 
Camera: Sony Nex 3-n – I like the mirrorless options over DSLR because they are smaller and lighter. This is actually a very affordable camera, and with a quality lens you can take really great photos with!
Lens: Zeiss FE 1,8/55mm – the 1,8 gives you the blurry background and I almost always shoot in this mode. This will allow you to use a backdrop that might not look perfect as it will blur the image out and still give you a great look.
DIY Photo Tips:
Props – have some fun props for your little one to play with. Use Christmas decorations to give the Christmas feel in your photos.
Lighting – this is a MUST. You have to have really good natural lighting. This is what makes your photos look the best. You need a room with big windows that will let in as much natural light as possible. Set up your photo station in the best part of your house.
A Good Lens – this is probably the best tip I can give. You have to have a good quality lens to take crisp photos. If you have a point-and-shoot, don't worry, you can still take some nice pictures. But, if you want to have the photos look more professional you need a DSLR or mirrorless camera with a prime lens. Something that is in the 30-50mm range and F2.8-1.8 will give a good portrait shot. Having a good lens is actually better than having a good camera body so prioritize this when deciding what to buy.
Raw and Manual mode – learn to shoot in Raw and Manual mode. Your photos will thank you.
I then created our template in Photoshop by first creating the red background and then adding the text and snowflakes. The snowflakes are a Photoshop brush I purchased from Pink Pueblo. The fonts are Nexa Light for the Merry and HollyHock. I like to purchase fonts from The Hungry Jpeg. They have great fonts like this Holliston holiday font.
Would you like to recreate this with your own photos? Download the FREE Christmas Photo Template below!