There's something festive about crafting with pasta and macaroni over Christmas. That's why we couldn't resist making some fun pasta art this season! These Christmas tree pasta and macaroni craft cards are perfect for kids to make! Simply make them as art, cards or even glue onto cardboard to turn them into ornaments!
RELATED: Macaroni Wreath Ornaments

This is the perfect craft for preschoolers to make, but kids of all ages will love it too! You can even add glitter to make the Christmas Trees sparkle a little bit too.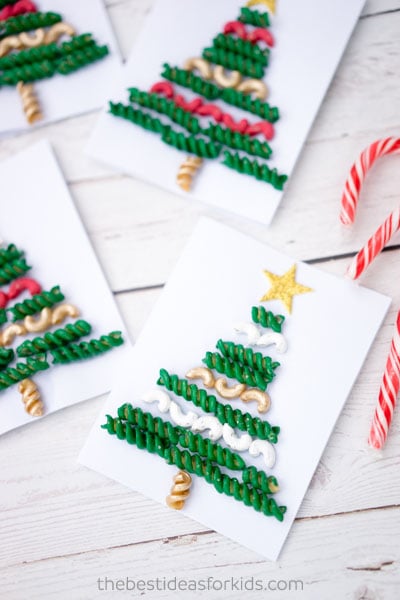 Pasta Noodle Christmas Macaroni Craft
Dying Pasta Noodles is actually a lot easier than it looks!
You may think you have to paint each noodle – but we have a quick little trick. Just grab a sandwich bag, put all of your noodles in the bag and then some paint and squish around!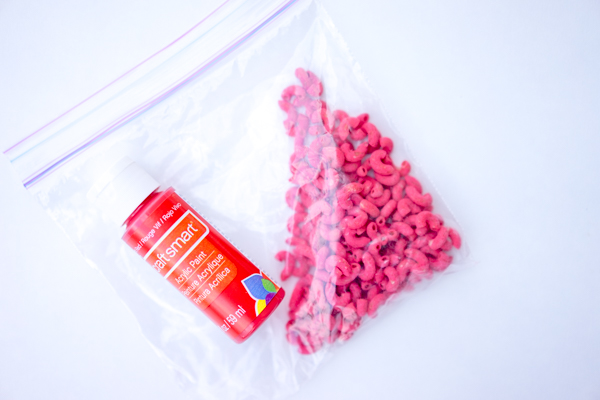 Once you've thoroughly coated your noodles with paint, lay them out flat to dry. Preferably on wax paper. If any of the noodles are still "stuck" together they will slightly stick when the paint dries too. However, you can easily still pull these apart once the paint is dry (this may be hard for kids to do though).
Now time to make your pasta noodle Christmas tree!
Watch the full tutorial video here before you get started!
Here's what you'll need:
– Fusilli Noodles (or any other long noodle like a penne could work too)
– Extra Strong Glue –  we like this one also for gluing macaroni as it's stronger and more durable
– Acrylic paint – green, white, red & gold. We also used "glossy paint" and found it gave the noodles a more shiny appearance.
– Cardboard and twine if making an ornament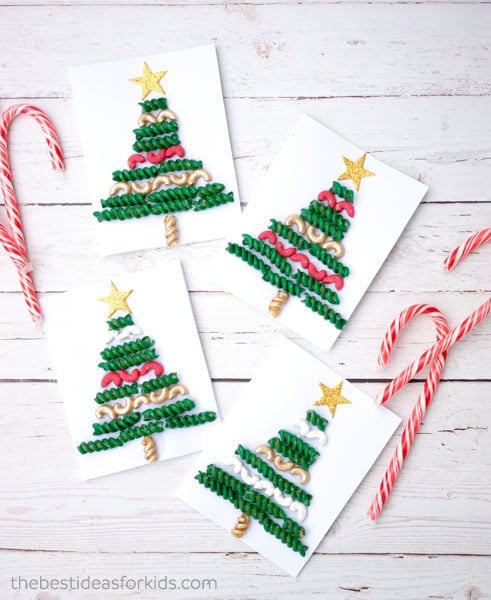 This pasta noodle macaroni craft is pretty simple to make! We alternated the fusilli noodles and the macaroni noodles to make the Christmas tree. The macaroni noodles are meant to be the garland on the tree so you can alternate these going up and down to look like it's a wavy garland.
First you can make your small cards with white cardstock. Just fold them over and cut to the size you'd like.
Now start designing your Christmas tree: 
We easily broke off a piece of the gold fusilli noodle to make as the tree trunk. Then you can start adding your green fusilli noodles starting at the bottom of the tree and working your way up. We did 3, then 3 or 2, 2, 1, 1, and 1 with each piece and length being a little smaller.
Glue each piece and be generous with the glue – if you're not using this glue then you'll want to make sure you have enough for it to stick the noodle to the cardstock.
You can easily break the dried pasta fusilli noodles to make it the size you need.  You can even turn it into an ornament!
See how we made these pasta noodle Christmas tree ornaments: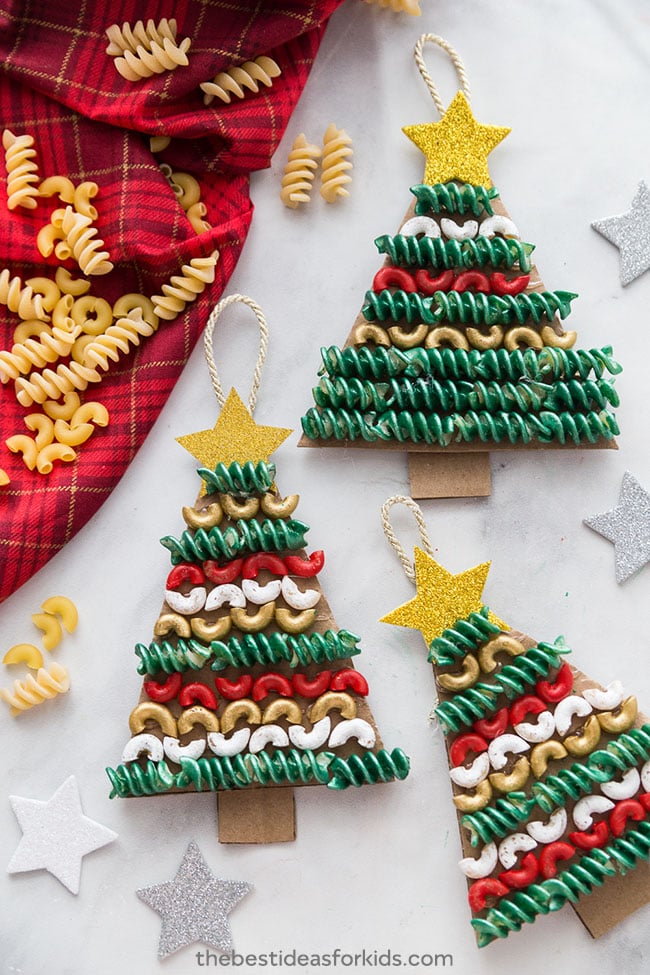 You can make different designs or layers with the noodles you choose! Every Christmas tree ornament will be unique. Kids will love designing their own Christmas tree ornament!
To make the ornament version, you'll need to trace out a Christmas tree triangle shape from some cardboard: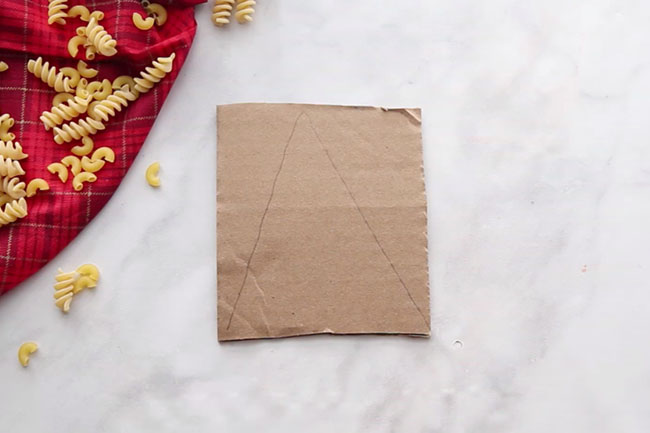 Cut out your triangle shape. You can use it as a template to cut out more.
Then start creating your Christmas tree by gluing the noodles down. When gluing down, start from either the top or bottom. It will help to lay out your design first to make sure it will fit. Otherwise, it is better to start from the top for this ornament because then you can trim off any excess from the bottom.
If it doesn't fit, readjust the size of the noodles you select (for example, add more or less macaroni which are smaller). Or trim off the bottom of the cardboard.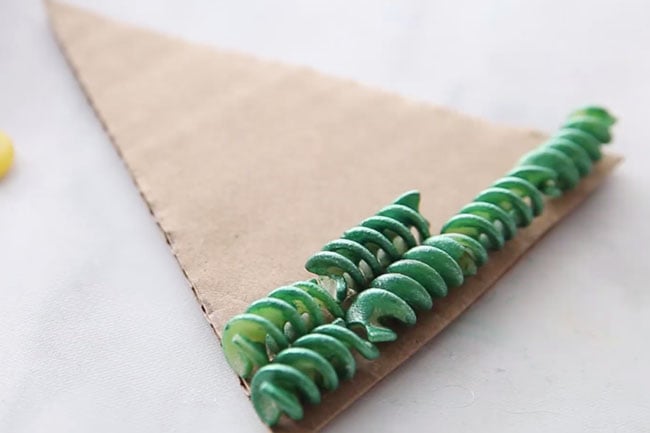 Kids can have fun just gluing on the colored pasta noodles to regular paper too! Make these into cards or glue them onto some cardstock on top of cardboard and make christmas ornaments out of them!
And that's it! This one is so much fun to make. And if you love easy Christmas craft ideas, be sure to see our macaroni wreath ornaments too!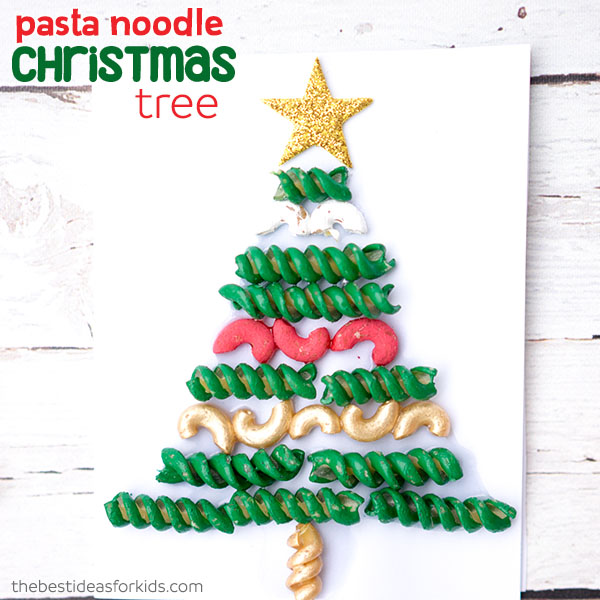 Looking for more fun Christmas crafts? 
See these other macaroni ornaments – how to make a macaroni wreath!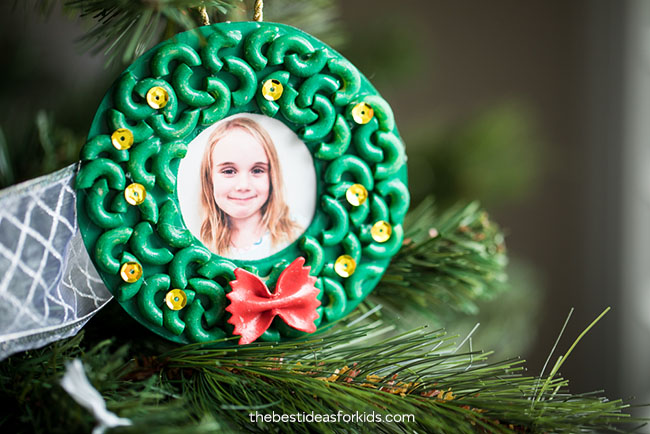 For more fun Christmas crafts, see these easy to make popsicle stick snowflakes! These are so fun to make, and we show you step-by-step in a video too!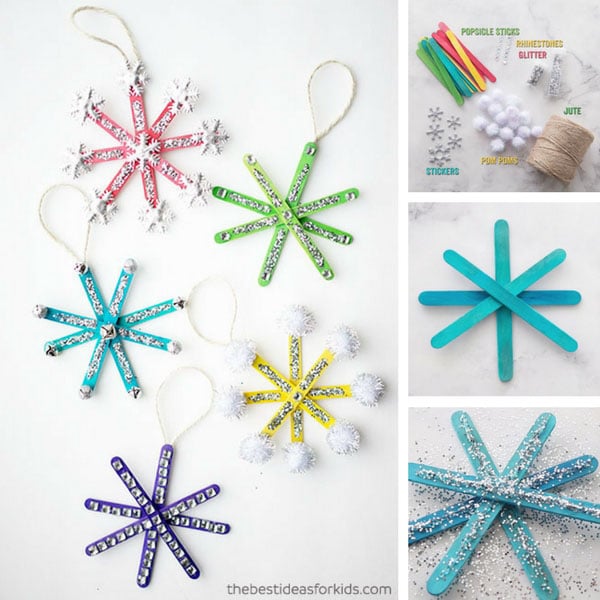 We have over 25+ salt dough ornaments featured here which make great keepsakes for Christmas!