Best Teething Toys
All activities should be supervised by an adult. By using this site, you agree to our Terms of Use. This post may contain affiliate links. Read our disclosure policy here.
We are always on the hunt for the best teething toys in this house. With two under two now we have been battling teething for over 2 years now! Thankfully my toddler is almost done teething. He still has one top molar to come in and then we're done (phew!). But now my 4 month old is just starting to teethe. She's been drooling a ton and I can tell her bottom two front teeth are going to poke through any day now.
I am always looking for the best teething toys to try with my kids and now I've rounded up my selection of the Best Teething toys. I wrote about my favorite baby teethers before, but this list is updated now with the latest and greatest best baby teethers. Some of my favorites have stayed on the list and there are quite a few new ones I have to share with you!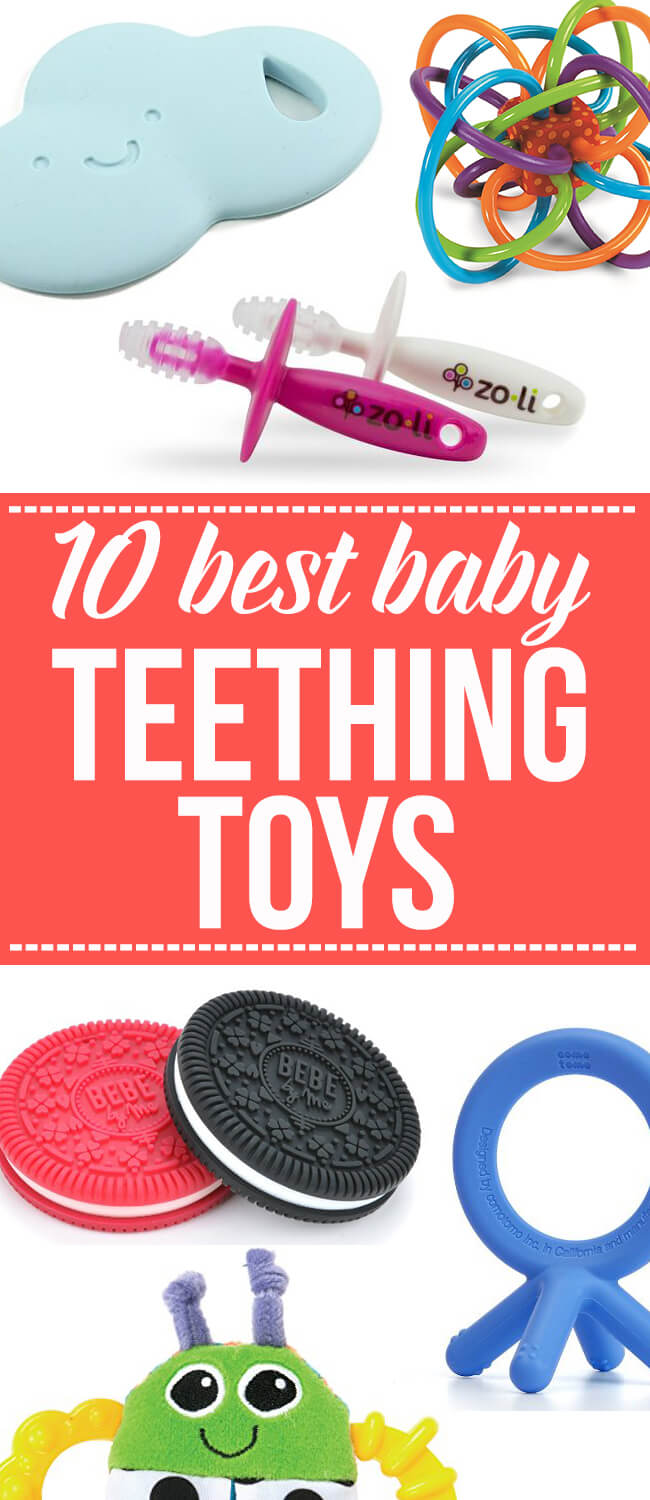 Here are Recommended Best Teething Toys
Bumkins Silicone Teethers. This Cloud Teether is so cute! But the best part about these teethers are they are completely dishwasher safe. And if you have a little one like me that likes to drop everything on the floor, you'll really appreciate this feature. These can also be frozen for added relief and you don't have to worry about anything breaking or escaping inside since it's made from 100% food grade silicone. The back of the teethers are textured to help soothe those sore gums. These also are BPA, PVC, phthalate and lead free.
ZoLi Chubby Gummy Gum Massager. These are great for the older babies who are cutting molars since they are designed to get further back in the mouth. The nubs and wide handle are similar to a toothbrush, which helps develop fine motor skills to aid in getting your baby familiar with holding a toothbrush or a spoon.  These are also BPA and phthalate free.
Munch Mitt. We love the Munch Mitts. We even wrote a review on them. They are perfect for protecting your little one's hands from all that saliva during the teething. And because they go on as a mitt, they can't fall on the ground or get lost. It also has a crinkle part that babies will love making the sound.
Lamaze Bitty Bite Bug Rattle. Fourth on our list of best teething toys is the Lamaze Bitty Bite Bug Rattle. This teething toy is really the all in one toy and is more of a toy than a teether, but doubles as both! Both of our babies loved this baby teether. It has two easy to grab handles which makes it an easy teether to start with at 4 months old. It also makes a crinkle noise and has lots of texture for babies to play with.
Comotomo Silicone Baby Teether. We have 2 of these teethers and I can say my little ones loved holding them and chewing on them. It has multiple points for baby's to grab and hold the teether with. These teethers are very reasonably priced so I have two and always keep one in my diaper bag. They also are touted for their safety since they are 100% safe medical-grade silicone and BPA, PVC and Phthalate free.
Winkle Rattle and Sensory Teether. This teething toy also doubles as a sensory toy for your baby! I love all the colors and maze of tubes on this toy. There are lots of tubes on this toy which makes it really easy for your baby to hold. And if you have a baby like me that likes to shake or bang their toys then they will LOVE this! It has a little rattle in the center that makes a rattling noise every time they shake it. The loops are BPA and the toy can be refrigerated.
Cookie Teethers. These cookie teethers are so much fun! I love that they look like your baby is eating an oreo when they are chewing on them. I also love that you get 2 teethers for the price of one. One is a hard and one is soft so you can experiment with both and see which one your baby prefers. These teethers are also BPA, PVC and Phthalate free.
Oball Flexi Loop Teething Toy. We are big Oball fans in this house. We have a few Oball toys and the original Oball. However, if you have an Oball you know that your baby can't easily put it in their mouth and it especially doesn't help with teething. That's where this Oball teething toy comes in.  It has flat parts and round ridges that are perfect for teething. This Oball is BPA free and the price is fantastic so a really great option for both teething and a baby toy!
Sophie the Giraffe. This list wouldn't be complete without mentioning Sophie. Most moms have seen or heard of Sophie and that's because it's a baby favorite teething toy! These teethers are so great we love the two that we have. The bigger one is a perfect teether for older babies that can hold toys easily while the smaller, travel size Sophie. I've found is better for younger babies that are just learning to hold toys. Sophie is 100% natural rubber and is BPA and Phthalate Free.
More from The Best Ideas for Kids