10 Reasons to Cloth Diaper
All activities should be supervised by an adult. By using this site, you agree to our Terms of Use. This post may contain affiliate links. Read our disclosure policy here.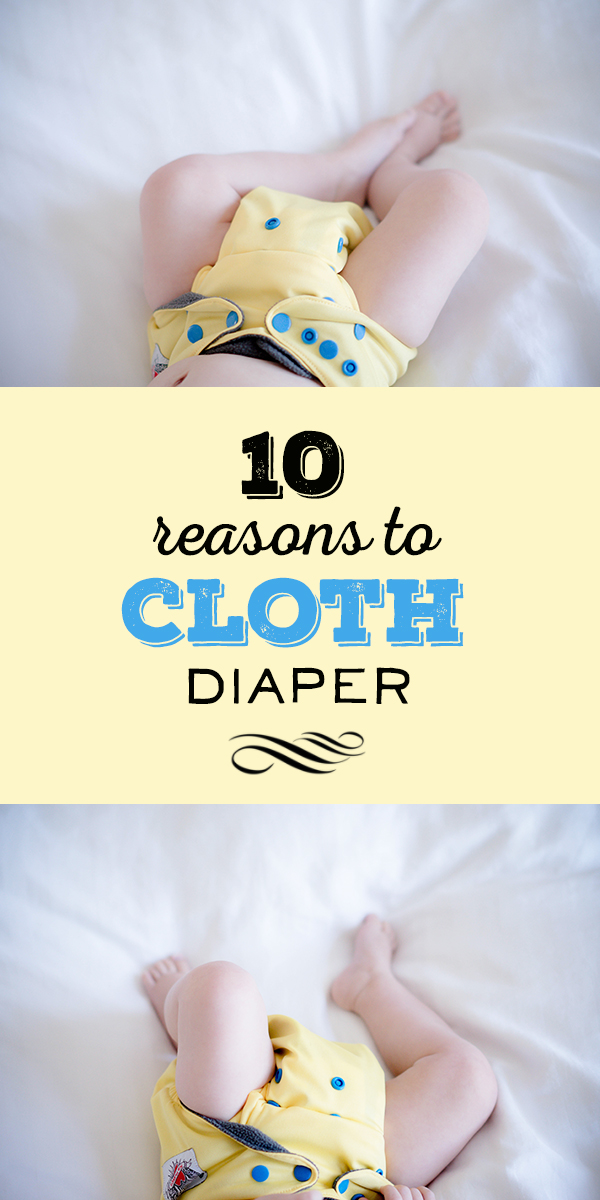 If you've read the 10 Ways to Save with a New Baby, you'll know we love advocate of cloth diapering. You can really save a lot of money and there are added perks too. That's why we've come up with 10 reasons to cloth diaper.
10 Reasons to Cloth Diaper
1. You can save. If you plan on using the cloth diapers for more than one baby you can really save a lot of money. Each disposable costs anywhere from 20 cents to 40 cents each. Let's say you use about 10 diapers a day at 20 cents each, that's $14/week in diaper costs which is what the cost of 1 cloth diaper from Hip Huggers would run you. If you're going to get around 20 you're already ahead of the game after 20 weeks! And that's just with one baby.
2. You'll always have them. Ever run out of a cloth diaper? No because they are always there. Yes you'll need to remember to wash them but that sure beats having to run out to the store to get a new super box to bring home.
3. Better for the environment. Ever look at the stash of diapers you use and are thrown into the garbage after you're done? You can feel good about re-using the diapers you have and not sending 10 diapers a day to the landfill.
4. They look cute. Cloth diapers have really come a long way. They are easy to use and come in a range of different patterns and styles.
5. Less chemicals. The outer lining of disposable diapers are usually made up of polyethylene film, which is basically the same stuff in plastic wrap. The inner lining is made up of polypropylene a common material in thermal underwear. However, inside the absorbent center is usually super-absorbent polymers (usually sodium polyacrylate) which can sometimes leak through the lining and leave crystals on the baby's skin. (Baby Center)
6. They are resizeable. All cloth diapers now usually fit from 9 to 34 lbs. That means they grow with the baby. And they are easy to resize too. Usually you just need to adjust straps or snaps.
7. They are easy to do. Most people are intimidated by cloth diapering because of the extra work involved. I was too! But I'm here to tell you it's really not that much more work. It's actually pretty easy! Exclusively breastfed babies poo can go directly into the wash because it's water soluble. And if your baby is on solids you can easily use either a flushable liner or a diaper sprayer. Just place the diapers on the baby like normal and then keep in a wet bag. Then throw in the wash every couple of days and you're good to go! I line dry mine and then re-use. It's really simple.
8. Faster potty training. It hasn't been scientifically proven yet, but a lot of parents believe potty training is faster because your toddler can feel immediately when she's wet herself and is more uncomfortable. (Baby Center)
9. Less bum rashes. Cloth diapers let in better airflow which helps minimize bum rashes. That's because locked in moister in the diaper that's sitting on the baby's skin can make your baby more prone to diaper rash.
10. You'll feel good about it. At the end of the day, I can feel good about using cloth diapers. And really that's a huge plus. I'm not only helping the environment but I can sleep better too knowing the diapers are better for my baby's skin too.